A person can lose many opportunities over a period of time. Every opportunity lost is a cost. What is your next best option? Should I spend my time, money or effort elsewhere that will prove more beneficial? What do you gain or what is lost via this opportunity is an important question that a person needs to address if he is interested in knowing about opportunity cost.
Everything cannot be measured in monetary terms because merit can also be determined through satisfaction gained and actual time spent on the job.
Opportunity cost is actually all about individual perspective because it is always different for every person. Remember every resource can be put to a secondary use and hence it is our choice and action that is associated closely with opportunity cost.
An important fact about the opportunity cost is that these are referred to as fundamental costs and are generally used for gaining a better understanding of a project. These figures are not actually recorded in our account books instead are used as a helping hand for both business owners and individuals in making useful decisions related to cash expenditure and their resulting loss or profit.
Meaning of Opportunity
In order to understand opportunity cost, you must realize that the opportunities that are lost because of limited resources are known as opportunity cost. These resources can be capital, labor, and land. It does not matter if you are looking from your personal perspective or from a business point of view the hard fact is that both the business entity and an individual have limited resources for their use.
Hence everyone has to make do with alternative uses. This is the reason why the owner of a particular resource is always on the look-out for ways and means to maximize its productivity via alternative uses. The scarcity is an important factor that nudges the resource owner to use it in the best possible manner so that he can gain maximum income.
The dismal reality of scarcity is that there are limits on what a person can do. Even if you desire the next level sometimes you have to forgo one pleasure for the other because of limited resources. Hence you can see that at the end of the day opportunity cost is related to everything we do.
What is Opportunity Cost?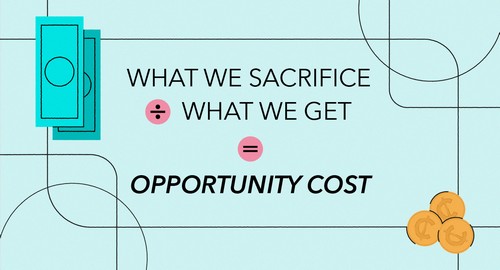 Definition
The Opportunity Cost is referred to the probable returns from the use of resources that are considered as a second-best option. This is the reason why it is also known as Alternative Cost. When a person has to give up a little in order to buy something else is called Opportunity Cost.
If you are looking for a technical definition then you will not find any better think of it as an abstract concept that can help to find the right path for increasing productivity.
Suppose Ram goes to the library to read for his exams. He could have spent the time talking to his friends and relaxing but he decides to study during that period. The next best alternative to studying was talking to his friends then the opportunity cost of studying is the time you spent reading plus the pleasure you missed by not talking to friends.
It is important to determine beforehand the exact thing you will be sacrificing to get something else. It is now up to you to decide which opportunity is of more value to you. In the above case scenario if it had been someone else he might have chosen to relax with friends.
His perspective would have been different from Ram as he wanted to regroup and relax before studying once again. At the end of the day, it is all about individual preference.
Remember the concept of opportunity cost does not work in case of comparisons. Quantitative assessment between two options is somewhat possible if there is a common unit for measuring them like time or money spent.
Breaking down Opportunity Cost
Economists have divided the Opportunity Cost into separate entities Implicit Opportunity Cost and Explicit Opportunity Cost. Let me explain it to you with the help of examples
Implicit Opportunity Cost
Implicit opportunity costs are implied costs that are not reflected via cash outflow. These intangible costs cannot be accounted for in books vas it refers to probable funds instead of actual ones. Suppose the management purchased machinery to produce plastic chairs.
The opportunity cost of producing plastic chairs is the loss of revenue that could have resulted by not renting the machinery instead of using it for manufacturing purposes.
Explicit Opportunity Cost
Explicit Opportunity Costs are the ones that have a direct monetary impact for instance if a factory has to spend Rs 10000 on electricity its opportunity cost will be the cash expenditure and that is Rs 10000. All tangible expenses are Explicit Opportunity Costs.
Sunk Opportunity Cost
The concept of Sunk Opportunity Cost is very different from both Implicit Opportunity Cost and Explicit Opportunity Cost. As the name suggests it is related to losses. In several scenarios, you have already taken a decision that has gone south.
In order to minimize loses you continue to invest in the scheme so that you do not lose out on the whole investment. It becomes too expensive to undo hence you continue with it. This is called Sunk Opportunity Cost.
How can you calculate the opportunity cost?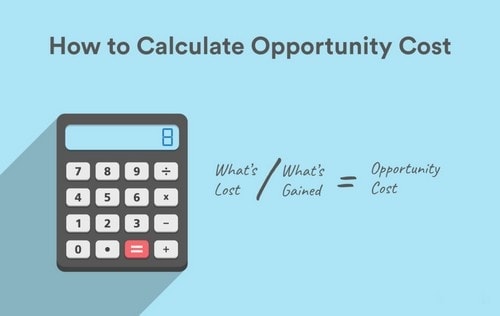 Are you looking for the formula of opportunity cost so that you can easily decipher the answer? Let me tell you that such a formula does not exist. We do not have any mathematical equation or formula that has been specifically designed for this purpose.
But do not be disheartened there are ways to calculate opportunity cost in a mathematical manner. As opportunity cost is about your gains at the cost of your sacrifices then you can easily place the formula in the following manner.

Let me explain this concept with the help of an example. Suppose Mahendra has Rs 40000 with him and he is facing a dilemma. He wants to invest the money in two ventures but the amount he has can cover only one. The first venture is related to buying a Xerox machine that will provide him with a steady income of nearly 10000 every month and the other is buying a computer that could help him to take help of other opportunities and earn Rs 15000.
Both have the same productive life. He has chosen a computer against a Xerox machine and now he has to let go of the income earned through the machine for the income earned through the computer. Thus the opportunity cost of the computer is the income expected from the Xerox machine.
Opportunity Cost and practical applications
In business circles, the opportunity cost is known as economic cost and its existence is limited to the production process. It is a proven technique to consider different business options before they have taken place. Yes, no one can predict the future but you can easily weigh the pros and cons while considering negative and positive aspects to come to a decision.
 If you are looking for a more approachable definition then you can call it the difference between chosen action and viable opportunity. The opportunity cost in this scenario will be the loss of potential outcome because the individual has made some other choice.  He has made this selection in accordance with the availability of limited resources. Sometimes it is also related to the relative risk factor of choosing one option above another.
How can you know that your decision is the better one? Remember opportunity cost can turn out to be either positive or negative depending upon the options and circumstances. An important crucial factor of opportunity cost is that besides financial concerns it in most cases apply to other relative resources like labor and time.
Conclusion
By now you must have understood that worth earned through the alternative option of highest value is known as Opportunity Cost. As soon as you choose an option you are reminded of the loss of probable gain from another alternative. It is like being reminded of a trade-off every time you make a choice.
Hence it is important to consider what you find more valuable and then make your own decision. Remember the value is relative and is dependent on a personal perspective. What you find worthy might not appeal to another person.
Hence opportunity cost for the same option will always be different for two individuals or business entities.