Referred also as pyramid selling, network marketing and referral marketing, multi level marketing represents a widely used marketing strategy in which the distribution channel is compensated both for their own sales as well as for the sales of the sales people that they recruit. Dating back from 1920's, the multi level marketing strategy is a controversial concept due to several reasons despite being a completely legitimate business strategy. Its main critics are often related with market saturation, pyramid structure, moral and ethics as well as relationship issues.
The recruitment for such multi level marketing is mainly done through word of mouth. For example, one of the employee of Avon company, whom i know, started being involved in this business since she met a women working for the same company, who promised her high income and bonus in products based on her sales profits.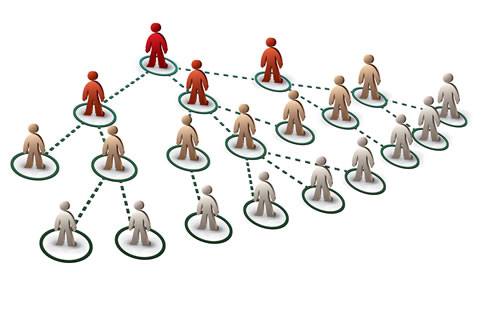 Avon company as well as Oriflame, Electrolux and Tupperware (just a few examples) are using this kind of strategy of multi level marketing. The companies are encouraging their existing distributors to recruit new distributors by providing them a percentage of the new distributors' sales profits. However, the problem comes when people do not sell the product at all but keep making new distributors. Thus, in some cases, the chain collapses because the sale is ultimately very less.
For example – If A is the master distributor and he recruits B, then a percentage of profits made by B will also be passed on to A. Furthermore, when B makes a sub distributor C, then a percentage of profits of C will be given to B, but a small percentage will also be given to A. Thus A, without doing much work is earning profits. All of them have to sell the product to earn profits, but the problem comes when the distributor keeps on making sub distributors but none of them are selling a large amount of products. In such a case, the chain collapses as people start leaving the chain thereby making it unstable.
Some business authors describe multi level marketing as a form of direct selling involving word-of-mouth marketing, interactive distribution and relationship marketing. The most recent case that I have heard and it is quite popular in Denmark is Herbalife, a seller of dietary supplements and vitamins. Herbalife is known for its multi level marketing as much as Avon and Amway.  The Herbalife products are being sold by different persons in sporting badges with the slogan "Lose weight now. Ask me how." These persons are recruited by people from a higher tier in the marketing structure who receive a commission on the sales made from the persons who they recruit. Thus, the multi level marketing involves actual promotions along with sale of the product. This is the reason behind the popularity of the Herbalife products.
Multi level marketing has become a huge business during the last 10 years. However, sometimes it can be hard to distinguish between this strategy and pyramid schemes, in which people pay to participate and are rewarded by finding others willing to pay to join. The pyramid is going to collapse when the pool of new recruits dries up.
Disadvantages of Multi level marketing
Let's take a look at the main disadvantages of the MLM systems. In some cases there is an entrance fee. In order to enter a network, the new entrant is going to spend money and time  and only if the recruited persons are going to make some money, the entrant is going to recuperate his investment. Moreover, you cannot have the control in the manufacturing of the products.  Between 1-3% of the people involved manage to earn some money, the others are considered to be inactive players or only buyers. The payment of the earned money is conditioned by a specific amount regarding a minimum of purchases.
The delivery system is based on an order with afterwards delivery, therefore it takes time. The presentation method can be aggressive and manipulative, presenting only the advantages of the products. There is a continuous need of attracting new members in order to remain profitable.  There is no fix salary so you never know how much you can earn next month. Therefore, it should be considered as a part time job, additional to a full time one.
On the other hand, we do have to bear in mind that investments are required also when we want to open our own business.  There is a saying stating that you can be smart if you believe only half of what you are hearing and you can be intelligent if you know which half.
Despite the criticism that multilevel marketing strategy has received, it depends a lot on the behavior and personality of the people practicing it. Participants interest, commitment and ethics, will lead to the success or failure of Multi level marketing.