For manufacturers, it is not easy to reach the end customers directly. This is where marketing intermediaries come in. They make it easier for them to get their products and services to the market.
A marketing intermediary is an individual or organization that helps facilitate the distribution process of goods and services from the manufacturer to the customer. It acts as a bridge between the two parties, ensuring that products are delivered to people who need them efficiently and cost-effectively.
There are many types of marketing intermediaries including distributors, wholesalers, brokers, agents, retailers, and so forth. Each of these has different roles and responsibilities within the distribution channel.
What are Marketing Intermediaries?
Marketing intermediaries, also known as middlemen, are independent companies that facilitate the movement of goods and services from manufacturers to end-users. They use wholesalers, agents, retailers, physical distribution companies, marketing services agencies, financial institutions, etc. to bridge the gap between producers and consumers.
Manufacturers rely on marketing intermediaries to help them understand consumer needs and preferences, promote their products more effectively, distribute their products efficiently, and identify new growth markets. Marketing intermediaries are also important for the logistics and transportation of goods.
Why are Marketing Intermediaries Important?
It is always tempting for any organization to skip the middleman and serve directly to the end customer, especially in today's age, where e-commerce is at its pinnacle of success. This not only increases the profit margins of the company but also gives the best deals to customers, which they may not have found when approached via marketing intermediaries.
However, practically, it would be a lot of work in terms of logistics and supply chain management for the company. If 500 such people decide to approach directly to the company to buy a single product in a month, then it would mean that the company would have to have 500 different shipments to 500 different locations. Add to it, 500 different customer interactions and after-sales support which may include product returns, exchange inquiries, and other similar matters.
This also adds to multiple transaction modes for the organization because 500 people will make a payment through 500 different channels. This would increase the supplementary costs of the organization, including the logistics cost and supply chain costs. Not to mention that there would be a requirement for multiple people to coordinate. In such cases, it is easier to have a Marketing intermediary.
Types of Marketing Intermediary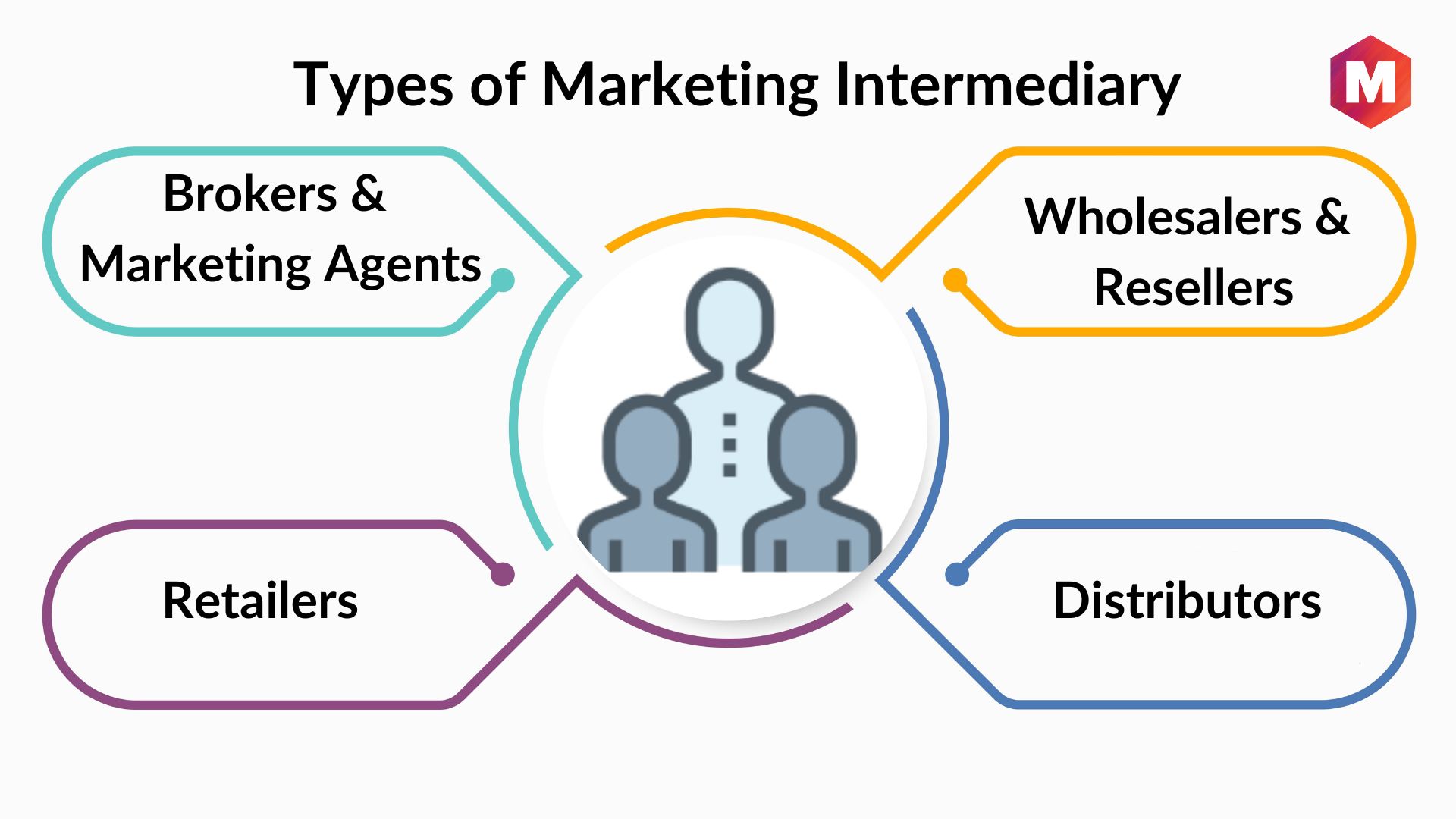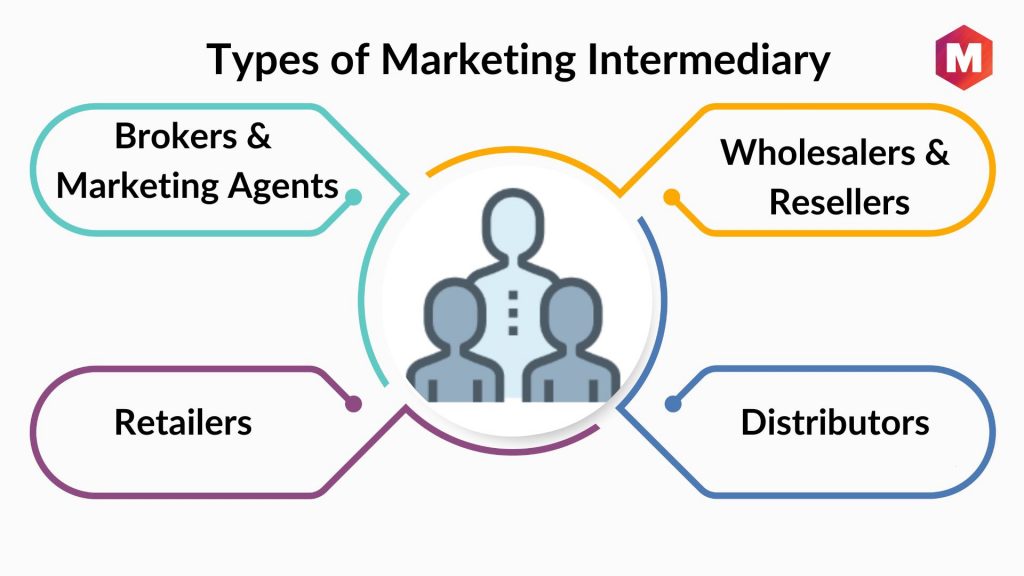 1. Brokers and Marketing Agents
Both terms are synonymous with each other because of their rules. This is true, especially in the case of real estate deals when both of them are similar to any client. There could be many differences between them, but as a whole, both of them are considered the same. marketing Intermediaries usually is permanent while brokers, on the other hand, are temporary.
Apart from this significant difference, the role of both intermediaries is the same. Both of them are paid a commission for every sale and are not responsible for the products that are sold. They are concerned only with facilitating the transaction.
Apart from real estate, brokers and agents are also common in the travel industry and are commonly used in international trade. When companies cannot approach the customers directly, and they require a specific human interaction to close the transaction, then they approach agents or brokers.
Their deals with companies are usually for a selected and predefined time or for a selected number of products to be sold to the customer. For example, a deal would be for three houses in the case of a real estate agent or for three passengers in the case of a travel agent.
2. Wholesalers and Resellers
Wholesalers are the intermediaries who buy products from the manufacturer in a large volume and then resell them to other small businesses, usually retailers. Some wholesalers have multiple products to be sold to different retailers, while others specialize in only a single product or a category.
The pharmaceutical industry commonly has many wholesalers and retailers. They usually buy the drugs in bulk from pharma companies and then supply them to individual pharmacies, and hospital pharmacies on a requirement basis. Some wholesalers sell directly to the customers.
Since they buy in bulk, the prices that are offered to them are very minimal. They sell to retailers at an increased rate, which includes their margin as well.
The Wholesalers and resellers are further divided into 3 parts
Merchant wholesalers – These are distributors or jobbers who are owned independently as well as operate independently. They have very little or no ownership of the goods. Merchant wholesalers are of two types, limited-service, and full-service merchant wholesalers.
Full-service Merchant Wholesalers – When it comes to more substantial volumes, full-service wholesalers are the ones who are preferred. They perform a broad range of services for their customers like operating warehouses, having a big stock inventory, supplying credit lines to different customers as well as to salespeople, and delivery of goods to customers. While a variety of merchandise is present with general line wholesalers, on the other hand, specialty wholesalers are the ones who only have to deal with only a limited line of products.
Limited Service Merchant Wholesalers – These are the ones who offer very few services to their suppliers as well as to their customers. These exist only to reduce the cost of service. There are many limited-service wholesalers present in many industries.
As far as the line of fast-selling merchandise is concerned, they are handled by cash and carry stores, on the other hand, some retailers only manage cash business and are not concerned with delivering goods.
3. Distributors
Distributors are also known as functional wholesalers. These distribution intermediaries are not the ones who buy any product from the producers, but they are the ones who are involved in increasing or facilitating the transaction between the retailer and the manufacturer.
They work on similar designs of brokers and agents and are usually hired for a limited time or a limited job. They are paid a commission for every transaction from the manufacturer. Sometimes they also demand transaction fees from retailers as well.
They use different distribution channels for their services such as direct sales, internet/online sales, telemarketing, and other marketing intermediaries. Marketing intermediaries are the ones who help in selling products or services on behalf of the manufacturer to different customers. They can be either individuals or organizations which provide services like advertising agencies, wholesalers, or brokers.
4. Retailers
The retailer is the final link between the customer and the organization. The customer can go directly to the retailer and purchase it from his store. Retailers are in the format of shopping malls, stores, carry out the lights, and also in the form of e-commerce websites. Retail intermediaries buy directly from the producer and skip many intermediaries to increase their profit margin.
Retailers stock the products in bulk and pay them back in the form of a commission. This usually happens in the case of bookstores. Any intermediate party which does not manufacture the product but buys the product from the company and sells it to the customer can be termed as a retailer. The best example is the online e-commerce giant Amazon which sells millions of products to millions of customers by purchasing them directly from the manufacturer.
Retailers are present in different formats. Examples are
Store retailers – Which have multiple products under the same roof, specialty stores that have a single type of product under one roof. It is considered as a narrow line of products. Florists, and opticians, are a few examples of specialty retailers.
Departmental stores – Carry a wide variety of merchandise than other stores. Departmental stores may hold home furnishing, clothing, or household goods, which are divided into stores based on the gender or age of the customer.
Supermarkets have huge facilities with profit margins and high sales volume. They have everything for the regular customer, including groceries, clothing, meat, baked goods, and every other thing that a customer will require daily. Some retailers also sell alcohol products, but it is not allowed in every country.
The discount store is another type of retailer that is concerned with the selling of products at a discount.
Ecommerce is a growing and accessible format that has emerged these days. It is very popular with the customers because of the convenience, and low prices offered on them.
Advantages of Marketing Intermediaries
1. Optimized Distribution
Marketing intermediaries help companies optimize their distribution process. They act as a bridge between the company and the customer by helping in the flow of goods from one place to another. This reduces transportation costs, and time, and helps increase efficiency and productivity.
2. Improved Sales Performance
Sales agents are appointed by marketing channels to sell products and services more effectively. They have a good knowledge regarding the product and can explain it in detail to customers. This helps improve sales performance, as well as customer loyalty towards the company.
3. Increased Reach
With the help of marketing intermediaries, companies can increase their reach and target potential customers that they would previously not be able to reach on their own. Grocery retailers provide a platform for companies to market their products and services, while distribution units ensure that the products reach the right customer.
4. Financial Benefits
Financial intermediaries help companies manage their finances more effectively by providing loans and other financial options. This helps increase cash flow, reduce debt, and improve overall profitability for the company.
Disadvantages of Marketing Intermediaries
1. Communication Challenges
Communication between the company and intermediaries can be a challenge as there are multiple stakeholders involved in the process. This can lead to misunderstandings and delays in business transactions due to miscommunication.
2. Loss of Control
Marketing intermediaries have their own set of processes and procedures that may differ from those of the company. This may lead to a lack of control over the entire process, which can be quite costly in terms of both time and money.
3. Additional Costs
Hiring marketing intermediaries involves additional costs such as payments for their services, commissions, and expenses related to their work. This increases the overall cost of doing business and affects profitability margins.
Examples of Marketing Intermediaries
1. Sales partners: These are the people who work with companies to promote their products and services. This includes sales representatives, retailers, brokers, wholesalers, distributors, and other stakeholders.
2. Financial intermediaries: These include banks, credit unions, investment companies, and other financial service providers that help companies manage their finances more effectively.
3. Advertising agencies: Advertising agencies are responsible for creating campaigns to promote products and services. They often work with companies to create effective marketing strategies.
4. Trading house: This is an intermediary that connects companies to other entities in different countries. They provide market research, export/import services, and help with the sourcing of materials, products, and services.
5. Cooperatives: Cooperatives are business organizations that represent a group of producers or suppliers. They help coordinate their activities to ensure maximum efficiency and profits.
Retailers: Retailers are responsible for selling products and services to consumers. This includes stores, online platforms, and other distribution channels.
Conclusion!
Marketing intermediaries can be a great way to increase the reach of a company and improve sales performance. However, it is important to consider the potential drawbacks of working with them before making any decisions. Companies should review their processes and operations carefully to ensure that they are getting the best possible results from their marketing partners. With careful planning and effective management, companies can benefit greatly from working with marketing intermediaries.
Liked this post? Check out the complete series on Marketing