Forgetting Curve (also called the Ebbinghaus forgetting curve, Ebbinghaus curve of forgetting, Ebbinghaus forgetting function, Ebbinghaus effect, Ebbinghaus's law offorgetting, or, more generally, the law offorgetting)
A curve depicting the outcome of Ebbinghaus's recall experiments relating the time since a learning session to the percentage of recall.
Ebbinghaus (1913) conducted pioneering experimental research on memory. As a result of experiments which involved using sets of items to be committed to memory that had no previous associations, he produced a now-famous curve summarizing his findings. With time since learning session on the x-axis and percentage of recall on the y-axis, a plot of the following numbers can be used to show the Ebbinghaus forgetting curve:
The forgetting curve involves recall, which is simply trying to recall each item. Ebbinghaus also examined recollection, which involves trying to recognize which items had been on the list studied, and found that recollection is a more sensitive test of memory than recall as people may be able to recognize items that they cannot recall.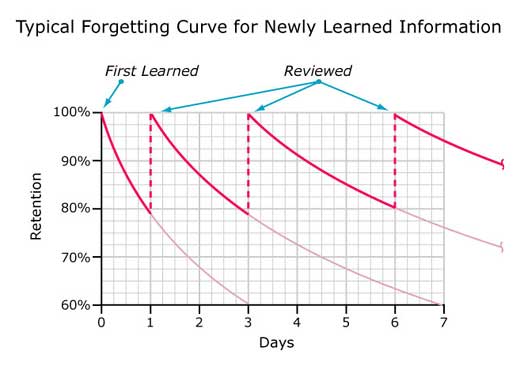 Ebbinghaus further developed the concept of savings in relation to rememorization. Specifically, in trying to rememorize a list of items after some long period of time (i.e. after a time when neither recall nor recollection demonstrate much evidence of prior learning), an individual can attempt to rememorize the list through further trials. By comparing the number of trials required to rememorize the list (e.g. five trials) to the number of trials required to memorize the list the first time (e.g. ten trials), a percent savings can be calculated (e.g. 5/10 or 50%). Ebbinghaus views the concept of savings to be the most sensitive test of memory, as it characterizes a residual effect of previous learning, especially when recall and recognition show little evidence of prior learning. The savings concept of Ebbinghaus is often referred to in research as the Ebbinghaus savings function.It is important to note that the forgetting curve should not be confused with the power law of forgetting which mathematically characterizes the forgetting function as a specific power function. (See power law of forgetting.)
Note also that the forgetting curve should not be confused with the forgetting law, also known as Jost's law, or Jost's law of forgetting. The forgetting law encompasses two specific, formal ideas developed by Jost (1897) concerning aspects of memory. Specifically, the forgetting law states that if two associations or memories are of the same strength but different ages, the older will (a) benefit more from a learning trial and (b) decay more slowly in a given period of time than the younger one. While of interest in the field of psychology, the forgetting law as developed by Jost has not received significant research attention in marketing.
Much marketing practice is aimed at encouraging consumer recall and recognition of a marketer's products and brands. Recognizing that consumers have a systematic tendency to forget part of what they learn over time, knowledge of such tendencies, and its quantification can form the basis for marketing models, policies, and practices that help to make the best use of marketing resources and strategies for particular marketing objectives for short- and long-term consumer learning. Advertising policies and practices are particularly influenced by a careful understanding of consumers' forgetting tendencies