Business to business marketing is referred by several other names – Industrial marketing, B2B marketing, Organizational marketing or trade marketing. All of the forms of B2B marketing mean a basic thing – A business is dealing with another business.
Take an example of a restaurant which is starting up or is in business. This restaurant buys daily vegetables from a distributor of vegetables. He buys meat and eggs from a poultry distributor. He keeps his furniture and cutlery updated by buying it from a home decor shop. And finally, he may get his waiters and chef from an agency focused on manpower for hospitality industry.
In all of the above examples, the restaurant is dealing with other businesses. In essence, the restaurant, which is itself a business, is dealing with another business. And that's business to business marketing. If you went in that restaurant to have lunch or dinner, then the restaurant will serve you as a customer, and that is Business to customer marketing.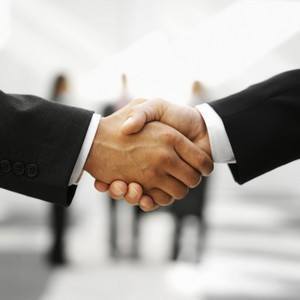 An individual is always a customer and when a business is marketing to an individual or a group of individuals, then that is known as business to customer marketing. If instead, the business is marketing to another business, that's business to business marketing.
Some typical characteristics of Business to business marketing are
It generally involves dealing in bulk and both purchases and sales are done in bulk.
Because bulk purchase and sale is involved, the involvement of purchasers and sellers is high as compared to B2C type of business
The time spent on a single purchase is higher than B2C marketing because of the procedures involved in an organization.
Repetitive buying is commonly seen in B2B marketing because once you have gone through the process of initial purchase, you cannot repeat the same process time and time again as it is a waste of time.
Marketing communications in the B2B sector are more realistic and to the point rather than emotional and vague. Marketing always focuses on showing more features because the purchase manager is expected to be knowledgeable.
Skilled manpower is generally an intrinsic requirement of B2B marketing because of the technicality of the product or because of the amount at stake in the B2B deal.
Where B2C might involved mass marketing in some cases, B2B only works on differentiated marketing and segmentation, targeting and positioning is essential in the case of Business to business marketing
Thus, as can be seen from the above pointers, it is important to understand that B2B has as large a scope in marketing as B2C. In fact, because B2B involves long term decision making, marketing and sales in B2B are harder than B2C.
Once a company becomes comfortable with another brand, it will not search for new brands and will retain the brand it has tied up with. So getting a toe hold in the company you want to target is difficult. In the above restaurant example, the restaurant is used to buying from the same vegetable vendor and trusts their qualities. So they will not shift to another vegetable vendor unless a very huge scheme or opportunity is given by the new vendor.
This is where Business to business marketing differs on a huge level from Business to consumer marketing. B2B runs on trust and loyalty. And generally, the businesses stick with other businesses which have commanded trust and loyalty over the year. Breaking this bond becomes difficult for new entrants and barriers to entry are high.
The best way to be successful in a business to business type of market is to launch products which are better than the existing competitors. And then to market these products to each and every one of the companies present out there. This will give your product a unique value and will ensure that you cover the whole market.
Liked this post? Check out these detailed articles on
Topic of Marketing
Alternatively, check out the Marketing91 Academy, which provides you access to 10+ marketing courses and 100s of Case studies.