What is Brand Identity Prism?
Brand identity prism is a hexagonal-prism-shaped marketing model that includes six elements or characteristics (Three on each side) crucial for building a brand and establishing the brand identity. The six vital characteristics of brand identity incorporated in the brand identity prism are – physique, personality, culture, relationship, reflection, and self-image.
The Brand Identity Prism is a concept established in 1986 by Jean-Noel Kapferer, a marketing strategy professor, to visualize how a brand is expressed using different characteristics. Kapferer aims attention at six critical features of the brands whose synchronization decides the identity of a brand as a whole.
Brand identity prism is a marketing model that has six elements associated with a brand for forming an identity of the brand in the minds of target audiences. The prism, commonly called Kapferer's Brand Identity Prism is a well-known marketing model. It is a hexagonal prism that depicts the six main ingredients of brand identification.
The Brand Identity Prism greatly aids in understanding the function of storytelling in branding. It is still an essential tool for companies wanting to strengthen their brand in ways that are consistent with their roots and high-priority values.
Importance of Kapferer's Brand Identity Prism
Kapferer brand identity prism is useful in creating unique brand identity differentiating those brands that have quite similar feature sets and customer bases. For example, brands like Coca-Cola and Pepsi are considered similar by an average person but for marketers, it is important to create unique brand identities for both of them.
A great brand identity defines the unique features of the brand, such as the trademark and visual design, that make it distinctive and pleasant for the audience to pick. According to Kapferer, businesses that can effectively integrate and transmit these six elements can successfully expand a specific and strong brand resemblance.
The prism's goal is to assist a large group of people to appreciate a portion of their identity and bring the ruling class together to tell the brand's story.
Favorable brands can project a beneficial and sustainable image into the minds of their buyer of goods, by adeptly using these six elements. All of this is done to develop the brand and make it more recognizable and notable and create a sustainable and enduring brand identity.
Six parts of Kapferer Brand Identity Prism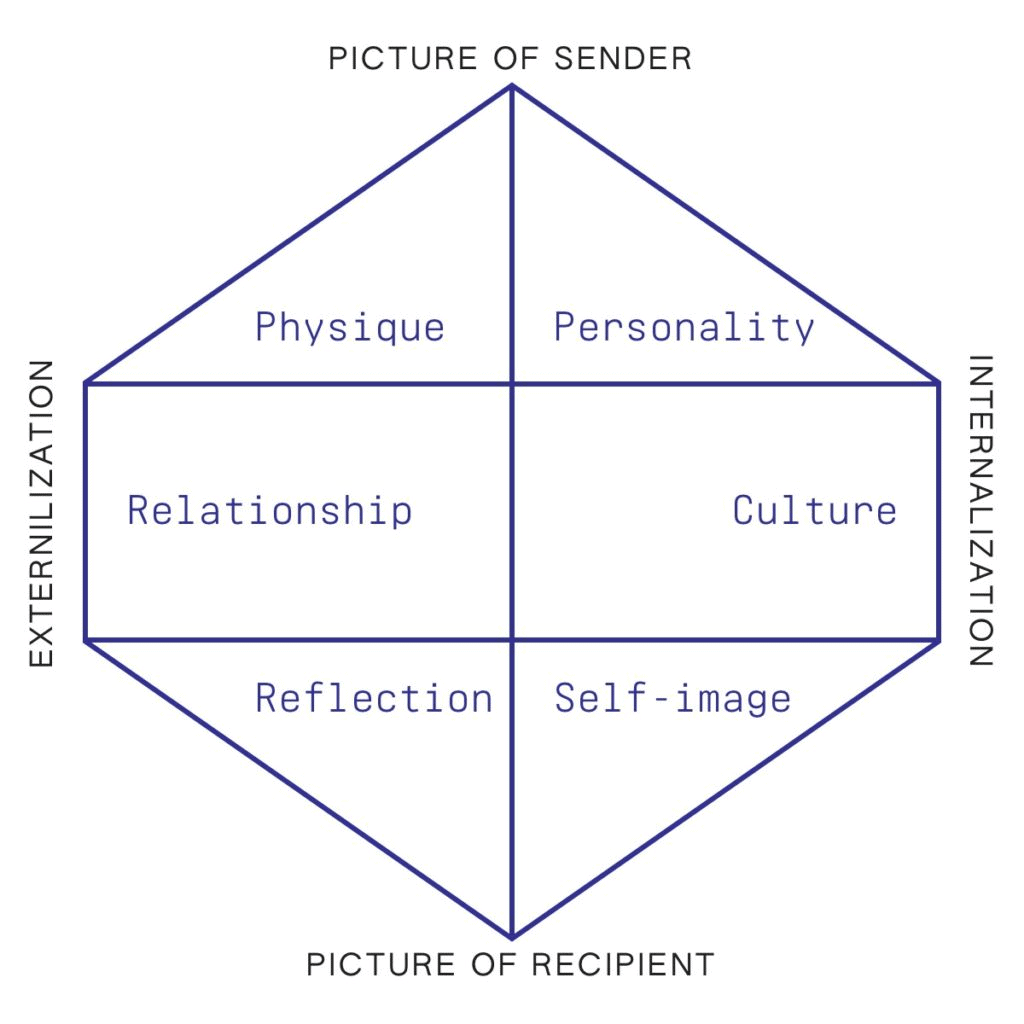 In the words of Kapferer-
"Strong brands are capable of weaving all aspects [of the prism] into an effective whole in order to create a concise, clear, and appealing brand identity."
Kapferer's Brand Identity Prism works with six elements- physique, personality, culture, relationship, reflection, and self-image in relation to each other. While doing this, brands need to consider their position in between the brand (Sender) and customer (Recipient) and vice versa.
The brand identity prism consists of six parts which are carefully explained below-
1. Physique
Physical characteristics of the brand are the very first element of the brand identity prism. It is something that someone who purchases the product or opts for service can notice about the brand.
Brand's Physical attributes include the logo, style guide, symbolic representation, color palette, and result or goods created presentation. All in all, it talks about everything that your audiences can visually experience when they use the brand. Airbnb brand, for example, provides a service rather than actual goods, and therefore their ads should emphasize their physique by showing the end result that their users might get after using their service.
Different physical characteristics are also shown by iPhones, as their ads emphasize attributes like sleek, modern, and minimalistic design.
2. Personality
If someone's body is one's brand's face, their personality is its voice. One's brand personality addresses not just what they say but also how they say it, and it is not just restricted to verbal communication.
Brand personality influences everything from font selection to communication tone. It should provide an answer to the question, "Who are they?" What would a person see, hear, and say to the brand if they were in the same room as it?
For example, Coca-Cola opts for its iconic typeface and the color red for sharing happiness and the moments of joy associated with the brand's core values. Another example can be of Nike and its consistency in expressing its "swoosh." It is confident, competitive, bold, and athletic. Nike's brand image is consistent due to the athletes it chooses to represent its positions, the typeface it utilizes, and the simple, powerful language it employs.
3. Culture
Culture is the genesis narrative of the brand. It sets the foundation of the brand. It tells where did any company get its start? What are the brand's core values?
"Culture" is one of the key aspects of newer, more creative businesses. It adeptly conveys how a firm lives its mission statement on a regular basis, and it connects both the employees and the consumers who engage with the product.
The most important question to address while determining someone's business culture is, "What does their brand live for?" Culture helps in expressing the brand a meaning that is just beyond the product.
For example, brand Toyota has the culture associated with its guiding principles i.e. "The Toyota Way" that comprise the Japanese cultural concepts like "heijunka" which suggests to "work like the tortoise, not like the hare."
4. Relationship
Relationship talks about the interaction between a brand and its target audiences. Brands should consider how they can maintain a positive relationship with their clients from the very first interaction through post-purchase messaging and relationship building.
A successful relationship might range from social media interactions to personalized in-store help. All in all, a strong relationship is defined as something that exceeds consumer expectations and optimizes brand loyalty.
For example, Ferrari's relationship with its customers is highly serious and exclusive. Apple is also an excellent example of a brand that values customer relationships. They have their products' UI designed for usability, plus their stores also let their customers the best service and experience.
5. Reflection
It refers to who the brand wants its consumer to be. Who would the brand like to reach out to the most?
Reflection talks about the set of stereotypical beliefs or attributes of a brand's target market that a brand tries to highlight in its advertisements, messaging, and communications.
For instance, Coca-Cola considers its consumer base as fun, youthful and friendly teenagers.
6. Self-Image
A customer uses the self-image to picture his or her ideal self. When brands understand such inclinations of their customers, they provide better and more personalized service to their consumers. Brands can think about how customers' purchases and interactions can add value to their lives.
Both the brand and the audience benefit from aspirational self-image. Most of the users want to perceive themselves positively, and the brand may collaborate with them to assist them in achieving their objectives.
As evidenced in their advertising campaigns, Ralph Lauren's company is well-known for crafting a story where customers may feel like characters: rich, healthy Americans enjoying the outdoors.
By mastering these six components of brand identity, anyone can correctly position their business, establish equity, gain new consumers, and retain existing ones.
Categorization of Six Facets of Brand Identity Prism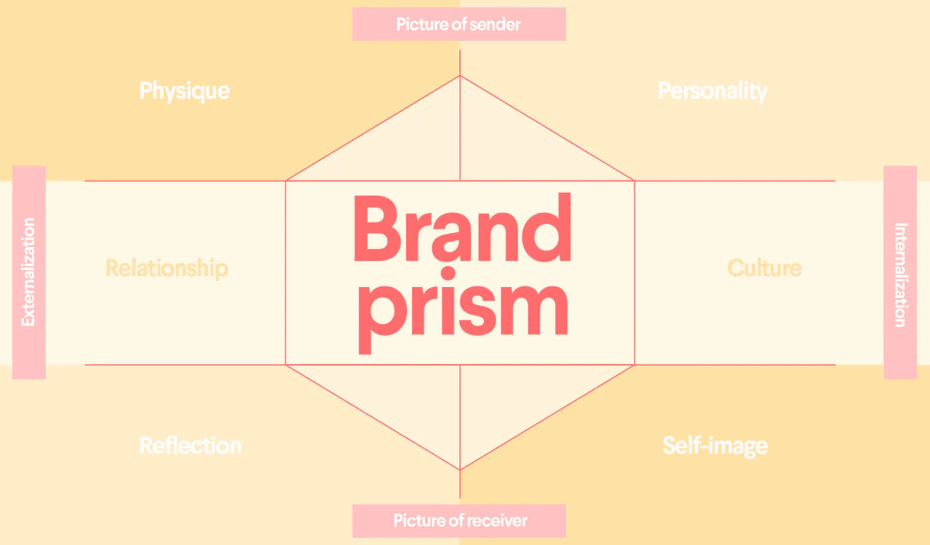 The six parts of the brand identity prism are separated but grouped in the 4 categories listed below.
1. Picture of Sender
The sender's image relates to how the brand portrays itself. This category includes Physique and Personality.
2. Picture of Receiver
The term "Image of the Receiver" relates to how clients perceive the brand. This category includes reflection and self-image.
3. Externalization
Externalization includes everything of the output of the brand that will be visible to customers. This includes the logo, advertising, goods, and services and is thus represented by the brand's Relationships.
4. Internalization
Internalization encompasses values, human resource policy, management, and so on, and it tackles Culture directly.
These areas, when combined, complete the Brand Identity Prism and give a road map for one's brand to connect with their target audience successfully.
Examples of Brand Identity Prism
1. Coca-Cola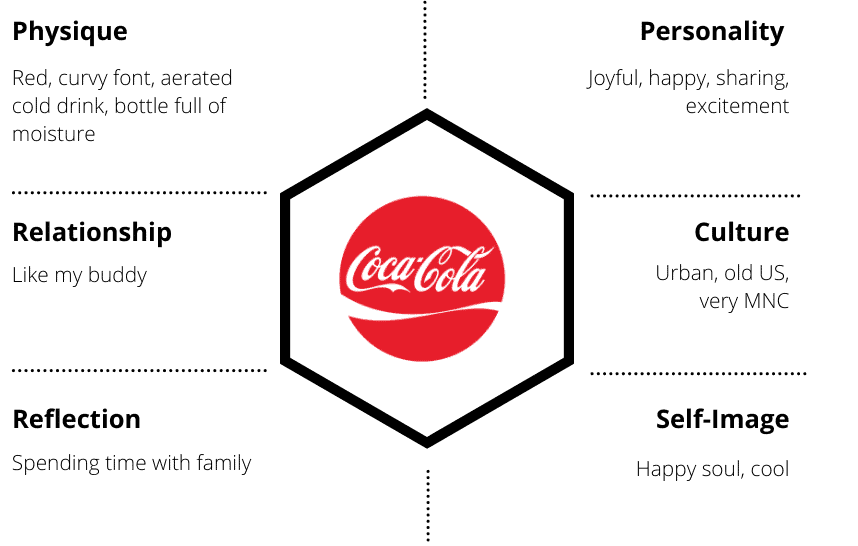 Coca-Cola's brand identity prism shows that it associates with festivals being celebrated with family. It suggests that with Coca-Cola, all the family members have a good time and make new relationships by sharing the drink. Hence personality-wise, the brand Coca Cola is family-oriented that likes to give happiness
2. Pepsi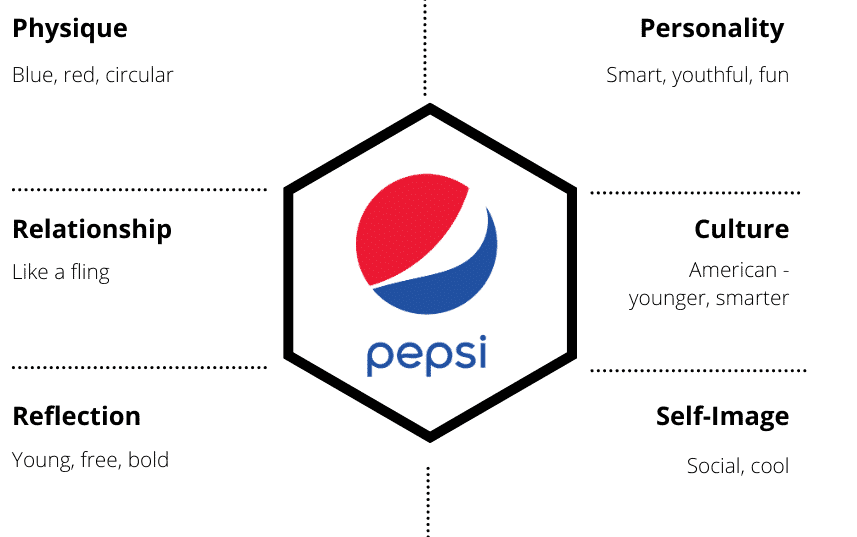 Pepsi's brand identity prism revolves around smartness, youthfulness, and fun. The advertisements that the brand uses also syncs with the young, free, and bold reflection of its customers. The brand personality that Pepsi projects here are youthful and smart.
Conclusion!
Brand identity prism is a way for building someone's brand so that customers can identify its personality and value. The prism is a simple and effective tool for developing a branding plan that is in line with its aim.
Brands may expand following this plan and watch how their prism facets evolve, ensuring that each one recurrently promotes their brand for years to come.
This was all about Brand Identity Prism to create a Brand's Identity, enhance brand image and increase customer loyalty
Liked this post? Check out these detailed articles on
Topic of Branding
Alternatively, check out the Marketing91 Academy, which provides you access to 10+ marketing courses and 100s of Case studies.