Well, for anyone who thinks the Barnum effect or the Forer effect sounds vague, think again. It has been existing and in practice since ages.
The best example of the Barnum effect is your daily horoscope. They are in vogue and can be found in any newspaper. Most taureans think the Horoscope is about them, and the same goes for Pisceans, leos or capricorns. But do you really think, that a horoscopy which gets printed in a newspaper with lakhs of readership, is about you? Or that the planetary alignments are happening so that 1 individuals life can change?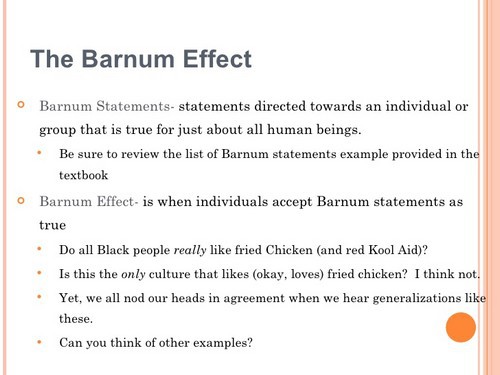 If you don't think like that, you are smart. But it is no secret that these horoscopes are still a hit in the masses. What has the Barnum effect got to do with horoscopes? Let us understand.
What is the Barnum Effect?
The Barnum effect says that individuals generally listen to and accept statements which describes their personality, provided that they feel that the message is tailored for them. It is somewhat (though not completely) meant for them.
Ever see how politicians work? Don't they all work for the greater good. And don't they make every individual out there feel that they are working for you and your betterment. That's the barnum effect.
Typically, for the barnum effect in application, you need an undifferentiated crowd. Then you divide the crowd with certain characteristics (for example the month or date they were born on), and make vague statements about their personalities. The people will believe these vague statements because it is meant for multiple of them, but is definitely applicable to that individual.
Although horoscopes might be the favorite of some people, but politicians are not. So here is the typical agenda of Politicians
Get you more money
Get you better infrastructure
Get you more pension
Get you this, get you that based on your social status.
Now, in the above 4 generalized statement, one person will feel the politician is good because he can get more money. The other will feel he can get more infrastructure. In essence, a combination of various statements combined together as per the personality of the crowd, individualises the message.
What the barnum effect does is
It makes an immediate connect with the individual.
It makes them listen to the one passing on the message
Once the belief is create, the person passing the message can pass more messages, whether honest or scrupulous.
The barnum effect was proved by a pioneering research done by Betram Forer in 1949, and it stands true to date and is being used even today.
If you liked this article, we bet that you will love the Marketing91 Academy, which provides you free access to 10+ marketing courses and 100s of Case studies.