Ageless Brands?? How do brands continue to maintain their peak even though limited by the product life cycles as dictated by the theorists. If we browse major brands like FedEx, Coca-Cola, Titan Industries, Amul, McDonalds etc, we can draw characteristics common to the brand vision adopted by these giants. If we were to cluster them in bullet points, we can briefly infer what process these famous brands follow to pace parallelly with time to outclass themselves as ageless brands.
1) Target Market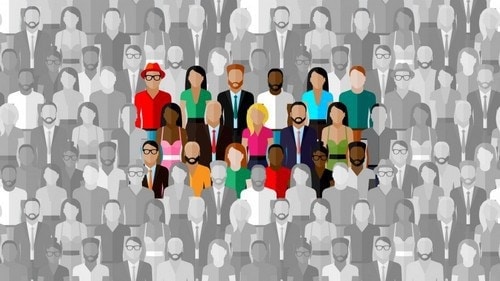 Knowledge of consumers and customers helps brand majors to anticipate reaction and predict future needs and demands and thus strive to stay ahead of the curve. Knowing drivers of demands is the crux in building of a great brand. Social media platform or SMAC (Social, Media, Analytics, Cloud) are powerful tools to gauge customer preferences and tastes. Brands connect with customers and get feedback on how to maintain their reputation.
2) Forecasting 
Sound customer knowledge coupled with trends and data analytics powered by technology will empower brands to harness rapidly changing technology to match future needs with their innovations.
3) Competitor knowledge
Objective assessment of competitors for their strengths and weaknesses, product differentiation and anticipated move, puts brands in a vantage position to beat their competitors in healthy competition.
4) Brand Proposition
Belief and faith in vision and mission of brands, its ability to adopt changes with times, its value proposition to markets, will ensure that the brand continues the trajectory in the future to become an ageless brand.
5) New markets
Ageless brands actively seek new markets by way of targeting, segmenting and positioning to take into account unexplored, potential areas to make solid ground in expanding and venturing new markets with alterations as per the target segments.
6) Continuous customer engagement
Ageless brand engage with consumers on mass digital platforms to track how people perceive their brands, their likes, dislikes and grievances. Brands have become very responsive to prevent damages to their reputation. Brands also adopt offline channels to engage in areas where online platforms do not account for major consumer/customer satisfaction.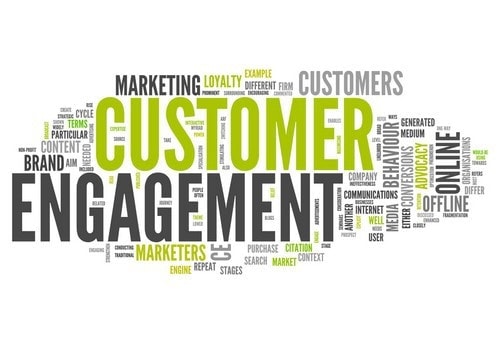 I cannot vividly recall my first encounter with tea but I do certainly remember it must have co-incided when I miserably failed to manage that part of Biscuit which was dunk in the tea. 20 years later, I cannot survive mornings without my routine of tea and biscuits but this time Parle-G does melt in mouth. Almost every Indian household has had its quota and still does, generation after generation, to stock the staple snack of tea time- 'Parle-G'. The sentiment is common for 140 billion packets which sells annually. Parle-G has engaged Indians via its mesmerizing ads of Parle-G dadaji, 'G' maane Genius and recently 'Roko mat, took mat'. Parle Products, the parent company did come out with 'Hide n Seek' to cater to changing taste of youth and their equally famous product 'Frooti'- mango based cool refreshing drink.
Growing up, I saw a single typical watch brand with most of my relatives. Be it birthdays, career success, engagements, weddings, Titan was ingrained in everybody's mind as the ultimate suave gift for precious occasions. Launched in 1984 as part of joint venture between Tata and Tidco, Titan has grown and diversified into Watches, Accessories, Jewellery, Eyewear, perfumes and Precision Engineering. It acquired immense reputation as every house-hold watch-wear.
It engaged celebrities like Aishwarya Rai and Aamir Khan in its growing phase through its heart-touching advertisements. Fahad and Nithya's ad featuring the joy of gifting which portrays watch as marriage proposal exchange, professor getting farewell from students, Nimrat Kaur defining the choices of new age woman are directed towards deep engagement with the masses. Titan, very prudently, kept track of changing times and tastes and launched a series of brands under its umbrella viz. Fastrack, Sonata, Raga, Edge, Octane, Xylys, Nebula, Zoop, Titan Eye+, Tanishq, Goldplus, Zoya and Skinn. With Fastrack, Titan instantly connected with the college and young generation of the country.
Titan's promotion of Fastrack as dynamic, agile and youthful brand won hearts of even the generation in 30s and above. Their ads featuring move on, Sorry for what and move out of the closet are extremely creative and ever-engaging with the young crowd of the country. Fastrack ventured into bags, belts and wallets with their creative funky designs as those of its watches and received great popularity with the changing and ever-evolving demand for creative fashion. Titan Eye + is aimed to provide value proposition for spectacle frames as one stop solution for eye-tests and custom design of frames from a varied catalogue and international multi-brands under one roof.
Titan's Tanishq is aimed to cater to the never-ending craving of gold by the Indian women. Tanishq is to Indian women what Cartier and Tiffany are to Europeans. Launched in 1994, due to circumstances which forced Tata to source gold and materials for its watches in India itself due to foreign exchange problems and primarily directed for European and American women, Tanishq became instant hit in the home country due to its ethical practices and sound reliability. Tanishq offers best in class jewellery and watches for range of prices and catering to different segment of the Society. Luxury collection of Tanishq is 'Zoya' and is positioned as ultra-rich collection of Titan with impeccable use of design and ornaments. Titan brought 'Skinn' as everyday French themed perfumes for men and women and very decent value proposition. They ventured into leather products for men like wallets and belts. One can only commend that how a brand diversified itself from being a watch-maker to a mammoth life-style care taker.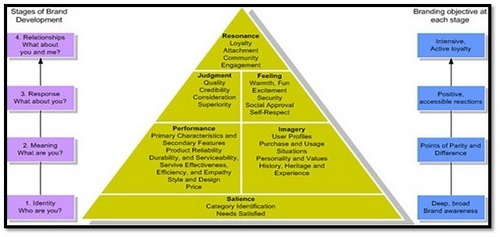 If we put titan on CBBE model, we see that Titan has used segments of feelings and imagery to build people's profiles.