What Are Needs?
A need is a requirement, whether physiological or psychological, that is essential for the well-being of an organism. A good example of a need can be food for human beings or shelter for a bird.
Depending on the situation, our needs may vary. Like humans, animals may have different types of needs. Physiological needs such as food and water are necessary for all life forms to survive. Psychological needs include social interaction, safety, comfort, and pleasure. Other needs like shelter are important for some species while they may not be essential for other species.
Definition: "Needs" refers to things that are essential for survival.
It is important to understand the concept of needs in order to better understand how organisms survive and thrive in their environment.
What are the Types of Needs?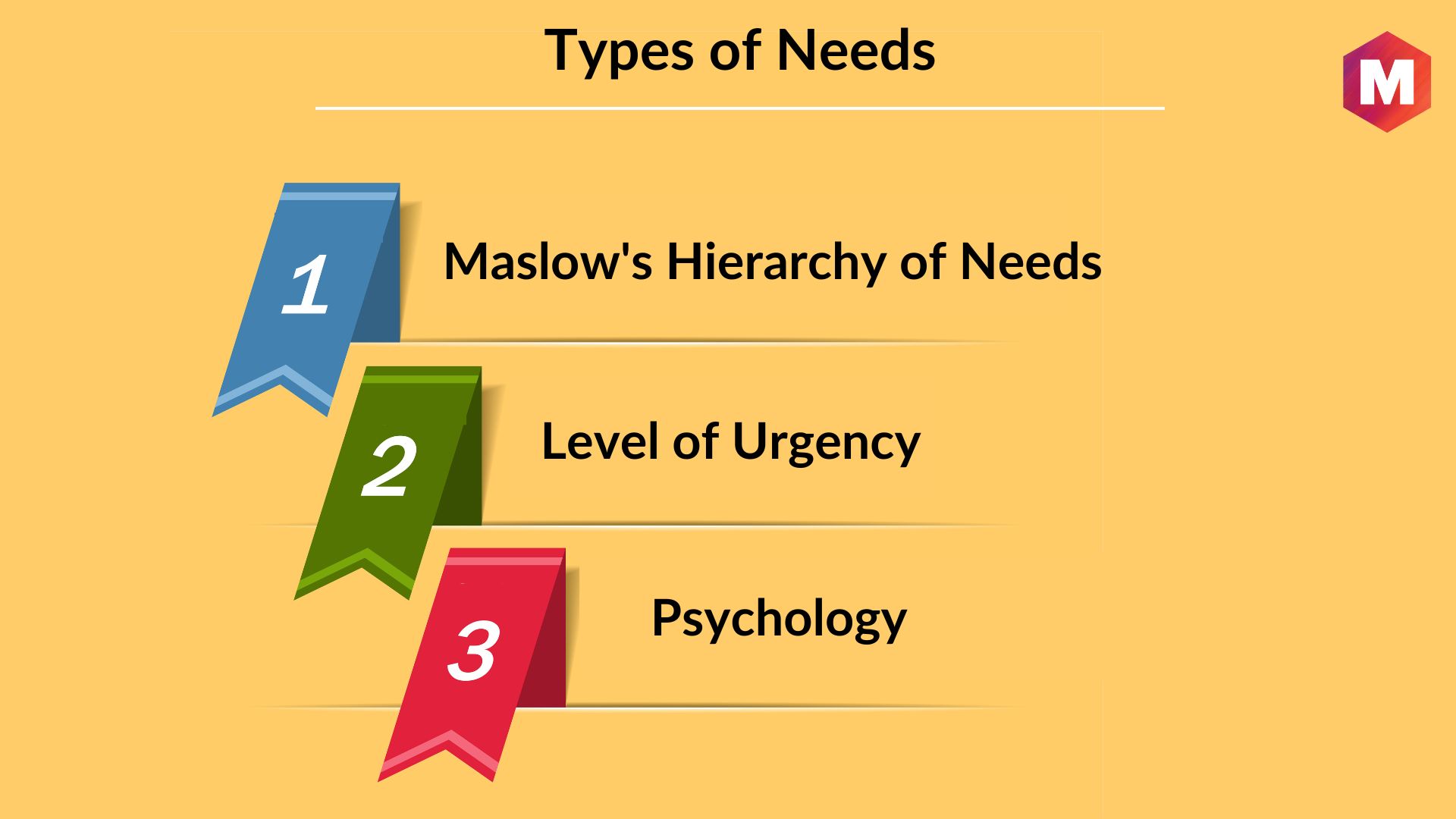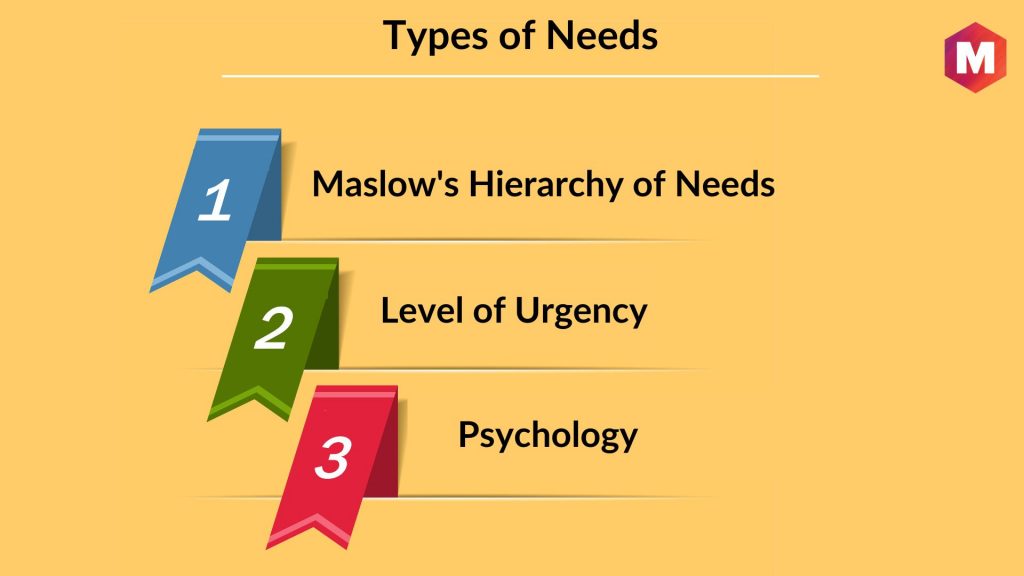 There are different types of needs that are based on Maslow's Hierarchy of Needs, Level of urgency, Psychology, etc. So, let's dive into them and understand with some relevant examples –
Maslow's Hierarchy of Needs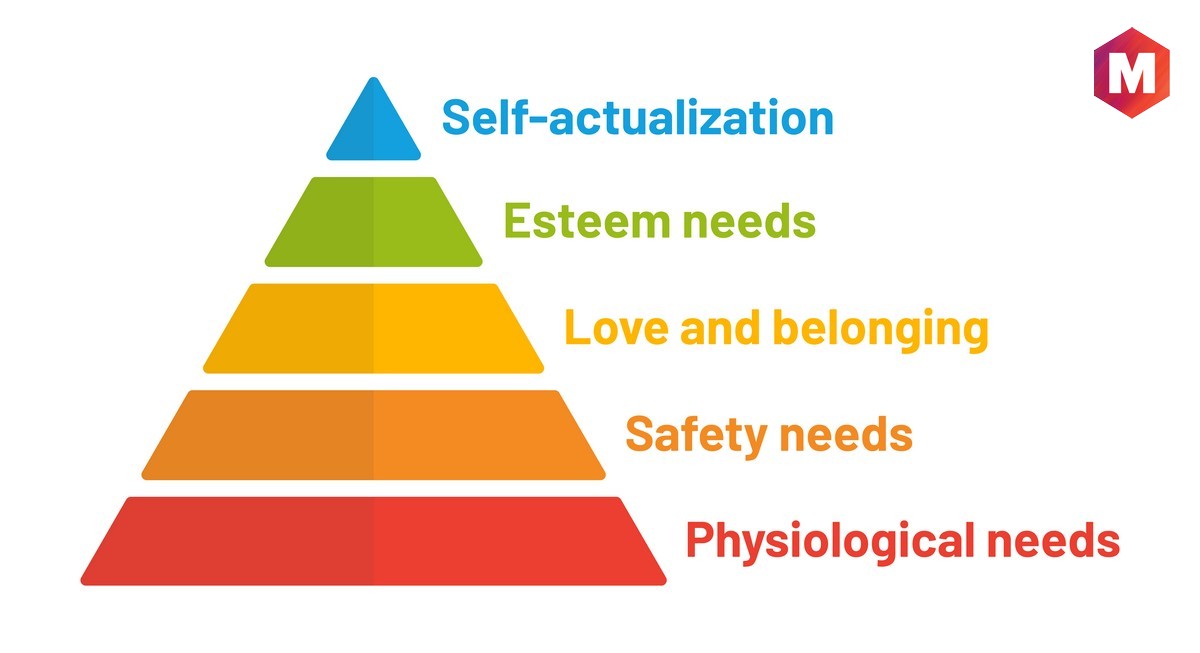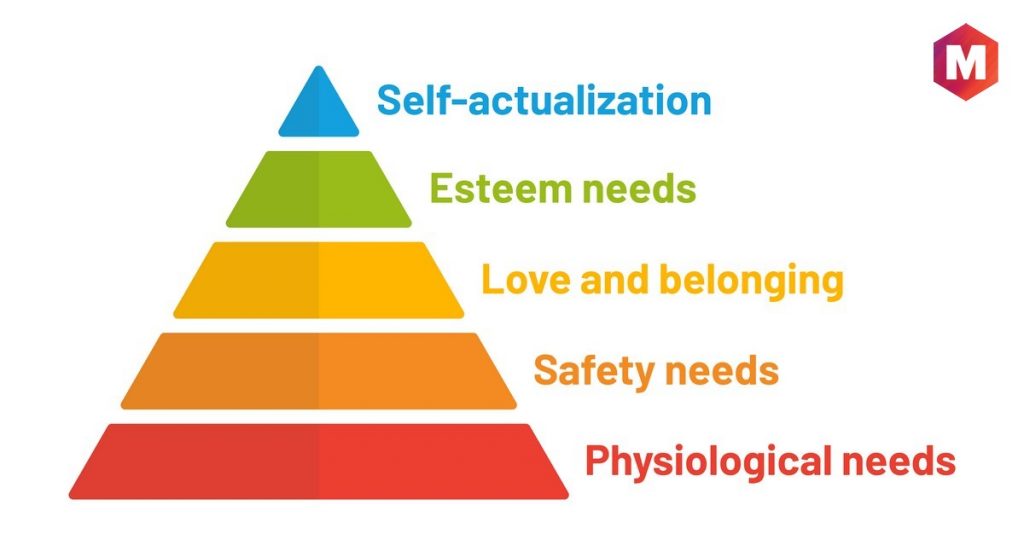 Maslow's Hierarchy of Needs: Maslow's pyramid of needs is a popular and commonly accepted theory in psychology which states that for an individual to reach their highest potential, they must satisfy certain basic needs. These needs are arranged in a hierarchical order and each level must be fulfilled before someone can progress to the next. The five levels of Maslow's theory are –
Physiological Needs – Such needs refer to the basic requirements of life. They are important for basic survival. Some examples of physiological needs include food, water, shelter, clothing, and air.
Safety Needs – These needs are related to emotional security in the environment that one lives in. Some of these needs include protection from harm, financial security, and orderliness.
Social Needs or Love and Belonging Needs – These needs refer to the need for connection with others, friendship, and love. Examples of these needs include developing relationships, participating in group activities, and expressing affection.
Esteem Needs – This level includes the need for respect from others as well as self-respect and recognition. Examples of this type of need are having status within a community or feeling valued by others.
Self-Actualization Needs – This level refers to the need for personal growth and development. Examples of this type of need include achieving goals, learning new skills, and exploring one's creativity. A self-actualized person has reached the highest level of Maslow's pyramid and is capable of being fulfilled in life by understanding human behavior and their place in the world.
There is a pyramid of five needs, with the number five being at the top. We must first satisfy our lower-level needs before moving on to meet higher-level needs.
So, you first have to meet your physiological needs or fulfill basic needs, such as food and shelter. Then you need to secure safety needs, like protection from harm. After that comes social needs or love and belonging needs; this is where we seek out relationships with others.
We then move on to esteem needs and the need for respect from our peers and self-esteem. Finally, we reach the highest level of need, self-actualization needs. This is where we seek out the opportunity to grow and develop ourselves.
Primary, Secondary, and Tertiary Needs on the Basis of Urgency
Needs can be categorized according to their level of urgency in our lives. These categories include:
Primary needs (basic needs) – Meeting our primary or basic need is crucial for survival. Examples of these needs include food, water, clothing, sunlight, and shelter.
Secondary needs (additional needs) – Secondary needs are those that help us live comfortably and provide us with a sense of security. Examples include education, health care, transport, communication, etc.
Tertiary needs (luxury needs) – Tertiary needs are those that help us to reach our highest potential, give us a sense of fulfillment, and make our lives enjoyable. These needs include leisure activities, branded clothes, entertainment, travel, luxury cars, vacations abroad, and so forth.
Needs in Psychology
Psychology research suggests that certain needs are not driven by physical requirements, but are instead based on emotions (Lester et al., 1983). Let's take a closer look at the different types of human needs that have been identified in psychological studies with their examples –
Friendship: We all need companionship and relationship to feel fulfilled in our lives. Examples of this type of need would include meaningful conversations with friends, family, and peers.
Spirituality: This is an area of our life that can be deeply personal and important for people to explore in order to find meaning and purpose. Examples of spiritual needs include rituals, prayer, and meditation.
Recognition: Recognition has been identified as a need in psychology studies. Examples of this type of need would include recognition from peers, family, and society.
Relationships: Relationships are essential for our mental and emotional health, as they provide us with a sense of belonging. Some examples of needs in this category would be having significant connections with friends, family, and coworkers.
Self-confidence: Self-confidence is an important need and can be developed by setting personal goals and having faith in one's abilities. Examples of this type of need would include believing in yourself and feeling proud of your accomplishments.
Respect: Respect is an important need in psychology research. Examples of respect needs include being treated with dignity and fairness by those around you, as well as feeling appreciated and valued.
Physical vs Spiritual Needs
When it comes to human motivation and behavior, there is much debate about which types of needs individuals are driven by. Some experts argue that physical needs are the main drivers of motivation, such as financial well-being and health security. Other experts believe that spiritual needs, such as self-actualization and psychological review, have a greater influence on motivation.
The truth is that people need both physical and spiritual needs to be fulfilled in order to remain motivated in their life. Having financial security can provide peace of mind, but it doesn't guarantee happiness. Fulfilling one's spiritual needs, such as finding meaning in life or developing relationships with others, can provide greater satisfaction and lead to a more fulfilling life.
Some of the notable differences between these two are-
Physical needs are more tangible and can be measured in a quantifiable way, while spiritual needs are less tangible and harder to measure.
Physical needs are often more easily achievable and provide immediate gratification, whereas spiritual needs may take longer to achieve but result in lasting happiness.
Physical needs rely heavily on external influences, such as money or status, while spiritual needs are more internal in nature.
It's important to understand the difference between physical and spiritual needs, and how they both impact our lives. In order to achieve a healthy balance and remain motivated, it's important to strive for fulfilling both types of universal human needs. This can help bring about greater personal fulfillment and lead to a more meaningful life.
Need vs Wants
We all have needs and wants in life, but understanding the difference between them can be a helpful way of managing our resources. Needs are essential for living, such as food, shelter, clothes, etc. Wants are usually things that we desire to own, like a new car or designer clothes.
It's important to prioritize our needs over our wants and manage our resources accordingly. This can be done by budgeting, setting goals and objectives for yourself, and thinking long-term when it comes to saving or investing money.
By understanding the difference between needs and wants, you can make informed decisions about your finances that will benefit you in the long run. It's not always easy to differentiate between the two, but it's a skill that can bring great rewards. Some of the key differences between needs and wants are-
Needs are necessary for living. Wants are just desires that we can do without.
Needs usually take priority over wants in terms of spending and budgeting.
Needs are typically essential items or services, while wants tend to be luxury items or services.
Needs are usually cheaper than wants in terms of pricing.
Do Our Needs Remain Constant Over Time?
The answer is, not really. Our needs can range from basic physical ones such as food, water, and shelter, to emotional needs like love and recognition. We also have intellectual needs such as knowledge and creative expression, and spiritual needs like a sense of oneness with the world around us.
As we go through life, our needs will change depending on where we are in our lives. A baby needs mostly physical care from his parents, while an elderly person has different types of needs. A child may need to understand the world around him and feel confident in his abilities, while a professional adult needs to maintain his job or create new opportunities.
No matter what life stage we are in, our needs will be different from those of someone else at the same stage. It is important to recognize these stages and adjust our expectations accordingly. Everyone's needs are valid and should not be judged. With that in mind, it is important to remember that our needs can change over time and must be respected and addressed accordingly.
It is also important to recognize that everyone has different needs, priorities, and cultural circumstances. Some people may prioritize physical needs while others might focus more on emotional or spiritual ones. It is up to us to make sure we are meeting all of our own needs and that of those around us.
By recognizing our constantly evolving needs over time, we can ensure that we are always being met in the best way possible. Knowing which needs are most important to us is essential to taking care of ourselves, as well as others around us. We all have different types of needs and addressing them is key to a healthy, fulfilled life!
Liked this post? Check out the complete series on Marketing