Business is any activity that is performed for the survival of an individual. The activities primarily involve exchanges of goods or services in exchange for money or other goods and services. The system evolved as a barter system which consisted of exchanging goods against goods. The owner of the business is called the Business owner.
The types of business and its classification is based on various categories.
Following are a few types of business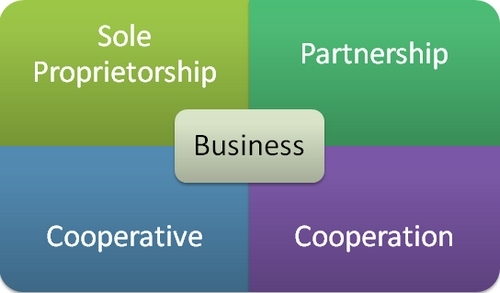 Types of Business based on Ownership
Business is classified on the basis of the ownership. In today's competitive world, owning a business by a single entity is not possible and hence different types of ownership have evolved.
1) Sole Proprietorship
 When the business is owned by a single person, it is called as a Sole Proprietorship business. It is easy to set up since only a single owner is responsible for everything in it. On a small scale it is easy to manage but as the business grows, it is difficult to manage the business owing to the diversification of departments and multiple stakeholders. Startups tend to have single owner since they are relatively easy to manage. Walt Disney was started as sole proprietorship business initially before it turned to giant.
2) Partnership
When two or more persons are involved as the owners of the business, it is termed as a partnership. The profits and the earnings of the company are divided and distributed by the partners amongst themselves. It is a well known and regrettable fact that partnerships do not last for long and tend to get over. Partnership companies range from small scale to large business.
3) Family owned Business
 This is the type of business which is owned and managed by a family. The head of the business will always be a member of the family and no one else will be allowed at its helm. This is a relatively old form of business, although many family-owned businesses are found in Asian countries of India, China, and Japan. Tata Group is one of the best examples of family-owned business which was started in India in the 1800s and is now evolved into various sectors. The company is one of the most trustworthy companies in India which is dubbed as producing from Salt to Satellites.
4) Limited Liability Partnership
Limited Liability Partnership (LLC) is a recently evolved type of business which combines partnership with a corporation. As the name suggests it is a form of partnership but the difference is that the stake of one partner is less than the other and if the business doesn't work out, the partner reserves right to pull out. Most of the times, the partner with a lesser stake is a popular one while the other isn't. LLC has few taxation rules in many countries and is considered a good way to enter a new market
5) Cooperative :
A company owned and operated by a group of individuals for their mutual benefit. The people involved in the cooperative companies are called members and the cooperative company may be incorporated or unincorporated. Water and electricity, Banks are few examples of cooperative business.
6) Franchise :
Individual entrepreneurs, when get involved with larger companies to start a business, it is termed as a franchise. The business model remains the same in case of the franchise as the model is followed that of the parent company. The ownership differs, however, the brand name, processes, and even the logo remain the same as the parent company. McDonald's is one the world's largest Franchise business.
Types of Business based on offerings
Business can be of different nature, serving to different customers and based on a wide variety of industries. Following are types of business based on their offerings.
7) Product based companies
The primary offering of these companies is products only. Their business revolves around producing or manufacturing of goods and supplying them directly to customers or other companies.
Raw material producing industries are the ones that supply to industries only while a consumer-based company – termed as B2C – supply to customers directly. Examples of Product based companies include Coca-Cola which is worlds renowned and largest soft drink manufacturing company. It is purely involved in producing and selling of soft drinks all over the world.
8) Service-based companies
A service based company will have no product but only pure service – intangible. The emphasis is made on the quality of the service rather than quantity, however, measuring and standardizing that quality is difficult. A pure service based company would be online streaming service Netflix. In 2019, there is an emerging company – soon to be the market leader – which will compete with Netflix that is Disney Plus.
9) Hybrid offerings
Providing a single offering has become too mainstream for companies and many of them have started offering both products as well as service.
These hybrid companies aim at customer satisfaction by providing a combination of both. A common trend is seen as a company starts with either Service or product offerings and then diverts into the other missing thereby providing an integrated approach to customers. One of the best examples of the same is Domino's pizza which provides home delivery of Pizza in 30 minutes. Another example would be Google which is providing both mobile phones as well as email, blogging, search engine services etc.
Types of Business based on Activities
Business can also be classified according to the activities they are involved in. More often than not, these businesses specialize in their respective activities. Following are few subtypes of business based on activities:
10) Accounting firms – which specialize in accounting. Example – KPMG, Delloite.
11) Market Research firms – specialize only in Market research. Example – AC Nielsen, IMRB.
12) Advertising firms – specialize in advertising and its related activities. Example – O & M.
13) Manufacturing firms – based only on the manufacturing of goods. Example – Various small-scale organizations are involved with local manufacturing of products like Apple manufactures iPhones in China while Google manufactures in South Korea.
14) Research business – involved only in the research sector. NASA is an example of an American research business specializing in various forms of AstroPhysics, CERN is a European organization involved in studies of science and its various forms.
15) Marketing firms – mainly involved in providing marketing services.
Types of Business based on Industry classification
Business is also classified based on industries they serve. They adhere to providing products or services to these industries only. They can further be classified sector wise:
16) Agricultural business – are involved only in providing goods and services for the agricultural sector.
17) Pharmaceutical business – related to providing services and products to the medical fraternity. Example – Pfizer, Novartis
18) Entertainment business – involved only in the entertainment sector. Example – Warner Bros, DC Comics
19) Industrial business – based on providing products like medical devices, aircraft carriers, etc. to various fraternities. Example – Siemens, ThyssenKrupp.
20) Transportation business – are the ones serving the transport industry – consumer transport or goods transport. Example – Emirates airlines for consumer transport, Maersk for goods shipping.
21) Tourism business – Which provide services related to tourism only. Example – Thomas Cook
22) Hospitality business – involved in lodging and boarding as well as hospitality. Example – AirBnB, Raddison group.
Other types
23) Government business :
 Government of almost every country is involved in various businesses from providing goods to services and is the leading decision maker for that particular country. Presence of government is there in almost every sector either as a competitor or a regulator. Government businesses may be wholly owned by the government or in a partnership or any customized form of business legal in that particular country.
24) NGOs :
NGOs are Non-profit organizations which are involved in providing help to various public causes. They are regulated by international bodies like the United Nations and are fully involved in humanitarian work. Examples – The Red Cross Society.