Licensing is one of those terms that are used quite frequently and hold high importance. However, it is common for people to get confused with the exact meaning and the use of this term. Licensing is a relevant term, and if used rightly, it can help you grow your business by leaps and bounds.
In this article, you will learn about the definition of licensing, meaning of licensing, and different types of licensing.
Definition
Licensing can be defined as a contract or agreement between two companies, where one company permits another company to manufacture its products under specified conditions and for a specified payment.
Another definition of licensing can be stated as an agreement or contract between two companies where the owner of one company let the other company use its property under pre-decided specific parameters. The features can be real estate property, personal possessions, or intellectual properties like trademarks, patents, and copyrights
Meaning of licensing
Licensing is one of the few profitable ways to grow your business. You can boost your profit by licensing your intellectual properties like trademarks, designs, and copyrights to other companies.
Licensing is a great way to enter into that existing production, distribution, and markets that other companies might spend decades to establish their business. In this way, you can get a share in profit generated by other companies by letting them use your licensed products and services.
The license fee varies depending on the demand for your product and service in the market. It can be a small percentage in sales and the percentage increases with the increased value.
There are several examples of giant companies that are generating huge profits by licensing their designer's names, products, and services. For instance, Calvin Klein Inc. makes 90% of its total annual profit through licensing its designer name.
Their designer name is used by various makers of perfume, innerwear, jeans, men's apparel, etc. The New York Based company generates its direct profit by the sales of women's clothing only. On the other hand, IBM, a giant company, has recently licensed its various technology patents only a few years back, and it is generating approximately $1 billion of its total annual revenue through licensing.
Types of licensing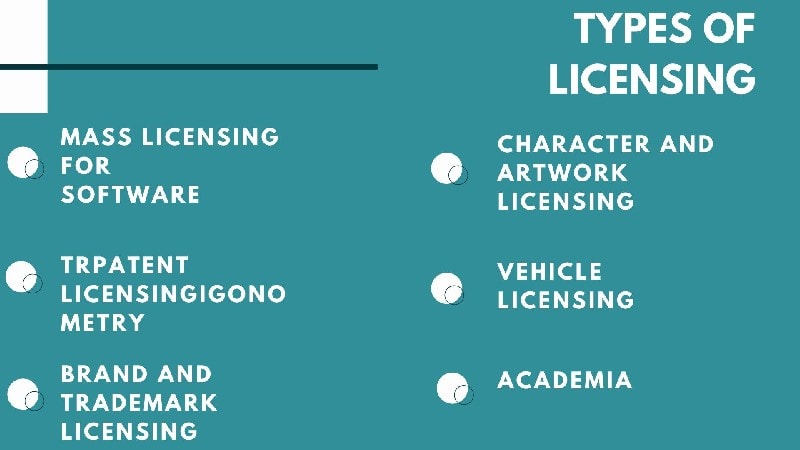 There can be different types of licensing that can be used to acquire licenses of different kinds of products and services.
Let us learn about different types of licensing one by one.
1. Mass licensing for software
Mass licensing is a licensing that is used by individuals to be able to apply for software on personal computers. A user can install the software on the number of devices for which he has bought the license. For example, one is required to purchase the license to be able to use its operating system.
2. Patent
Patent licensing is a licensing that a licensor gives to the licensee to grant permission to conduct patent activities. Several companies get patent their technology and other products that they don't want anyone else to use without their consent.
Patent licensing is one of the most expensive licensing. A licensee is required to pay a considerable amount of money to obtain permission to be able to do business using patent products, processes, or services.
3. Brand and trademark
Brand and trademark licensing is a type of licensing in which a licensor permits the licensee to distribute his products using his brand name. This type of licensing depends on specific contractual forms. For example, the brand and trademark licensing allow the licensee to use it in specific geographical regions or for a specified period. The brand and trademark licensing can also be of two types.
In the first type, the fee of the license is independent of the sales and profits made by the licensee.
In the second type, the fee of the license is dependent on the sales and profit generated by the licensee. That means the licensing fee will increase with the increase in the profit.
A licensor can also grant permission to the licensee to manufacture and distribute its products. This type of licensing is called licensed production.
4. Character and artwork
The character and artwork licensing are licensing that created to permit people to use and copy the copyrighted artwork and characters. For example, many famous cartoon characters like Mickey Mouse, Tom and Jerry, and Scooby-Doo are all licensed under character and artwork licensing.
By acquiring character and artwork licensing, a person can use characters and artwork with the fear of copyright infringement.
5. Vehicle licensing
Vehicle licensing is a licensing which is necessary to acquire to drive certain types of vehicles in several countries. That means if a person wants to drive a specific type of vehicle, then he is required to have a particular kind of license. For example, an average driving holder person can't drive heavy vehicles like trucks.
6. Academia
Academia is a licensing that a person requires to become eligible to teach in a university. For example, a person must have a doctorate in a subject that he wishes to teach in a university.
Examples
There are different examples of licensing in various industries. In the article above, we have discussed the cases of Clavin Klein and other companies from different sectors. Mcdonald's franchisee is also an example of licensing.
A restaurant can make the use of Mcdonald's name if they only have acquired licensing by the Macdonald's corporation. Mcdonald's company sells its licensing in the form of Mcdonald's franchisee, and it lets other companies use its brand name and marketing material only after it has bought its franchisee.
Similarly, various companies want to expand their business and want to earn through letting their products and services used by others. For example, a software company allows others to use its software by providing them with a license to use the software.
Liked this post? Check out the complete series on Business