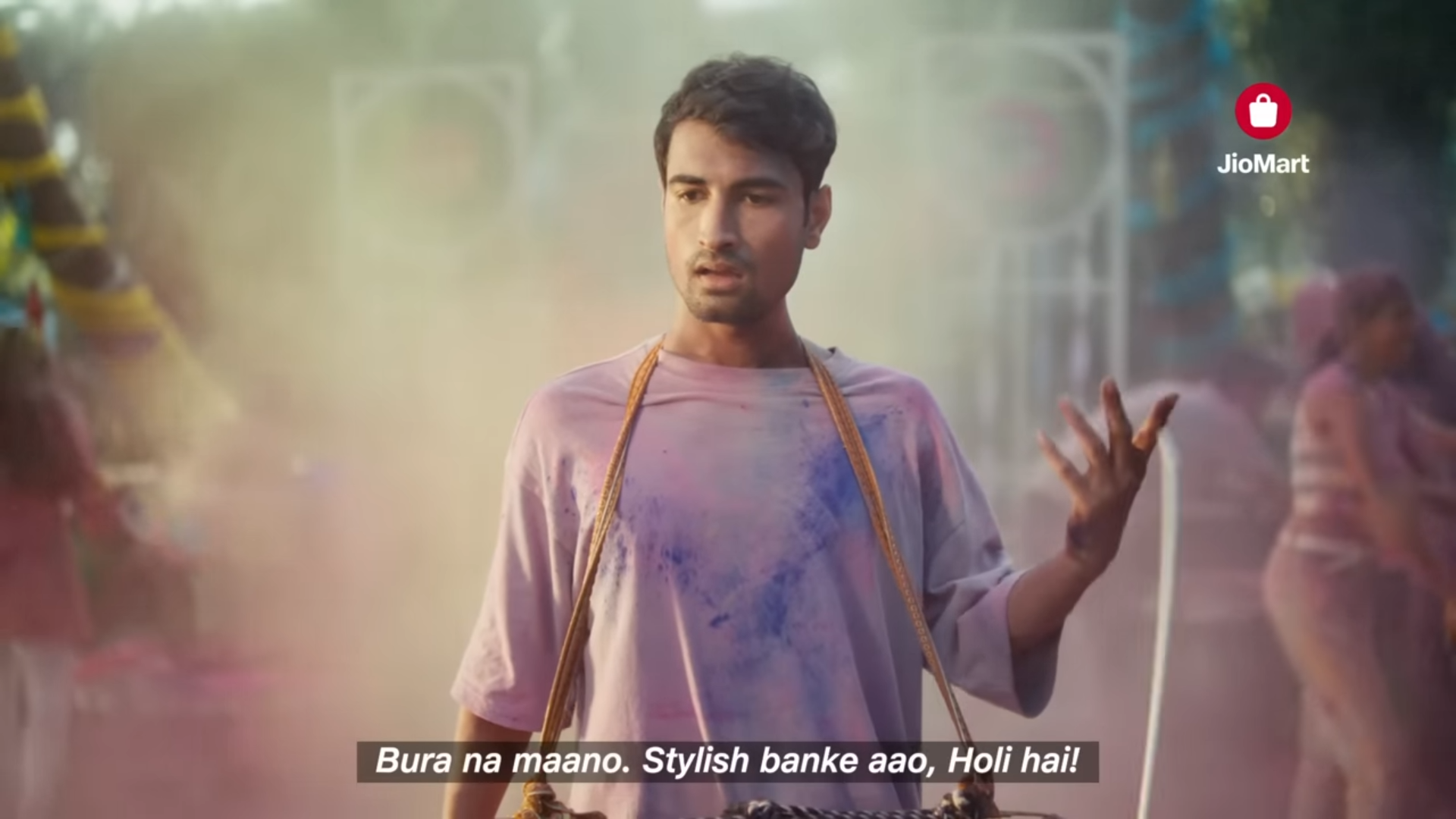 JioMart just got into the Holi mood by launching a digital-first campaign targeting its Big Holi sale from 1st to 8th march. The campaign is based on Holi's popular phrase "Bura na mano, Holi Hai!".
With this campaign, it seems Jiomart is focusing on all the different loving aspects of Holi as all its different campaigns are covering one aspect or another of the colorful festival.
Here is the analysis of one of the ads. In this ad, the message is that even if it is Holi, you are supposed to ramp up your style. A lady is seen walking out of her home and searching for Rahul. The Rahul she knows is playing the drums and smiles at the woman. However, she apparently looks at him and is disappointed. Then she looks here and there and finally goes to a man and applies Holi color and calls her Rahul. The man says that he is not Rahul, but the lady says its fine. The ad then delivers its main message "Bura na maano, stylish banke aao, Holi hai" depicting that you should wear your best even on Holi. JioMart's holi sale is from 1st to 8th March. Hope you enjoy the sale and the festival.
Saatchi & Saatchi Propagate has launched a digital-first campaign to encourage people to forgo outdated celebration methods and embrace the joy of Holi. The five-film series is part of the JioMart Big Holi Sale, offering discounts of up to 80%. With this offer, people can fully enjoy the festival – the way it was meant to be.
Bollywood in the past has always depicted Holi as a glamorous affair, complete with brightly colored water tubs, an array of sweets, and people dancing around in stylish clothing with their hair out. However, the reality paints a much different picture. As Holi is celebrated today, many continue to conceal their hair, wear the oldest t-shirts from their wardrobes, use worn out speakers, and fear spoiling the furniture.
Here are some more Campaigns launched by JioMart