Mary Meeker's Internet Trends reports are always sought after. They are god's own words about the technology world, if the way people respond to it is anything to judge by. In addition to being partner to the venture capital firm Kleiner Perkins Caufield & Byers, and veteran Internet analysts in their own right, Mary Meeker is more than qualified to declare that 39% of the world's global population is online.
That is nearly half, specifically 2.8 billion people; this is one of the points in the report. There are 5 billion left, which is turning business heads and corporate minds to the outstanding economic and philanthropic possibilities (hopefully more of the latter) of getting everyone on the planet online.
Google's Project Loon and Facebook's Internet.org have taken note and are setting plans in motion to offer subsidised access to developing countries in the hope of integrating them into the global internet mainstream.
With 197 slides and several key points made in a lecture traditionally held at Code Conference in Rancho Palos Verdes in the U.S., last Wednesday saw to eyes being opened about the online future of the globe. Here are some of the good ones.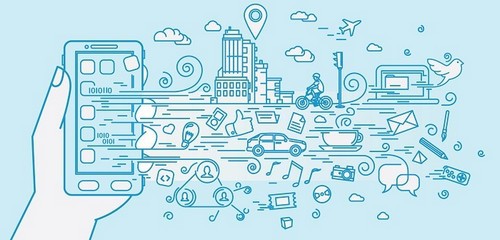 Internet trends – 12 to 24 Year Olds Are Making a Difference
The U.S. social media scene has more teenagers in it than anyone else. In the 12-24 range, the statistics speak for themselves: 59% are on Instagram, 74% on Facebook, and 57% on Snapchat.
Millennial, aka those between the age of 18 and 34 have shown that 87% of them constantly use their Smartphones. 76% have proven to use the cameras on these phones to share things on social media while 44% of them use the camera and video feature just to record things.
More and more people seem to be leaping onto digitalia and it does not seem like it is going to stop.
Internet trend – China Standing Strong
Xiaomi, a start-up smartphone company in China has risen from being a relatively unknown name to one of the world's largest smartphone manufacturers. They have the Chinese market down pat and are making inroads into neighboring lands, one of them being India.
Touching upon China's love for all things technology and digitalia, the whole nation has embraced the modern trend. Even their government relies on Tencent to have their citizens pay bills and input passport applications.
In fact, here is a philanthropic event that actually happened in China… To help with the smog problem that affected several people in the country WeChat users sent more than a billion 'red envelopes' on the Chinese New Year, which amounted to a large amount of cash for aid. This in turn influenced in excess of 200 million views of a smog documentary in China three days from its date of release.
Speed and possibility is real and it is all happening online. Creating awareness happens faster than ever imagined before.
Internet trend – India & Internet Innovation
With 8 slides solely covering India, it has been proven that the country is making enormous strides in smartphone growth and holds a leading market space online. Being the third-largest internet market (China is first, followed by the U.S.), one of the most revealing facts is that millions of Indians are online, technology sales have increased exponentially, and e-commerce and internet traffic are at an all-time high and growing.
Apps are ruling with iron fists as more and more people do business and enjoy leisure on their smartphones, iOS devices, and androids. The number one pay-online source is Paytm with over 80 million registered mobile wallets.
Messenger, Facebook, and Whatsapp are major apps with Viber, WeChat and Snapchat coming into the fray. Other infamous apps used in India include YouTube, Instagram, Truecaller, Amazon, LinkedIn, Hike, and Flipkart.
Things on the tech and digi side are starting to look up for India.
Internet trend – Freelancing & User Generated Content
With 34% of America's workforce comprising freelancers, it can be safe to say that the world of online business is changing. "Social networking has drastically changed the very dynamics of networking," say 69% of freelancers.
The report goes on to cover how 31% say they can find work online in less than a day, 42% say they have been part of freelance projects, and 65% of them declare that work is much easier to find online.
User generated content is simply average people across the globe making stuff and putting it up online. This has veritably changed the face of social media and how sponsors are looking at doing business.
Stories on Wattpad have shot up 140%, pin creation on Pinterest is up 75% and among Snapchat's 100 million daily users, and 65% are uploading new content everyday. The report covers several other statistics that altogether declare the sheer life that is being infused into the internet.
Internet trend – Top 5 World-Class Brands Have Online Presence
With Apple in the lead, Google, Alibaba, Facebook and Amazon (in that order) are running the race for corporate glory and they are doing it all online.
While Alibaba alone is based out of China, the rest of the companies are American based and a majority of their output is due to platforms online where merchants and third-party developers are using networking to boost brand image.
If you are confused about how they do this, you will be better able to recall their power when we mention the apps used by these companies. There are e-commerce marketplaces belonging to Amazon and Alibaba, mobile app stores pertaining to Apple and Google, and of course the Facebook app.
At the 178th slide (only a fraction of slides and their points have been detailed above), Mary Meeker shares a keen piece of observation. "Diversity matters. It's good for business."