When you want to opt for a content management system that can make your blogging experience smooth, you might find it really hard to choose the best platform that meets your needs.
Two major powerful systems that have been popular enough to be included here are WordPress and Drupal. So how do these platforms compare against one another and which one has the edge over the other? We will explore these two CMS tools and compare their distinguishing features below.
WordPress vs Drupal – An Overview
WordPress, as we are aware of, has been one of the most widely used Content Management Systems based on the statistics stand as of now. Launched in 2003, it was primarily designed for blogging enthusiasts. However, over the past few years, it has risen to a level of a full-fledged service and has been powering over 32 percent of the websites worldwide. It also has a market share of almost 60 percent and thus should stand proof to its multifaceted functionality and features.
Drupal has been around in the digital world even before WordPress came into the scene. It was launched in 2000, and it powers over 2.3 percent of all websites globally. The service has over 4.6 percent of market share. Unlike Joomla which has been going through a decline in terms of market share over the past few years, Drupal has been witnessing a consistent growth along with WordPress and has remained a popular service by every standard.
The Key Differences between Drupal and WordPress
Of course, WordPress is one of the popular platforms and most refined option to work with even for the newbies, but still, Drupal does come up as a formidable choice. We will compare the two options in fine detail.
We will make a comparison based on a few key parameters.
Ease of Use
One of the prominent key factors that decide the usability of any tool is the easy and simple functionality that it offers you. From that perspective, WordPress is effortless to use in comparison to Drupal. Drupal is a little more complicated when compared to the user-friendly interface that WordPress offers you.
One of the features we loved of the CMS tool – WordPress includes the WYSIWYG editor. It offers you and aids you in starting blogging right away without any sort of learning curve. Drupal is somewhat difficult to handle and master. Most probably, you will need a developer to work with the service for an optimum experience. Even the interface may not be much easy for some of the users who are just entering into the realm of websites or blogging.
We do not mean to say that Drupal is difficult in any way to use though. However, the harder to master learning curve may be an issue in many cases. Of course, it is less user-friendly and quite complicated when compared to WordPress, but at the same time can produce advanced sites.
Security
Security is indeed one of the huge difference factors when we think of these two competing content management platforms. When you consider them in a standard atmosphere, they are equally secure in almost all respects. But, when you consider the fact that WordPress is more dependent on the third party options, you will end up realizing that Drupal scores a little edge over WordPress in terms of security.
WordPress is quite secure when it comes to its core functionality, but the dependence on third-party plugins and add-ons can make it a little worrisome. It is one of the most vulnerable platforms and has been known to be the favorite attack point for hackers.
Drupal, on the other hand, offers you a lockdown security functionality. It has been found to have a lesser number of attacks compared to WordPress as per the independent studies conducted on both the platforms. That would possibly explain why it has been a favorite option for the government websites and other services that put a premium on security.
Search Engine Optimisation
Both WordPress and Drupal come with its own options for an excellent Search Engine Optimisation functionality. In fact, Google doesn't give any importance to what platform your site has been on. So, no matter whether you are on WordPress and Drupal – Google treats you on the equal level.
In fact, if you are on WordPress – you can have access to one of the best SEO plugins on the platform — the Yoast SEO tool. The plugin has been proved to be the best one for your search engine optimization techniques as it also provides you with suggestions on how to improve your content readability and SEO performance. This makes it a great choice for the newbies to optimize your site.
Drupal have Yoast SEO designed for its platform too. However, more than the plugins, what makes Drupal one of the best choices for SEO is the inbuilt functionality that it offers you in terms of optimization. While WordPress is dependent upon the plugins for the SEO features, you will find Drupal offers excellent performance even without plugins.
Drupal also offers you native caching support out of the box which can be helpful in faster page loading, while WordPress does not offer you this functionality without any plugin.
Customization Options
The appearance and look of your site is something that makes it one of the deciding factors for attracting the visitors. In fact, each type of website you create needs a special design, appearance and look depending upon the genre it belongs to. Portfolio websites, for instance, should be able to showcase your ability in greater depth.
WordPress has a large number of themes and plugins to give that special look to your site within minutes. You have access to virtually hundreds of options to customize your site. Using the right combination of plugins and themes helps you create a website with a personal touch.
Drupal doesn't fall behind either. They have a good number of extensions and themes to customize the appearance of your website too. However, the number of plugins available for Drupal are considerably smaller in number when compared to WordPress. Of course, you can use the built-in customization option, but once again – the learning curve tends to be rather steep.
So, if customization is what you are looking forward to – WordPress is the best option for you.
Multiple Authors
If you are using your website as a publishing option, you may need to add multiple contributors. If you are looking to add multiple authors, creating separate profiles would help you let them log in and post content.
From this perspective, WordPress can be the best option as it lets you add users with multiple accounts. You can find different accounts for editors, subscribers, authors, and admins for your site with ease through the built-in functionality on WordPress.
Drupal does not have robust role management as observed in WordPress. But there is an option for basic revision wherein multiple authors can work on the same article simultaneously. WordPress cannot do this without plugins.
The Cost
Both WordPress and Drupal are free to download and install. However, there are other costs of developing and managing the website, and these tend to be almost similar across both the platforms. In case you are looking for the third party developers, it would tend to be a costly affair with Drupal as there are not many developers available and finding them may not be an easy task.
The premium plugins and themes on Drupal are a little expensive when compared to the similar options on WordPress. WordPress comes with a host of free options in comparison to Drupal.
Content Management
Content management is basically why we would be using either WordPress or Drupal. This is one of the most important aspects you should give a thought to while choosing the right CMS tool among these two.
When you think of resources, we will consider both WordPress and Drupal offering a similar level of experience. They both are easy on server usage and work easily on shared platforms. Drupal can work with less number of modules and offer the same level of performance while WordPress can slow down due to a huge number of plugins as it would be dependent upon the third party plugins for most of its functions.
However, there are a few issues that Drupal have in sharp contrast to WordPress. A few simple tasks like updating the Content management tool can be quite a time consuming on Drupal when compared to WordPress.
Support
Being open source and free to use, both WordPress and Drupal do not have any dedicated support channel. Of course, there are tutorials that would help you address your concerns and learn more about website creation on the respective official websites.
The online community for WordPress is much robust and has a considerably good number of users. Getting answers to your queries is quite easy in case of WordPress. Drupal has a reliable number of active users too and thus offers you a good deal of support through the community. But, they are considerably less in number and the community may not be as active as WordPress.
With a large base of users on WordPress, there are several resources available on the topic. Apart from the official support pages, you would also have access to a host of third-party resources that guide you on the use of WordPress. Drupal has a few options, but that comes nowhere when compared to WordPress.
The Comparison between WordPress and Drupal
A tabular comparison between the two capable content management systems would help us check the two of these systems side by side so that you can get the crux of each of the platforms.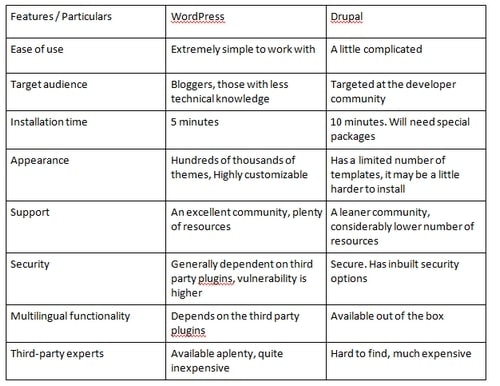 Ideally, we find WordPress one of the popular options where ease of use and better customization options are desired. Of course, most of us who want to create a website of our own will find WordPress a better alternative when compared to Drupal because it doesn't need you to have any technical background. Unless you are a developer yourself, you would not be comfortable with Drupal.
The Concluding Thoughts
If you are someone who is looking for a highly technical and advanced website, Drupal can be one of the excellent choices you can go with. It offers you several advanced features like page caching, built in SEO functionality and several other high ends feature out of the box. You can create a website from any genre with Drupal.
However, if the user-friendly functionality is what you are looking for in your website and its management, nothing can beat WordPress. The platform is more popular and has better support. It is easier to implement and deploy even if you are not an expert in terms of technical knowledge.
Drupal was created keeping the developers in mind, and WordPress was specifically developed for the bloggers who did not have much knowledge in HTML and coding. The ease of use should be one of the prime factors that makes it one of the excellent choices.
Which one will you choose among those two options? Share your thoughts, experiences, and opinions with us.