If you want to use your WordPress site to create and sell online courses, WordPress LMS Plugins will be highly useful for you.
LMS plugins are a boon for experts, bloggers, entrepreneurs, or freelancers who want to share their knowledge and experience to educate professionals and students by offering an online course.
LMS is actually a Learning Management System that enables experts to create, channelize, manage, and sell online courses with the utmost ease.
Key things that you need to make sure before offering online courses are-
Access of your Course by Registered Students
Tracking of the progress of your Students
Payment Gateway for the Paid Courses
Easy and effective delivery of courses to students
Some add-ons for adding a few extra functions in your site, etc.
So, it is important for you to choose the right WordPress Plugin for your site that can fulfill all your specific requirements related to online courses. Important features that you should expect from your LMS plugin are…
Administration
Channelization
Documentation
Delivery
Tracking
Reporting
Payments
Let us now have a look upon some of the best WordPress LMS plugins that will offer all the required features to your online courses-
Table of Contents:
10 Best WordPress LMS Plugins
1) Teachable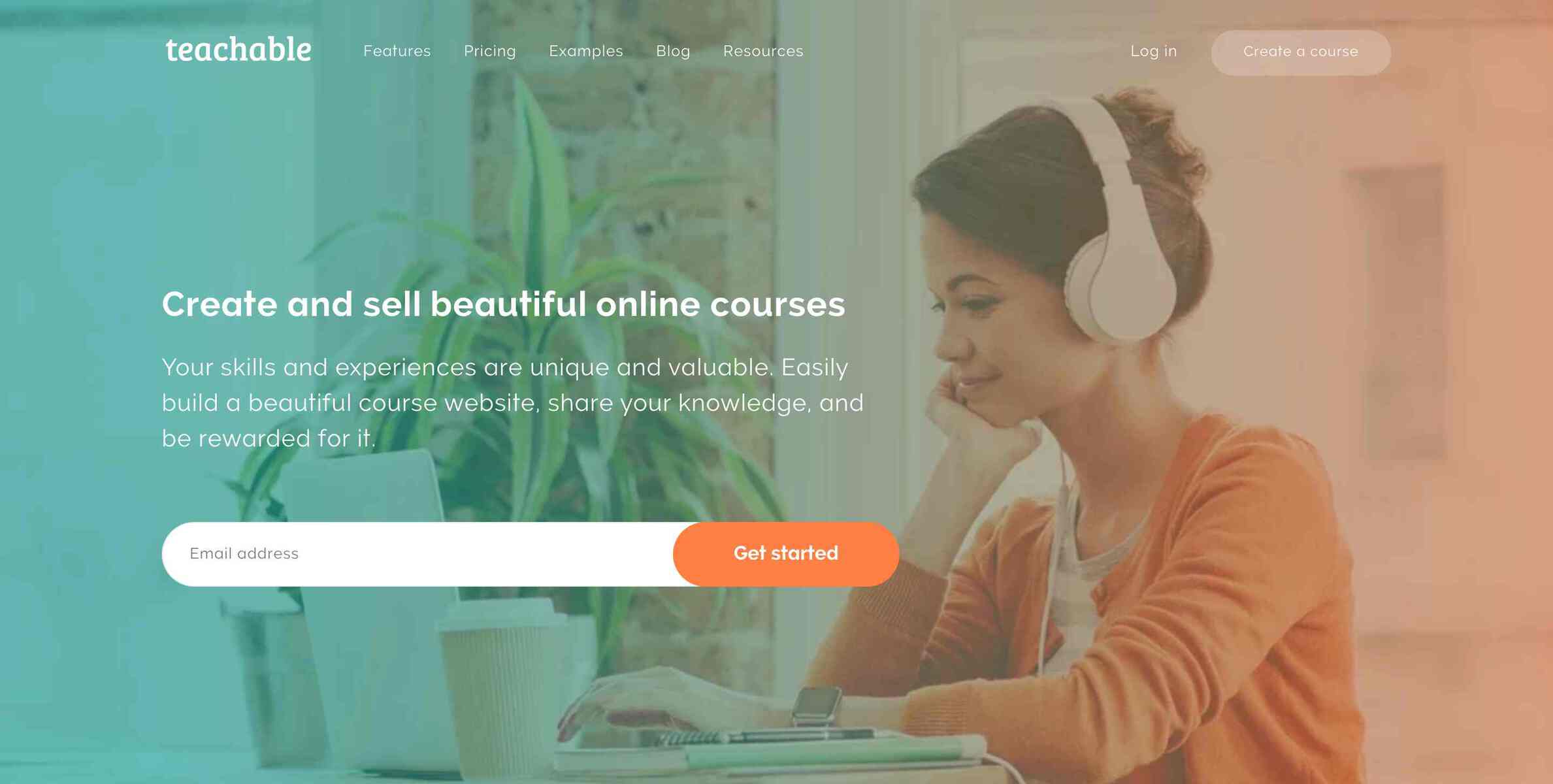 If you wish to create appealing courses on the web, then Teachable is one such plugin for you. It will help you create beautiful courses with utmost convenience. With the help of this plugin, you will be able to add your course into your existing WordPress site.
With Teachable, you will also have the ability to host your courses on its sub-domain. Your desire of offering a powerful learning experience to your course participants comes true with the discussion forums and quiz of this LMS.
Other notable features that make Teachable one of the best WordPress LMS plugins-
Custom domain support
Integration of drip course
Included Affiliate and Email Marketing
Coupon Code Support
Paid and Free Courses
2) Learn Dash
Your quest for the one of the most useful WordPress LMS Plugins will instantly add when you will install Learn Dash. It is a feature-rich plugin that will ensure highly customized and effective e-Learning options for you.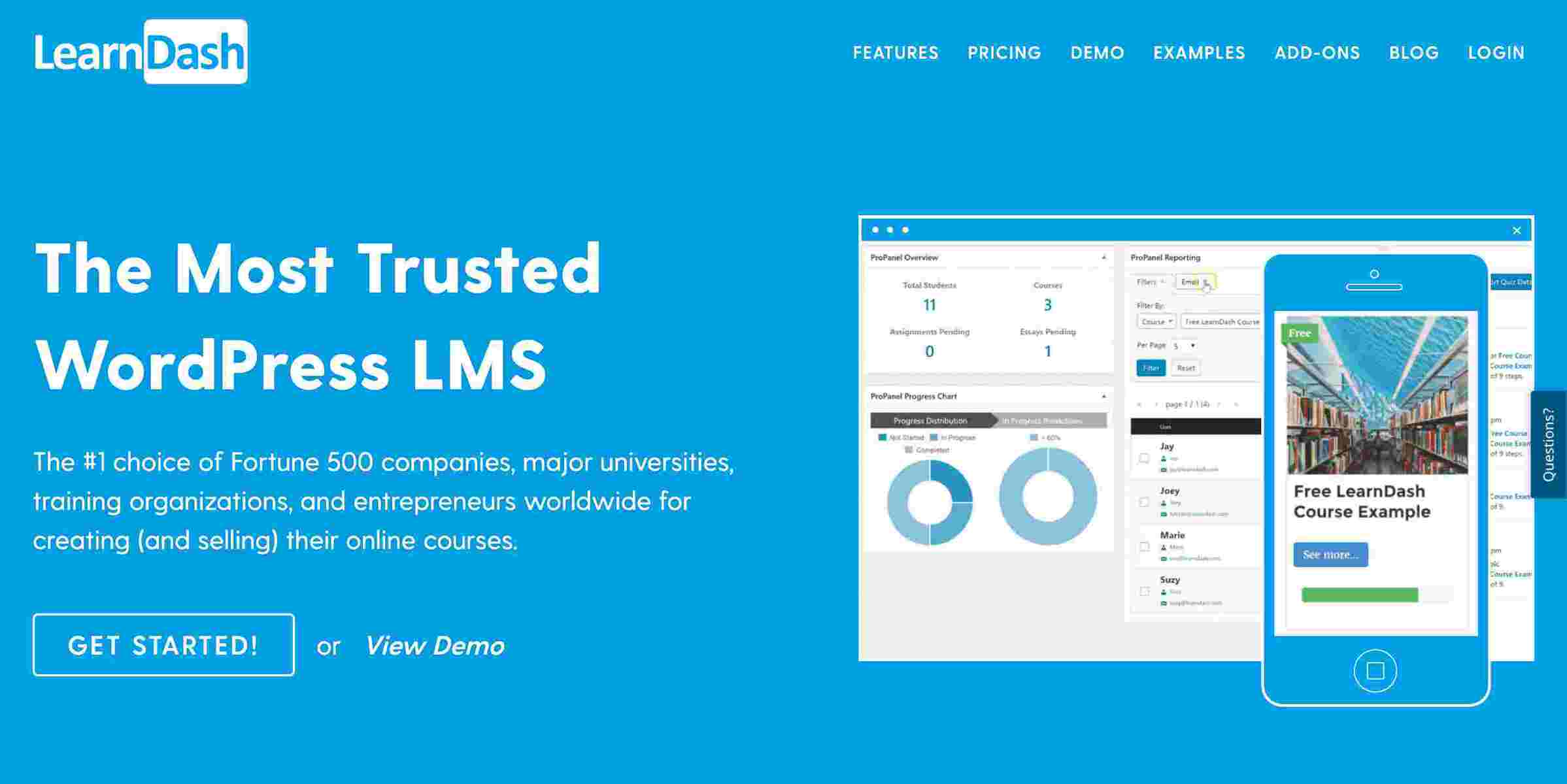 With the help of this plugin, you will be able to offer your courses and educate your audiences in an environment that they get in universities. Even in some of the cases, it may seem better to colleges as well.
Notable features that make it top rated plugin for Learning Management Systems are-
Drip Content or Lessons
Multiple Instructors
Pre-requisite courses
Inbuilt Payment System
Unlimited Courses, Users and Instructors
Tin-Can API
Membership functionality
Integration with eLearning tools like Adobe Captivate and Articulate
3) WP Courseware
If you want to have a WordPress website that offers courses and includes drag and drop feature, WP Courseware can be the right LMS plugin for you. With the help of this plugin, you will be adding new courses with the same ease as you add new posts to your site.
It also allows you to add media content related audio and video files, plus its course builder will enable you adeptly organize all the courses. You can use it to offer specific course modules in different batches.
Important benefits that make WP Courseware one of the most famous WordPress LMS plugins are-
Drip feed functions
Scheduling of content delivery on fixed dates or intervals
Easy way to create quizzes
It has drag and drop builder
Can be quite cost-effective than premium plugins
However, it does not have a built-in payment system that can be a drawback for sure.
4) Learn Press
By opting for Learn Press from this list of best WordPress LMS Plugins, you will be choosing a free plugin that is going to offer you a wide variety of free, and premium add ons. So, with this LMS, enjoying the benefits of added functionalities will be quite easier.

You can easily find its tab on your WordPress site dashboard. From there, you can easily start creating your courses and quizzes.  With its visual editor, you will be getting drag and drop features.
It has the integrations for the payments, plus for some other functions, you need to install some other add ons, which is also quite easier.
Important features that deserve your attention here are-
Enables you to create an appealing course free of cost
Drag and Drop editor eases down the task
Course statistics
Time Quizzes
5) Sensei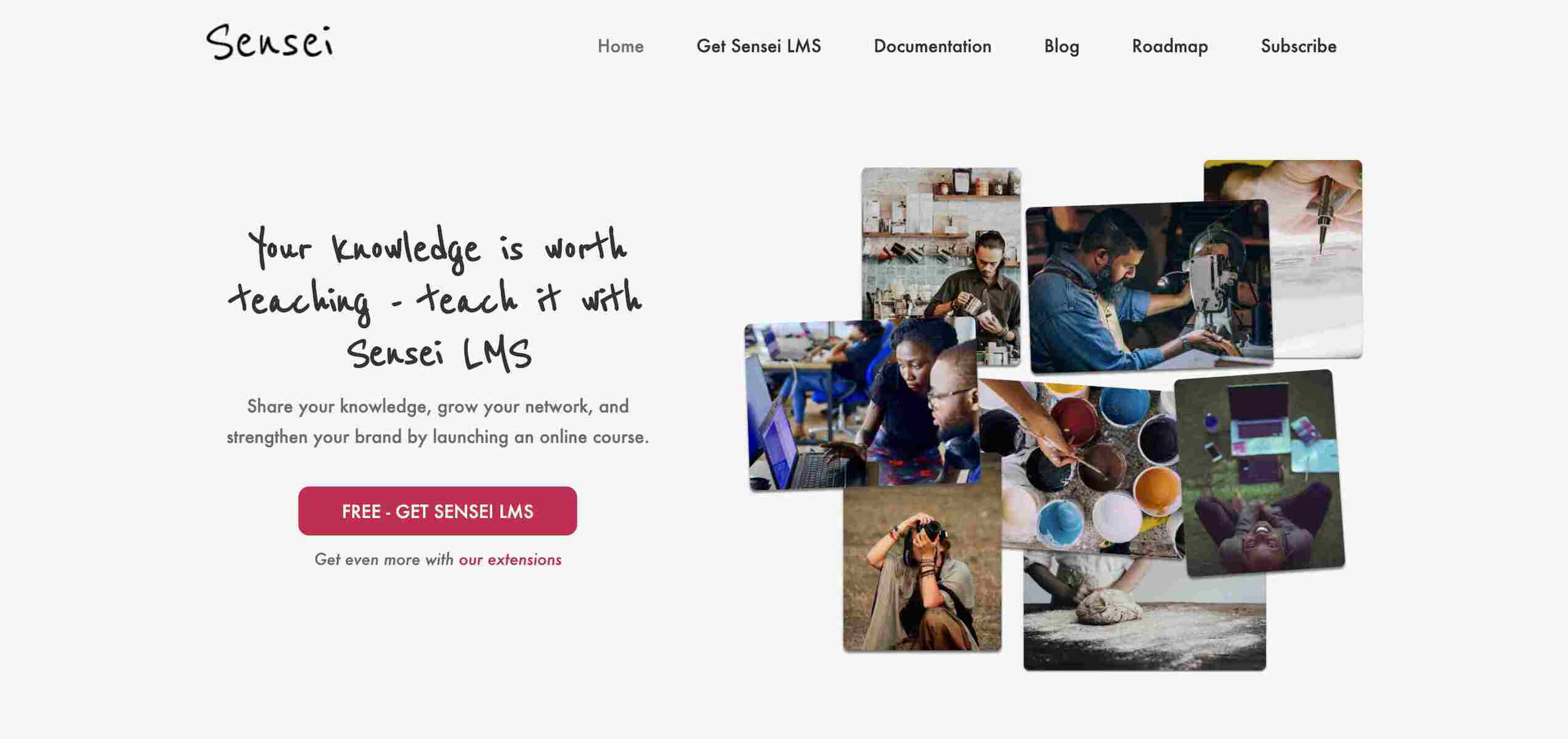 The best part of this LMS plugin is its ability to offer seamless integration with WooCommerce for the payments. Course selling via Sensei offers the same experience as you sell products and services on e-commerce sites.
With Sensei, there will be no need to install a membership plugin for allowing the paid course access. You can break courses into lessons that can further be configured via Meta box.
It will be quite easy and hassle-free for those who have experience of working with WooCommerce and WooThemes. However, setting it up for the non-technical users can be a little onerous.
Notable advantages that make Sensei one of the best WordPress LMS Plugins are-
Easy integrations with WooCommerce
Course Analytics and Certificates
Question Bank
Variety of free extensions and functionality
Drip content available with the paid option
6) Lifter LMS
In case you have a plan to use your website for offering learning projects and courses of smaller scale, Lifter LMS can be the right pick for you.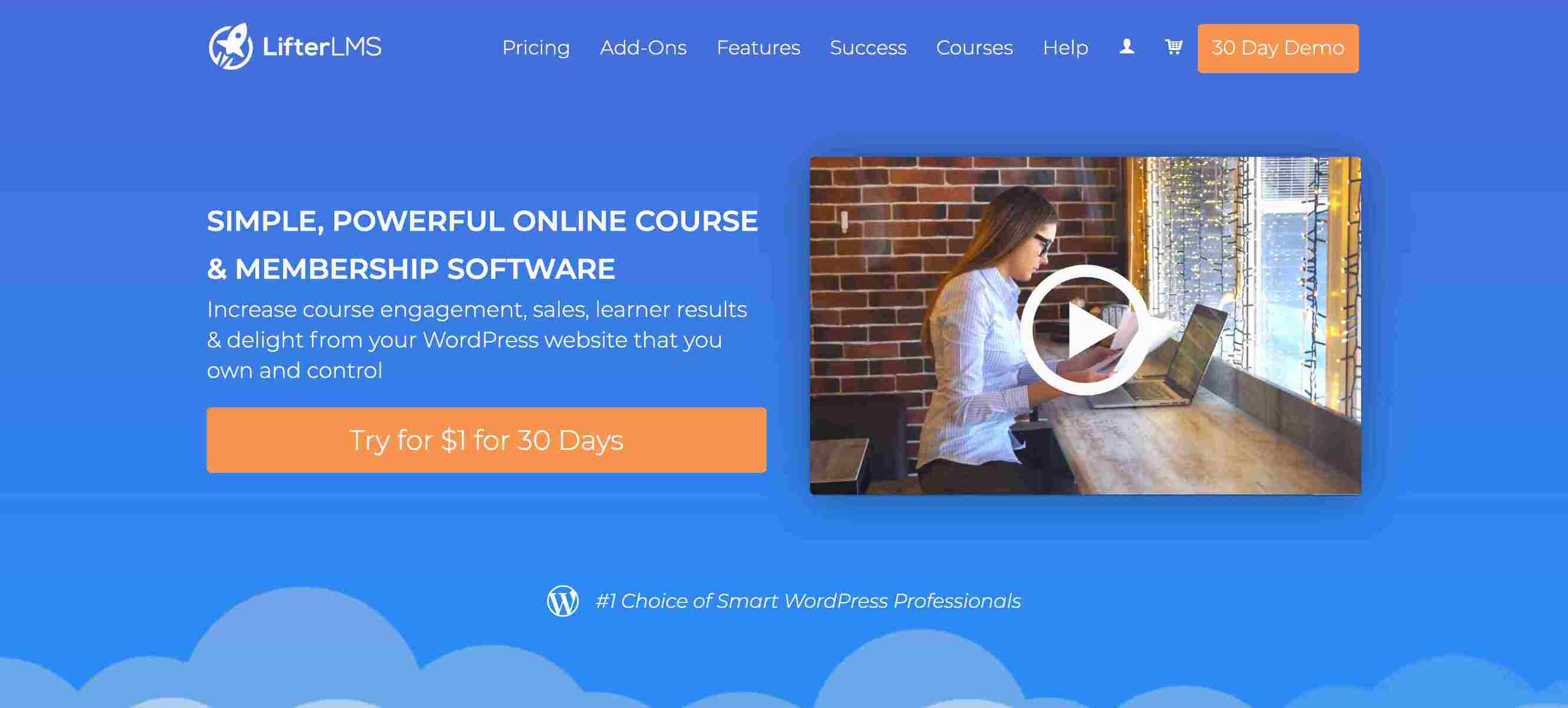 Course creators that have a smaller spending plan can opt for this one. You will find it quite easy to use, plus you will also be getting all those features that you usually expect from the paid plugins.
You will get separate add on for Stripe, Woo-Commerce, and PayPal as the payment methods.
Key things about Lifter LMS you should pay attention to are-
Comprises inbuilt membership features
Inbuilt Payment System
Highly useful for offering basic courses for free
Gamification
Student Profiles
Special Coupons, etc
7) Namaste! LMS

Search for highly useful free WordPress LMS Plugins will find a great rescue with this one. By using Namaste LMS, you will be able to sell your online course with utmost convenience.
It will let you create multiple courses without creating any sort of hindrances.
Plus, you can include unlimited lessons and assignments in your courses by using this LMS. The task of giving feedbacks to course participants and awarding certificates are also alleviated with this one.
With its premium version, you will be able to get some extra features as well.
Important highlights that deserve your attention here are-
Stripe and PayPal sorts of Payment Gateways
You can integrate it with Watu Quiz plugin for the creation of quizzes and exams
You can also opt for a grading system with this plugin which will help you in analyzing student's performance
A lightweight Plugin that will easily create an efficient Learning Management System
8) Course Press Pro
With Course Press Pro, you get an efficient LMS plugin that will enable you to create and sell your online courses with ease. Easy channelization of students and management of course program are done like a pro by this plugin.

Its integration with WooComemrce and MarketPress offers you wide range of in-built payment gateways. You can also create customized certificates for your course participants via this plugin. Its efficient quiz builder will enable you to run different types of quizzes.
Other key highlights that make CoursePress Pro one of the most preferred WordPress LMS Plugins are-
With this, you can offer paid and free courses to your course participants
You can easily schedule lessons and mail important notifications with ease
It comprises inbuilt email marketing features as well
With Course Press Pro LMS, you will be getting a discussion board
9) Good LMS
Highly useful LMS plugin that is available on CodeCanyon marketplace. Amongst the premium WordPress LMS Plugins, Good LMS is one of the most affordable ones. With the help of this plugin, creating and selling courses will get alleviated for you.
You can also use it for creating quizzes and offering certificates. Channelizing this plugin will be as easy as any regular blog post. So, you will able to implement different functionalities related to your course directly from the WordPress dashboard.
Some of the key features that make it amongst very useful WordPress LMS Plugins are-
Course ratings
Highly effective in creating a course marketplace
Teacher commission settings
Cost-effective than other premium plugins
Helps you modify quiz settings
Badges and Certifications after course completion
Coupon code creator
10) Master Study LMS
With this LMS, you will get a plugin that comprises most of the course features that you expect from your Learning Management System. From building, personalizing to channelizing an online course, you will able to do all this like a pro.
It adapts works with all the WordPress Themes, plus it is available free.
However, using it with MasterStudy Premium WordPress Theme will let the task get completed in the most limited time possible. Master Study LMS enables you to include Videos, Slides, Graphs, etc. in your lessons as well.
Use of Vue.js in this plugin enables it to offer speedy pages and hassle-free page transition.
Some of the additional features that you will get with this LMS are-
Interactive and simple to use Interface
You can easily set up payment methods with PayPal and Stripe
Offers a message board
Real-time questions and answers
Countdown timers, quizzes
Course ratings and certifications
In Conclusion…
Now, on the concluding note, we hope you would have understood the role of different WordPress LMS Plugins in creating, managing, and selling online courses via the WordPress site.
Which one do you consider the most useful one for you? Did we miss any of the LMS plugins that you or your friends preferably use?
Share your views with us in the comments below.