Currently, it is the period of online courses and not just the professionals but also a number of students take up courses online to get a certification or degree.
Based on the rising demand for such online services, there have been a number of websites that are offering such services.
WordPress Course Plugins are helping site owners offer these courses quite easily.
Table of Contents:
Why do you need WordPress Course Plugins?
Offering online courses can be a tedious task but it can be alleviated if you are creating it on the WordPress platform. WordPress comes up with a number of themes and templates that are quite amazingly perfect for such sites.
But is this enough for you to get an online course website?
There are some other things also that you may need in your course website. And the most important one is the WordPress Course Plugin.
A course plugin should be such that can have features such as course builder, student progress tracker, assignments, quizzes, and many other things.
There are also many premium WordPress course plugins that are known to offer some of the advanced features such as gamification, forums, and content dripping.
Confused about what to go for, and which one can be the best for you.
Here is a list of 10 best WordPress course plugins that you can make use of to come up with a great course website.
Best WordPress Course Plugins
1) LifterLMS
This is a simple to use plugin but is known to offer a range of powerful features.
This single plugin is enough to offer you a number of amazing features such as offering memberships, engaging the students, and so on.
It offers you a simple to use drag and drop feature that can be helpful to create a great website. Apart from this, the plugin is equipped with many features that can make your website a great one. It offers you to have multiple instructor website.

LifterLMS also helps you in having options such as sections of course review and discussion. There are also options through which you can offer your students with badges of their achievements.
Some of the courses that you can create using LifterLMS plugin are-
Multimedia lessons
Quizzes
Course builder
Drip Content
Pre-requisites
Course tracks
Assignments (coming soon)
Quiz time limits
Student dashboard
Multi-instructor
Lesson Downloads
Course import & export
Discussion areas
Instructional design
Forum integrations
Graphics pack
Course reviews
2) LearnDash
This is known to be one of the most famous WordPress course plugin that you can have.
It allows you to manage several things together, such as the online courses as well as the administration services. This plugin is excellent for both public as well as private options. Regarding the pay structure, you can choose among various options such as one-time charge, recurring payments, or even for subscriptions.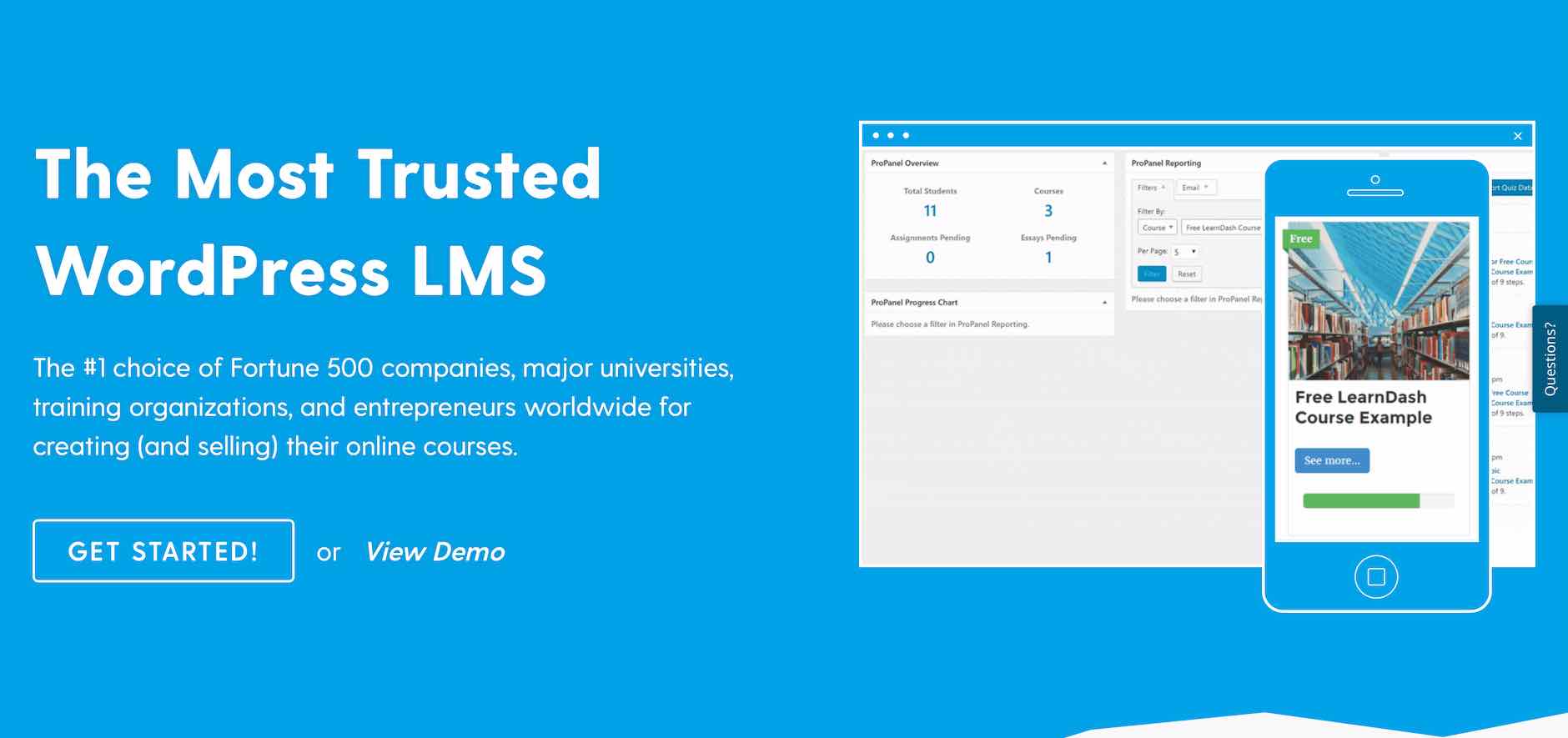 The plugin can provide you with a timer for your lessons and also for the quizzes and similar options.
You can have an assignment management option through you, which the submitted assignments can be reviewed and graded. It makes the website convenient for the students also so that they can also have a check of their progress.
Key features that make LearnDash one of the best WordPress course plugins-
Intelligent Course Builder
Advanced Quizzing
Drip Feed Content
Lesson Timers
Flexible Prerequisites
Dynamic Forums
Gradebook
Course Points
Certificates and Badges
Easy Monetization of Course
Administrations of Learners and Courses
Support for the latest tools of e-learning and WordPress Industries
3) WP Courseware
PLY plugins have come up with this particular option of WP Courseware.

The plugin is entirely based on the drag and drop feature through which you can design your website. It has almost everything that is needed by such as website such as the feature of enrolling students, managing the courses, and so on.
It is featured with multiple instructor facility and is integrated with many options such as the membership plugins. It also allows you to make use of the other options such as a shopping cart and related Plugins.
There are several payment solutions that you can integrate, such as Stripe and PayPal. You can either give out the courses for free or can also sell them for a one-time payment or even for recurring payment.
Key highlights that make it one of the best WordPress Course plugins-
Drag & Drop
Protect Courses
Drip Content
Powerful Quizzes
Grade Books
Manage Students
Course Certificates
Email Notifications
Membership Integration
Course Prerequisites
Instructor Roles
Use Any Theme
Built-In Shopping Cart
One-Time Purchase
Recurring Subscriptions
Free Courses
GDPR Compliant
4) Sensei
Sensei lets you create online courses based on different prerequisites and then sell these courses to the students through Woo-Commerce.
It can offer you and your users with a profile dashboard so that you can track your users after they have registered with the site. It integrated well with many other WordPress plugins, and hence you do not have to worry about when you need something on your website.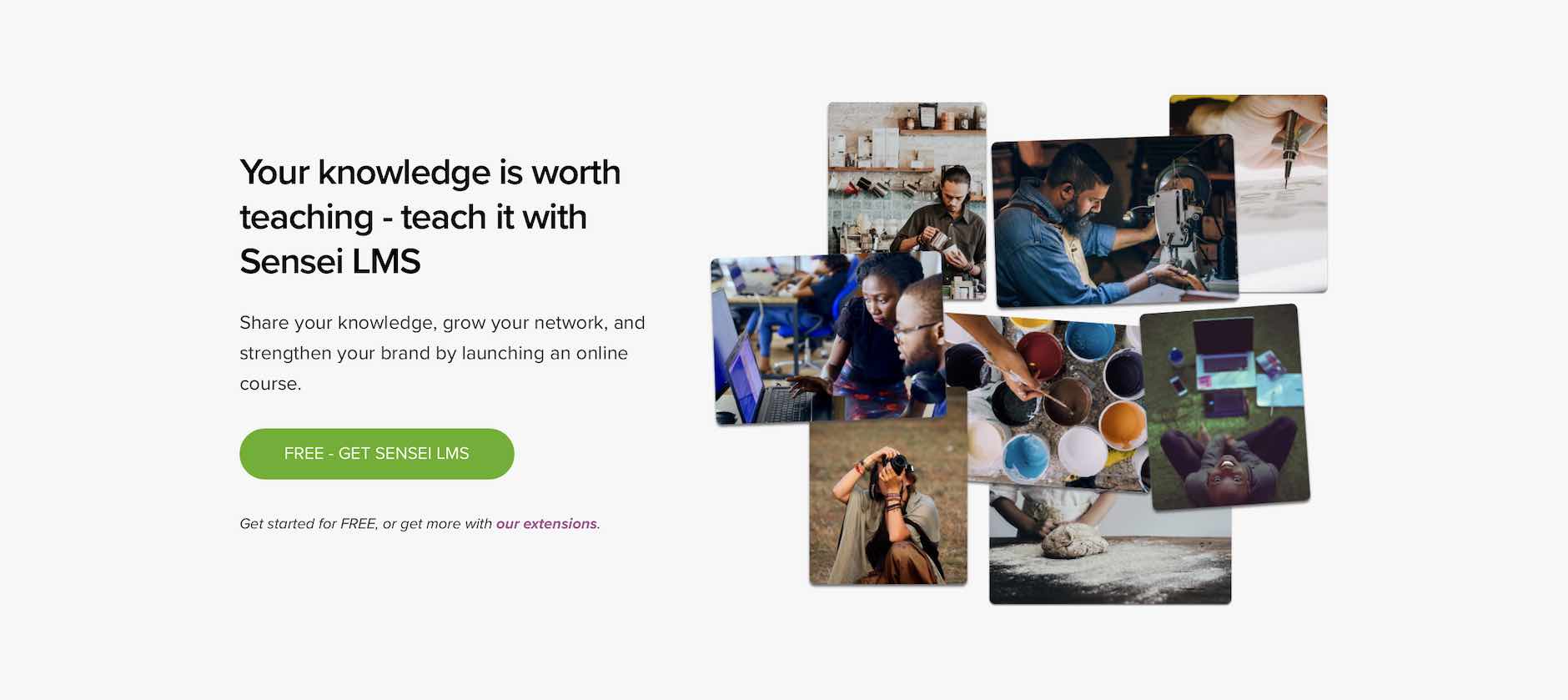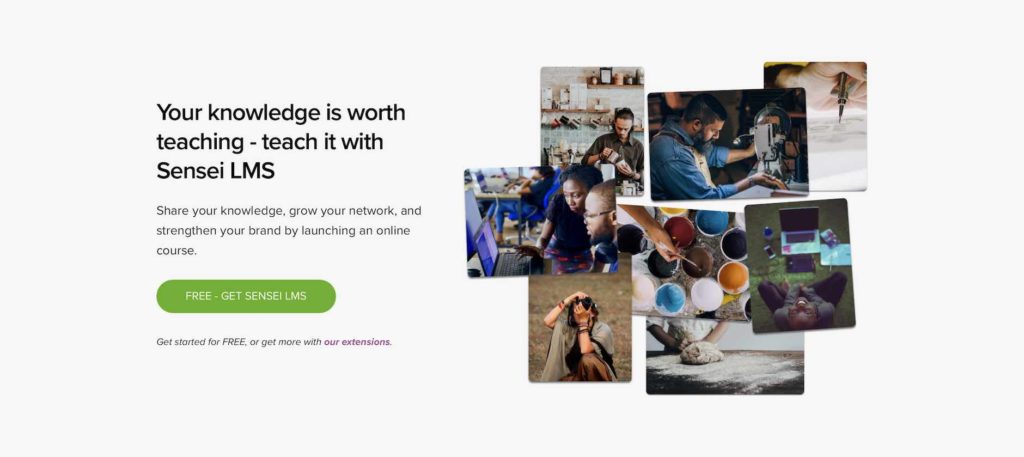 The plugin is also known to offer various innovative features such as reporting functionality and course analytics so that keeping track of the students can get a bit easier.
The plugin comes with a front-end interface so that the students can track their progress from time to time. Also, it depends on you whether you wish to give away the courses to your students for free or want to charge for it.
Salient characteristics of Sensei are-
Seamless WordPress Integration
Easy Content Creation
Quick User Registration
Charge for Courses
Sensei Theming
Course Analytics
Test Anything
Question Bank
Quiz Grading
5) LearnPress
This is a free course plugin but offers you a wide range of features such as a user-friendly interface that can help you create your courses with great convenience.
If it is just about creating a course website, this free plugin is a great one for you. But if you wish to have some advanced facilities in it, you can always make use of the premium plugin version.

The premium version can offer you many options such as memberships, payment gateways, and also the assignments.
Making use of this plugin, you can quickly sell the courses with the help of various options such as Woo-Commerce, Stripe, and Paypal.
Also, the premium version offers an advanced level of functionalities that can help you if you wish to provide something extra to your members. Few important features you should pay attention to if you are looking for WordPress Course Plugins are-
Works well with your theme
Supports WordPress Multisite
Helps you create a course, manage the course, sell the course
Easy communications with your friends
Bunch of add ons such as Assignments Add on, Certificates Add on, etc.
6) CoursePress Pro
This is again another premium version course plugin that you can use to get a number of extra facilities on your website.
The plugin will help you in creating some of the most important elements such as interactive quizzes, course assessments, and also the course works that can be downloaded by the students.
The plugin helps you in creating a forum where the students and the instructors can come together to discuss a particular topic. It also provides you with 13 different payment gateways for the people who wish to become a member of the site.
Apart from the features such as so many payment options or a discussion board, the plugin allows you to add up different media files such as images, videos, and others in the courses.
Notable traits of CoursePress Pro are-
Unlimited course creation
Effective tools for course promotion and marketing
Complete media integration
Interactive discussion board
Genuinely assessed certification
7) Ultimate Learning Pro
If you are looking ahead for a complete solution of the course website, this is the plugin that you need to use.
The plugin is known to offer a wide range of features such as that of student enrolling, multiple instructors, and having a user-friendly interface.
It also helps you in creating timed quizzes along with multi-choice answers. It offers you to either provide the courses to the students for free or to get charges for it. Some of the important payment gateways that the plugin uses for creating the paid version of the courses are Woo-Commerce, EDD, Stripe, and PayPal.
The plugin is loaded with various other functions such as course difficulty level, course reviews, estimation timers for the courses, and others. It also comes up with the feature of push notifications for the students.
Awesome benefits that make Ultimate Learning Pro one of the best WordPress Course Plugins-
Lesson and Course Settings
Control Enrollment
Multiple Question Types
Pushover Notifications
Woo-Commerce Payment
Quiz Special Settings
8) MasterStudy
This is a free plugin, yet is very much powerful because of its many features.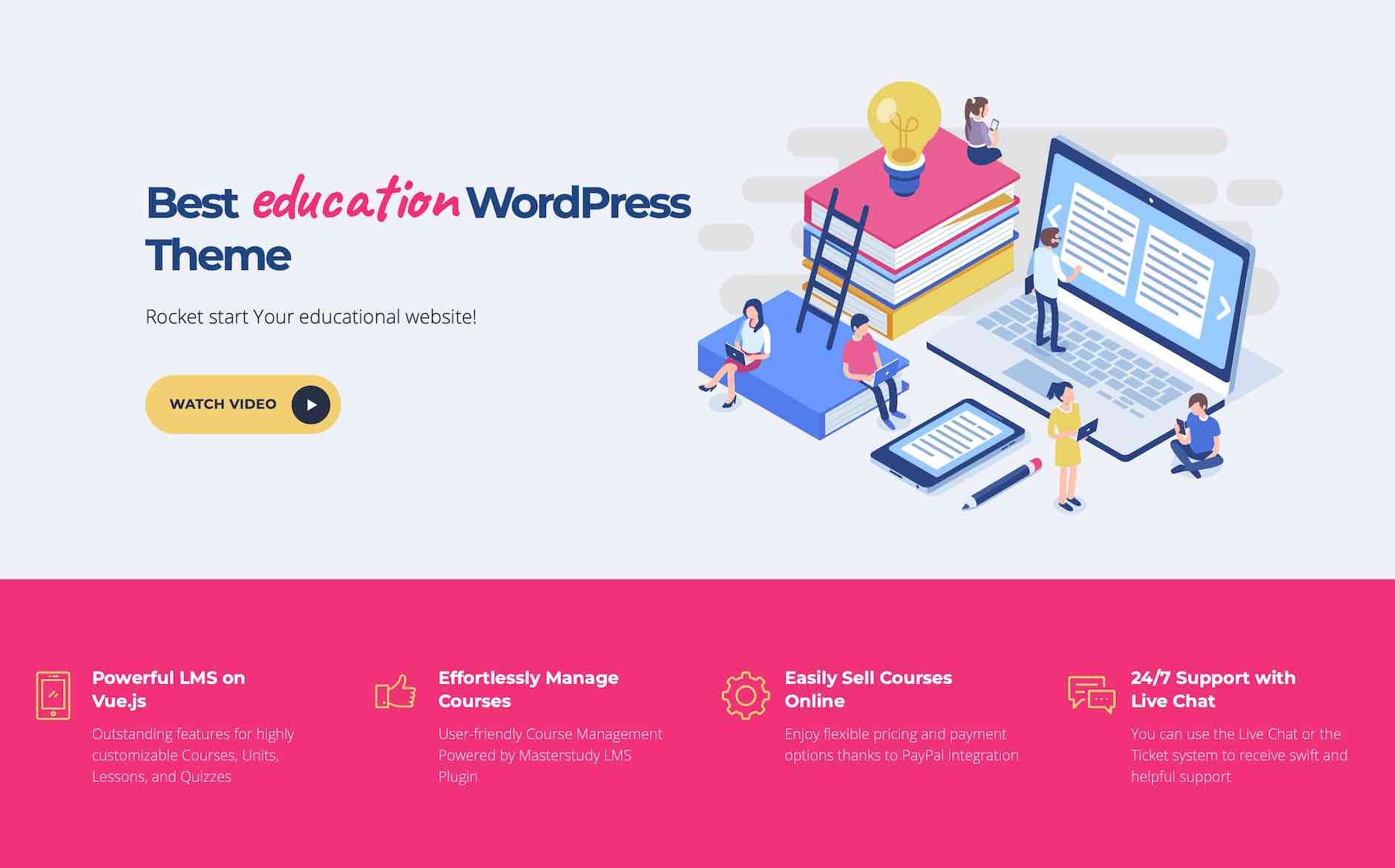 It supports a number of media files such as images, videos, graphics, and similar attachments. The plugin allows the user to create some excellent contents on the site.
There are two most powerful payment gateways integrated, and these are PayPal and Stripe. You can also choose from the option of a one-time payment or the selection of a subscription plan.
The plugin also offers a social network option that is quite useful for the students in getting in touch with the instructors or even with the other students.
There are question modules available in the lessons to help the students understand the lesson even better. There are also many other features available such as course rating, and course wish list.
Key features of MasterStudy which is one of the best WordPress Course Plugins are-
It enables you to offer Text, Video, Slideshow types of courses
Courses rating
One time purchase
Integration with PayPal and Stripe
Paid Membership Pro Integration
Certificates Generation
Instructor and Student Profile
9) Good LMS
This is not only a powerful plugin but also is quite light in weight.
Apart from creating the course, it also allows the users to create a curriculum for the course and also let the students avail various coupon codes.
The different payment gateways that the user can make use of to sell the courses are Stripe, Authorize.net, Paymill, and PayPal. There are different backend options for the instructor, student, and the transaction to make the operations smooth.
The plugin enables you to provide badges to the students depending upon their achievements.
Key features are-
Course Curriculum
Coupon Code
Online quiz
Course Certificate
Student Backend
Course Badges
The commission rate for instructors
10) Namaste! LMS

This is an amazing and free plugin that helps you in creating courses, assignment, and other elements without you getting out of the WordPress site.
If you take up the premium version of the plugin, it can get integrated with many other plugins too. The plugin also allows you to award badges and discount coupons for the students.
Some of the important highlights that make Namaste! LMS one of the best WordPress Course Plugins are-
Supports an unlimited number of courses, students, lessons, etc
Certifications for the students
Creation of custom rules for courses and lesson access
In Conclusion – WordPress Course Plugins
Your course website will be successful only when you have a perfect one developed.
It can be a tricky thing, and if you wish to excel in it, one of the best ways that you can do is to make use of the best WordPress course Plugins.
We hope aforestated WordPress Course Plugins will assist you in running a successful course website. Still, if you have any doubts, feel free to ask us in comments.