Are you creating a website that needs to have a contact form in it? Well, there are a number of WordPress Contact Form Plugins available that can allow you to have a proper contact form on your website.
But how can you know which one is best for you?
There are several features that you need to check out in your plugins such as responsiveness, user-friendliness, and other options so that you can have a proper plugin selected for your website.
Here is a list of some of 10 WordPress Contact Form Plugins that you can go through and get the one that you think will be most suitable for you. So, without any further ado, let us go through the list-
Table of Contents:
10 Best WordPress Contact Form Plugins
#1 WPForms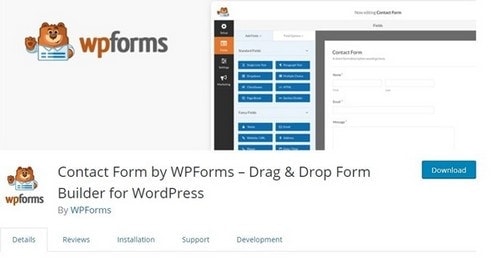 WPForms is known for its clean interface and superb features to help you in getting contact forms integrated into your website properly. Everything that you do in the plugin is through the feature of drag and drop.
This makes everything quite easier and also faster. Apart from this, there are also a few of the pre-designed templates for the contact forms available that you can make use of to get a perfect form integrated with the site.
There are many features that the plugin has to offer. The contact form offered by the plugin is responsive and is highly mobile-friendly.
It can offer you several extra features such as-
Payment integration
Email subscriptions
Entry management
Spam blocking
Embedding Shortcodes
Mobile Ready
SEO Compatible
Optimized for Speed, etc.
#2 Jetpack

Jetpack has a contract for a module that you can activate for your website.
The creation and editing of the contact forms with this plugin are quite different than many other plugins of the same category.
Here you do not have to create the contact form and then integrate it into the website. With the use of this particular plugin, you can create and even edit the contact forms directly on the website.
Key features that make Jetpack one of the Best WordPress Contact Form Plugins are-
Ability to let you add a contact form to pages or posts quite easily
You can also add your contact form to a text widget
It enables you to customize your forms as per your need and convenience
Editing an existing form is also quite simple
It includes a built-in spam filter
#3 Ninja Forms

Ninja Forms is the plugin that is quite rich in its features.
Apart from a contact form, it is also known to offer many other options such as subscription forms, and others for your website.
The creation of the forms is quite easy with this plugin where you need to make use of the drag and drop feature.
Some of the cool features that you will get in the plugin are email notifications, available in both free and paid versions, and so on.
Other key things about Ninja Forms are-
It does not limit you with the number of forms, emails, fields, submissions, actions, etc.
Offers an appealing, interactive and highly intuitive interface
It also includes different anti-spam options, including Google ReCaptcha, etc.
It has a complete library of add ons that will make your form more efficient and enable you to boost form conversions, build an email list, collect payments, etc.
#4 Everest Forms

The plugin is quite easy to use and is also highly customizable.
It is free, and also it has drag and drops features so that the users do not have to get troubled for using the features to create the contact forms in the website.
The plugin is free to use, and you will be able to create limitless forms of various variations such as multiple columns, and so on.
You can either create a contact form from scratch or can even make use of the various available templates to create a contact form for your site.
Important idiosyncrasies of this WordPress Contact Form Plugin are-
Drag and Drop form builder
Lets you create as many form fields as you like
It offers multiple column support means
You will get 100% mobile responsive design
Via its Shortcode, it will be possible to showcase your form in Page, sidebar, Post, etc.
ReCaptcha, Form Templates, Translation are some other key features that make Everest Forms one of the best WordPress Contact form Plugins
#5 Contact Form 7

This is the most commonly known and commonly used WordPress Contact Form plugin that you can have.
This allows you to have an additional section of contact forms in the WordPress dashboard. The interface of the plugin is based on HTML coding, so you may need to have a bit of knowledge about coding.
You will be able to create new contact forms as well as adjust the existing one too.
Other notable highlights because of which Contact Form 7 has secured a place in top WordPress Contact Form Plugins are-
Offers the ability to manage multiple contact forms
Lets you customize your form and mail content
Includes Akismet, CAPTCHA spam filtering, etc.
#6 Formidable Forms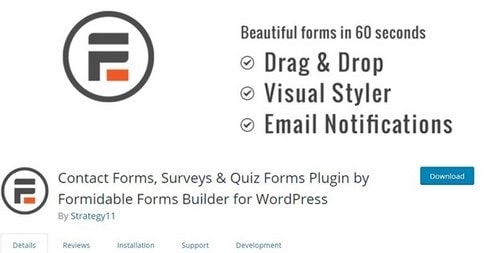 This is known to be one of the most advanced WordPress contact form plugin available today in the market.
The main feature of the plugin is that it helps the users in creating some complex solutions with great ease.
The plugin is equipped with features of drag and drop options that can help in creating some great forms such as surveys, registration forms, quizzes, payment forms, profile forms, and others.
There are a number of options that you can have with the help of this plugin, such as the creation of rating systems or event calendars or similar others.
Key features are-
A Solutions Focused WordPress Form Plugin
Drag and Drop form builder that also has Form Styler
You can easily and speedily create Registration Forms for different usages
Easy payment methods are incorporated
Well-integrated email marketing services, such as MailChimp, ConstantContact, AWeber, etc.
#7 Ultimate Form Builder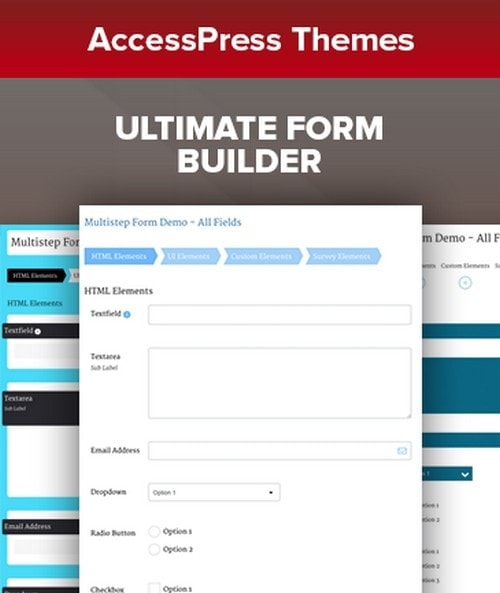 This a premium WordPress plugin that is used in a great way in the creation of amazing contact forms.
The easy to use plugin allows you to create great contact forms for your site. It also supports the users with different pre-designed templates that can be used to get an impressive contact form for your website.
It is one of the Best WordPress Contact Form Plugins that empowers you to create various contact forms via its drag and drop form builder.
Some other features you need to pay attention to are-
#8 Gravity Forms

Gravity forms is again a form builder plugin that is equipped with a lot of advanced features for the WordPress websites.
Similar to the above plugin, this one also helps in a huge way in creating complex forms with ease.
It is equipped with a number of premium features such as forums, knowledge base, and others to create different activities such as surveys, quizzes, and many others.
Some features that let it be one of the easiest WordPress Contact Form Plugins are-
Absolutely shortcode based and comprises built-in searching
It will let you easily re-organize columns
Has lightbox support for the uploaded images
You can show or hide any column as per your need
#9 UniForms
This advanced form builder plugin for WordPress offers to provide advanced features and work on a grid system.
The plugin has easy to use and customization feature so that you can create great templates for the forms on the website. The plugin is available for free at the directory of the WordPress plugin.
By opting for this one, you will get a lightweight Drag and Drop Contact form builder.
Easy steps of its installation include-
Uploading of the folder of UniForms to the /wp-content/plugins/ directory
Then you need to activate Plugin via the 'Plugins' menu in the WordPress
#10 Quform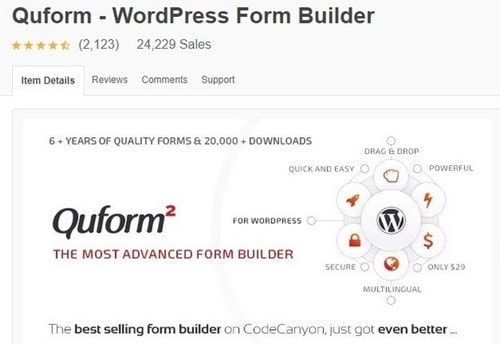 This premium Wordpress form builder is quite powerful in creating great contact forms within just a few minutes.
The best thing here is that it is capable of creating multiple forms of advanced type with the help of a single code. The drag and drop feature of the plugin is of great help in coming up with some really amazing forms on the website.
There are as many as 15 different form elements in the plugin that can help the user in creating different contact forms on the site.
Features that make it one of the most advanced WordPress Contact Form Plugins-
Mobile Friendly
Fully Adaptable
GDPR Friendly
Tons of Options along with 19 Element Types
Preview White Building, ReCAPTCHA, Easy Theming System
Wide Variety of Form Themes
6 Included Filters
9 Included Validators
In Conclusion…
Contact forms or other forms may be needed on a website for various reasons.
Creating such forms alone is not much easy. Hence, you need support, such as that of a WordPress Contact Form plugin.
Choosing the right plugin is important so that you can get a form created on the website as per your requirements and that can be helpful for you.