For every site owner, it is just to ensure the good loading speed of the site. Page speed is one of the key SEO factors that empower sites to hold the attention of site visitors. To improve the loading time of your WordPress site, WordPress Cache Plugins can be very effective.
For understanding the role of these Plugins, first, let us understand their working-
Table of Contents:
How does WordPress Cache Plugins work?
W3 Total Cache
WP Fastest Cache
Breeze
Hyper Cache
Cache Enabler
WP Super Cache
Hummingbird Page Speed Optimization
Comet Cache
WP Rocket
WP Speed of Light
How does WordPress Cache Plugins work?
Imagine one of your visitors visit your site and load all the different elements of a dynamic page.
Then those elements of that page will be loaded into the form of an HTML page. Its copy will be saved as a static file in the cache folder.
Now, when another visitor comes to your site, they will not need to access that dynamic page; instead, he or she will access the page which was saved in the Cache folder.
Means, the elements which are not required to reload each time from the database will be contained by the Cache folder.
This is going to supercharge the loading speed of your WordPress site. Better user experience and improved rankings will be some additional benefits that you will be enjoying with the help of these Plugins.
Let us now delve into some of the best WordPress Cache Plugins that can be very useful for you-
10 Best WordPress Cache Plugins 
Now, as you know caching can be your best bet for improving your site loading speed, let us have a look at those Plugins as well-
1# W3 Total Cache
With W3 Total Cache, you will empower your WordPress site to work with one of the most advanced WordPress Cache Plugins. It will start working in a few minutes after installations. The whole process of configuration and implementation is hassle-free.
Notable features of W3 Total Cache you need to pay attention here are-
You just need to go General page and turn On 'Toggle all Caching Types.' You will get a dedicated setting page with this plugin for different sorts of caching such as page caching, browser caching, database caching.
You will be provided unlimited customization options by this plugin
It offers its support to CDN, GZIP compression and minification
It also comprises different security features along with AMP and SSL supports
You can also export the setting for your later usages
Highly personalized customer support is also one of its key benefits
2# WP Fastest Cache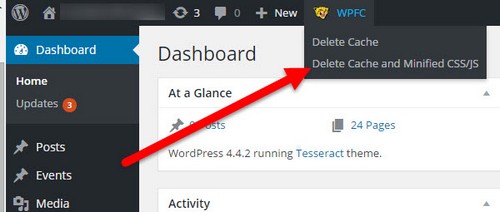 By opting for WP Fastest Cache, you are ready to experience the most straightforward and speedy WordPress Cache Plugin. With the help of this plugin, static files on your site will be created with the help of mod_rewrite.
It will be offering you compression, browser caching, minification sorts of features. You can also use it for combining CSS files and JavaScript files. You can enable all its features just from the checkboxes from its setting tab.
Important peculiarities that make it one of the fastest WordPress Cache Plugins are-
Use of mod_rewrite which is the quickest method
It supports CDN and SSL
You can use it for enabling cache features for mobile devices as well
It offers Cache timeout for some of the particular pages
3# Breeze
Breeze is one of the most popular WordPress Cache Plugins, which is quite simple to use and ensures excellent performance when it comes to improving the loading speeds of the WordPress site. You can use it to offer the static filers to most of your visitors.
It is quite good at ensuring convenience, offering performance, and guaranteeing straightforwardness in its working. It offers features like built-in Varnish Support, CDN Integration, etc.
You just need to enable HTML, JS, and CSS' minifications in basic options, and it will be ready to use for you. Other features that need your attention are-
Grouping of CSS and JS along with Gzip Compression
Compatibility with WooCommerce, Visual Builder and latest versions of PHP
Browser Cache, lightweight, and simple to install and implement
4# Hyper Cache
Your entire quest to ensure faster page loading speed for your site ends at Hyper Cache. It's going to be one of the most useful WordPress Cache Plugins for you that will resolve issues related to the excessive loading time of images and other content.
So no more increase in the bounce rate of your site, as Hyper Cache will not let your users leave your site because of the slow loading of your page.
Important highlights that deserve your attention here are-
Gzip compression along with CDN support
HTML, CSS, and JavaScript files Minification and concatenation
404 caching along with compatibility with Cloudflare
5# Cache Enabler
This is a WordPress Cache Plugin by KeyCDN, and it can be quite easy to configure for you. So, if you are not very much experienced in configuring such Plugins, Cache Enabler would be the right pick for you.
In its configuration, you just need to go through a few checkboxes and few text fields. Using this one will offer you an efficient and quick disk cache engine along with automation/manual clearing of the cache. It quite quickly creates static HTML files of site pages that will enhance your site performance.
Key features that make it one of the most preferred WordPress Cache Plugins are-
Cache expiry time along with Cache exclusion and easy Cache minification of HTML, inline JavaScript and CSS files
WordPress multisite support, Custom Post type Support, and WebP Support
It can manually purge the cache of some of the specific pages as well
6# WP Super Cache
By choosing WP Super Cache as your WordPress Cache Plugin, you will be opting for one of the most preferred cache Plugins for WordPress.
Most of your site visitors will get the static files because of the mod_rewrite and PHP usages of this plugin. This is one of the best Plugins for generating static HTML files from the dynamic blogs made on WordPress.
Its one cached file can further be used for thousands of times. This plugin uses three different ways for serving Cached files, and they are Expert, Simple, and WP-Cache Caching.
Expert is while the fastest method, Simple is the one which is recommended for you, as it is quite simple to configure. WP-Cache Caching is preferred to cache pages for the known users, feeds and URLs.
Some of the notable features are-
Database optimization
The automated clearing of cached pages as per the preferred intervals
CDN or Content Delivery Network Integrations
Easy dynamic caching and page compression along with garbage collection option
It is quite simple to install
By opting for this one, you will get caching for visitors using the mobile device
7# Hummingbird Page Speed Optimization
This one is your WordPress Cache Plugin by WPMUDev that will analyze your WordPress site for the different improvements that need to implement for the page speed optimization. By using it, you will get the right suggestions for file compression, browser caching, minification, etc.
So, using Hummingbird, you will make your site faster in loading, plus, this is going to increase your score on the Google PageSpeed Insights. Free and paid versions are available here for you.
Additional features of Hummingbird you need to pay attention to-
It will minimize CSS and JS
It is quite useful in combining CSS and JS files
Loading of JS files in the footer along with browser caching, CDN Support, Gzip Compression
It offers absolute compatibility with other caching solutions of WordPress
8# Comet Cache
In this WordPress Cache Plugin, you will be getting snapshots that will ensure faster reading experiences for your visitors. You will also find out proper explanation for its setting that is very useful for first-time users. So, everybody can easily configure this one.
With its free versions, you will get some basic features. To enjoy some of the other key features, you need to opt for a paid version.
Key highlights that make it one of the best cache Plugins are-
It offers automated and intuitive cache clearing
You will enjoy client-side browser caching with this one
It also has automated cache expiration time
It is quite good in leveraging browser caching
You will get JavaScript and CSS minifications and concatenation
Offers multisite compatibility for WordPress
9# WP Rocket
This one is, again a very popular and highly effective WordPress Cache Plugin for you. However, WP Rocket cannot be used for free. It comprises lazy image loading features that ensure the loading of images when users will scroll them.
This plugin is very effective in speeding up the loading of prolonged or heavy web pages. You will be getting features like Page Caching, Gzip Compression, Cache Preloading, JS and HTML minification, and so on. You can just activate it without befuddling in configuration processes.
Important features that make WP Rocket one of the best WordPress Cache Plugins are-
Highly user-friendly interface
It quickly offers static file compression
You will be benefitted with the easy caching of immediate page
Instant activation of caching of pages
Highly quick caching benefits for the site owners that also include CloudFlare integration and technical support
10# WP Speed of Light
With this one, you will get a WordPress plugin that will speed up your site with some of the most advanced technical features. It will let you improve site speed with the help of automated WPO techniques.
This plugin will also help you optimize, minify, and combine the generated JS, HTML, and CSS files. You will also be able to activate Gzip Compression and channelize browser cache settings with great ease.
Key features that deserve your attention here are-
It offers Gzip data compression
It offers Cache for mobile, desktop and tablet
It generates the static cache
It will help you in having a better score on Pingdom, Gtmetrix, Google Page Speed, etc.
You will get CDN integration for loading any CDN content
You will find out a WooCommerce dedicated integration with this one
It is WordPress multisite compatible that also offers Page Builders Compatibility
Wrapping Up
So, these were some of the best WordPress Cache Plugins that will be quite useful in increasing the page loading speed of your WordPress site.
Do you also use any WordPress plugin or tool to increase the site loading speed? Did we miss your favorite cache plugin?
Share your views with us in the comments below.