Have you ever tried to think of the benefits of having social media in your lives? Well, imagine this situation over here. Think about what would happen if social media wasn't there in your life? Well, that would be a dull world for sure.
It is imperative that we have social media because it is what connects us to the rest of the world. When it comes to the benefits of having social media, there are countless. From managing our day to day lives to managing big companies to using social media for business and large brands, social media helps in almost everything.
But when it comes to business, what exactly are the benefits of using social media.
Have you wondered why we need social media for our businesses?
Well, all of these questions will be answered right here and right now. Keep on reading till the end to find out why people should and do use social media for business.
Why Is Using Social Media for Business So Important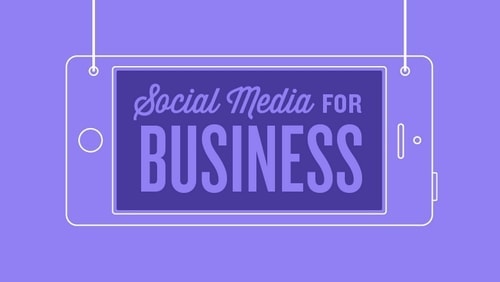 Confused about using social media to get your brand known to the people? You definitely won't be after you finish reading this article.
The main aim here is to educate people about using social media for small and big businesses. Here we have some of the important reasons why using social media for the business would be the best idea ever.
1) Social Media Helps In Getting The Word Out
You have surely heard of social media promotions? Well, if you are a businessman in the online world then you definitely have. Even if you don't, then you should get to know about it, as it is very important for the business. What is the one thing that you want for your brand?
Of course, you want people to know about your business. This is where social media promotions help you out. They get the word out for people to take notice of your business and that is how you actually get successful.
Social Media for business ensures result driven targeting options for you that empower you to target the most relevant audiences who ultimately convert. From targeting to lead generation to conversions, Social Media is an inevitable marketing and advertising means of modern businesses.
2) Social Media Is Popular
Social media users are all over the world. So, it is needless to say that it is popular among everyone. Almost everybody whether it is a child or a fully grown adult uses social media these days.
So, wouldn't it be a great idea if you could use social media for the promotion of your business? I mean, it would definitely reach more and more people in a better and more efficient way.
Just have a look at the Dreamgrow research about the popularity and audience base of some of the top social media channels –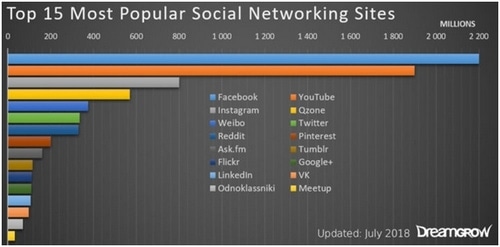 3) Social Media Sites Are Free
Have you ever been asked by Facebook or YouTube to pay a certain amount of fee for posting there? Well, no right? That is one of the best things about social media.
When compared to other marketing platforms, social media tends to be one of the cheapest ones as there is not much cost associated with these sites. You can post anything that you want about your business and you won't have to pay a single penny for it.
This way, creating pages on social media for business is one of the most effective ways that offer unlimited opportunities for businesses. Facebook, Twitter, LinkedIn sorts of social platforms offer special features that can widen the reach of businesses and boost sales potential.
4) Social Media Reaches All Ages And Demographics
When it comes to social media, there is no limit to age. As we have already mentioned social media sites are popular amongst the adults as well and the youngsters as well.
So, it will not be an understatement if we say that social media helps you to connect with people of different ages. Both adults and youngsters will be able to see the brands that you own.
Doesn't that seem like an amazing thing?
In addition, social media allows you to target your prospects based on the demographics that suit your brand, products or services.
5) Social Media Users Are Active
Sites such as Facebook, Instagram, LinkedIn, and YouTube have got active users that log in every single day. So, that means if you promote your business online in the world of social media, there are chances that more and more people will be able to see it.
That will certainly be good news for the business as more people will be attracted to your brand when you post. You can opt for different strategies that can let your audiences see and engage with your posts.
Knowing the right time to post on social platforms is one of the brilliant strategies of social media for business. Use of live videos on a platform like Facebook will easily notify your audiences about your vide that will increase the engagement of your page.
You can also use social media users in driving traffic to your website.
6) Social Media Encourages Two-Way Communication
What is the best way to engage customers and persuade them to have a look at your brand? Well, it would definitely have to be through communication. What do you think is the best place to have communication?
Well, it is the social media sites, of course. Social media allows you to have conversations with your followers and customers to make sure that they remain interested in your business.
7) Social Media Is Perfect For Customer Service
One of the most important things when it comes to social media for business would have to be customer service. Ensuring that the customers are happy with your products and services is something that you need to take care of.
Social media sites are the best way to make your customers happy by providing awesome services. With the help of these social media sites, the customers will be able to post their queries and complaints and you can work on solving them.
Social Listening and Social Monitoring are two of the incredible ways that help businesses ensure better and conversion oriented customer services.
8) Social Media Helps In Information Sharing
If you want to share some information about your business, where will you go? Sure there are other ways of marketing your business, but there is nothing that will work better than social media sites.
You can easily post information for people to see and learn a lot about your business.
That will definitely guarantee success for your business, don't you think?
You can even create an event on social media portals. You can run a contest for the free passes or discounts.
Displaying teasers of special events for sharing information about your brand, products or services is also an effective use of social media for business.
9) Email Marketing Improves With Social Media
As we have already mentioned before, social media sites have millions and billions of active users. So, there is no doubt that with the help of social media, you can improve the face of your email marketing as well.
Sharing information about your email on social media will encourage people to join your email list and you will definitely have more and more subscribers.
10) Social Media Is Everywhere
From watching videos to searching details about anything, we use social media. It can be accessed from anywhere as long as you have a device.
So, it is for sure that social media will be a great tool due to its omnipresence.
All you have to do is promote your business online on a social media site and wait for the results.
You need to know the social media portal that best fits with your business model and audiences base, and this will ensure profits for you straight away.
11)  Effective Influencer Marketing
Social Media for Business allows you to use industry leaders, evangelist, and celebrities to promote your brand. Since influencers enjoy huge followings on social platforms that eventually translate into widening your audience bases.
Influencers can easily create a buzz about your brand on their social channels that will help in awareness and brand building.
Partnering with influencers is an incredible benefit of Social Media for business.
12) Potential to go Viral
Social Media is the most powerful online marketing channel that can turn your product, brand or event go viral.
Right integration of different social platforms like YouTube, Facebook, Twitter, Instagram or Snapchat with engaging, entertaining and thought-provoking content to empower your campaign to go viral.
Influencers can also help in that. All this let people talk, discuss, share, like and repeatedly engage with your content to make your campaign viral.
13) Targeted Advertising
Social Media for business also offers the opportunity to run social ads.
These ads are affordable and they ensure effective targeting as per the most relevant demographics for your business, product or service.
You can easily run Facebook, Twitter, Snapchat, Instagram, LinkedIn paid ads to optimize your reach and increase sales potential
In Conclusion
So, are you convinced about using social media for your business yet? We can guarantee that if you do use it for your business, then the results will be terrific.
In case of any doubts about the right social media marketing strategy for your business, feel free to share your query in the comment section below.