With WordPress, many times there are instances where you would want to make a few changes to your WordPress files. These situations include improving the security of the site or adding up a few codes. The best option to add them is to make use of FTP. Now, what is this FTP thing all about? We will educate you about FTP in this post.
What is FTP?
FTP is an acronym for File Transfer Protocol. It is essentially an option used for transmitting files between a server and a client. The technology was developed in the 1970s and used primarily for uploading the files between the computers.
However, the major functionality of the tool is to upload the files from a computer to a server. During the early day's website design, it was used as an essential option to upload files to your website. The developers would work on the files locally on their computer and then use FTP to upload these files to the server. Thus, FTP was used for even the smallest functionalities like updating the content on your website.
Why Would you Need FTP in WordPress?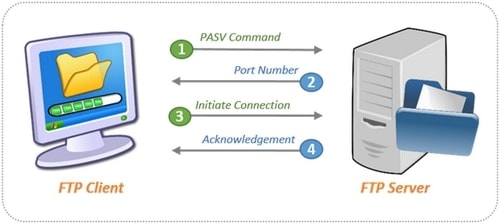 FTP was used in the past for almost every need of the content updating requirements you had with websites and blogs. But, the development of Content Management Systems like WordPress has made it go diminutive. But still, FTP has not yet lost its importance, and we still use it for most of your requirements – even when you have WordPress at your disposal.
You would normally need FTP if you have any issues with the site and need to upload some files to your WordPress site. Under ideal circumstances, you do not need FTP for uploading and adding any kind of content to your WordPress site. You can add any of your files through the admin area of your WordPress installation. In fact, WordPress even lets you upload and install themes and plugins through the use of its admin area.
Even then, a few WordPress errors can make it difficult to upload the content the normal way. This is where you would need FTP on WordPress. Moreover, if you are troubleshooting your WordPress installation for any of your requirements, you would be forced to use FTP.
Ideally, these are the areas where you would use FTP on a WordPress site, though each of these cases may not necessarily need FTP as the sole option.
Installation of plugins and themes if you need to do it directly.
Some plugins may lockout your WordPress dashboard. You can use FTP to manually deactivate them
If you have media files in large number, FTP can be the best option to upload them in bulk.
If you need to make any changes to core files in WordPress, FTP can come in handy. Some such examples can be .htaccess file and text file
In case you are attempting to troubleshoot your WordPress installation.
Though you would not be using FTP as a day to day utility when you are on WordPress, there are occasions you would need to use it. From that perspective, it would be essential to learn how to use FTP.
How To Use FTP in WordPress?
By now, you are aware of what exactly is FTP. Let us now understand how you can use it with WordPress. As a prerequisite, you need to have access to an FTP client for working with FTP.
A few popular FTP clients widely used are FileZilla, WinSCP, and Cyberduck. FileZilla has been a well known FTP client, and we will use it in our introduction on how to use FTP on WordPress.
Before you can upload anything to your site through FTP, make sure you have backed up your site. The changes made through FTP may be irreversible and can create issues. Take a backup of the site so that if something goes wrong, you can always restore it back to the last working state.
Next, install FileZilla. You can download it from the official site. Be careful about this phase as you would not want to end up downloading and installing a wrong application. You will need to check the correct version suitable for your computer based on the configuration.
Once the FTP client is installed, launch it. You should see the main screen somewhat similar to this –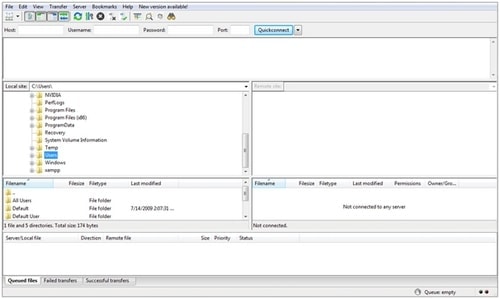 You now need to enter the credentials in the top of the page. You will need to enter your host's FTP address, your personal username, and password. These details would be available through your service provider. The exact location where you would find your credentials can be dependent upon your hosting service provider. If you are unable to find it, it should be a good idea to get in touch with them to get your credentials.
Enter them in the location provided and click on QuickConnect. The client will display the status and finally, connect you to the server. You need not enter your credentials every time you log into your client. You can easily connect using the Reconnect button.
Once the FTP client is connected to your web server, you would find your files listed in separate sections.

The section on the left side shows the content on your computer, while the files on the right side would be your remote files or those on your server. You can only need to use the drag and drop functionality to move files between the two section easily.
Be careful at these stage as handling the files without paying much attention may end up creating issues with respect to your site and its normal functionality. Ideally, you would be looking for a folder wp-content. This has a subfolder that stores your plugins and themes. You can open your current theme here and make the necessary changes. Or you can even upload new content if you want to.
Once you reach this stage, make sure you can explore it further by experimenting with the different settings. However, ensure that you are not playing with the functionality of the site.
In Conclusion
As you keep working with WordPress, you would understand a few things that keep working in the background making it successful enough. FTP is definitely one of the factors that would play a major role. Of course, the functionality is much limited when compared to the level it used to be in the past.
Being a website owner, it is quite essential for you to have enough information on FTP and its working. We assume we have made you a little wiser enough.
If you liked this article, we bet that you will love the Marketing91 Academy, which provides you free access to 10+ marketing courses and 100s of Case studies.