Salaried personnel receives a regular amount, which is their income. However, they don't enjoy the freedom to spend the entire amount at their free will as they pay a small amount as Income Tax (IT). As a mandatory direct tax, income tax is charged upon a person's annual earnings.
There are many income tax slabs (all rates are determined by a nation's government), one for different earning groups. People, whose earnings do not fall within the bracket of income tax, are exempted from paying it.
Disposable income definition
The portion of income left after paying the income tax is therefore known as disposable income. The term 'dispose of' means to freely spend the money at one's will. Disposable income, also known as Disposable Personal Income (DPI) is the real income of an individual. The person or a household uses it to meet other expenses or fulfill desires.
Disposable Income Formula
DPI= Personal Income-Income Tax
Role of Disposable Income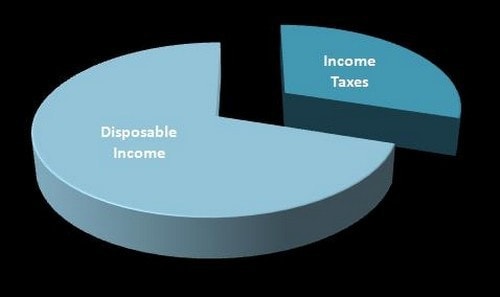 Disposable Income is of prime importance as it helps in determining:
1. The standard of Living of an Economy
It is the real Per Capita Income (PCI) and not the Cost to Company (CTC) that determines the standard of living of a country. As people pay a certain portion of their income as income tax, therefore they get only a part of their income to spend for themselves, which actually determines their living standard.
From food to attire to entertainment to profitable ROIs, households spend the remaining amount in these sectors. Disposable income, therefore, gives a real picture of the people's status and lifestyle. It further enables marketers to have proper targets on their potential audience and devise appropriate pricing strategy so that the targeted consumer group feels comfortable while purchasing the product.
Often, while defining the target audience, most marketers commit a mistake of avoiding this disposable income. As a result, the prices set for a product becomes out-of-reach for most consumers and hence they refrain from buying the product. To avoid such mistakes, it is important to consider the disposable income and not the real income of consumers.
2. Marginal Propensity to Consume (MPC)
MPC is a concept of economics which measures the increase in consumption compared to increase in disposable income. For example, a person earns 12, 00,000 INR p.a. and pays 20% i.e. 2, 40,000 INR as IT. After a year, the earning increases to 15, 00,000 INR and so the amount of IT becomes 3, 00,000 INR. In the first case, the person's DPI was 9, 60,000 INR whereas in the second case the DPI amount to 12, 00,000 INR. So, with an increase of 2, 40,000 INR or 25% in DPI, by how much percentage will the person increase his/her consumption. This increase will be known as MPC.
MPC gives an idea about the willingness and pattern of spending of the individual or the household customer to consume more and more commodities. It may so happen that despite the increase in DPI, consumption will remain the same. In this case, the marginal MPC will be low and such consumers won't consume until encouraged to do so.
In this case, marketers need to captivate the consumer and keep sending messages so as to bring him back to the commodities time and again. However, when MPC will be more than that the increase in DPI, it means that the particular consumer is extravagant. In this case, marketers need not give excess effort as customers will purchase commodities by default.
3. Marginal Propensity to Save (MPS)
MPS is another concept of economics and works similarly like MPC. Where MPC is related to consumption, MPS is concerned with savings. In other words, with the increase in DPI, by how much percentage is an individual or household consumer willing to increase savings, is known as MPS. Marketers can look into such consumers from two dimensions.
One, encourage them to save more by attracting them towards mutual funds, long-term savings schemes and other investments. Of late, with the change in the nature of money, drawing investments in sectors like real estates is a good way to make business. Two, make the extensive effort in turning them from potential targets to real customers of relevant products.
By adopting either of the two ways, marketers can bring such customers within the fold of their products and motivate them to spend more, in some way or the other.
4. Personal Savings Rate
This is the net amount left after spending from the disposable income. So, if a person has 2, 40,000 INR as disposable income and he spends 1, 00,000 INR on other commodities, 1, 40,000 is the personal savings amount, the rate being 59%. By knowing the personal savings rate, marketers get an idea of new potential target consumers, viable for any commodity.
The rate of personal savings also informs them about the spending and savings tendency of households. This further reflects consumer mind and psychology; all of which are purposeful for devising promotional strategies and campaigns to attract new consumers towards new or existing products.
5. Discretionary Income
Besides disposable income, there is another thing called 'Discretionary Income'. It is the amount spent from the disposable income for meeting necessary expenditures like telephone bills, house rent, home or car loans, premiums on life insurance policies, medical insurance premiums, car insurances and other similar expenditures.
A common thing in all these expenditures is that just like Income Tax, the customer has to pay the bill. However, there also lies a difference. Unlike IT, which is mandated by the government of a country, such expenditure are incurred for taking a decision indiscretion. For example, a person who can afford car loans will definitely buy one car. It is the discretionary decision of the cay buyer to purchase a car, for which there is a mandatory EMI, to be payable every month.
Therefore, after deducting all the above expenditure from the disposable income, economists get the discretionary income. The income is a more genuine figure about the actual money left with a consumer. Often, marketers overlook this income and commit the same mistake like that in disposable income. This result in lesser sales of products and prices often seem hard-pinching on pockets.
Therefore, to ensure that the pricing strategy is appropriately targeted towards the specific audience who can actually afford to go with the product, marketing managers need to consider the discretionary income.