When online marketing and social media ads have come up in such a long way, it is important to know and understand the right kind of options that you can have for your brand promotion. In such a scenario the Facebook Dynamic Ads are known to be one of the best ways of promoting your products.
Such ads make use of a dynamic template and a product data is used from the product catalog and soon ads are generated. This has made creating advertisements much easier now.
Why Are Facebook Dynamic Ads So Much Unique?
Often there remains a pressure on the advertisers to create some unique and impressive advertisements. Such pressure is taken care of by the Facebook Dynamic Ads.
This is because they make sure that boring information options such as shipping details, and others are transformed into something quite interesting so that the information can reach out to a wide number of people.
Also, there is a wide range of formats that are being used such as carousel, single-image, and so on that can be helpful in attracting audiences on the ad and also increasing conversions of the customers.
Another great unique feature of the Facebook Dynamic Ads for E-commerce and other industries is that it can be also pushed on to Instagram. There happened a few years back when users saw advertisements only on Facebook and not only many other social sites. The Facebook Dynamic Ads make sure that such ads are also visible on sites such as Instagram too.
How to boost your e-commerce sales using Facebook Dynamic Ads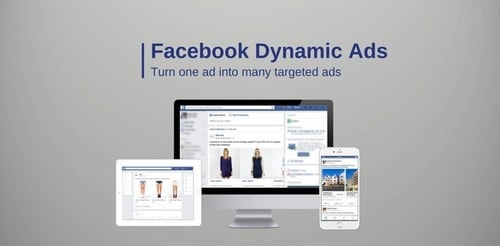 Facebook Dynamic Ads use a dynamic template to automatically generate ads to show relevant products to users based on their previous actions by gathering data from your entire product catalog. This means you'll only have to create one ad and Facebook will use the same template to generate ads for each and every product that you want to sell. The ads can be viewed in single-image, carousel or collections format.
Why should you use the Facebook Dynamic Ads option?
As mentioned earlier, you'll only have to create one single ad. This saves you an incredible amount of time and you also don't have to go through the hassle of creating ads for every single product on your catalog.
You can promote all the products in your catalog separately and make your ads clutter-free. Your ads will be shown to users who are most likely to convert. This is based on the data Facebook collects.
The ads are tailored according to the devices that they're displayed on.
You can use these ads across multiple social media platforms to boost your chances of conversion.
You can track consumers as they go through the different stages of buying and re-target customers with Dynamic ads based on which stage they are in.
Facebook Dynamic Ads uses the Lookalike tool to target people based on your existing custom audience list. This means you can expand your audience.
What did you need to have to get started with the Facebook Dynamic Ads option?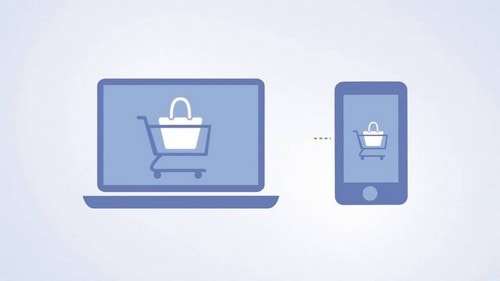 1) Install Facebook Pixel on your website and Facebook app
 The Facebook Pixel allows you to track conversions and how users interact with your ad.
2) Make sure that you add these three events for Facebook Pixel to track:
View Content
Add to Cart
Purchase
3) Create a solid audience strategy
Use Facebook's Audience Insight tool to get a grasp of your audience's likes and target them with ads accordingly.
Create a strategy to reach out to people in all the stages of the conversion funnel and identify how you can perform better in each stage.
4) Make a product feed that satisfies Facebook's requirements
You must provide a product feed to Facebook so that it can generate ads. The product feed is nothing but a data file that has a list of your products and essential information related to it. This could be the price, description, the image link to your product, etc.
Since this is the most important component of creating a Dynamic Ad, make sure that you strictly adhere to Facebook's specifications and while you're at it, also make sure to create error-free and attractive content for users.
5) Set up an ad campaign in Facebook Ads Manager –
Once you've clicked the "Create a new Ad", you'll have to specify an objective. Since you're creating dynamic ads, you'll have to select Product Catalog Sales as your campaign objective.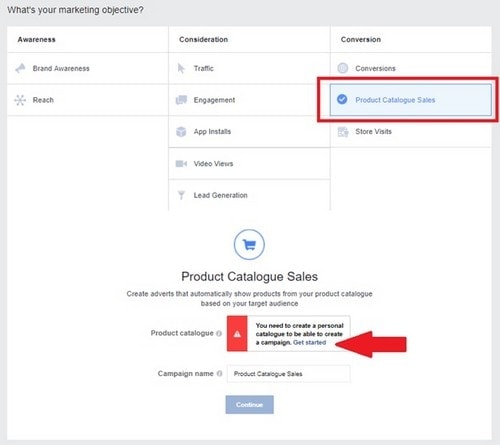 Facebook will then take you through the process of creating an ad.
Lastly, don't lose sight of your ad with Facebook's targeting options. Direct all your focus on creating an incredible ad and the rest will follow.
How Do Facebook Dynamic Ads Boost E-commerce Sales?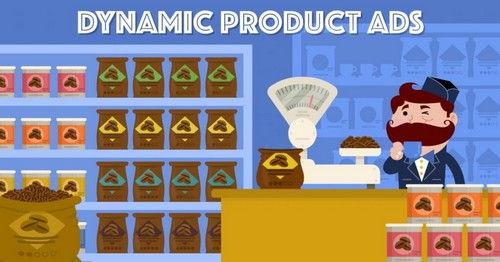 Normally, Facebook Dynamic Ads are highly useful for e-commerce sales. There are so many varied reasons that make this possible that e-commerce sites can boost up their sales in an effective way.
1) Advertisement About Every Product
Nobody has that much time to create ads about each and every product from the catalog. Facebook can help you in this in a huge way. You just have to create a single advertisement and Facebook draws in information from your data catalog. Based on the data from the catalog, Facebook will come up with ads for almost every type of customers that will be useful for you. So, if you have an online shopping site, you must be having a huge list of products to be displayed. You can surely take help of the Facebook Dynamic Ads for e-commerce to get ads created for various types of customers that will be needed by your site.
2) Higher Conversions
It is said and has been noticed also that the option of Facebook Dynamic Ads for e-commerce are highly helpful in generating higher conversions of the customers. How does it actually happen? Facebook Dynamic Ads target the exact customers for your products. This means those customers will be targeted who have shown their interest in any similar product in the past. The Dynamic Ads will be such that will provide the information about your product in an interesting and impressive way and also will add up a call to action to it.
3) Retargeting Audiences
In order to improve upon the conversions, only those audiences are not targeted who have shown interest in a similar product before. There can be so many different options of customers that you can have who can be highly potential customers of yours. There can be customers who have seen an advertisement and have subscribed to the newsletters, while there can be also some such customers who have to start shopping from your site but also not completed the payment procedure. There must have been some reason because of which the transaction was not completed.
It is important to have a check with these customers so that they can soon convert into your potential customers. Facebook Dynamic Ads for e-commerce helps in retargeting different customers so that they can be approached again in the right way and can be converted soon into potential customers.
4) Responsive Ads
The best thing about Facebook is that it is highly responsive in nature. This means it can support all types of devices with different screens and browsers. If you are using a smartphone, you can get an application of it but even if you do not have an application for Facebook, you can sign in to your profile from your browser. Whatever it is, the best thing is that the audiences will be able to view the advertisements in exactly the same format in which it has been created.
5) Campaign Performance
It is not only that you create an ad and then you can sit back and relax. You need to check the performances so that you can know your mistakes and can rectify them to get better results in the future. While you are creating Facebook Dynamic Ads for e-commerce, you will be provided with this facility quite conveniently. There are so many tools and options on Facebook that can help you in tracking the performance of the ads and also make test ad campaigns to check which one will be the best option for you to yield great results. So, you do not have to sit back and wait for the results to happen. You can monitor the campaign and can make changes in the ads from time to time to get better results.
6) Getting New Leads
Another most important reason for using Facebook Dynamic Ads for e-commerce is that you can come across a number of new leads to at times through this. There can be a number of such customers who have tried to search for a product but have left the search in between or there can be some such customers who wanted to inquire about something. Such customers often leave an email address or some other contact details. These leads can be highly useful in sending newsletters and so on and this is also a great way of retargeting and advertising.
Facebook Dynamic Ads are the new trend of advertisement that is actually helping out a number of advertisers and brands by now. It is quite convenient and also offers you a number of facilities that make it much beneficial for you to advertise your products.