Not being able to honor the financial obligation or pay off liability/debt is referred to as bankruptcy. It can be legally filed by a person or a business establishment to be free from debt obligations. If you plan to file for bankruptcy, it is then you are aware of different types of bankruptcy that will surely help you in the process.
The rules for filing different types of bankruptcy vary from country to country.
When you legally file for bankruptcy, the court will decide if you have any means to pay off all, some, or none of your debt. Bankruptcy is classified into two categories-
1. Personal Bankruptcy
When an individual or a married couple files for bankruptcy, it is called personal bankruptcy.
2. Business Bankruptcy
When a business establishment files for bankruptcy, it is called business bankruptcy.
Declaring bankruptcy is not a decision that has to be made light of. It should be your last resort and not just another means of escaping debt.
It requires careful deliberation of your situation. One must look out for all other available possibilities, and only when every known possibility ceases to exist, one should think of taking the legal option of filing for bankruptcy.
Let us now have a look at different types of bankruptcy right away.
What are the Types of Bankruptcy?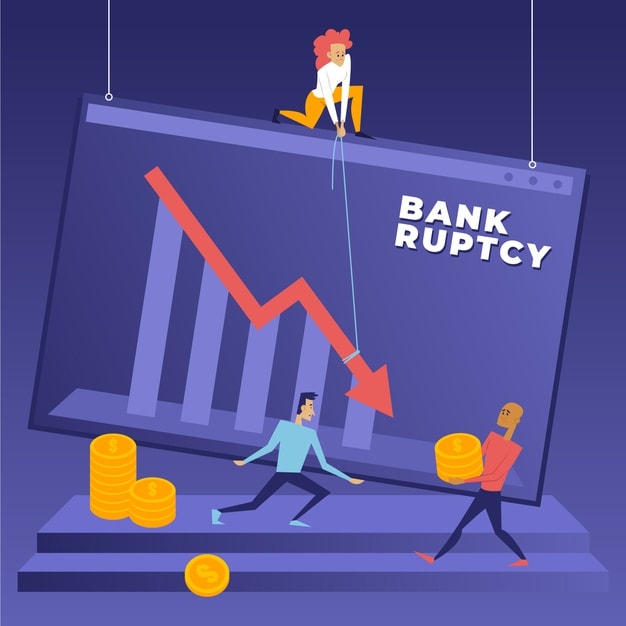 There are various types of bankruptcies that you can file for.
Understanding the scope and effects of each type of bankruptcy and deciding upon which suits your situation best is the first decision to make once you have made up your mind to file for bankruptcy.
Though it is good to be informed of your options, you should consult an attorney. The expert opinion of an attorney will help you decide whether you should file for bankruptcy and the type of bankruptcy that best suits your interests.
The 6 different types of bankruptcies are:
Chapter 7: Liquidation
Chapter 13: Repayment Plan
Chapter 11: Large Reorganization
Chapter 12: Family Farmers
Chapter 15: Used in Foreign cases
Chapter 9: Municipalities
The most common types of bankruptcy are Chapter 7, Chapter 11, and Chapter 13.
Chapter 7 and Chapter 13 are the most common personal bankruptcies that are filed. Chapter 11 is the form of bankruptcy commonly filed by business establishments.
It is essential to understand how each of these works, to make an informed decision.
Let us now dive deeper into each of the 6 types of bankruptcies-
1. Chapter 7 Bankruptcy
As stated earlier, this is mostly for when an individual or a couple goes bankrupt. Some reasons that lead people to file for personal bankruptcy are:
Loss of Job
Divorce
Medical Emergency
Death in the Family
Chapter 7 is also referred to as liquidation bankruptcy or straight bankruptcy.
Though individuals or couples most commonly use this type, certain companies can also file for bankruptcy under Chapter 7. Partnerships or organizations with assets that can be liquidated to pay off debts can also file for bankruptcy under Chapter 7.
This type of bankruptcy can eliminate most of your unsecured debts and some secured debts. Secured debts are the debts that are bound by collateral. Unsecured debts are debts that are not bound by collateral like personal loans. It helps pay off your debts to unsecured creditors by selling off your non-exempt property to pay it off.
A bankruptcy trustee makes the liquidation or sale of your non-exempt assets. If all your assets are exempt, then the trustee cannot sell any of it, and the creditors do not get any money.
You get to keep all your belongings. Exempt property is a property that is protected by an exemption. If your belonging is worth more than the exempt amount or the exemption made by federal or state laws, (whichever is applicable), then it can be liquidated.
When you file for bankruptcy under Chapter 7, creditors' attempts to recover their money should be stopped immediately. If any of the creditors violates this, the matter should be intimated to your attorney, who can appraise your situation's creditors.
Chapter 7, bankruptcy cases do not last for more than 4 to 6 months. If your Chapter 7 bankruptcy is successful, you are immediately discharged from all your liabilities included under the bankruptcy. The court decree that eliminates your dischargeable debt will usually be granted in 3 to 4 months after filing.
2. Chapter 13 Bankruptcy
This type of bankruptcy also involves repaying creditors.
The difference between Chapter 7 is that this does not involve selling away or liquidating your assets to repay your debts. This type of bankruptcy allows for repayment of your debts through your income.
In essence, it helps create a repayment plan on how to repay your debts with what you earn on your job. A bankruptcy trustee is involved in this type of bankruptcy too.
What a Chapter 13 bankruptcy does is give you more time to pay off your debts without having to sell your assets.
It ideally separates your unsecured debts and payments on your secured debts that you have missed. It then draws up a repayment plan spread over three to five years to repay your creditors' amount via the bankruptcy trustee.
The fact that the repayment plan is spread over a more extended period gives you much more breathing space than the mortgage company. If there is a change in your financial state after the repayment plan has been drawn up, the bankruptcy trustee should be taken into confidence about adjusting your plan payments.
Filing for bankruptcy under Chapter 13 will also stop your creditors from trying to get their money back from you in various ways.
Chapter 7 Vs. Chapter 13 Types of Bankruptcy
You can choose the Chapter 7 option if you have little or no property, an income level below the means threshold, your debts are mostly unsecured, and cannot commit to a repayment plan for the next three to five years.
Chapter 13 is ideal for you if you have debts that won't be discharged, and you have secured assets that need saving from foreclosure. It also becomes your option when your income level is more than the threshold to file for a Chapter 7 bankruptcy.
3. Chapter 11 Bankruptcy
Business organizations generally file chapter 11 bankruptcy. It can be filed by individuals and couples too. This type of bankruptcy is not included in a list of personal bankruptcy options due to the high costs.
The court filing alone costs a large amount of money. It, along with the attorney's fees, is not a viable option for most individuals. It is an option for high earning individuals who cannot file Chapter 13 because of the massive debt.
This type of bankruptcy is filed by companies so that they can continue operating without totally shutting down the company. So while continuing to operate the company, they can also try to pay off their debts. For a Chapter 11 bankruptcy to become operational, the court and the creditors must approve your repayment plan.
So, Chapter 11 types of bankruptcy are available to both businesses and individuals, but preferably it is opted by the corporations. In contrast to the liquidation process of Chapter 7, in Chapter 11 form of bankruptcy, debtors will be in the control of assets.
Hence, despite having a trustee in charge, the debtor will control under the court's supervision. It is mainly guided towards the reorganization of a business. In more familiar terms, it can be understood as Reorganization Under the Bankruptcy Code.
4. Chapter 9 Bankruptcy
Chapter 9 bankruptcy is similar to Chapter 13 bankruptcy filed by individuals or couples.
Municipalities, including towns, cities, and villages, come under the purview of this sort of bankruptcy. It is again a proposition of a repayment plan giving the institution more time for repayment.
So, this type of bankruptcy is exclusively accessible to the municipalities. It was created during the Great Depression when an increase in the taxes was not enough for improving the municipalities' situation.
With this type of bankruptcy, it can be essential for the municipalities to seek state approval at some of the places before filing for it.
The two of the most popular famous Chapter 9 types of bankruptcies were Jefferson Count, AL & Orange County, CA.
5. Chapter 12 Bankruptcy
It gives family farmers or people operating commercial fishing operations the option of reorganizing their debts without dealing with the expenses to file the Chapter 11 bankruptcy.
The filer will receive a discharge when the repayment has been completed.
Not only can these people escape the expenses of filing a Chapter 11 bankruptcy, but this Chapter also includes specific leeway to deal with the unique nature of farming and fishing.
So, chapter 12 type of bankruptcy applies solely to farmers and fishers, as at the initial times of bankruptcy provisions, there were no considerations for such sorts of agricultural professionals.
With the help of different addendums and modifications and numerous expiration and renewal, a permanent chapter covering the agricultural sector was added in bankruptcy types.
6. Chapter 15 Bankruptcy 
This Chapter is for people who have a property in the United States but have filed for bankruptcy under another country's laws.
This law exists to effectively facilitate cooperation between foreign and U.S. bankruptcy courts and deal with cross-border bankruptcy issues.
Chapter 15 bankruptcy revolves around cases in which assets are spread in more than one nation. In the cross-border bankruptcy problems, U.S. courts may decide whether or not to provide additional assistance for assisting anyone involved with any other country's law proceedings.
After understanding different types of bankruptcy, you should also know the debts that do not come under any bankruptcy types. So, let us go through that as well-
Debts That Do Not Come Under the Purview of Bankruptcy
There are debts that even filing of a bankruptcy cannot help you erase. If these are the kinds of debts you have, it would be wise to rethink your filing for bankruptcy.
Student Loans
Government Debts (taxes, fines, or penalties)
Reaffirmed Debts
Child Support
Alimony
Court Fines and Penalties
Alternatives to filing for Bankruptcy
Credit/Debt Counseling – Some companies offer credit/debt counseling for free. It will give you suggestions on how to get out of debt.
Debt Management Plans – This helps combines credit into a single payment to be paid off regularly in the next three to five years. It helps lower interest rates and to stop collection activity.
Debt Settlement – A debt settlement plan can be used if you have defaulted on too many of your payments so that creditors forgive a portion of your debt. You may have to pay taxes on the forgiven amount, which might end up in a lower credit score.
Debt Consolidation loan – It helps merge all your debt obligations into a single loan with a lower monthly repayment amount and lower interest rates.
Wrapping Words about types of bankruptcy!
Filing for bankruptcy is an excellent choice to make when you have exhausted all your other options.
Filing for bankruptcy will reflect your credit score for up to 7 and ten years, depending on the type of bankruptcy filed. It is wise to consult an attorney before filing for bankruptcy.
We hope you would have understood the key idiosyncrasies of all the types of bankruptcies on the concluding note.
So, which type of bankruptcy do you find the most crucial one? Share your views with us in the comment section below.