If you stay connected with your customers all the time, no one can stop your business from growing. Additionally, solving the queries and reacting to their feedback builds a mutual relationship between you and your customer.
Your live chat software must be intuitive so that people can use it significantly, and responsive for both visitors and customers visiting your site.
With the help of live chat software, you can increase the sales of your business, and make an excellent experience for your customers.
Dozens of live chat software are available in the market, and it becomes hard to select which one is right for your website.
Let's take a look at the list of best live chat software that you can use for your business.
1. LiveChat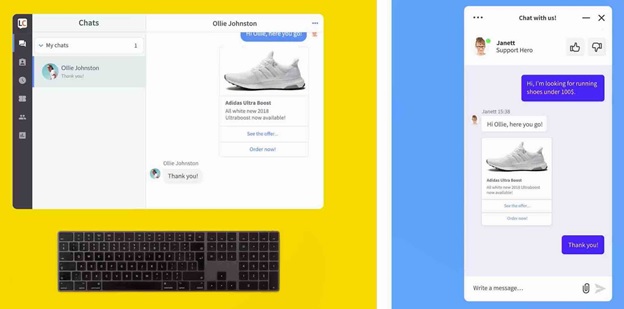 You can integrate LiveChat on any website, whether it is a hard-coded website or a CMS like WordPress, Drupal, Shopify, etc. They rolled out apps and plugins for integrating LiveChat so that any individual can integrate it on his website.
With the help of LiveChat support app, you and your colleagues can use it on mobiles and tablets without logging in to the WordPress dashboard.
Over 170 integrations are available, including Google Analytics, Facebook Messenger, Zendesk, Dropbox, CRM software (Hubspot, Highrise, Zapier), Email marketing services (MailChimp, Constant Contact, Drip), eCommerce platforms (WooCommerce, BigCommerce, Magneto), and many others.
By integrating available apps, you will be able to fasten your work as you don't have to enter details manually in other systems.
You can modify your chat box by adding company logos, social media buttons, and agent profiles. You can also customize LiveChat on a page-to-page basis, or add it to as many sites as you want without paying any extra fees.
Help hundreds of customers at a time using a ChatBot that interacts with your customer over the live chat. A bot can transfer the live chat to agents, send chat transcripts, close chats, and open tickets.
In case, you want to check the performance of your chat sessions such as chat quality of your agents, duration of whole chat, and so on. LiveChat provides you all the statistics that will help you to measure the quality of your sales team.
You can use LiveChat real-time metrics to have a look at how many visitors are online, and whether you have enough staff to handle them.
Sometimes, you collect user's data in the chat, and at that time, it becomes essential to have a high-security standard. According to LiveChat, they have a 256-bit SSL encryption to secure your conversation with the customers.
LiveChat has different plans for all sizes of companies. They have a Starter, Team, Business, and Enterprise plan, and the starter plan starts from $16 per month per agent if billed annually, otherwise $19 month-to-month.
Still, if you are not sure whether to go with LiveChat or not, you can use a free trial of 14-days available in all the plans.
2. Intercom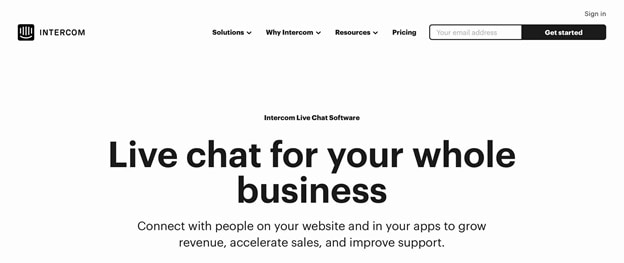 Intercom is not only a live chat support software, but can also be used as a lead generation tool, customer engagement software, and marketing automation.
You and your company don't work on weekends? No problem. Office hours can be set for weekdays as well as weekends. Your customers can see these office hours, and they will come to know when your team is working.
You will get detailed reports about the performance, including the busiest period, the number of chats per day, conversations closed, ratings, and feedback from customers.
Operator is a chatbot technology developed by Intercom, which can be used to automate the live chats when you're busy or offline. To use a chatbot, you have to pay $99 per month.
To increase sales, you can send targeted emails, in-app messages to people based on their actions on your website. But, you have to purchase Messages Pro plan to use this feature.
Intercom can be integrated with the apps and software for better results, including Google Analytics and Calendar, CRM (Salesforce, Hubspot, Zoho Desk), automation (Stripe, Zapier, Autopilot), conversation management (Slack, Facebook), and more.
You can configure the language of your live chat widget according to your company; presently, the support 38 languages. You will be able to add only one language as default in the Essential plan. To add more than one language, you will have to upgrade your plan to Pro.
Intercom allows you to customize the chat widget by uploading your business logo, change the background color, set wallpaper, and play a sound for incoming messages.
You can purchase the Essential plan of Customer Support for a live chat starting from $38 per month per seat, or you can go for the "All-in-One" solution starting from $87 per month.
This software is a bit expensive as it charges you based on the number of leads or customers that are being tracked, that's why everyone in the market can't afford it. It can be an excellent solution for a B2B SaaS company, but if you're a B2C and have a lot of website visitors, then you might look for an alternative solution.
3. Drift

Drift is a conversational marketing platform that has an impressive set of features, making it one of the most popular choices among enterprises. It combines an automated bot with the live chat that helps you to save time and increase the rate of conversions.
Drift allows visitors to book a meeting with your staff. So, you can create a unique profile URL where visitors and customers can schedule a meeting, chat directly with you, and see whether you are online or offline at that particular time.
Your chat widget will automatically display when you're online and offline (if you have set a schedule on "Online / Offline status"). But, this feature is only available in the Teams and Enterprise plans.
Drift's Account-Based Marketing (ABM) Software connects you with the high-valued leads of your website in real-time. Whenever your VIP target accounts visit your site, they will be greeted with a personalized message from the account owner.
The time has gone when you have to provide a form on your site to get the info to qualify visitors? With the help of ABM, you will get a full profile of the company the moment they visit your site.
If you're not available at the time VIP account arrives on your site, then LeadBot will take over the chat and book a meeting so that you will never lose an opportunity.
You will get to observe three types of reports, including Conversation Volume (general conversation between your staff and visitor), Team Performance (response time of team's interaction with visitors), and Routing Rules (track of conversation that is routed).
Widget style of a chat can be customized by changing the widget background, button, chat text, and hyperlink color for better user-experience.
The Standard plan starts from $50 per month billed annually, but if you want to use a primary live chat feature, then you can start with the free plan.
To use the bot feature, you will have to upgrade to the Pro plan, which starts from $400 per month billed annually. If you want ABM software, you have to further upgrade to a premium plan, which starts from $1500 per month billed annually.
4. Olark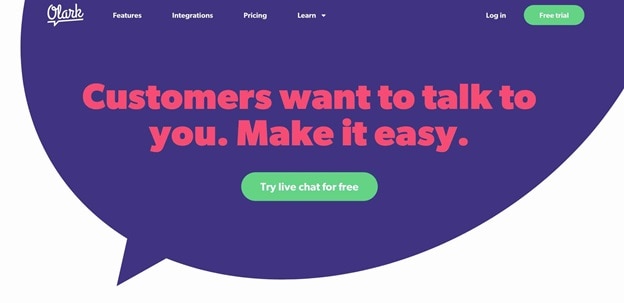 Olark is an online platform that provides live chat solution for your website so that you can chat directly with your visitors and customers. You can use Olark to build and manage customer relationships.
Real-time reporting by Olark helps you to make better marketing strategies as you get detailed reports, which include chat histories, the busiest time in the day, customer's feedback, and which topics are commonly asked by the visitors on the chat.
With the help of live chat transcripts, you can see the entire conversation of your agent with the customer along with his name, email, and location. You can even search, sort, and filter the most relevant insights.
Olark distinguishes itself from other live chat software because of its co-browsing feature. It helps visitors to share their screens with the agents during a live chat.
PowerUps is a specialized live chat feature for sales and customer service. You can easily add, remove, or swap PowerUps at any time, and you only have to pay for the features you need. It will cost you anywhere between $29 – $99 per month.
You can customize the appearance of your chat window by changing the background and button colors. And, you can even upload your business logo or photos of your agents, which let your customers know to whom they are talking.
Olark integrates with Google Analytics, MailChimp, CRM (Salesforce, Hubspot), and Help desks (Zendesk, Groove). You can also use Olark's live chat plugin for eCommerce platforms like Shopify, WordPress, Magneto, and BigCommerce.
With Olark's drag-and-drop editor, you can build custom forms and collect information from visitors before the live chat begins. You can ask about the name, product preferences, problem type, or anything you want from your customers.
The free plan allows only 20 chats per month, while the paid plan offers unlimited conversations each month.
Olark offers a pricing plan starting from $17 per month per agent. If you take a one-year subscription, you will have to pay $15 per month and $12 per month per agent for a two-year subscription. You can also take a 2-week free trial offered by Olark.
5. SnapEngage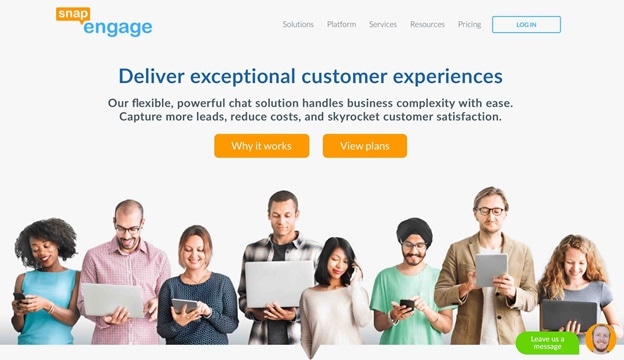 Customer experience is considered one of the most significant factors which can impact the growth of your company. It all depends on how you engage with your website visitors, and for making a better customer relationship, you can go for SnapEngage.
SnapEngage can be managed through various channels such as Facebook Messenger, WeChat, and Tweet-to-Chat, giving you the ability to maximize the efficiency of the sales and support team.
HIPAA-Compliant chat is a unique feature that you will not find in other live chat software. It secures all the information for medical businesses that handle patient data. You have to pay an extra charge to use HIPAA Compliance.
All the communications are encrypted end-to-end with the help of SSL and double-layer encryption. You can safely collect credit card details and security numbers directly in the chat window.
With the help of the co-browsing feature, agents will be able to redirect the visitor's web page while having a chat with the customer. You can also ban visitors from visiting your site, but once blocked, they won't be able to start a conversation for the next 30 days.
To track the activity of your agents at any given time, you can monitor their real-time activity from the live chat dashboard. You can also check the audit logs where you will come to know about the changes that have been made to the accounts.
SnapEngage integrates with CRM (Salesforce, Hubspot, Microsoft Dynamic Cloud), Help Desk (Zendesk, UserVoice), Project Management (JIRA, Basecamp), and marketing to increase the functionality of your site. You can also integrate Google Analytics to track live chat events.
You can also use the dashboard on mobile phones and tablets, but they don't offer a dedicated mobile app as other live software do. It's the only drawback, but it can be avoided if you have a dedicated team in your organization.
You can use a free trial of 15 days to decide whether it's an excellent choice for you or not. They offer three plans, including Essentials ($16 per month), Professional ($26 per month), and Enterprise ($40 per month).
6. Zendesk Chat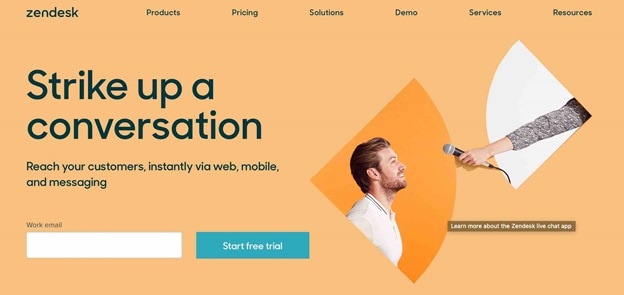 Zendesk Chat is one of the products offered by Zendesk; others are Zendesk Support (integrated customer support), Guide (knowledge base and self-service platform), and Talk (call center software). If your industry requires quick replies to your customer, then you should add this software to your website.
Zendesk acquires a company named Zopim to enter the live chat support market, and then they renamed it as Zendesk Chat.
Engage and interact with your visitors in real-time to build customer relationships. You can monitor visitor experience and agent performance, and take measurable actions to increase your team's efficiency.
You can also track sales conversions over Zendesk Chat by tracking customer's actions – whether they are purchasing or signing up for a product. This will help you to optimize your sales funnel throughout your site.
A customizable chat widget always provides a better and personalized way for your customers to have a conversation over a live chat. You can choose layouts and themes from the available options, add buttons, or change the profile picture.
During a live chat, you can share different types of files with your customers, such as a screenshot, product guide, or a GIF.
You can send targeted and behavior-based messages to your website visitors with the help of automated triggers.
For instance, if someone is on the pricing page, then there is a high probability that he further goes to buy a product. At that time, automated chat can appear and help them to make their decisions seamlessly.
Artificial Intelligence (AI) powered chatbots help agents to automate the live chat process if no agents are available. You can automate responses for commonly asked questions or gather information from visitors to connect them with the right agent.
Zendesk offers a free plan to one concurrent chat sessions that might not help you in your business, but you can decide whether to go for a paid plan. The paid plan starts from $14 per month per agent and goes to $59 per month per agent.
7. Pure Chat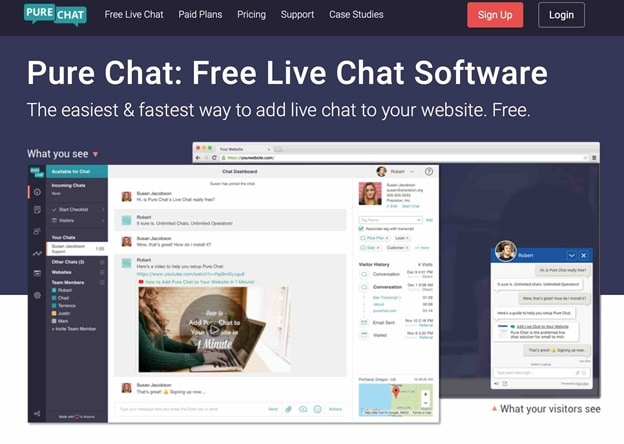 Pure Chat is a free live chat software with unlimited chats, although it also offers paid plans with more features. You can integrate this software to your website irrespective of which content management system you use.
Whether you want to increase the sales, or looking to provide a great customer experience when visitors land on your site, Pure Chat is a perfect live chat solution for you.
You can track visitors in real-time, which helps you to start a chat at the right time. For instance, if you sell a pair of sunglasses on your site, and someone selected one of the glasses but haven't gone through the payment gateway. You can view all these activities in real-time, and you know how to start a chat in such a scenario.
Pure Chat offers both iOS and Android apps for those who want to manage the live chat support while on the go.
Collect detailed transcripts after every conversation and try to enhance your marketing strategy based on that. You will be able to see your agent's performance, like how many chats does an agent handles, and the ratings of customers for a particular agent.
Pure Chat integrates with Google Analytics, Zapier, Hubspot, Infusionsoft, and Axosoft. You can install the plugin if you are using platforms like WordPress, Shopify, and Weebly.
You can easily customize the chat widget by updating the design, colors, size, and text fields on both desktop and mobile devices. Three types of layouts are available for a chatbox, including Engagement Hub, Engagement Hub & Image, and Image only.
With a free plan, you will get support for one user, one website, one day chat history, and unlimited chats per month, which is a good option for if you handle small operations.
To integrate Pure Chat with multiple sites, you have to go for paid plans, which starts from $39 per month and goes to $79 per month billed annually.
8. LivePerson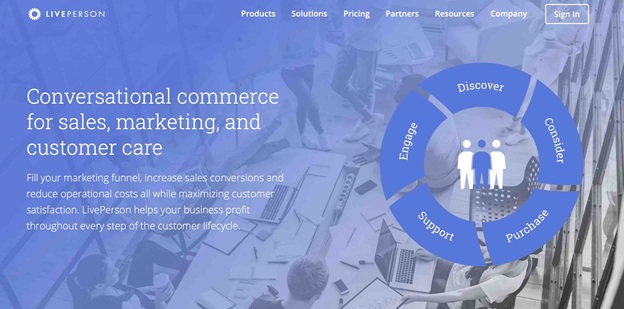 LivePerson allows you to engage with customers and increase sales via live chat on your website. They offer several platforms such as SMS, Apple Business Chat, Facebook Messenger, WhatsApp, Twitter, and more to engage with your customers.
When you log in to LivePerson, you will see the collection of video tutorials that helps you to get started with their platform. Either you can copy-paste the code in the header of your website or install the plugin on your WordPress site.
LivePerson mobile app allows you to manage the live chat and stay in touch with your website visitors when you are miles away from your desktop.
Meaningful Connection Score (MCS) is a proprietary system of LivePerson, which uses natural language processing to measure visitor's sentiment during a live chat. It determines the quality of each message on a positive, negative, or neutral score.
LiveEngage Messaging Agent provides metrics based on agent's behavior and performance, including a number of open conversations, busy slots, ringing slots, status (online, away, back soon), minimum and maximum load.
Whether you are taking security numbers or credit card details in a live chat, you don't have to worry as LivePerson is ISO 27001 certified, CSA certified, and PCI DSS 3.0 complaint, which makes sure your information is secured all the time.
Suppose a visitor add some products in the cart, or he is about to leave your website, at that time, you can prompt a chat with the help of LivePerson. In this case, you can pay more attention to increase the sales of your business.
With LivePerson's API, you can integrate it with any other platforms, but implementation requires a good knowledge of development. Their support staff confirmed that they have never encountered a platform that could not work with LivePerson.
There are no paid plans mentioned on their pricing page. You will have to request a quote according to your needs, and they will send you an email containing the price of the plan.
9. Chatra

Chatra offers live chat software to answer questions and clarify concerns. During a chat, your team can cross-sell and upsell to increase the number of sales.
With the live chat app, you can see the visitors the moment they land on your website, and observe all the actions they are taking on a web page. Suppose someone sees a product or on the checkout page for a long time without taking any action, then you can assist them with their questions, and thereby decrease the amount of shopping cart abandonment.
It may happen that you or your team is not there when someone arrives on your site; at that time Chatra app will automatically store the email of that visitor. Later on, you can take to follow up on an email without losing the potential customer.
The customer relationship becomes strong when you are always available to them. Chatra's mobile app helps you to interact with your customers while on the go without any interruption.
Chatra switches to messenger mode from live chat if you and your team are offline. It helps visitors to know that they will not get an instant reply.
You will receive notifications on desktop as well as mobile devices by Chatra. Mobile push notifications are delayed by 30 seconds to give you a chance to reply on desktop. You can set your status as Invisible on chat, and you won't receive any notifications.
One of the best features of Chatra is typing indicators, which will make you look genius in front of your visitor. You will be able to see what your visitors are typing in their chatbox, and you can answer their queries even before they hit the send button.
Chatra offers two plans, one is a free forever plan, and the other one is a paid plan of $15 per month per agent billed annually. To use features like typing insights, invisible mode, ban visitors, and many more, you have to upgrade your free plan to a paid one.
10. MyLiveChat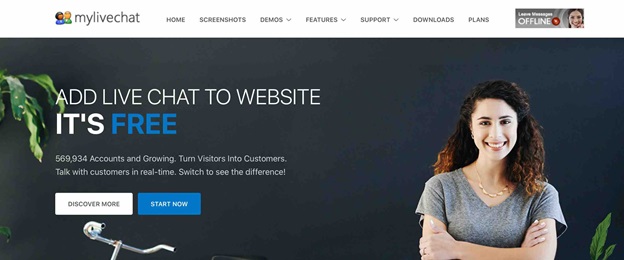 MyLiveChat has a motto – "Your Customers Want to Chat With You," and that's why they provide free live chat software to help your visitors before they leave your site.
Once you install MyLiveChat on your website using a code or by downloading the plugin, then you can manage the live chat to interact with your visitors via a web application, Windows, Mac, iOS, and Android.
Real-time monitoring helps you to track visitors' movement throughout the website in real-time. Also, you can see the details of visitors, including previous chat, chat history, browsing history, current page, and time spent on the site.
In the admin panel of MyLiveChat, you can view the analytics of chat transcripts, chat sessions, email reports, chats per agent, chats per hour, and visitor satisfaction.
If you have a digital book or documents that might help your customers, then you can transfer files over a live chat to your website visitors, this will help you to give more clarity to their queries.
MyLiveChat works smoothly with the apps, including the popular CMS, CRM, eCommerce, SaaS, and helpdesk solutions. Some of them are WordPress, Joomla, Shopify, BigCommerce, Blogger, and many more.
MyLiveChat offers five different plans, including a free forever plan with unlimited agents, websites, and chats. Other plans are Starter ($15 per month), Basic ($29 per month), Corporate ($59 per month), and Enterprise ($99 per month).
The basic plan allows two seats, which means multiple agents can handle the account, but only two of them allowed to be online at the same time. A maximum of 10 agents can present online simultaneously in the Enterprise plan.
Conclusion
If you are a startup with a small budget but want to provide significant support to your customers, then you can go for free live chat software with limited features. Or you can take advantage of the advanced features offered in the paid plans.
Start using live chat platforms today, and take your website to the next level. It's worth spending in live chat software to increase conversions and revenue.