If you are into blogging, you need to be SEO friendly. And the basic requirement for an SEO friendly website is the use of proper keywords.
Of course, several factors would affect your search ranking, but the keyword research forms the basic foundation on which the rest of the elements would be dependent.
Once you are confident enough with your keywords and the research around them, the factors like on-page and off-page SEO optimization, high-quality content, and the mobile-friendliness come to the fore.
From that perspective, it should be imperative to opt for proper and fruitful keyword research.
Why Do We Need Keyword Research Tools?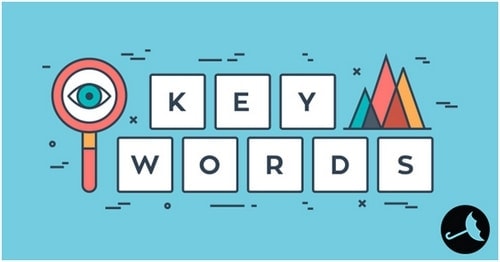 Like we said before, reaching the audience is what you build your website for. We have seen a few sites that get tons of traffic, and a few those end up with just a few or none. It is the use of the right keyword that makes it possible for websites to get traffic.
The proper use of keywords helps you find popular content, the related market for the niche and helps you rank well in the search engines.
Finding the right keyword is all about looking for what people have been searching for and servicing them the same.
Using the keyword right away may not bring the results you are looking for and rank your website or webpage on the first page of the Google search results.
There are several things and aspects that go into it. That is where a keyword research tool comes in handy.
Long-tail keywords, keyword difficulty, and use of other SEO tools would help you rank well. Several keyword research tools would help you achieve precisely that.
The type of keyword research tool you would opt for would be dependent upon the exact requirements you may have.
Top 7 Keyword Research Tools
You would indeed look to focus on your focus keyword around which you would want to build content around and rank for it. Enterprises spend thousands on keyword research to get the targeted content.
That explains the importance of keywords in building your SEO ranking.
Finding the right keyword is not always easy as it would appear to be. You need to analyze a lot of data before you finalize your target keyword.
We would consider keyword research based on the competitor's performance would be a great option to begin with. Why not make a beginning with what is already working?
Of course, if there are no competitors in your genre, you may attempt checking out the necessary keyword research.
Making a beginning is a difficult thing. So, we thought of assisting you with a few top keyword research tools.
1. Google Keyword Planner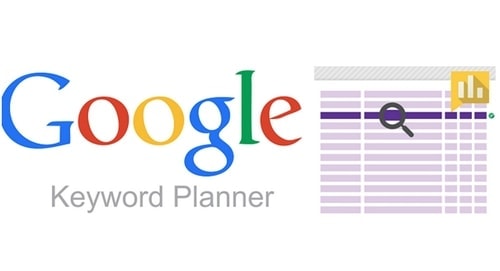 Coming from Google itself, isn't it the best you can go with for the best experience in keyword research. Of course, learning something from the creator itself should be the best you can go with.
Of course, you have a host of keyword research tools much better than the obvious option in the form of Google Keyword Planner. Why opt for Google then?
Because it comes straight from Google, and you would be overwhelmed with the massive list of keywords that the service comes with. If you are just beginning, Google Keyword Planner should be your best option.
Some of the features associated with Google Keyword planner include
Search for a new keyword or ad ideas as per your business needs.
You can also get traffic forecasts for the keywords
You can get new keywords based on the chosen keywords.
Google Keyword Planner is one of the most used and most comprehensive keyword research tools. It is one of the best free tools and is integrated with Google Adwords. It is one of the best options if you are looking for the early stages of a Website SEO.
You may also make use of the keywords generated with Google Keyword Planner to create long-tail or related keywords with other tools.
2. SEMRush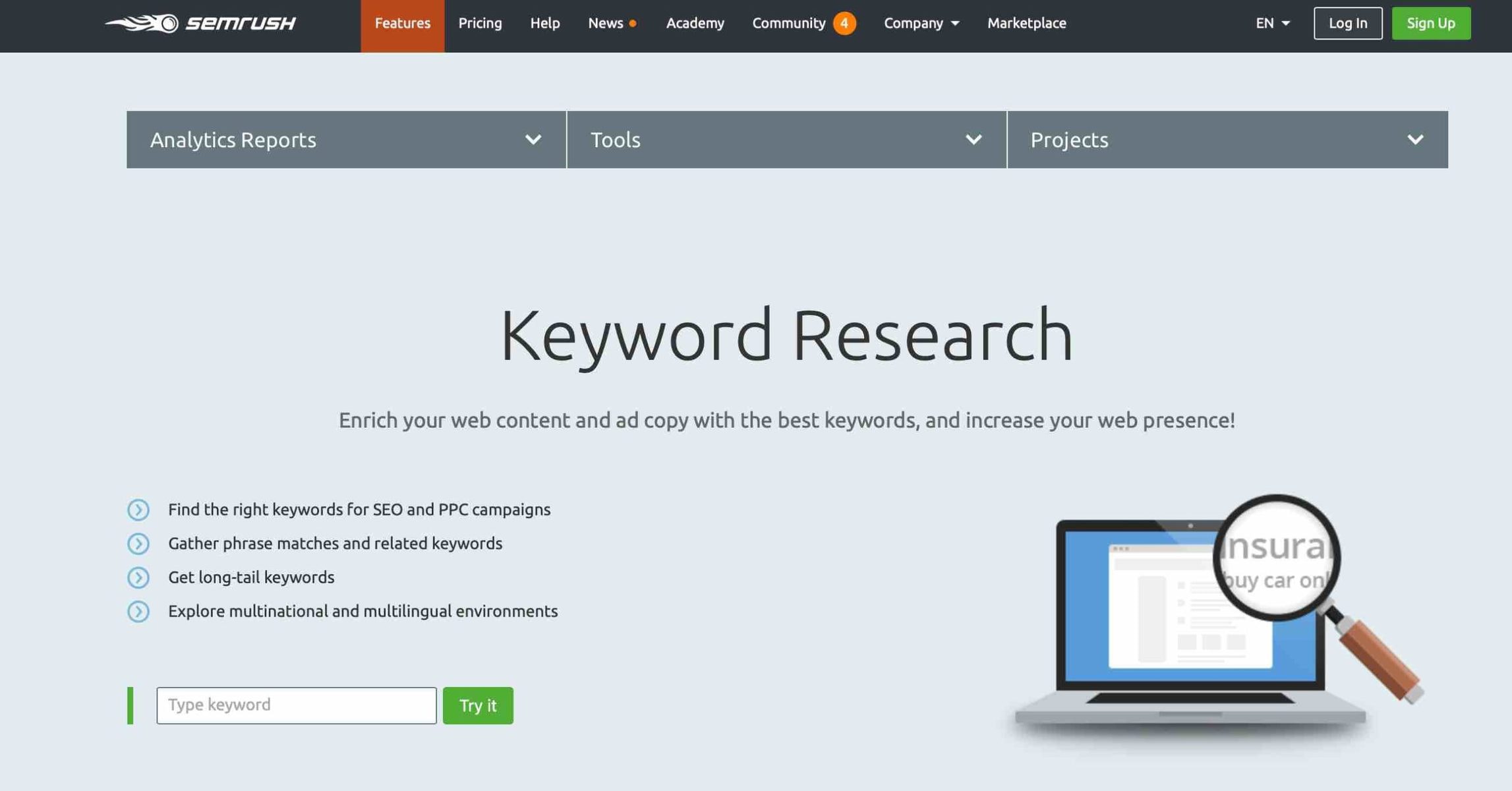 One of the best and most preferred keyword research tools from the third party category, SEMRush, has been considered to be the easiest keyword research option for bloggers.
What makes it so accessible and popular is the fact that while being an excellent keyword research tool, it also aids you in doing much more than basic keyword research.
You can even enter your competitors' URL in the search field and obtain all the keywords that are ranking for the site or page. This can go a long way in helping you find the regular, related, and long-tail keywords that are ranking for your competitor.
They have been considered to be the clear leaders in their field of interest and offer you a massive list of features and functionalities.
A few features worth the consideration include
It lets you search for keywords that would rank on both Google and Bing search engines.
In addition to the keywords, you can also get detailed information on CPC, volume, keyword trend, and a host of other metrics.
The Full Search report provides you access to related keywords and phrase matches.
SEMRush can be your best option for competitive analysis. They have several additional tools embedded within one to facilitate thorough research into the competitor's strengths and weaknesses.
3. KWFinder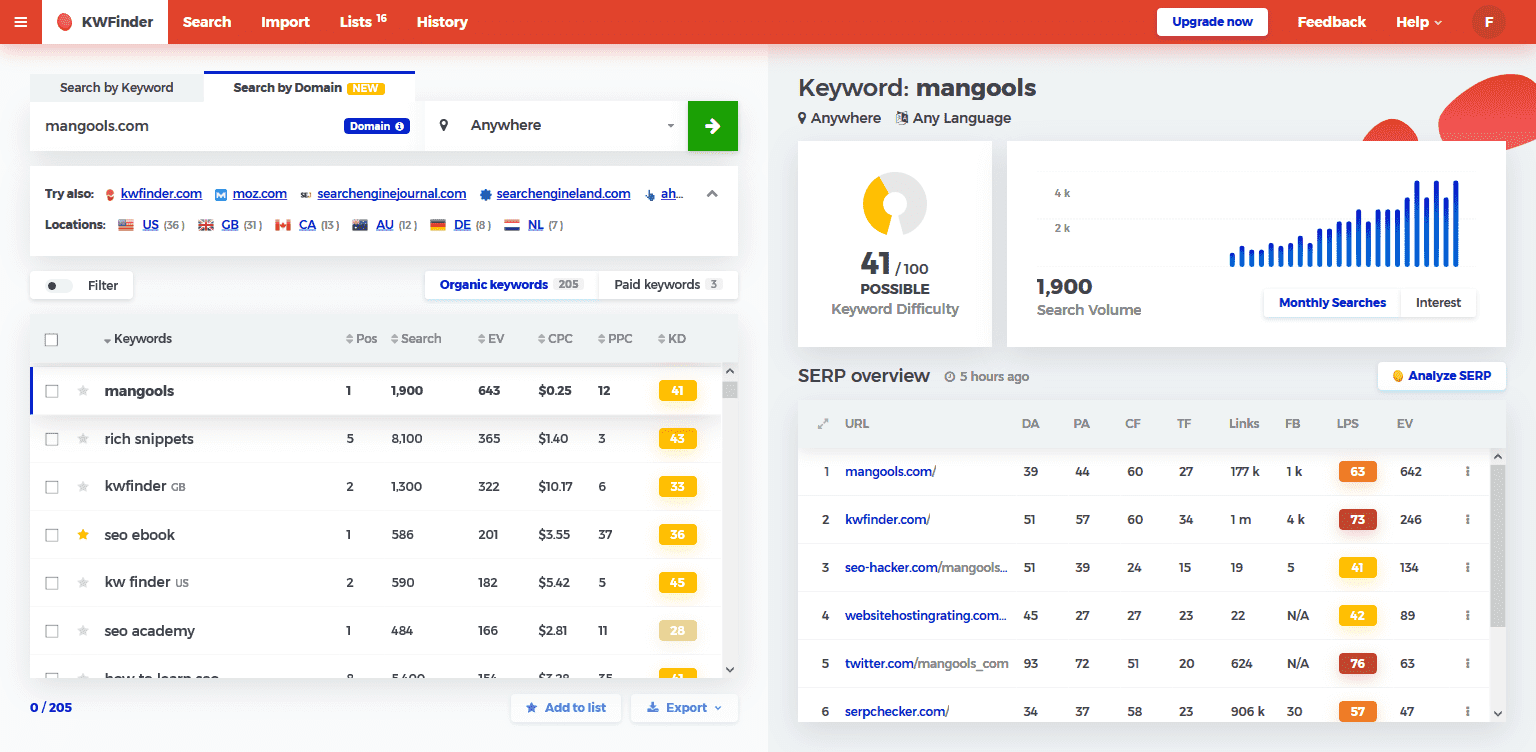 An easy to use keyword research tool, it should be one of the best options for long-tail keywords. You can use the tool for a wide range of research requirements, including trend, search volume, CPVC, and other difficulty levels.
Of course, they are new in the market but have been increasing and has been one of the prime choices if you are looking for keyword research alone.
The tool has a few pro features that lack in most other tools. One of the features that we loved the most is Keyword Difficulty.
The tool shows the keyword difficulty level for every keyword — no need to click on each of the keywords to find the difficulty level for it.
Yet another excellent feature we found interesting enough is the question-based keywords. We are well aware of the fact that question-based keywords work in an excellent manner of driving traffic.
One of the KWFinder's strengths lies in the fact that they offer excellent services related to content marketing. You can find which domains are targeting a particular keyword, the backlinks, and social shares.
You can opt for both free and paid plans for your keyword research. The basic plan should suffice most of your requirements, ideally.
4. Ahref Keyword Explorer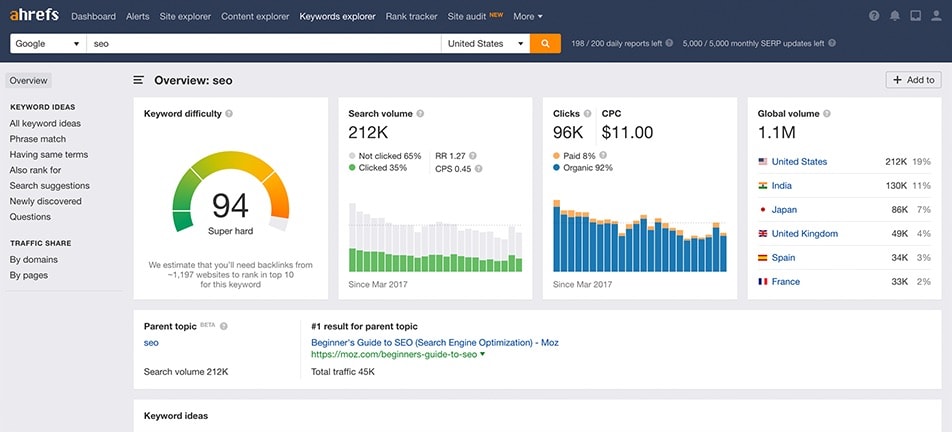 Looking for the smarter options in keyword research? Ahrefs Keyword Explorer should be your ideal choice.
Ahref has been the best when it comes to SEO analysis, and the keyword research tool from their bouquet should be the best you can opt for exhaustive keyword research.
If you are looking for an in-depth analysis of a particular keyword, this is the perfect tool for all your needs. The Clickstream functionality is one of the excellent features that let you show how many clicks would you get for the particular keyword.
The intuitive and user-friendly interface is yet another feature that would make it an excellent choice. The tool also offers an insight into how many backlinks would you need so that you would be able to rank on the first page of the Google search.
The measure you would get about the keyword difficulty with Ahref Keyword Explorer would indeed be trustworthy and detailed enough than the other tools.
5. SECockpit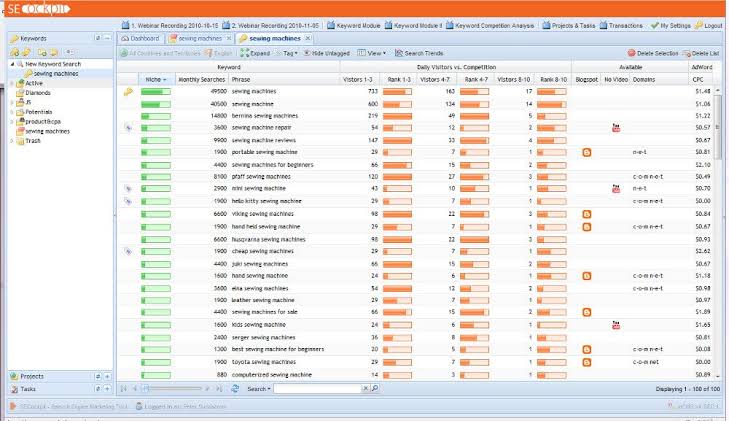 While most of the keyword research tools we discussed so far focussed on beginners and those who need adequate knowledge of keyword research, SECockpit is a tool specifically designed for the Pros out there.
In sharp contrast to other keyword research tools, it offers you a complete breakdown and analysis of the keyword, including the details like organic competition, estimates for the likely traffic and the search trends.
The amount of information available from the tool is so enormous that it is best suited for those who live a life of SEO throughout the day!
Of course, the tool offers excellent value for the newbies as well, but you may get overwhelmed with the sheer options available on the tool. However, if you are looking for an in-depth keyword analysis, it can be a good choice for your needs.
One of the features we loved the most includes an excellent filtering option. You can check out the keywords that would individually meet your exact requirements.
6. SpyFu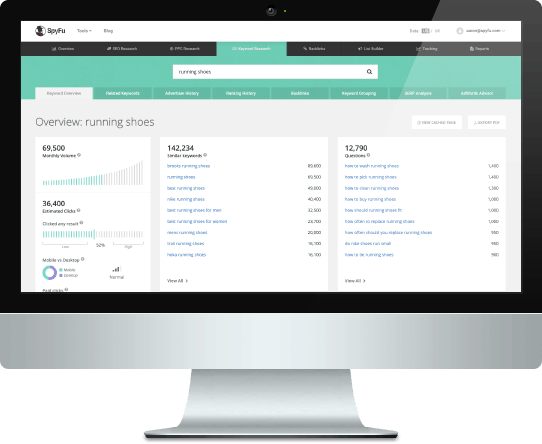 In case you are in a tight niche and trying to stay afloat with the right kind of keywords, SpyFu should be your ideal option.
It can help provide you with an in-depth analysis of your competitors' domain and also aid you in discovering the untapped areas for your products or services.
The tool comes with multiple modules to work with, prominent among them being Compare Websites module, Keyword History module, Domain History module, and Related Keywords module.
Of course, it does not come with a depth of keywords as of now as compared to the other tools included in this compilation, but still, they have been a compelling tool for keyword research.
They have been going through updates and have been inching closer to the established names. The tool is available under separate plans for individuals and agencies.
7.  Moz Keyword Explorer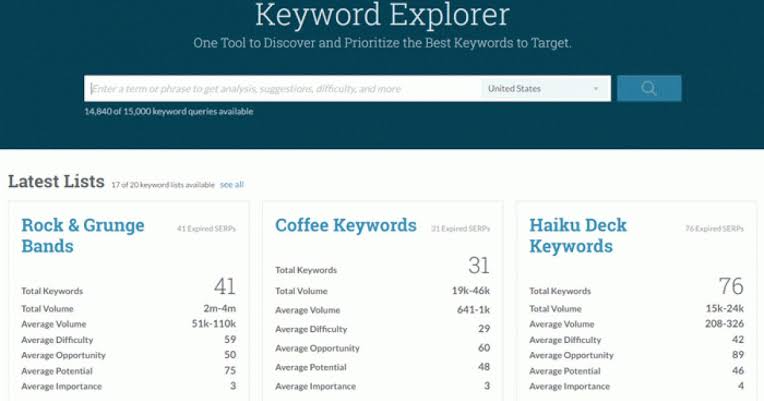 Moz has a set of tools aiding you in good SEO functionality. The Moz Keyword Explorer is a new addition to the lot. The tool adds a few additional aspects to your keyword research.
One of the aspects that would make Moz Keyword Explorer an excellent option would include the fact that it is the Smart option among the lot. It tends to offer you out of the box suggestions that most of the other keyword research tools may not be able to.
A few functionalities we liked the most include
It offers you suggestions on how critical the keyword for your campaign.
It lets you check the importance of all keywords and their metrics to arrive at the potential of a particular keyword.
The organic CTR and priority options would help estimate the likely clicks you would be able to get with the keywords you have planned.
Yet another feature we liked is the integration it has with other keyword research tools like Keyword Planner, Google Suggest, and Related Searches.
If you have your keywords developed with those tools, you can upload them into Moz Explorer to get better insights and prioritize your keyword research further.
Before We Leave…
We assume we have provided enough information on the keywords and keyword analysis in the above paragraphs. We have featured the most used and popular keyword research tools for an effective SEO strategy you can develop.
There are several more keyword research tools out there, but using all of them may not be a good idea.
Even for the tools that we have handpicked here, we would not recommend opting for all of them. To begin with, check them out one by one and stick to one or two depending upon which of them meets your exact requirements.
Using a host of tools can get overwhelming and make your research go haywire.
If you are a beginner, it would be worthwhile to go with Google Keyword Planner and SEMRush initially. They are user-friendly and can be the best options for a beginner.
Both of them do offer free tiers so that you can get used to the functionality and build your knowledge base for an effective SEO strategy to build your site on. You can migrate to other tools as you gain experience.
Do share your thoughts if you found this guide useful. Spread the word about us so that more users can benefit from it.