We all need a little bit of inspiration now and then to keep moving in life. Especially when you are an entrepreneur, you need inspiration dose to stick with their business and grow when they face hard times. Late Steve Jobs is one of the few famous entrepreneurs.
He was the co-founder and former chairman of the world's one of the biggest and successful company Apple. The name of Steve Jobs had become popular quite long before he died in 2011.
People look up to him for motivation and as he was also famous for the inspirational and motivational speeches he gave at various platforms in his entire life.
His interviews and speeches were full of wonderful quotes. All budding entrepreneurs can inspiration from Steve Jobs' quotes and learn one or two things from them. In this article, you will learn about a few famous Steve Jobs quotes that every entrepreneur must know.
#1 "Remembering that you are going to die is the best way I know to avoid the trap of thinking you have something to lose. You are already naked. There is no reason not to follow your heart."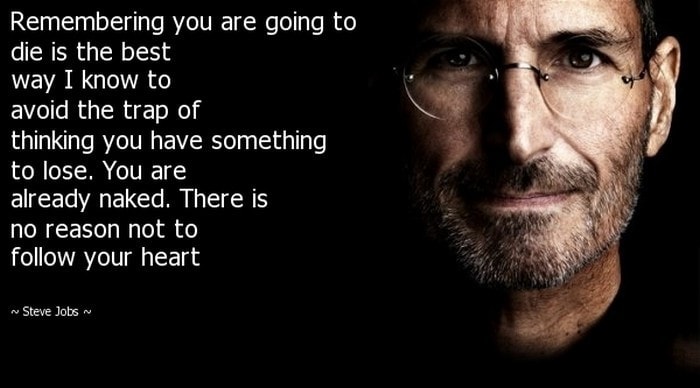 When you decide to become an entrepreneur, you already know that you are supposed to take many risks. You have to leave a well-paid and fulfilling job to do what you want to do or invest all your hard-earned money to realize your dream.
Steve Jobs always believe that no matter how daunting and risky may be to take that leap, but at the end of your day following your heart will be the best thing done by you, and it is the only way following which you can become so successful.
#2 "Sometimes when you innovate, you make mistakes. It is best to admit them quickly, and get on with improving your other innovations."
Sometimes we become so involved in realizing our ideas into reality that we think that failure is not an option. But if you become so hard on yourself, you will reach nowhere. This quote teaches us that we are only human, and making mistakes is the nature of humans.
Don't let it get you, except that you have made a mistake and learn from it and move ahead on the path of success.
#3 "Your work is going to fill a large part of your life, and the only way to be truly satisfied is to do what you believe is great work. And the only way to do great work is to love what you do. If you haven't found it yet, keep looking. Don't settle."
In the Quotes of Steve Jobs, you will find one thing that he always believed that one should be happy no matter what he does. He always said that your success is of no value if you are not happy. A person can only be happy if he does what he loves to do.
If you are not happy in your current job or the work you do 9-5, then there must be something out there for you that you should do in order o become happy. You have to put efforts to find it. You will regret if you settle for something that you don't love or like to do.
#4 "You can't connect the dots looking forward; you can only connect them looking backward. So, you have to trust that the dots will somehow connect in your future."
This Steve Jobs Quote tell you that everything eventually falls in place. You should not give up when you are in the middle of a difficult situation, or you are perplexed whether what you are doing is right or not.
But remember one thing that everything happens for a reason you should not stop following your dream just because something happened that you did not expect or plan.
#5 "I am convinced that about half of what separates successful entrepreneurs from the nonsuccessful ones is pure perseverance."
Entrepreneurship is full of challenges and obstacles, along with huge risks of failure. Those who decide to try their luck in the business world should not let these hardships impact them and use these hardships as motivation to work hard to improve consistently.
As this Steve Jobs quote says, "Perseverance is the key to success."
#6 Your time is limited, so don't waste it living someone else's life.
According to this Steve Jobs' quote, one should never try to be like someone else. Everyone has their unique qualities and strengths, and the world needs your strengths. You have a unique purpose of fulfilling.
Therefore, you should not waste a single second of your life to pretend to be like someone else. Be authentic and do what you love to do. You have got only one life.
#7 Innovation distinguish between a leader and a follower.
Following certain rules, giving orders, and doing designated duties can make anyone a manager. But to become a leader, you should be ready to share your ideas and creativity with others. You should help people to understand your vision and make them work for you to realize that vision.
A leader will always help others to rise high in their career and will not hesitate to share his knowledge and skills with others.
#8 Don't let the noise of others' opinion drown out your inner voice.
People who try to please everyone can never become successful in life. No matter how much you try, you will never be able to make everyone happy.
If you listen to everyone's opinion about your life and your dreams, you will always find yourself in perplexing situations where you neither can move forward nor step back.
Listen to what others have to say, but don't let their opinions make the house in your mind. Don't let your inner spark to fade away just because they can't understand your vision.
#9 I'm as proud of many of the things we haven't done as the things we have done. Innovation is saying no to a thousand things."
According to this Steve Jobs' quote, you should not say "Yes" to everything. Sometimes, as a business owner, you have to say "No" to something. It could be a less-than-stellar idea, or it could be a potential business idea proposed by an employee.
A good leader should know that sometimes turning down something could be the best decision, and after turning it down, you should standby your decision and be ready to face repercussions.
#10 "Have the courage to follow your heart and intuition. They somehow already know what you truly want to become."
It requires courage to follow your heart and believe in your intuition. Work on your "if's" and "but's" and control your fears. Trust your heart, and do what it tells you to do. Your heart knows the difference between right and wrong.
#11 Quality is better than quantity. One home run is much better than two doubles.
Steve Jobs has applied this in his real life as no one can deny the quality of Products design by Apple company. Steve Jobs always believed in doing quality work rather than doing a lot of work.
He has always denied the easy way to do any job and producing low-quality content and products. Quality work will always be appreciated and will get you success in the end.
#12 Stay hungry, stay foolish.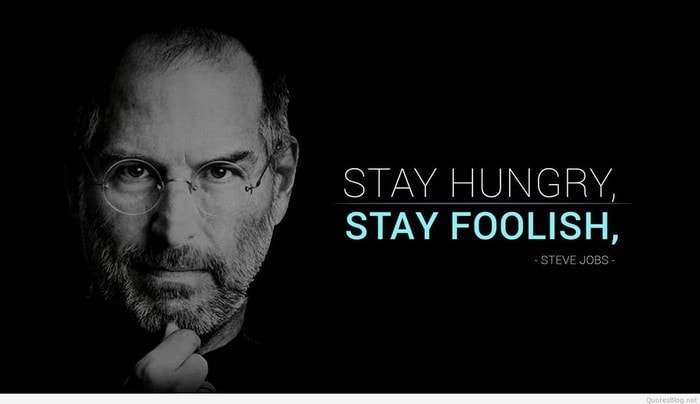 One should always strive to push themselves to quality. Never let your thirst for learning quenched and always stay eager to learn more and more. Work to do the things that others think impossible.
#13 Be a yardstick of quality. Some people aren't used to an environment where excellence is expected."
Steve jobs always practiced what he preached through his quotes. Being an entrepreneur or a leader, you can convince your followers to do work in a certain way by doing them by yourself. No one will believe you until you do what you tell others to do.
For example, you cannot stop your employees from smoking within the office area if you smoke in the office in front of them. If you want your employees to perform their duties with excellence, then you should become excellent too.
#14 "If today were the last day of your life, would you want to do what you are about to do today?"
This quote is one of the most famous quotes among all Steve Jobs' quotes. There is hardly anyone who has not heard this quote by Steve Jobs.
One of his interviews Steve Jobs' said that every morning he used to look in a mirror and ask himself the question and if he got "No" as an answer for several days in a row than he thought that he needed to make a change.
You can also apply this technique in your life and asking this question every day will help you to find out what you want to do and what you should be doing.
In addition to this, you will learn the habit of planning your day, which will help you to save your time and you will spend your most time doing important things that you always wanted to do.
#15 "My favorite things in life don't cost any money. It's really clear that the most precious resource we all have is time."
According to Steve Jobs, the things that we love to do in our life comes without any cost. Therefore we should focus on not saving money but on saving time. As time is the most precious thing and you can get the money that you have lost, but you can never get the time you lost back.
For example, if you give someone two weeks to complete a task, they will adjust their timeline accordingly so they will complete the task in 2 weeks' time frame, which means that that task can be completed in less than two weeks.
Average people don't work to save time, but successful people find out the ways which can save them time.
#16 "I think the things you regret most in life are the things you didn't do."
According to this, Steve Jobs' quote, people regret the things that they did not do in their life. Most people spend their lives in misery because they are too afraid to take risks.
People don't leave the job they hate because of the fear of not getting the job they will love to do. Steve Jobs said that greatest joys in life come from living your life outside the comfort zone, where we feel vulnerable.
One should not live a sheltered life but always strive to live the purpose of their life boldly.
#17 "Remembering that you are going to die is the best way I know to avoid the trap of thinking you have something to lose."
People spend their lives unhappily just because of the fear they have losing something. Learn to live your life largely. Don't settle for a small life. Win over your fear and move past them and make your impression in the world.
#18 "I think if you do something and it turns out pretty good, then you should go do something else wonderful, not dwell on it for too long. Just figure out what's next."
According to this Steve Jobs' quote, one should keep moving in life and tries to do new and better things. If you tried new thing and excelled on it, then don't keep dwelling on it for a long time.
Find out new things to do and excel in them and keep moving ahead in life without wasting your time fearing to fail at something or spending too much time praising yourself when you succeeded at something.
#19 "We're here to put a dent in the universe. Otherwise, why else even be here?"
Steve Jobs has always believed that everyone is here to make a difference, and he certainly lives his whole life with this idea. You have all the talents and skills that you can use to make a difference in the world.
#20 "If you look closely, most overnight successes took a long time."
According to this, Steve Jobs' quote, no one becomes successful overnight. They have put hard work and work relentlessly to attain that success.