Are you getting frustrated with spam in your WordPress blog? You are not alone with this additional issue that has been plaguing almost all bloggers.
Of course, WordPress offers you several options to combat spam. But, given the sheer volume of spam content that you tend to get, it isn't something those options would not be sufficient. Enabling the comments on WordPress is the doorway to open the possibility of spam comments.
But, you do not need to worry. We have several options to help you address the spam, and we will cover them one by one in this post.
How to manage WordPress Spam Comments?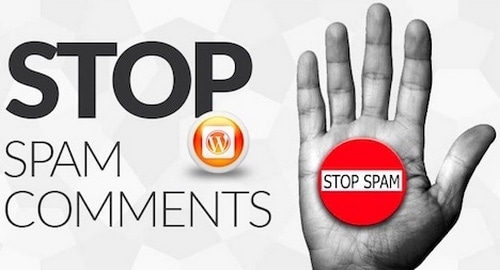 WordPress is a harsh reality, and you need to deal with it. However, a lot of spam comments on your blog posts will tend to make your blog look bad. There are a few tweaks that can be used to address spam comments to a greater extent.
Though it is not possible to get rid of spam entirely, you can opt for a few options to reduce the level of those comments.
1) Avoid the number of links per post
Most of the spam comments are designed with an aim to get backlinks. The best trick, thus, would be to dissuade your visitors to post few links per post. Of course, this will prevent even the regular clients to post genuine links, but it is a sacrifice you need to make.
Go to Settings -> Discussion in your WordPress Admin dashboard. Check for the Comment moderation option and make the necessary setting.

2) Change the  .htaccess File to prevent Spam Comments
WordPress helps you take care of your security by editing .htaccess file. You only need to add a few lines of code to reduce the number of spams.
Below is the code snippet which will help you out. Add this code to your file-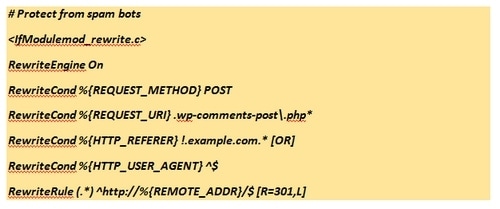 Make sure that you are changing the words example.com with your site address. The code will block the spam created by bots. However, the method will not address the spam created by humans.
3) Ban the IP Address
If you are getting too much of spam from a specific IP address, it would be a wise idea to ban the IP address altogether. You can block a particular IP address or a batch of them. Once again, you will need to add another code to the .htaccess file.
Here is the code that will block the IP address –

Please note that you need to enter the IP addresses by replacing x.x.x.x and similar other entries above.
4) Create a list of Blacklisted words
Most of the spam comments have some common phrases. You need to be careful in picking up these words. It would be much simpler to detect these words and stop them from appearing inside the comments inside your blog.
This is how you would be able to do it. Go to Settings -> Discussion on your WordPress dashboard and choose the Comment blacklist option. Add your keywords to the list.
Whenever you get a comment that contains those words, the comment will automatically get blocked. However, using this method runs the risk of blocking the comments from the regular and legitimate visitors as well. The key to success for this technique is to choose the words to be blacklisted very carefully.
5) Allow only the registered users to Comment on your Blog
This may be a little difficult task as your visitors may be driven away from commenting on your blog. However, it can double up as one of the best alternatives to combat spam. It would make it challenging for the spammers to comment on your blog post.
It can also double up in encouraging your visitors to sign up with your site. Configuring this option on your WordPress blog is quite easy. Go to Settings -> Discussion once again and look for Other Comment Settings.

Locate the option for Users must be registered and logged in to comment checkbox and enable the setting. Save your settings, and you are good to go.
6) Configure Comment Moderation
Configure your WordPress blog so that the comments arriving on your blog posts are moderated. Enabling comment moderation will help you make it mandatory to for the comments to be approved by an admin or an editor.
Of course, you need to have enough time to indulge in proper moderation. You can enable the settings through the following steps. Go to Settings ->Discussion (Aah, once again) and look for the option that reads before a comment appears.

Locate the option Comment must be manually approved, and check it. This will make your incoming comment stay in Pending status until you review it and decide for its fate.
7) Anti-Spam Plugins- Some Excellent Options
WordPress offers you a treasure house of plugins that let you undertake a massive number of tasks. The number of Anti-Spam plugins would help you achieve the best results in containing the spam to have better control over your spam comments.
5 Anti Spam Plugins to Manage Wordpress Spam Comments
1) Akismet
This is one of the excellent options when it comes to the quality plugins to combat spam comments. What makes it an attractive option is that it is a default plugin with your WordPress installation. However, you need an API to key to activate it.
Akismet is free for non-commercial use for up to 50000 comments a month. If you are using it for commercial use, and your comments exceed the 50000 marks, you can opt for the paid plans. Whenever a new comment comes up on your blog, it is sent over the Akismet cloud services. If the Akismet finds it to be spam, it will be sent to the spam folder. In case it is treated as genuine, it gets published. In case the plugin is unable to determine the status, it will be sent to moderation.
2) Anti-Spam Bee
If you are not happy with Akismet, the next best option you can go with is Anti-Spam Bee. The plugin is free and does not need any registration for using its functionality. It can be used for a variety of requirements. You can use it in both commercial and non-commercial ways at no cost at all.
It comes with several features packed into one, and some of the features available include
Blacklisting IP addresses
Database optimization
Trackback validation
And many more useful features. It is compliant with privacy standards and does not come with any ads. It can also perform spam purging by deleting all the spam comments after a specified time frame. And what's more – you can create your spam detection algorithm.
3) WP SpamShield Anti-Spam
It is one of the top end plugins on the WordPress repository and indeed lives up to its expectation. It can handle a variety of spams like comment spam, registration spam, trackback spam, and contact form spam. This is indeed one of the best options to go with.
The plugin comes with two-layer protection for spam. While the JavaScript/Cookies Anti-spam Layer aids in blocking automated spam, the Algorithmic Anti-spam Layer comes with over 100 different algorithmic filters. This is yet another plugin that is available for free. It can identify the spammers based on the IP addresses. The plugin offers you proxy server blocks and supports all major WordPress form plugins.
4) CleanTalk
Looking for an excellent premium Anti-spam plugin online? CleanTalk is an attractive option for blocking the spam. It prevents comment spam, registration/ sign up form spam, and trackback spam easily as it comes with enough options for the purpose.
The plugin comes with the smart algorithm for detecting the spam through easier options. The service offers you an automatic moderation. The plugin is available with a free trial period for two weeks. If you are satisfied, you can opt for the premium plan. The commercial plans start at $ 8 per year if you have a single website. CleanTalk offers you multiple validation options as well.
5) WordPress Zero Spam
One of the excellent Anti-Spam plugins, this is the best options for preventing the spam. The WordPress Zero Spam blocks the comments coming from the browsers that do not have JavaScript enabled.
The plugin is free and is compatible with almost all WordPress plugins. However, the plugin is an excellent option against the bots, but may not be a good choice against the human spammers. You do not need to go with API key or any other configuration. It can be the best option against the comment and registration spam. It can even log the spammers and IP addresses.
In Conclusion
Well, those were a few tricks you can use against spam in your WordPress blog. Of course, we agree that the spam cannot be avoided in its entirety as such. But the tips provided in this post along with the plugins should help you enough to control spam.
Too much of spam can make your blog cluttered in its appearance, and thus can make the genuine visitors move away from your website. Developing an anti-spam strategy is of utmost importance.
Do you have any further suggestions in implementing the best strategies against spam and spam comments? Share your thoughts with us.