It is always advised that while you are putting up Facebook ads or conducting an ad campaign on Facebook, it is very much important that you create something that is unique and highly engaging.
But the question arises here that can be creating such an ad generate leads and bring in conversions?
There are many individuals for whom such ads can actually bring in traffic as well as higher conversions, while on the other hand, there are many who may not accept this logic.
Due to such differences, there are various strategies that come up in the field of Facebook marketing. Among various options that you have today in case of the Facebook advertisement, one of the most popular ones is that of the Facebook lead ads.
What are Facebook Lead Ads?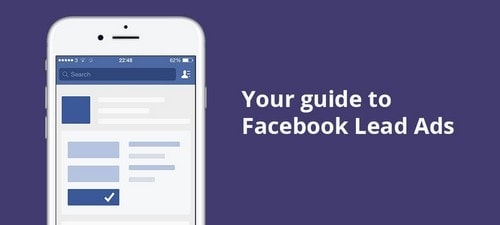 Once upon a time, marketers had to rely on landing pages and lead magnets to get conversions. Typically, a conversion rate ranging from 15%-20% would be considered a success.
Then, Facebook came up with "Facebook Lead Ads" and the world of online marketing saw a profound shift in the lead generation process.
So, what are Facebook Lead Ads?
In short, Facebook Lead Ads let your customers sign up for your services without leaving Facebook.
Once users click your ad, they're shown a pop-up form that asks them to fill in their contact info and other essential details so that you may get in touch with them right away.
Facebook has a standard set of questions but you can also modify these questions according to the purpose of your campaign.
You can also use different versions of lead ads to get users to sign-up for different things like newsletters, e-book offerings, etc.
Why should you use Facebook Lead Ads?
With the increase of mobile devices globally, users found it cumbersome to navigate to other websites and fill out forms on their mobiles to sign-up for a product or service.
It was to eliminate the additional steps and be more mobile-friendly that Facebook created Facebook Lead Ads. Moreover, the pop-up forms are pre-filled with information which means you can get potential customers in a few clicks.
How do I create a Facebook Lead Ad?
Excited about getting new leads? Follow these steps below to create a Facebook Lead Ad.
Step-1 – Log in to your Facebook Ad Manager account and click create a new Ad.
Step-2 – Now, you'll have to choose your campaign's objective. You can pick between Awareness, Consideration, and Conversion. These are the three stages in a consumer's journey.
To create a Facebook lead Ad choose "Lead Generation" as your objective.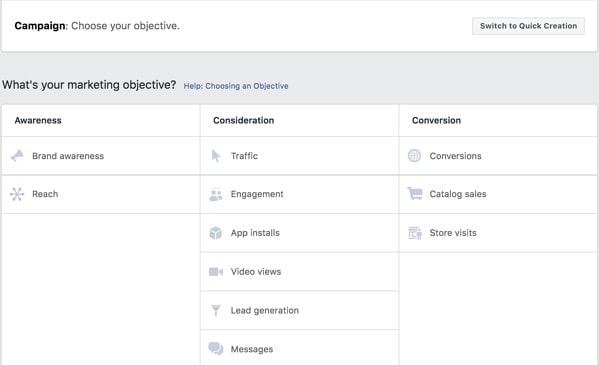 Step-3 – Facebook will now prompt you to create a lead generation form. You can either choose an existing lead generation form or create a new one.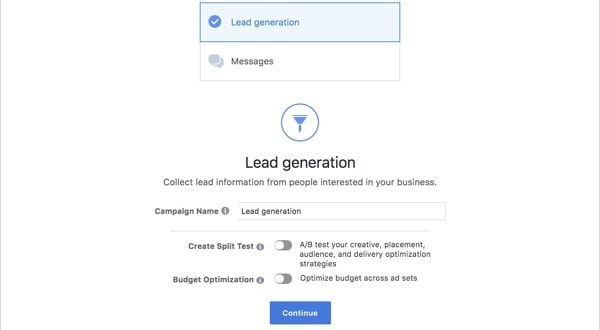 First, you'll have to create a new name for your lead generation form. Once you've done that, you'll select the language that your form will be in and what information you'll require from people.
You can collect information like educational qualification, relationship status, location etc.
Step-4 – Apart from having fields to collect information, your lead form can also contain a fix number of questions.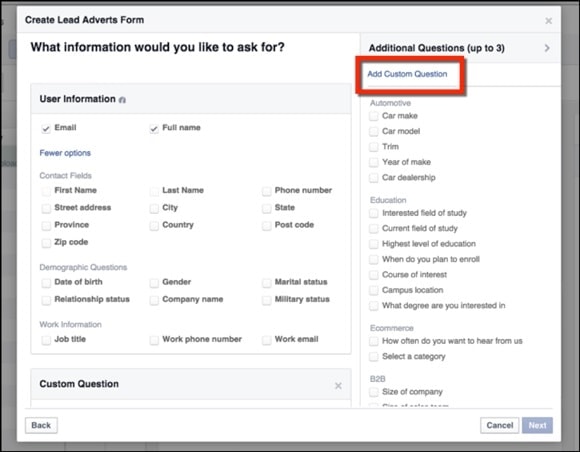 Choose what you ask and how much you ask, wisely. Ask for too much information and people might think you're annoying and asking too less will leave you with low-quality leads that will affect your ad campaign's performance. So, you need to be smart here.
Don't forget to add a privacy policy to your lead form. With the recent scandal, privacy has become a huge concern for users. Once you've added the privacy policy, you'll also be asked to add a link to your website.
You can also create a context card that tells users what they get by providing information to you.
Before you save your lead form, remember the following
Facebook Lead Ads are pointless if you don't provide anything of value to users.
If you don't make it a point to deliver on your lead magnet on time, you might as well forget about lead generation.
Now that you've made a note of these points, go ahead, save that lead form and use it for future ad campaigns.
By now a number of individuals and advertisers have been making use of the Facebook leads ads due to a number of benefits that it has been offering.
Here are some of the eminent benefits that you can enjoy with the use of such kind of ads.
Benefits of Facebook Lead Ads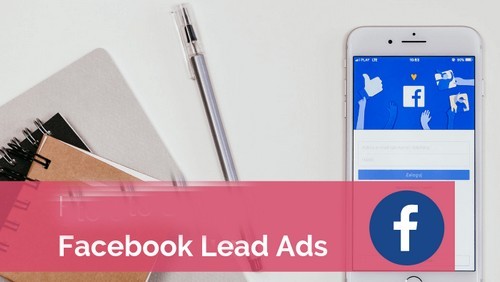 Let us now understand how Facebook Lead Ads will benefit you in generating relevant leads that are ready to convert-
1) Collecting Leads Through All Devices
The lead ads are highly responsive in nature and hence it allows your customers to view the ads on all types of devices.
Not only the customers view the Facebook lead ads on all devices but can also engage and interact with the ads through whatever device they have.
These lead ads can make the customer subscribe to emails, get registered on a particular application, or even pre-order for something, and many more.
2) The Lead Quality
Facebook lead ads are one of the finest ways to get some of the most high quality and productive leads. Such ads offer the viewers with a window that offer information about the product or the service and the business of the company.
After going through this information, the leads can either subscribe or can get registered, whatever option you have provided on the ad.
This is the reason, you need to make sure that you are putting up the information window in a much more creative and interactive way that can actually attract the customers who are looking for such type of services and can be your potential customers.
3) The Right Leads
One of the best things about Facebook is that it brings your advertisements mostly to such type of audiences who have shown their interest previously to the products that are similar to what you are offering.
So, in this way, your ads are mostly exposed to the right kind of leads and hence the chances of conversions increase.
4) Retargeting Through Custom Audience
It may happen that a particular person have shown interest in your ad but have not taken any action yet. Will you just sit and see what is happening? You will not wish to.
Facebook helps you in this so that you cab retarget such viewers with another ad that is much more impressive and interesting that can mold such potential customers to take up some action.
The terms such as custom audience and lookalike audience are something that you need to learn about here in order to retarget your potential audiences with another creative ad to get them converted into potential customers of yours.
5) Real-Time Access
Facebook offers you the best facility for accessing the leads in real time. Whenever an audience is showing up interest or is responding on the Facebook lead ads, you can link these links with the customer system through the API system of Facebook.
This helps you in tracking the customers and also retargeting these customers with another advertisement depending upon the response of the viewer on your advertisement.
Facebook lead ads have been a revolution for many industries in generating more conversions and ROI. So, now we will be deciphering how some of the industries are using these ads for promoting their products and services on the web-
What Are The Industries Using Facebook Lead Ads?
Facebook lead ads can be used by almost any big or small industries and business houses, but it is said they are designed specifically for some of the industries. Let us have a look at those right away-
1) Retail: The ads will help the customers know about various deals going on and also allows them to pre-order something to avail special offers.
2) Education: Facebook lead ads will help you in collecting leads when the viewers submit different inquiries.
3) Financial Services: Often there are a number of individuals who wish to take a quote from a number of places before selecting the right service provider. The Facebook lead ads can be used in offering such customers a quote in return of the leads.
4) Automotive: Buying an automotive is a big decision. Hence, customers ask questions about the various configurations and also wish to take up quotes from different sites. Make use of such ads to offer a quote and in return collecting leads that can be used later on.
5) Health Services: When everything is online, there are so many individuals who also avail services such as taking an appointment from a doctor or clinic online. Such options also help in collecting leads.
Whether it is a quote or an appointment or a pre-order, the customers need to put up their personal details such as email address, contact number, and so on. Such leads are helpful in retargeting these customers to offer them with other advertisement options such as email newsletters, offer messages, and so on. By using leads Ads on Facebook, marketers can easily target these potential audiences.
In Conclusion…
Nowadays, when you scroll down the Facebook feed, the page is filled with such Facebook lead ads. This is because businesses and marketers have understood the various benefits of such advertisements.
A wide number of industries are making use of such advertisement option not only to get high traffic but also to collect a high number of leads from the customers. These leads are used in various ways to promote the product or services in a much better way so that the viewers can become even potential customers soon.
After you have collected the leads, it depends on you how you are going to make use of it.
There are various strategies offered by Facebook such as custom audiences and so on that you can make use of to retarget such audiences once again through their leads and provide them some personalized advertisements that can motivate them to take a call to action on your site.