When it comes to Facebook, there is certainly a lot going on in this particular platform of social media. However, there are beginners and newbies in marketing who are not aware of the power of different Facebook marketing techniques and their significance. Well, this article is going to change all of that in a while.
All you have to do here is keep reading and you will understand what we will be unraveling one of the most effective Facebook marketing techniques i.e. Facebook Contest that will jump your lead generations and conversions in the most effective and sustainable fashion.
Knowing All About Facebook Contests
When it comes to the discussions about social media, Facebook is certainly one of the names that come to mind. With the help of this wonderful platform, several businesses are able to reach millions of people every single day. This has certainly led to the success of the businesses. From a simple communication tool, Facebook has slowly grown to become one of the most important marketing platforms in the world of social media. You will see tens and thousands of business pages popping up every single day on Facebook.
All of that surely tells you all about how famous Facebook is. But do you know how you can make your brand famous on Facebook? Well, there are many different ways but we are going to talk about one of the most important things that you can do.
Well, we are talking about the Facebook contests, of course, what else?
We all know that the brands these days are trying to increase the engagement rates of the pages that they have on Facebook.
This is one of the more effective and efficient ways by which the pages can get the support and the engagement that they want to have.
If you have a brand on Facebook then trust us when we say that Facebook Contests is one of the best ways to ensure that it is promoted in the right way. But most of the people these days don't even know how to run a proper Facebook contest. Well, we are here to tell you all about that.
How To Run Contests On Facebook?
So, you are thinking of running a proper Facebook contest, right? Well, do you know how to start with it in the first place? Well, if you don't then you will not be the only person out there.
That is the reason why we have some important tips and tricks that will help you in running a proper Facebook contest to get the best results. Follow these practices and you will definitely have a fruitful result for sure.
1) Set A Particular Goal
Well, we all know that Facebook Contests are one of the best marketing strategies that you can use in the platform of Facebook. However, when it comes to marketing strategies, you need to make sure of one thing. You need to have some goals for the strategies.
Just like that, it is also essential that you have particular goals for the contest of yours. With the help of these goals, you will be able to properly design the contest and have the best results that you want.
So, what exactly is it that you want to get from the contest of yours? How will the Facebook Contest help you out in the business? Well, these are some of the important questions that you need to ask yourself before you set a particular goal.
Whether you want more engagement from the people or you just want them to know about the brand, it is up to you to decide what is best suited for your objectives.
2) Make The Participation Process Simple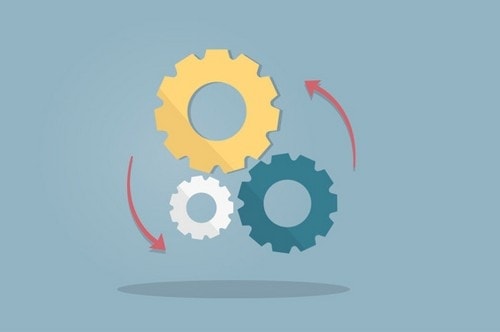 When you want people to participate in the contests of yours, you need to make sure that they willingly do so. One of the best ways to do that is to keep the entire process of participation pretty simple for the people.
After all, it is for the people that you are starting the contest right? Most of the contests that are actually doing pretty good are the ones that have simple two steps for participation. All you have to do is give some Likes or Comments or Upload some video or photo and you are all done.
However, there are some contests that have very complex steps when it comes to participation. There are different elaborate steps that people need to follow. The information is too detailed as well. These are the contests that don't really get to perform that well in the long run.
People wouldn't want to participate if you have too long processes for participation. Make sure that you remember this.
3) Provide Better Rewards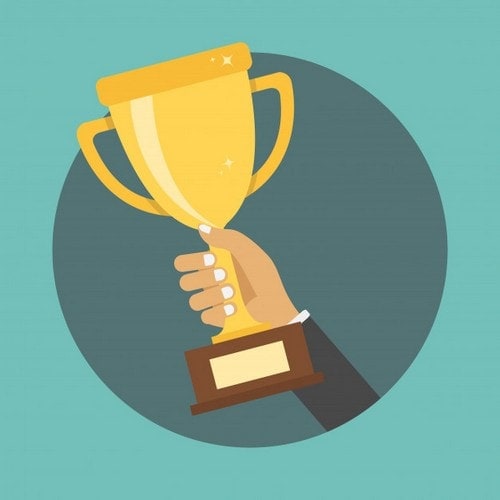 What is the basic idea behind having a contest? Well, it is to make sure that you get more and more people to follow you on your Facebook page. But why would people even want to do that if they are not getting anything in return?
Well, this is why having prizes on the contests is something that you need to look into. It totally depends on the goals of the business what prize would be better for the people who win. You need to make sure that prize is something that the people will actually be interested in. Otherwise, what is the point of even having a contest right?
4) Get Help From Other Social Media Channels
If you want your contest to run successfully, then you need to concentrate on cross-channel promotion. Make sure that you get the word out to the people so that they can get to know about the content.
What is a better way of getting the word out than taking help from the other social media channels that you have? You need to make sure that you post information about your contests on every single social media page that you have.
This is the only way to get people to participate.
So, these are some of the ways by which you can actually run a proper contest on Facebook. Make sure that you follow these steps if you want to have the best results for the brand of yours.
Today, you will find so many contents or advertisements flooding social media.
Along with these, Facebook contests are the new options that you can have to attract new traffic and to generate them into the lead by offering gifts or so on. It has been found out that having such contests have a capability of bringing out results that can be done with the help of hundreds of contents. This means this is an ideal way out to save money as well as other resources.
When you are thinking about such contests, there can be many types of them available.
The basic two are the general contests that are auto-generated and the second one of the random draw. Apart from this, there are a number of companies that have such contests for which they keep a panel of judges to bring out the result.
To have a Facebook contest started, it is important that you know about the method of starting and running it. Let us talk about some of the key tips you need to pay attention to while running Facebook Contests-
Top Tips to run Successful Facebook Contests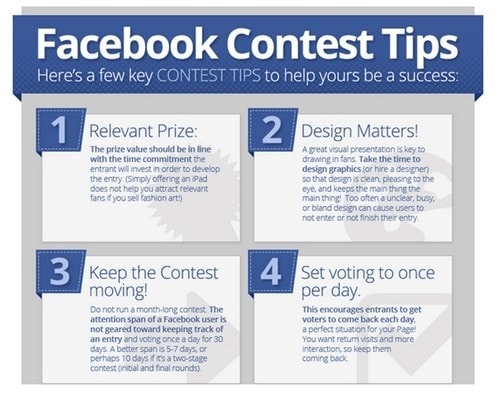 1) Choosing The Method And The Prize
The very first thing that you need to do is to choose your prize.
The prize will entice the viewers to check what your contest is all about. Also, if your prize is quite interesting, the viewers will get attracted to your contest and also to your page.
After this, it is important to choose the contest method. You can choose from a number of methods such as contact details, where the viewers need to enter their details to start the contest.
Apart from this, there are also many other types such as contact details + user-generated content, and contact details + 'bonus entry' incentives.
2) The Contest Page
After you have decided upon your contest prize and the contest method, it is now important to select the right contest page.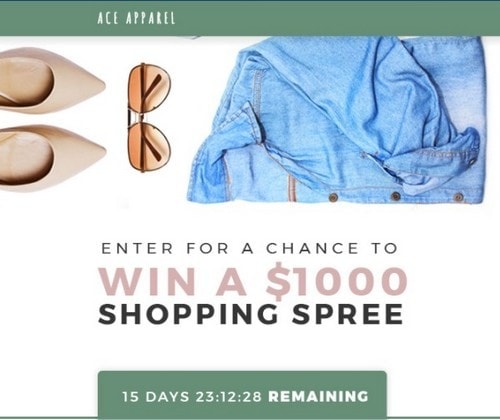 You should make sure to have these five elements in your page:
A title that is attention-grabbing,
An attractive image of the prize,
Information about the entry and the prize,
The form for entry submission,
Share buttons and Facebook comments.
3) Promoting The Contest
If you will not promote your contest, how will anyone know about it?
Hence, you need to share the contest page with the help of various options such as sending an email blast, promoting about the contest on social media, adding a banner about the contest on your site's home page, creating a Facebook Ad, and also by listing your contest on various websites talking about different contests.
4) Monitoring The Contest
Your responsibilities do not just end by creating the page for the contest.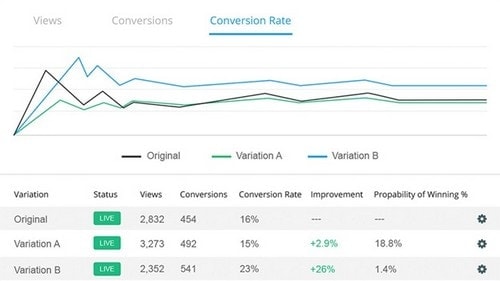 You also need to monitor it from time to time. You can actually do so with the help of various options such as Facebook page Insights, Google Alerts, and Wishpond Campaign Reporting.
5) Follow Up
Along with the monitoring of the contest, it is also important to do important follow-ups. You can do this by creating a video on how the winner was selected.
Also, you can send emails to all the people who took part in the contest, in order to keep them motivated. Sharing any other future contest plans also works great in converting the participants into potential customers.
Apart from creating the Facebook contest page on your own, you can also do it with the help of a third-party app Wishpond.
It is quite easy where you need to fill in the information such as putting up images, title, and the contest form, and then installing it on your social media page. You can monitor the contest easily with the campaign report page too.
6) Achieving Goals With Contests
The contests can be conducted to achieve a number of goals. Here are some of the ways you can do it.
You can get email ids of the participants through such contest. If it is the email addresses that you need, just ask for it to enter the contest.
You can even increase your brand awareness. You can include a share button somewhere in the contest so that the participant have to share the page in order to go ahead in the contest or after the contest is completed or to know the result.
There are also a number of contests that helps you in getting the user-generated contest such as images.
Keeping your audience engaged is very much important to let them know more about you. You can conduct biweekly contests or so in order to do so.
Facebook contest are great initiatives to attract attention of the viewers. If done in the correct way, it can surely generate leads and can increase the conversion rates.
Wrap Up!
So, these were some awesome ways to use Facebook Contests to target more and more number of audiences and convincing them to participate in the contests and win their prizes.
This will be helping your brand appreciate a loyal fan base that will ultimately be increasing the lead generation and conversions for you.
So, are you looking for some great Facebook Contests ideas for your business? Share your business details with us and our team will assist you in finalizing the right kind of Facebook Contest ideas for your brand page on Facebook.