Of course, adding a post to WordPress and publishing it may appear to be a simple process for most of us. Most of the tasks on WordPress are easy to learn and tend to be self-explanatory. However, beginners may experience a few issues when it comes to writing a post in WordPress and publishing it. We will explain how to write a blog post on WordPress and publish it without any hiccups.
How to Publish a Blog Post on WordPress?
Let us first begin with writing a post and then follow it up with how to publish your content.
1) Write a Post
We have already gone through the WordPress dashboard and the settings therein. To publish a post, you would first need to create a post. Creating a post on WordPress should ideally be self-explanatory.
Locate Posts on the sidebar and click on it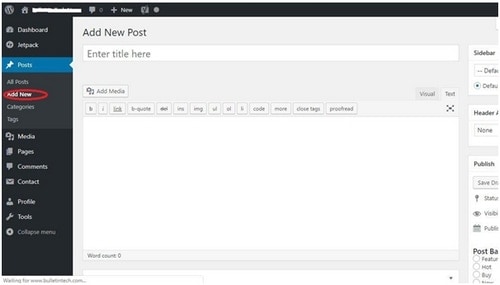 Choose to Add new option from among the sub-options you get.
You would find the Title and Content boxes as two major parts of the Text Editor page.
You should see two options for writing your content – Visual and Text. You can choose either of the options depending on your preferences. Visual editor will involve creating your post as you would be writing in a normal text editor such as MS Word. If you are well versed with the HTML tags, you can use the text editor option. In fact, opting for text editor option would be helpful in creating a good appearance for your blog post. Moreover, it would also be a good option from the SEO point of view.
However, if you are not confident about your HTML tags expertise, it may be a good idea to post your content in the Visual editor. In case, you have created a content in a text editor like Word; you can copy – paste the content into the text editor in the Visual format.
The text editor will show you a host of informative titbits. You can find the status of the AutoSave function at the bottom right end of the text editor, while the bottom left corner will indicate the word count of the post as go keep writing.
In fact, you should be able to switch between the visual editor and text editor, but it may not be a good idea as you may get messed up with the total formatting of the post and may need to go through extra formatting repeatedly.
The draft of your post is auto-saved in a continuous manner as you type your content away. In fact, this feature would be helpful as you would not need to work again in case you face a network outage.
2) Add Images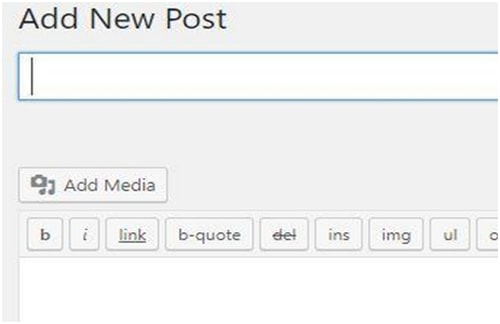 Between the Post title and the text editor, you should find the option for adding media files. You can click on this option to reach the page where you can upload the images to your page. Make sure you have clicked at an area where you would want to insert the image. Once that done, click on Add Media option to take you to the Media screen.
You can either drag and drop your images that you would want to add into your content or click on the Select images option to browse and choose the image file.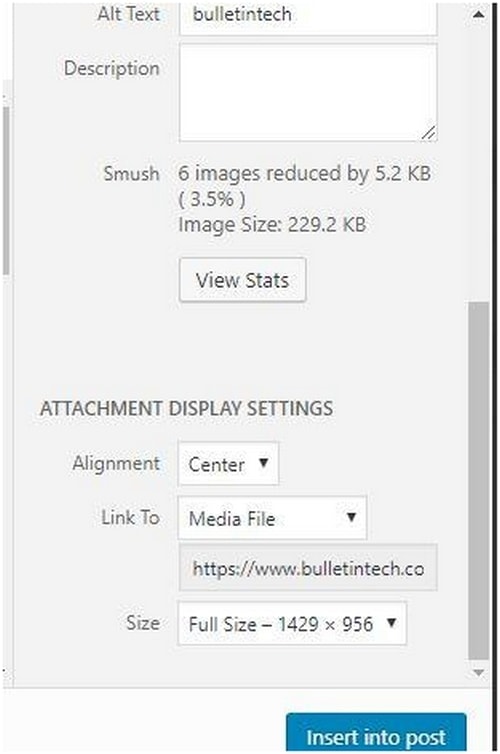 As is illustrated in the above image, you can find that you can configure the ALT tag for the image or media file which would be helpful from the SEO point of view. You may also choose the exact file size and the orientation of the image inside your post.
Once you are done with the settings, click on Insert into post and you are done. Repeat the procedure to add different images at the appropriate locations inside your post.
3) Saving the Draft
WordPress keeps opting for Autosave option as you keep typing in the content. But it may be a good idea to saving the draft manually at regular intervals.
The Publishing options are available on the right side of your text editor. Keep clicking on Save Draft every now and then.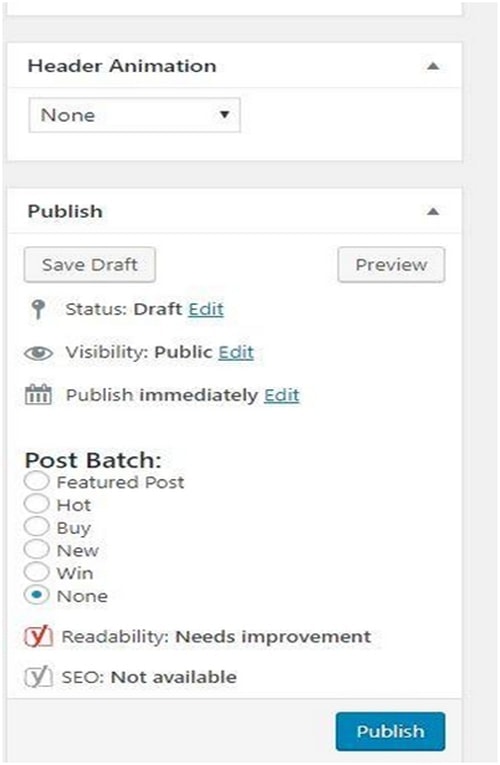 You should be able to find the options for adding tags and categories where you would want to post your content to. You should find the option for Publish which contains the options for saving the draft of your post, schedule it or publish your content.
You should be able to find the following options therein –
Save the draft of your post or page. WordPress, however, auto saves your page from time to time.
The Preview button should show you the live preview of your page or post. You should find how your post will look like when it is published. It can be the best option to find the issues in your post before it actually goes live.
The Status option lets you check the status of your post. This option will be handled automatically, and you do not need to worry about it.
Visibility option lets you configure the status of visibility for your post. You can set it to be visible to the public, private or password protected. In our case of blogs, we will make it public. In any case, the default setting would be configured to Public. You can also configure it to make your posts sticky so that you would it would be featured on top of the rest of the posts.
The next option here should be Click on it to publish your post right away.
This part of the text editor also has an option to add a featured image to your site. Adding the featured image should also be equivalent to adding a new image to your post. You can either use an image already available on the site or inside the post or upload a new image.
In Conclusion
Well, that was an introduction to how to publish a post on your website and make it live. Of course, there are several other configurations you would go with, prominent among them being the SEO configurations. But, since you are just making a beginning into the world of blogging, you can think of these aspects later on.
So, congratulations on publishing your first post on WordPress! We would assume we have guided you through the process n a seamless manner. If still in doubt, share your queries with us, and we will guide you ahead.
If you liked this article, we bet that you will love the Marketing91 Academy, which provides you free access to 10+ marketing courses and 100s of Case studies.