In today's time, the smartest way of running a business is utilizing the real potential of Social Media Platforms for multiplying the revenues. I do not think you would be astonished hearing that Facebook is the #1 Social Media Platforms for businesses.
Actually, as per eMarketer, around 50% of US businesses now utilize Facebook as the most prime component of their marketing strategy. Knowing right techniques to market your business on Facebook will for sure help you generate great returns on your investments. –And you can do these at the most affordable costs and in the most limited possible time.
However, to use the real potential of Facebook, it is very important that you know the right strategy for using different components of Facebook. You need to comprehend which procedures and practices are justified to offer good returns.
In this post, we will enable entrepreneurs to find noteworthy guidance and best practices to market business on Facebook. Different components to market your business on Facebook
Facebook Page
Facebook Groups
Facebook Buttons and Plugins
Widening of Facebook Post Reach
Knowing the right time and strategy to post
Increasing Facebook Likes and Followers
Paid Ads on Facebook
1) Facebook Page
The very first thing that you need to do to market your business on Facebook is upgrading your Facebook Business Page for Likes, Fans, Followers, and SEO. Actually, your Fb page is the first contact point for all your Facebook marketing and advertising endeavors.
In the world of Digital Marketing, you need to rank your business page rank good both in Google and in Facebook search results. Your page should rank for your brand name, so your audiences can without much of a stretch discover you.
At that point, once they find your Fb page, it ought to be engaging and appealing; so, they will be compelled to like your page. Making your Fb page comprehensive, relevant, informative and entertaining will help you enjoy better ROI via Facebook.
2) Facebook Page Username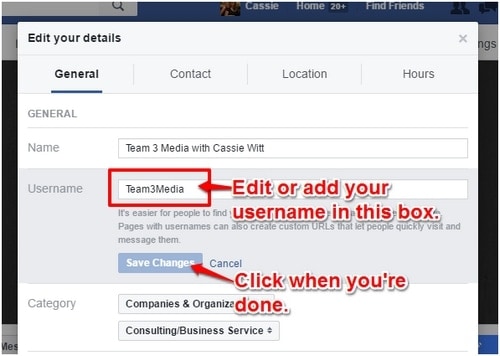 It is important here to pick an expressive and significant username that relates to your business. Username of a page is also called as a vanity URL because it is essentially the web address for your business page on Facebook.
You need to make sure that your username precisely talks about the name of your company, products or services. This will help customers and web indexes discover you in Google and Facebook search results. For having a vanity URL, your page should have at least 25 'likes'. This practice is useful in ensuring effective SEO of your Fb page.
3) Role of Keywords
To market your business on Facebook, effective online optimization of your page is very important. And keywords play a very important role in the process. You should utilize distinct keywords in the About segment of your Fb page,
About segment can be understood as the essential content that describes primary details of your business. You need to make certain to precisely depict your business and items in this section with the help of keywords that your prospects may use as search queries while searching on Google or Facebook. It is also important here to make sure to incorporate your site URL in your About Section to drive Facebook traffic to your blog or site. Again, this SEO practice will help your Fb page to rank good.
4) Choose Right Category of your Business
When it comes to marketing your business on Facebook, you ought to guarantee that you have utilized the right category for your business. This will help you appear in Facebook Graph Search.
For instance, if you own a local business, you should select this as your business category. This should be done on the grounds that this will enable individuals to "check in" at your store. If you do not want people to make check-ins, you can choose 'Companies and Organizations'.
5) The right use of Page Images
To use the right potential of Facebook in enabling your business to reach the new heights, you should know how to optimize page images.
You need to understand that cover and profile photographs of your Fb page are something that guests will initially observe while analyzing your page. That is why it is important here that your pictures are of top-notch quality.
The photos that you use should precisely reflect the look and feel of your business. It is important for you to guarantee the pics you use to meet the ideal size necessities so they do not seem skewed. Suggested size for a cover photograph is 851×315 pixels and for profile photograph, it is 160×160 pixels.
6) The right use of Pinned Posts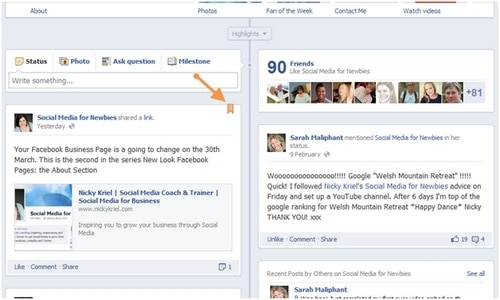 You should benefit as much as possible from pinned posts to market your business on Facebook.  Pinning the most important post will help your Fb page get more likes.
Actually, the essential capacity of your page should be to motivate visitors to click the 'Like' button. Facebook lets you pin one post to the highest point of your page and you should use it for the post that you consider best in representing your business or brand.
7) Include Social Sharing Abilities on your Site or Blog
You should optimize Social Sharing via Facebook buttons and plugins. Sites and Facebook work in perfect coordination when you want to market your business on Facebook in an impactful fashion, and that is why your site and the Facebook page should cooperate flawlessly.
You should give your site visitors an approach to like and share your blogs and other content on Facebook. For this, the content on your site should have a like and share button alongside it. To enable your site guests to like and interact with your page, you should also include your Fb page plugin in the sidebar of your site.
8)  Ensure your Followers to see your Posts
To market your business on Facebook, it is inevitable to enable your Fb posts to be seen by more and more number of fans and followers. You have to incorporate a strategy, so a significant number of their fans observe their Facebook posts and engage with that. You should know the right time and day to post your content. Facebook insights can help you in knowing the right time when your prospects are ready to consume your content.
Facebook algorithms let the most relevant post to your audience top their news feeds. Different things that you can do to top the news feed of your prospects are-
Include videos as an integral feature of your Facebook page content strategy
You need to regularly analyze your page Insights to perceive what sorts of substance are resounding best with your existing and potential customers
While posting promotional content, you need to make certain to incorporate a significant back-story that is interesting enough to pull in more audiences and optimize your reach
9) Know the right time to post on Facebook
As discussed above, knowing the right time to post on Facebook is very important. You should also know how often you should post on Facebook to market your business on Facebook. In any case, actually, there is no one time that fits-all Facebook marketing strategies of distinctive businesses. Facebook Insights can help you in this, as via insights reports, you can know when your audiences are ready to engage with your content in a productive fashion.
Some of the studies have recommended that posting on Thursdays and Fridays may offer productive engagement for the page owners.
Ideal times to post on Facebook shift significantly, anyway 1 pm and 3 pm appear to be great spots to test the right time that is offering better engagements
10) Utilize Paid Ads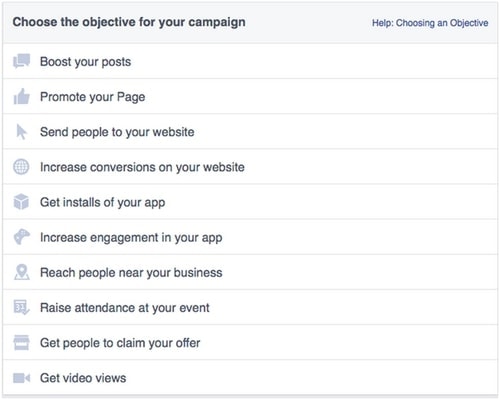 Utilizing Paid Ads on Facebook is going to be a very powerful way to market your business on Facebook. Boosting your organic reach with paid alternatives on Facebook is very useful in reaching to a maximum number of audiences who are looking for the type of products and services that you offer. Different paid options available for you are-
While running Facebook Ads, you need to pay attention to following strategies as well-
You should utilize audience targeting immaculately
You ought to put your most engaging and relevant content first
You should rotate your advertisement on a weekly or fortnightly basis
You should use conversion pixels for tracking the efficiency of your advertisements
You need to use a powerful CTA
Using distinctive Ads for various newsfeed placement is also important
Conclusion
These were some awesome techniques that will help you market your business on Facebook, and generate good returns on investments.
Before implementing all these, you need to be very clear about the reason why you want to use Facebook for your business. Proper integration of your Business Objective and Facebook Marketing Objective is very important to utilize the real potential of Facebook.
So, what is your Facebook Marketing Goal? Do you have any doubts about chalking out right Facebook Marketing Strategy for your business? Write to us in the comments below.