Small talk is something of an art, but not everybody is good at it. The category of people known as introverts is not at all good at small talk. They are awkward not only to start the talk but also to continue it. However, like any other skill, it can be learned and practiced to refine it.
You don't have to be a social butterfly to be fluent in small talk. There are a few tricks and tips which you can follow to be better at small talk.
However, the first thing that you have to understand is that small talk is not a conversation. It is like the name itself, small talk. It can be at networking events talking to someone you know or in an elevator.
Small talks happen everywhere and all the time. It is essential to indulge in small talks because they can help you in the long run to form deeper connections.
Tips to make small talk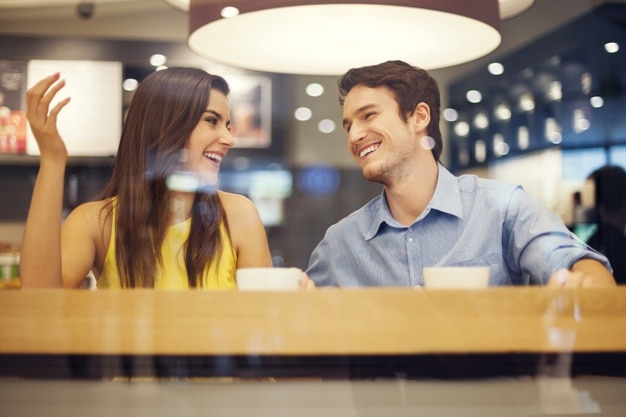 1. Start the conversation by making a compliment
Everybody likes to hear good things about themselves. However, everybody also knows the difference between praise and flattery. Make sure that you simply complement rather than exaggerate something because the latter would not go well.
Complimenting someone's shirt or hair or any other general thing that you observe when you see the person is an excellent start to make small talk. It establishes you as an excellent observant and as a generous person.
2. Talk is smaller than you think
Small talk is just like its name. It is very small, and it will be over before you know it. Instead of treating this as a full-fledged conversation, think of it as a small treasure that will finish in no time.
Try to find common ground on which you can talk with the other person and enjoy the experience of small talk. Of course, nobody is going to force you to talk. But if you do come across an opportunity where you have to make small talk, relax and be natural.
3. Accept diversion
The small talks don't often go as planned. Like monsoon, they take unprecedented turns, and you shouldn't be surprised about it. That should happen because a speech would not be able to establish a connection with the other person.
Diversions are a part of small talk, and you can always welcome them by adding your input and taking the talk ahead. Sometimes diversion is what creates a good talk and establishes relations.
Let the small talk surprise you and open up new possibilities for new relations. What you get by diversion may be better than what you initially planned for.
4. Ask questions to reduce nervousness
Many people are not comfortable with small talks because they don't know how to do it, or they tried to do it earlier but failed. One of the best ways to initiate small talk is to ask questions.
Usually, open-ended questions are recommended, which will initiate free talk between people; however, care should be taken that it should not turn into an interrogation.
The questions should not be too personal or too professional, but they should strike a balance between the two. On the other hand, closed-ended questions are usually yes or no type questions that do not invite a lot of talk from people.
Asking questions would also take the spotlight off you and help you to make a meaningful connection. This is good for people who are not very comfortable with keeping the spotlight on themselves.
This also establishes you as analytical and someone interested or curious about things common to the other person.
5. Relax, smile
Smiling is essential when easing tensions. You never know what the other person is thinking or talking about to someone else, and neither would you be aware of his mood.
A smile is something that is mimicked immediately by the other person, even though courteously. Smiling not only eases you but also cools the other person down. It gives a welcoming feeling to both people who will be involved in the small talk.
It makes the other person feel comfortable. However, care should be taken that the smile should not be too awkward or for too long. It should be more of a casual smile without turning it into a laugh.
6. Adjust as needed
If the other person is not very talkative, then adjust yourself accordingly. Talk more and try to open up the person without causing a nuisance. Don't be too curious and keep the talk normal. Sometimes the other person is very talkative, and in that case, you have to quieten yourself. In this case, the person is like a speeding car, which you have to direct and steer.
Without making the person feel like you are pushy, you have to direct the small talk your way. People have different personality types, and you cannot be a judge of the character in one look. Therefore take it with a pinch of salt and start the talk.
7. Nonverbal communication
While you may be stellar when it comes to verbal conversation, care should be taken not to send any mixed signals with your non-verbal communication. Pay attention to little things such as your voice tone, gestures and hand movements, facial expressions, the intensity of your voice, dressing style, etc.
All of these factors impact the process of small talk and, if not taken care of, can affect the small talk. Even if you talk the best of the things and say the most positive things about the person, your non-verbal talk will send opposite and mixed signals to the person.
Your motive should match your words as well as your gestures.
8. It is about them not you
Whenever you approach to have a small talk, you have to remember that you have contacted them, and the talk should be surrounding them rather than about you.
You should not keep bragging about everything which will put you in the limelight and not them. You can mention a few things subtly about yourself, but don't let the entire talk go your way. This will make the other person feel less interested in the small talk.
An ideal small talk would be about both the people doing small talk.
9. Customize your topics
Don't keep talking about memorized topics. You cannot talk about the latest MacBook to a Buddhist monk. Neither can you talk about death at a birthday party. You should talk according to the person and the situation.
Even though the person is the CEO of a car company and meets you at a funeral, you cannot talk about your views about the new car. You have to ensure that you are talking in synchronization with the situation. Even if you want to divulge from the current topic, you first have to establish a connection with him and then proceed by changing the topic.
It is essential to focus on the quality of the talk rather than the quantity of the talk. Even one sentence talk will be memorable to the person if it is good and correct and honest. And also, an entire speech will be forgotten if it does not strike the right chord.
10. Don't stick to the usual ABC's
'How's the weather?' 'How are you?' 'Do you come here often?' These are as old as humanity. Questions like these do not work as conversation starters. Using these questions introduces you as someone cliched and boring.
Instead, use something meaningful like 'The last time we talked about your family you said your kid was the learning ABC. What's the progress now?' Or 'You look grim today. What is the matter?'
Questions like these will put you ahead as someone who has been carefully listening to the other person or observing him ask relevant and to-the-point questions.
These questions show that you cared about the person and were attentive when he talked the last time. Starting with the weather questions is the most cliched and boring thing anyone can do. Customize your questions, depending on the person. For example, if someone is happy, you cannot ask the question of greatness. Instead, you can ask someone like, 'Hey, you look happy today. what's the secret?
11. Avoid One-word answers
One word answers are like a plague to humankind. They are being promoted via mobile and instant messengers. These one-word replies have become so common that people have started using them even in face-to-face conversations, and that is the worst thing you can do.
One word answers represent you as a 16-year-old emo teenage girl. Instead, reply appropriately with a complete and relevant answer. Follow this basic rule: One Word answers are NOT cool, and you should avoid them.
Conclusion
Small talks are essential when it comes to forming relations or even for mere introductions. They happen everywhere and with almost everyone, and if you follow specific basic rules, small talks turn out to be more effective than long conversations.
An important thing to remember is that small talks are not conversations.
If you liked this article, we bet that you will love the Marketing91 Academy, which provides you free access to 10+ marketing courses and 100s of Case studies.