There are 2 billion people active monthly on YouTube and these number are increasing day-by-day. YouTube covers local versions in more than 90 countries and available in a total of 80 different languages (which is 95% of the Internet population).
As per the above numbers, you can see how much potential does YouTube has and how much money you can make on YouTube.
Before starting a YouTube channel, you should first decide what kind of content you're going to publish. And for making money from it, you will have to determine whether you are interested in promoting your own products or services, or want to generate revenue from YouTube ads.
In this article, you're going to learn about different ways to generate revenue from your YouTube channel.
How to Make Money from Youtube?
1. YouTube Partner Program (YPP)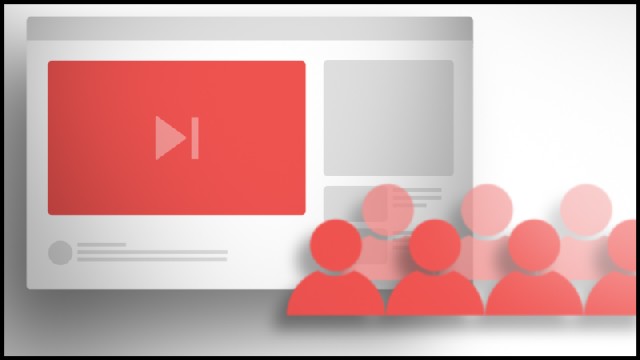 YouTube Partner Program allows content creators to monetize their videos on YouTube in various ways.
To start with YPP, you should check whether the Partner Program is available or not in your country. Then, you will be eligible to apply for the program if you have more than 1,000 subscribers and 4,000 watch hours over the last 12 months. Lastly, make sure that your channel follows the policies and guidelines of YouTube.
Follow the below steps to join the program:
Sign in to your YouTube account.
At the top-right, click on the account icon and select "YouTube Studio".
Click "Monetization" on the left menu.
If you meet the eligibility criteria, click "Start" on the "Review Partner Program terms" card. Click "Notify me when I'm eligible" to get an update when you reach the 1,000 subscribers and 4,000 watch hours in the past 12 months.
Connect your AdSense account in order to get paid.
Your application for joining YouTube Partner Program will be put under review, and you'll receive an email after YouTube accepted your application. You can check the application status here.
The review process typically takes about one month, or sometimes more than that, so you have to be patient until you receive updates from YouTube.
In case, they rejected your YPP application, then you can re-apply for the same after 30 days of the rejection date.
You can start making money from YouTube Partner Program by different monetization channel that has their own eligibility requirements.
Ad revenue: You will get paid from the display, overlay, and video ads. For getting started with ad revenue, you must be at least 18 years old, and your content should meet the guidelines of advertiser-friendly content.
Channel memberships: You must be at least 18 years old and have more than 30,000 subscribers on your YouTube channel to avail special offers to your members, and in return, they make monthly payments to you.
Merchandise shelf: You can sell official branded merchandise from your channel if you're 18 years old and more than 10,000 YouTube subscribers.
Super Chat & Super Stickers: Firstly, you will have to check whether Super Chat is available or not in your country. In this type of monetization feature, your fans will pay to get their messages highlighted in your chats during live streams.
YouTube Premium Revenue: You will get paid automatically when a YouTube Premium member watches your content. The payable amount to you is the portion of the subscription fee to become a YouTube premium member.
2. Affiliate Marketing
In an affiliate program, you advertise other products on your channel, and you get paid if someone buys that product from your affiliate link. In this case, you're generating revenue from the company sales and not from YouTube ads.
In recent research, 64 percent of people purchases product after watching a review video online.
The best thing about affiliate there is no eligibility requirement as in the YouTube Partner Program. You have to review the products and recommend your viewers whether it's a great deal or not.

The above image is an example of affiliate marketing by the popular YouTube channel "Unbox Therapy." Here, you can see the affiliate links, which will redirect you to the products page on Amazon. And, if someone buys the product through the given link, then "Unbox Therapy" will earn a commission on sales.
You can join affiliate programs offered by different companies like Bluehost, Amazon, etc., and start earning by reviewing the products or services. But, the commission percentage differs from company to company.
You can make tutorials like "How to use this product" or "Compare two different products of the same niche". Always provide an affiliate link of the products in the description of your YouTube video.
Affiliate marketing has no limits, which means you can start earning through the affiliate program as a travel vlogger, tech reviewer, cooking or photography specialist, and so forth.
Engage with your audience by responding to every comment on your video. Also, take feedback from your viewers what they like most about the video and what they want to watch in the future.
Remember, you will generate a good amount of earnings from the affiliate program if your YouTube channel is popular among viewers. So, you should first focus on making your channel popular and trendy.
3. Become an Advertiser
With the help of YouTube ads, you can target a more specific audience as compared to TV commercials. Basically, you will have to pay YouTube to show your ads (made by you) on other YouTube channels.
You have to select an audience depending on your business and your ads can be shown on big companies channel as well as on individual channels that has viewership matching your targeted audience.
We are going to cover different types of ads format offered by YouTube, which you can choose for advertising.
TrueView Ads
TrueView ads give viewers the ability to choose from which video ads they want to watch; therefore, you don't have to pay for undesirable views.
There are two types of TrueView ads:
1. In-stream Ads
In-stream ads appear before or during the YouTube videos played by the user. Viewers can skip your ad after five seconds if they are not interested in watching the full advertisement.
You will be charged if a viewer watches your video ad for at least 30 seconds (or full ad if shorter than 30 seconds), or engage with the video. Video engagements include clicks to visit your website, call-to-action overlays (CTAs), cards, and companion banners.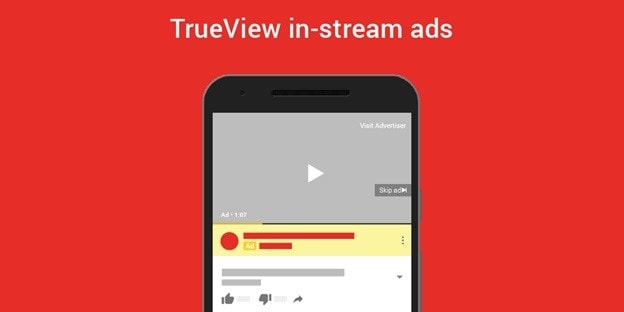 2. Discovery Ads
Discovery ads can be seen on YouTube search results, alongside related video, and on the homepage of YouTube.
You will have to pay when a viewer clicks on your ad, and watches your video.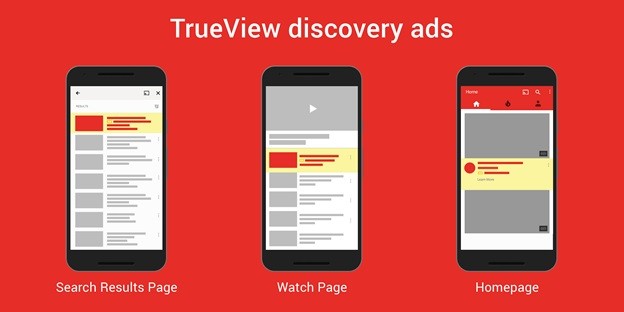 Bumper Ads
Bumper ads are the shortest ad format offered by YouTube. The ads are used to increase brand awareness and reach more people with brief messages.
The ads appear before the YouTube video selected by user, and the video ad should be 6 seconds or shorter in terms of video length. Viewers won't be able to skip these ads.
You should include product shot rather than focusing on story, product features, or taglines. And, the creative should be as simple as possible instead of making it complex.
Bumper ads use CPM (cost-per thousand impressions) bidding, which means you will be charged each time when your ad shown 1,000 times on YouTube.
4. Fan-Funds
When a viewer finds your content interesting and entertaining, then they will donate a particular amount of money to your channel. This strategy of making money from YouTube is generally opted by gamers.
Fan funding feature is replaced with Super Chat, and it is only accessible by the YouTube partners. You can avail this feature when you stream live on YouTube.
Viewers' comments will be highlighted and pinned for some time depends on how much they are going to pay. You can see the example of Super Chat in the below image.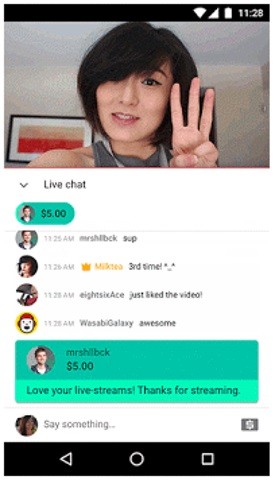 YouTube also offers you the ability to generate revenue by allowing viewers to become a member of your channel by paying a certain amount of fees. The viewers will get loyalty and custom badges, custom emojis, and access to exclusives deals like Live Chats with you.
5. Crowdfunding
Crowdfunding sometimes sounds weird when it comes to making money on YouTube, but viewers support your channel if you are creating great content. People will help you by donating some amount every month and covering the cost of making content.
Patreon is the first choice of creators for recurring funding, but there are also other sites like Kickstarter, Fundsurfer, etc. which provides you a great platform to collect the funds. Before choosing the particular platform, check the list of approved crowdfunding sites by YouTube.
Since Patreon provides a subscription plan; it helps content creators to make new content regularly as they will receive a certain amount each month.
You can also encourage people to donate you by telling them about more detailed content you are going to provide if you get such funds. Additionally, reward who is donating, offer something for their support to make your campaign successful.
Conclusion
Making money is never easy, whether it's from business or YouTube channel. You have to put time, hard work, dedication, and focus on providing quality content to the viewers.
Trend changes within a week or a month, so you have to be creative with your content to withstand the fast-changing world.
After starting a YouTube channel, always try to measure the overall performance of your earnings, which will determine whether you are on the right path or not.
Increase the viewership of your channel by providing valuable content and promoting it on the right platform. People should convince themselves that you are worth following.
If you liked this article, we bet that you will love the Marketing91 Academy, which provides you free access to 10+ marketing courses and 100s of Case studies.