Professionals lead a very stressful life as they have to encounter major problems like office politics, deadlines, excessive workload, technology meltdowns, changing moods of co-workers and employers and the fear of failure and job loss. Everyone says that workplace pressure is an integral part of your job but nobody likes to work in such conditions as it can cause emotional as well as physical ill health.
It becomes necessary to keep a strong handle on one's emotions to continue with good and productive work. A good strategy and personal initiative are needed to combat work stress successfully. The first thing you do is stop worrying unnecessarily and the next is quite easy, Start with a change in lifestyle habits and see a remarkable difference within a short time span.
1) Get organized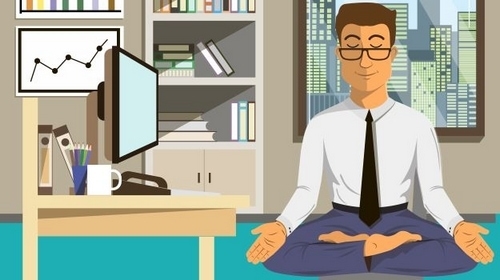 One of the best ways to lower office stress is by keeping a clean and organized workplace that will enable you to think calmly and make rational decisions. De-clutter your workstation, remove needless things from your table, drop trash in the dustbin, remove unimportant emails and messages so that your inbox is clear, and place the papers in their respective files.
It takes just a few minutes every day after you switch off your work and the next day you can come to a clean and better workplace. This will obviously reduce your stress levels as a neat and prearranged station can bring an instant smile to your face.
2) Eliminate interruptions and disruptions
While working an average person is disturbed too many times to count. This will obviously increase his stress level as he will be unable to complete the given work in the deadline. One thing that an employee can do to lower office stress is to remove the probable disruptions. One of the most common ones is a telephone, either submit it at the office desk while entering the office or leave it face down in an empty drawer. Remember to switch off its ringer tone for calls, email notifications and messages.
Believe me, this will help you immensely as you will become free to handle office work easily without distractions. If you are facing interruptions in the form of co-workers then you can stick a board of 'busy' when you are deep into a project., This will save you from unnecessary disturbances and meaningless interruptions.
3) Establish boundaries
Establish boundaries in both personal and professional life to lower office stress. Make a rule of not checking your phone at the drop of a hat, nor replying to personal messages in the office, not answering the phone at dinnertime when you are sitting with your family and not talking continuously about work at home. Set up a daily agenda of concentrating on quality family time so that you can know about the happenings in your family. These are small things but will have a great impact on your daily life.
4) Take time to recharge
You cannot think about work 24*7 as it will hamper your physical and mental condition. Simply step away and disconnect from official work when you think enough is enough. In order to lower office stress, you need to replenish and reboot your energy levels as well as your mind frame. Switch off the work mode and take a short break.
Go for a walk or take a tea/coffee break. Using your due holidays and taking a proper vacation is one of the best ways to unwind and de-stress. Focussing on non-official activities and enjoying with friends and family will help you in getting back to a positive mindset.
5) Start relaxation techniques
Relaxation techniques are a great way to lower office stress to a great extent. Start with breathing exercises. This will bring a feeling of calmness to your life. As soon as you find yourself in a stressful situation remember your exercise and start taking deep breaths. This will de-stress you immediately.
Meditation is another relaxation technique which has proved to be a blessing for several individuals. A workplace is full of uncertainties and in this environment, meditation gives a feeling of peace to an employee's mind. Simple activities like walking, interacting with a like-minded person, laughing, and enjoying a joke are also great relaxation opportunities.
6) Develop healthy responses
Bring a change in your lifestyle if you want to lower office stress.  Alcohol, smoking, fast foods feel attractive during stress but believe me is a poor choice. Develop a healthy response by making healthy choices.
Engage in physical activities like walking, exercise, and yoga. Take time out for hobbies and simple pleasures like reading, going for a movie, going to the club, playing indoor and outdoor games with family and friends, and even talking. Getting good 8-hours solid sleep is a great way to remove stress from your life as you will feel refreshed and rejuvenated the next morning.
7) Form positive relationships
Everyone needs at least one person with whom they can share everything from good to bad without the stress of being judged. Try to form at least one such relationship. It will surely help you in your personal life and also lower office stress.
When you can share your thoughts and ideas with someone else and listen about his problems only then you can realize that the best way to move forward is the middle path. Talking openly will help you in bringing peace and calm to your thought process. Building a good relationship with one person will encourage you in treating colleagues with respect and understanding and it will open doors for establishing further positive relationships.
8) Prioritize
Clarify and prioritize your goals if you want to lower office stress.  Set up objectives that you need to complete and decide on the ones which you can let go off at that particular time.
Evaluate the delicacy and importance of each assignment and rearrange it accordingly. Do not make the mistake of thinking that everything is a top priority. Choose the top three, the next three and so on. It is better if you create a to-do list and work consequently. Set up deadlines which are realistic by nature so that you can achieve your goals without additional stress.
9) Talking to your team leader/employer
An employer/team leader is the catalyst which can easily lower office stress with a few kind words. It is important to have an open conversation with your boss so that both of you can work towards lowering office stress. This will help in increasing the emotional well-being of an employee and creating a happy workplace. Talk to him about your work and how to attain maximum efficiency. Show your interest in training programs, events and conferences so that you can take part and increase your know-how.
10) Keeping track of your stressors
Every research on stress has emphasized the importance of keeping a journal to avoid anxiety and maintaining your calm. Doctors swear by it and consider a journal one of the best available therapies in recent times to lower office stress.  Just write about the situations that you consider stressful, about the circumstances, what your actual feelings are and how you respond to them. Maintain a separate column for your internal feelings which you actually want to do at that time.
Did you start shouting, hit a desk in anger, raise your hand towards anyone, walked away from the volatile situation to take a breather or a walk, or did you take out your journal and start writing and recording about your emotional upheaval? When you have calmed down take out the journal and read it. If you have made a mistake it will help you in realizing it and if you have not then you will feel proud of yourself. Ultimately it will become your conscience and help by reducing stress levels.