Email marketing has turned up to be one of the most robust digital marketing strategies. It is an excellent move towards promotion because through sending emails, the advertising about your brand or products can be done in a personalized way. Though you may be sending across the same email to a thousand people when the person opens up your email and reads it, he or she has a personalized connection with you.
To ensure effective lead generations and conversions via emails, you need to build an Email list that comprises the most relevant audience base.
How Emails play a crucial role in Generating Leads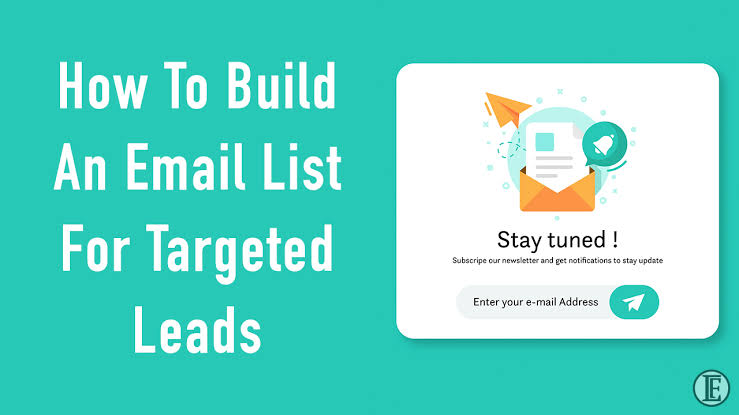 Also, today, a number of strategies are being developed that can make the email subject catchy so that the viewer inevitably opens up the email and go through it. Also, there are strategies today as per which different ads are created for different customers based on their activities.
For example, if you have a list of customers who often visit your site but do not buy any product, you can offer discount coupons and other deals so that they can get motivated and do some transactions the next time when they visit your website.
Similarly, different personalized emails can be created for different customer groups.
But the email marketing strategies will be successful only when you have a big data or an active email list. If you have a list, but the data is not secure enough on it, it is much worse than not having a list at all.
So, before thinking of what should you send across to the viewers through email, it is essential to collect useful data and build an email list.
Top Tips to Build an Email List
1) Start Initiatives like to Collect Email Addresses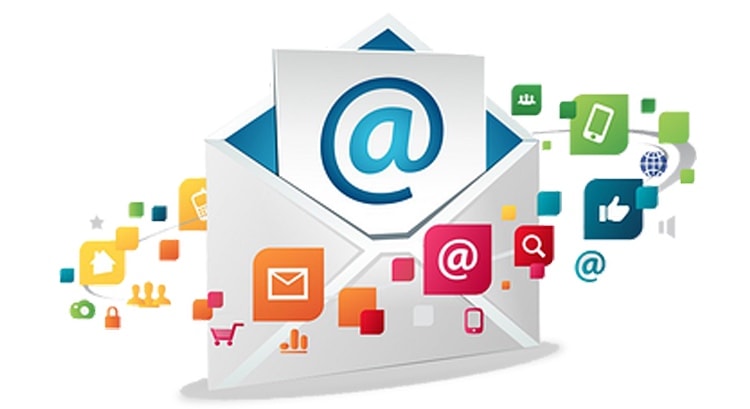 One of the easiest ways is to ask for the email is direct.
Whether you are at an event or some similar place, you can show the people a signup sheet where they can put up their details such as name, email address, and so on.
You can also show up a survey sheet where you can ask questions such as the name of the individual and do not forget to put both contact numbers and email addresses for contact details.
 The maximum of the people tends to avoid the column of contact number and put up the email address instead. You can make use of this data to build an email list for sure for your email marketing campaign.
2) Use Timed Pop-Up Survey on Specific Pages of your Site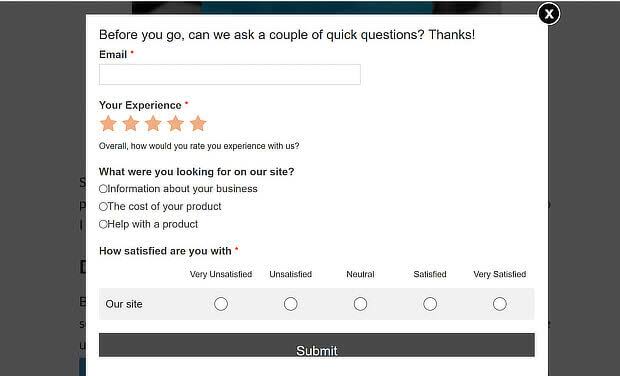 You can reach out to your visitors via a timed Pop-Up survey related to the content given on that particular page.
It is, for sure, a smart strategy to build an email list. You can use it in the cases when your page visitor stays on a particular page for a few seconds.
Then, your pop-up survey may appear there asking them if they will be interested in signing up for emails. So, if the visitor is finding your content interesting and informative, they will, for sure, subscribe and help you build an Email List.
3) Collecting Visiting Cards
It is always a good practice to distribute your visiting card to more number of people so that your company can get promoted and people can contact you whenever needed.
But it is equally essential to get the visiting cards of other people.
The visiting cards have important details such as contact number and email address of the person. This can help in building a good database for various marketing strategies such as email marketing as well as SMS marketing.
4) Hosting An Event
When an event is organized, and the theme of the event is quite impressive, there are a lot of people who may get interested in it.
You can promote your event in different ways, such as through social media platforms or even by various outdoor advertisements such as hoarding and all. Ask the readers to drop down an email about the query, and like this, you will be able to get a list of email addresses ready from the plan.
5) Smartly use your CTA (Call to Action)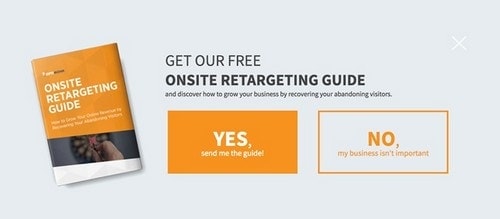 You may use CTAs to influence the thought process of your site visitors so they can opt for subscribing to you. Your CTA should describe the value that you are going to offer your readers.
Despite using Signup or Subscribe, you may opt for Download, Exclusive, Featured, Access sorts of creative CTAs, as they would be more convincing for the readers. You may use 'Access your Exclusive Copy Now' or 'Download your favorite e-Book Now.'
Use of humor or sarcasm in the 'No Thanks' of your CTA is another essential practice that can help you build an Email List.
Using CTAs on the About Us page would also be quite useful for you.
6) Start A Club
You will find recently a number of brands starting up clubs where members can get enrolled for the latest happenings in the brand.
After they have enrolled in the club, they need to give out their details on the registration page such as the email address.
You can make use of the email address to notify the customers about different offers going on and also about the next events that are about to happen. Apart from this, you can also send other excitement deals that can motivate the members to make transactions soon.
7) Try Out Telemarketing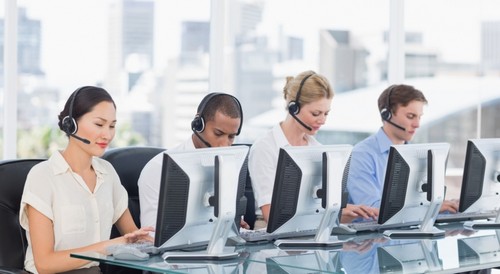 If you have a proper customer support system, you must be getting hundreds of calls from existing customers as well as the new individuals about various things.
After the executives have offered excellent service over the phone, it is always a great idea to ask for the email address of the person before hanging on.
This way, you can build an email list of the data that can turn out to be real potential and efficient in the upcoming time.
8) Include Pop-Up or Slide-In Feature In The Website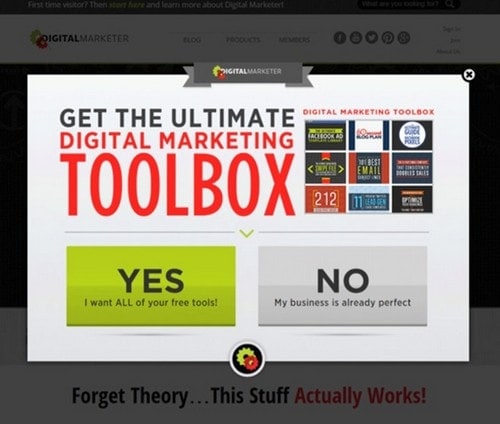 There can be a number of clicks on the website, among which some may be useful while some others may not be. But it is also to be noted that when a person has clicked your site, that person can also be turned up into a potential customer with proper guidance.
One of the best ways is to include a feature where the website comes up with a popup where the individual needs to provide the email address for serving them better.
Viewers do not find it much annoying in providing the email address, and you can get a good number of data in such a way.
9) Building Your Blog and using CTA
Another great way to attract a good amount of people towards you is through blogs.
The blogs that you are creating should not be promotional and should provide something meaty and informative that the viewers can find highly interesting and worth giving it a read.
While you are ending up the blog, you can add up a call to action where you can ask the readers to provide their feedback or comments about the blog. Create an option that after the reader has provided feedback, they are asked for their email address also.
10) Get Active On Social Media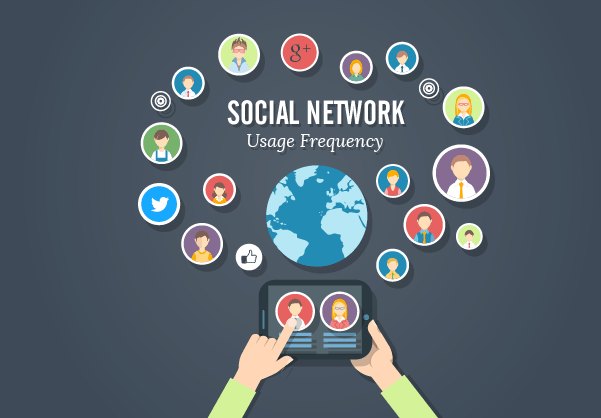 Social media platforms are one of the trendiest ways to increase traffic on your site and promote your brand.
Post interactive posts such as videos, games, lucky draws, and so on so that the viewers find it exciting and invest in some time over it. After the lucky draw game has been taken, the user can drop in their email address in the hope of winning a prize.
11) Involve Your Employees
When you reward someone, they inevitably try to help you in a number of ways. It is a great idea to involve your employees in fetching a good number of email addresses.
Motivate the employees by rewarding them with small incentives in return for the email addresses. When you have tried various tactics, and still you are not able to build up a proper email list, this can work.
When so many employees take up initiatives in bringing in the email addresses, of course, there will be soon a vast pool of data.
12) Encourage Forwarding
Often when a customer finds a particular product or service worth using, they make sure to talk about it with their friends and family.
When you are sending an email to a particular person, make sure to encourage them to ask their friends and known people to get registered with the email list of your company.
Motivate these people by offering them a small incentive or a reward such as a discount of few percentages on a high demanding product when the customer makes one of the friends sign up for the emails.
13) Use more landing pages on your site
When you use the number of personalized pages on your website, you cater to more number of audiences in a customized manner.
This way, you will, for sure, be boosting the Sign-Ups for your products and services.
When you create landing pages, you need to have the objective of serving the individual concerns of a wide variety of audiences. With a customized touch, you can convince them to subscribe to your emails.
14) Other Various Methods
The list does not just end up here. There are several surprising ways that you can use up in a possible way to build an email list so that you can have a successful email marketing strategy.
Some of the other important ways that can also help you in increasing your email list are:
Going for a street fair,
Start contests,
Offer an application to download in return of the email address,
Offer subscription options after displaying reasonable discount offers and many more.
In Conclusion…
When you have a list of email addresses available with you, you can use them efficiently by promoting your brand, promoting different events going on, and also the various other information that can be helpful for the readers.
To run a proper email marketing campaign, it is very much vital that you have an appropriate set of email lists. Having a lousy list can surely waste your time and effort.
So, it is ideal for making use of the right ways such as mentioned above to get the correct data and have a good email list, so that you can get some great results out of it at the end of your email marketing campaign.