Landing pages are one of the most popular, effective and result-driven means of converting leads into customers. With the help of the right kind of landing page, businesses convince their visitors to do some favorable actions. Visitors provide you some important details in exchange of special offers that you make. Facebook Campaign Landing page offers the same benefits in capturing leads via Facebook Marketing Campaigns.
Because of the sheer power and ubiquitous existence of Facebook, you have to leverage the huge number of active users on Facebook for your business.  If you want to do that, you must have a great landing page. It allows fewer distractions, enabling easy lead generation and conversion. Before diving deep into Facebook Campaign Landing Page, let us first understand its definition –
Definition of a Facebook Campaign Landing Page
Facebook landing page plays out the same role as any other landing page. It lets your Facebook page visitors do some favorable actions. It convinces your Facebook followers or fans to do some specific actions that benefit your business.
Your Facebook Campaign Landing Page can influence your page visitors to sign up for newsletters, buy some products or services, etc. Inside your Facebook page, Facebook Campaign Landing Pages are published to a custom tab and they are not any independent web property.
When you have understood what Facebook landing pages are, let us now get your Facebook Campaign Landing page right by following the below steps:
Steps to create convincing Facebook Landing Pages –
1) Decide on what type of landing page you want
When it comes to creating a landing page, you have many options. You can either choose to build a fresh landing page, load one created from Instapage or use an already built landing page. This decision is based on the objective of your facebook campaign.
If the objective of your facebook campaign is to get leads, then your landing page should give best information to the customers in a visually attractive layout and then should collect their contact information through email forms or contact forms.
If the objective of your facebook campaign is more sales, then the sales page should have good details and multiple call to actions in place.
To do this, you can use some of the most common landing page builders out there.
Instapage
Leadpages
Unbounce
2) Select the landing page template
Once you have finalised the software of your choice, or if you are using a developer, then the next step is to select one landing page template. This is where landing page softwares help because they have many templates for use. Or else, your developer can churn out a custom facebook campaign landing page for you.
3) Customize the landing page
After zeroing it on the template, the next step is to customize it.  You may change colors and add text at this stage. Just remember to add the following to your landing page:
A headline: Highlight your unique selling proposition here
Clear copy: Explain what you have to offer customers
Social proof: Drop the names of important clients to give the impression of you being popular
CTA: Be creative and fresh with your CTA, give a skip to old ones like-submit' or 'Register'
4) Important things your landing page must have
Visuals are a smoother way of communication. People grab visual data much faster than text, so include visual elements like images and videos to your landing page. Further, when you are done with adding all the elements for a complete landing page enable the mobile viewing option. For this, look on the upper left side of the page and click on 'mobile' and select the enabled option from the menu.
5) Publish
Once you are done with creating your Facebook Campaign Landing Page and have added all the elements to it, you need to publish it. For that, shift your focus to the upper right side of the page, where the publish button is present and click it. A pop-up will appear asking you the place where you want to publish it. Select 'Facebook'.
We believe in explaining through examples. So if you have gone through the various steps of building Facebook campaign landing page, it is more important to go through the examples of some of the smartest marketers out there. This will help you understand the concept in a more practical manner –
Examples of Facebook Campaign Landing Page
How about we rapidly experience some Facebook Campaign Landing Page to enable you to make sense of how to make a powerful landing page-
1) MailChimp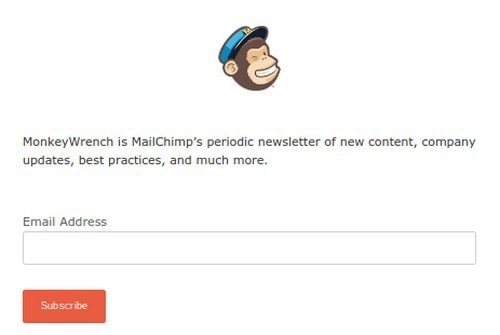 MailChimp Facebook Landing Page
What is impressive?
Their landing page has a company logo that is very effective in doing powerful branding. This will let people know that they are on Mail Chimp Landing Page and hence awareness will be boosted
Bright colored Call to Action button is in good contrast with white background. The page also includes a very short form that directly asks visitors to share Email Address. This will help you get the favorable responses from visitors without any deviations. Saying things directly scores more points in conversions in professional communications
Design of CTA button is very apt and it looks like a button that will tempt visitors to press it
Where does it need improvement?
The language used in the copy is not very clear and can befuddle visitors. Use of "periodic does not tell how long visitors will get those emails
It also does not tell you what kinds of best practices are there in the kitty, plus, ending of the sentence with 'much more' is again confusing
There should be a convincing reason to influence visitors to press CTA button that is missing in this landing page. A proper headline talking about uniqueness about the business should also be there
2) Groupon Facebook Campaign Landing Page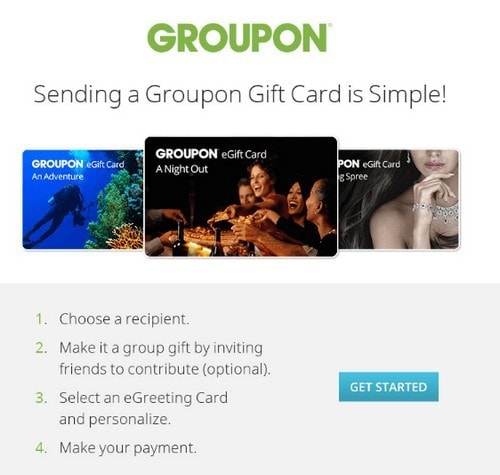 What is impressive?
Use of logo is quite good in letting visitors know that they are on Groupon
Use of image is clearly saying that users can customize gift cards as per their preferences
Where does it need improvement?
The headline should tell how easily Groupon lets people send personalized gifts but it is missing the point there and does not talk about company's USP
CTA used is also not very attention-grabbing, as it has the same color which is already there in the page color
The landing page also does not tell anything about the variety of gift cards that visitors can get from Groupon, instead, it directly tells about other benefits but not about the types of cards that one can send using Groupon
3) PR Daily Facebook Landing Page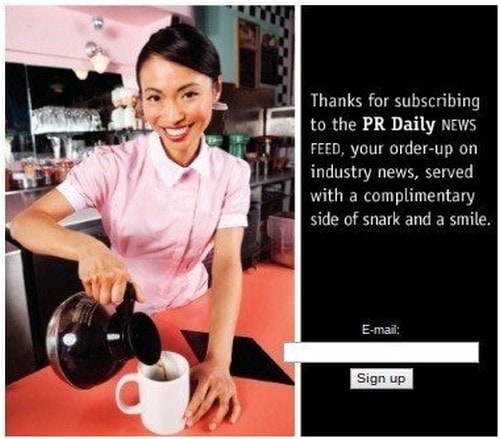 What is impressive?
This landing page directly asks for an email with a very short form that makes it result driven
Use of name 'PR Daily' establishes a connection between the company and its Facebook Campaign Landing Page
Where does it need improvement?
Image, form, and copy of landing page seem compressed and does not offer the rich feel that it should offer
Content used does not have a proper symmetry. No any specific reason why all the alphabets of 'NEWS FEED' are in the capital and why PR Daily is in bold. So, symmetry is missing
Form filed below E-Mail is invading into the image of a landing page that is again a very unimpressive thing. The color of CTA is also very generating and unappealing that is not going to instantly draw in site visitors
4) NBC Olympics Facebook Landing Page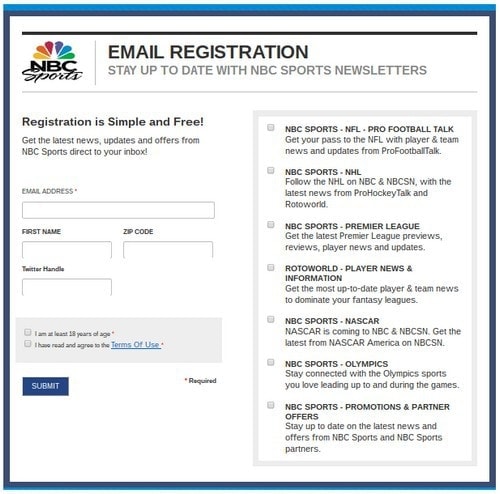 What is impressive?
Its sub-heading is very effective in conveying that offer is simple and free
It also clearly tells all the benefits of subscribing NBC Olympics Newsletter
Use of logo of NBC Sports is very good in doing effective branding of the company
Where does it need improvement?
Too many form fields that should not be there. Asking for Twitter handle and many other things can deviate the attention of a prospect
CTA button is also not very impressive in grabbing the attention of site visitors
5) GetResponse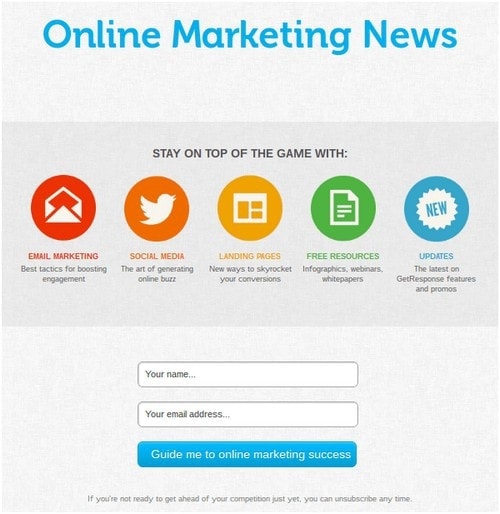 What is Impressive?
It is quite good in explaining all the benefits that you get by subscribing to its email updates. Use of icons to describe related benefits is one of the impressive ways of making landing page impactful
CTA is explaining the benefits that you will get after subscribing, plus, Call to Action is written in the first person that is again a very good thing to impress visitors
Below CTA, there is a line that tells subscribers that they can unsubscribe at any time, which is very good in comforting subscribers
Where does it need improvement?
The headline of the landing page does not talk about any benefits
The color of the CTA button is already used in a landing page that makes it a little less in drawing the attention of visitors
Summing Up…
Therefore, now as you have gone through some of the Facebook Campaign Landing Page Examples, we hope you would have comprehended how you can create an effective one that instantly grabs the attention of visitors and convinces them to take the action that you want them to take.
In case you have any doubts about Facebook Marketing & Advertising, feel free to ask us.