Bad habits are dangerous and prove disastrous in both personal and professional space. Sometimes it is our habits that define us and if you are gripped by bad ones then it has the ability to create negative impressions about you. Gaining control and breaking bad habits is a monumental task but if you have the necessary willpower it can be achieved easily.
Remember not to use short-cuts as it will only bring forth temporary relief. Bad habits are the result of bad and degrading behaviour that have accumulated over the years. It will need hard work, grit and determination to break and replace them with good ones. The process to break bad habits takes time because our mind does not like changes in the normal routine.
The initial actions feel unpleasant so we try to resist it but once you become determined in your efforts it adapts to the change and forges ahead on its path quick enough.
1) Focus on your habit
The first step towards breaking a bad habit is putting your full focus on it.  Recognise the negativity surrounding it and think about decisive steps to overcome it in the near future. Understand and contemplate how it is affecting your personal and professional well-being as well as your physical, emotional and mental health. You need to make a firm commitment to yourself if you are really looking for ways to break bad habits.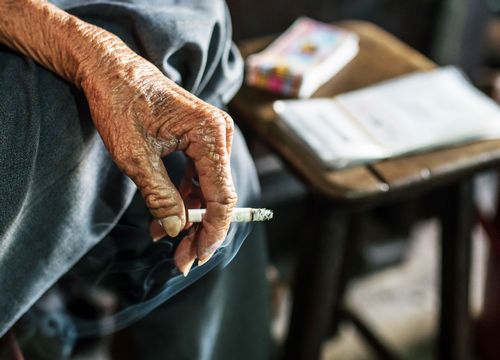 2) Make a plan
It is impossible to deal with bad habits without proper planning in place. It is not as easy as it looks because you will need to make strategies to come out on the top and remove bad behavioural patterns and habits from your life. A specific and goal-oriented plan with exact and precise directions is the demand of the day.
Take the help of someone you trust while making plans so that you can incorporate his suggestions for your benefit. A different perspective will help you in understanding the situation better. Accept that mistakes will occur and be prepared with contingency plans to motivate you at regular intervals if you are looking for ways to break bad habits. You do not want to make a plan that looks daunting at the onset. Hence set up smaller goals that look attainable and achievable.
3) Find the trigger
The key to breaking a bad habit is to sever the pattern so that the chain of events stops by itself.  There is always a clear trigger that started it hence find and remove it from your vicinity. It can be an emotional trigger, for example, drinking alcohol for combating household stress or problem with a spouse.
Sometimes situations and environment also help in making bad decisions and with time become bad habits that need extra effort to break. For instance, a person started to drink with colleagues in office parties because he did not want to become the only one to stand-out. A simple gesture became a disaster when it escalated out of proportions and he could not live without drinking on a daily basis. It is important to recognise and find the trigger if you are looking for ways to break bad habits.
4) Deal with the trigger
You have already taken the first step and identified the trigger that has resulted in a bad habit. Just finding it is not the solution. You will have to deal with it in a precise manner if you are interested to break it. If you are habituated to drink, then simply start avoiding clubs or parties where you already know that it is easy to procure alcohol.
If your bad habit includes fast-food or chocolates then do not buy and leave it in the house simply remove the temptation. If you are addicted to social media portals you can either block the websites and platforms which are proving a distraction or simply switch off the internet connection. Make it easy for yourself by dealing with triggers and removing temptations if you are looking for ways to break bad habits.
5) Choose a substitute
Breaking bad habits is never easy. Yes, you have identified the trigger and are trying to deal with it but are you 100% successful in your endeavours. At the onset, you must have an alternative plan. What will happen when the urge strikes hard at you and force you to make a detour.
What will happen when you will face your nemesis in the eyes? Do you think your strong will prevail or will you surrender thinking it is just one lapse? Choose a substitute beforehand for such situations so that you can take its help under duress. You need an effective replacement to substitute one with another during extreme circumstances if you are looking for ways to break bad habits.
6) Be mindful
Be aware of every step of the way so that you can be diligent in your efforts. Practice mindfulness if you are looking for ways to break bad habits. This is a positive quality that will stop you from making unconscious mistakes. Mindfulness is a healthy habit that trains the brain to be on alert so that you do not give in to the temptation of undesired behaviour.
Be mindful because it will help you to understand bad habits better without judging you harshly for succumbing to them. You can promote it by practising meditation on a regular basis. Remember taking out a few minutes from your daily itinerary is not difficult. Think about the long-term benefits and practise it so that you can be mindful while undertaking the goal of breaking bad habits.
7) Be persistent and patient
You have to be ready for a long inning if you are looking for ways to break bad habits. One cannot achieve results in moments hence remember that it is your persistence that will help you to remain in the game until you reach your goal. Yes, you will need lots of patience because there will be times when you will want to raise your hands and quit in your efforts.
Just keep reminding yourself about your target and do not let negativity enter your surroundings. Talk with people who can motivate you and be persistent and patient so that you can overcome such moments and once again travel onwards on your path.
8) Replace the bad habit with a good one
Besides choosing a substitute you can try to replace the bad habit with a good one of you are looking for ways to break the bad habit. Sometimes stopping a particular behavioural pattern is very difficult at the onset. When you give it a new direction it becomes easier for the body and mind to make viable adjustments. Human beings are creatures of habit.
Once you try to suppress any behaviour it tries to spring back with double force. A person was trying to overcome his habit of drinking coffee. For six days of the week he tried his level best but on the seventh day he gave in to the temptation and indulged in so many cups that he broke his own previous records. If he had chosen a substitute, for instance, milkshake, coconut water or any other fresh drink he might not have had such a strong urge where all his efforts and willpower went downhill. Remember it will take time to create a new habit even if it is a good one, so have patience and keep trying.
9) Take help of visualization
Visualization has become an important key in recent times as people all over the world rave about its benefits. Sit back and visualize yourself in a positive situation if you are looking for ways to break bad habits. See that you have risen above them for instance, you are now drinking fresh juice instead of coffee and eating healthy food instead of fast-food items.
Think about crushing the bad habit successfully and now enjoy the feeling of achievement. This will give your brain the signal that you are ready to dump your bad habits in the trash and when the time comes this will react positively in your favour.
10) Find your older and better self
Remember the better version of yourself who was not gripped by any bad habits and now see yourself in your present situation. It is obvious the previous one was any day better than the new version. Find your older and better self by digging deep inside if you are looking for ways to break bad habits.
Some people think that they will have to change into another person if they want to break the bad habit. But if you consider then you already have the better version inside you. Just try to recapture the previous image and stick to it with a firm tenacity so that you can break bad habits easily.
11) Set an example for yourself
Have you come across someone that has been successful in ditching his bad habit? Set him up as your example if you are looking for ways to break bad habits. Talk to him and try to gain his insight so that you can make changes according to his suggestions. Any given situation of two persons is not the same but if the willpower is there then it becomes easy to emulate him successfully. You can surround yourself with people that are already living how you want to live so that they can inspire you to make changes in your habits and lifestyle.
12) Find an accountable partner
 Connect with someone who has a bad habit of his own and is desperate to break it. A buddy can be a motivational force that will hold out his hands and grab yours in times of distress. There will be situations when you will lose confidence and the urge to succumb will try to overcome your willpower. At such times a partner in crime will prove a blessing. He is also going through a similar phase and when you both become accountable for each other it will prove a blessing in disguise. Find an accountable partner and join forces in your shared endeavour if you are looking for ways to break bad habits.
13) Plan for failures
Start planning for failures early on if you are looking for ways to break bad habits. Remember we all are humans and it is easy for us to make a slip once in a while. Make arrangements for such contingencies with alternative plans. Place positive triggers in the way to break the pattern and remind yourself that you are digressing from your chosen path. Put in alerts at strategic locations that will act as reminders against any probable failure.
14) Keep an eye on the reward
Your target should be reward enough for you but we humans love the idea of treats on the way. Schedule them as rewards at regular intervals for a milestone achieved. It can be anything that the person considers as precious so that he will be motivated to work doubly hard to reach the set point. Be sure that the reward is of a positive nature, not another vice that can easily become the bane of his existence once he starts linking it with a treat. Keep an eye on the reward if you are looking for ways to break bad habits.
15) Consider professional help
If you have tried everything humanly possible in your opinion and are still struggling to find the right balance then your vice must be very strong or your willpower very weak. The best thing you can do in such circumstances is to take professional help. This is the best thing that can happen to you.
There was a time when professional support was considered taboo but no longer is the case in these modern times. People consider it all the time for their own welfare. The environment, medications, therapy and positive approach will be a blessing that will offer proper guidance and help you to break bad habits successfully.
Self-discipline and commitment are two important tools that can help to break bad habits. If you think that once broken like a horse it will stay put when you are wrong. It will need everyday care and constant maintenance to remain in the background. Remember bad habits stop you from leading a fully productive life hence better replace them with good ones that will help you to gain desired success. It is your focus that will boost the energy levels so that you can remove the trigger that has led to bad habits.