Social media sites assume a lot of importance when it comes to getting more traffic and viewership to your site. If you are into blogging, it is essential to make your content shareable across social media sites.
As a blog owner, you would want your visitors to share your posts to the social media profiles. But, would you want them to go through unnecessary steps when the activity is designed to help you with no benefits of any nature to them?
Here are a few natural methods to add social sharing to your WordPress installation.
How to add Social Sharing to Your WordPress Website?
There are several options that you can use for social sharing buttons, and we will discuss a few simple methods you can use to include the Social Media sharing buttons to your site.
1) Add Share Buttons to a WordPress Post with Sumo
The best option you can use for your Social Media button would be to use it along with a post. You expect your readers to share a post on their social profile, not the entire site. You can either use the share buttons on the left side of your post or just below it.
This can be easily be achieved with the help of plugins. One of the popular plugins that can be much use in this venture can be Sumo. It lets you add social media buttons exactly the way you would want to. The buttons and their shapes can be customized to meet your exact requirements. Moreover, the share buttons would be automatically customized based on screen size and devices.
The plugin comes with most other functionalities and features apart from the social media plugins alone.
2) Add Social Share Buttons with Jetpack Plugin
Jetpack offers you excellent functionality for varied requirements. But, the Sharing module is one of the best options for adding the social media sharing buttons to your WordPress sites. It can be added to individual posts or an incomplete site.
Follow the steps here below –
Download, install and activate the Jetpack plugin.
The Jetpack will now be added to your WordPress dashboard.
Choose the Sharing
Under the Sharing option, check the option for Add sharing buttons to your posts.
Option,

This will add the Sharing option to your WordPress Settings menu
Click on Settings -> Sharing
Under the Sharing Buttons, drag the services that you would want to add to the website and add it to the Enables Services section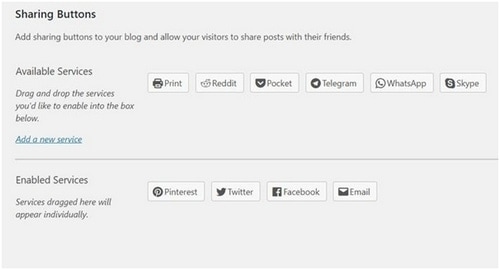 The plugin lets you change the appearance of the buttons along with their position. You can also configure the layout, labeling, and other details to personalize the sharing options.
Before you finalize the changes, check the exact appearance with the Live Preview
Once you have made sure that the changes are fine and work well with your site, click on Save Settings.
3) Add Social Media Sharing Options using Social Pug Plugin
Social Pug is an excellent option for adding social sharing media buttons to your WordPress blog. The plugin supports five primary social media services, namely Facebook, Twitter, Google+, LinkedIn, and Pinterest.
You can either position the sharing buttons before your blog post or after it depending on your preferences. The plugin will also help you introduce a floating sidebar to the WordPress blog.
The sharing buttons will move along with your content so that they will be able to share your content.
Follow these steps –
Download, install and activate the plugin
Go to your WordPress menu and locate Social Pug -> Toolkit
Choose the option you are looking for in your WordPress social media sharing options. The inline Content option will help you add the buttons to the content, or the Floating sidebar option adds the floating option for the social media buttons.
Click on your preferred option as above and then click on Settings
Now you can customize the social media buttons as per your preferences.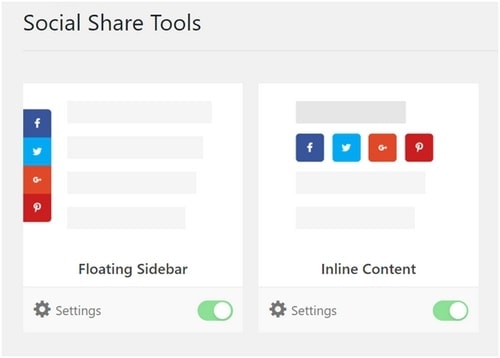 Under Social Networks, choose the networks you want to add to your site or posts.
You can configure the shape, size, and other options for the social media share buttons depending upon your preferences.
Once you are done with your settings, save your settings, and preview the social media sharing buttons based on the changes you have done to your site.
The plugin should be a good option if you are looking for an opportunity to find the number of shares that each of these networks has received. However, it comes with a limited number of supported networks.
Any other Options for adding Social Media Sharing Options?
Well, there are a few other options you can make use of to add social media sharing buttons to your WordPress site.
However, given the fact that you are a beginner, and this post is specifically designed for the beginners – we thought that these tips might be a little difficult to understand and implement.
One of the first options you would find practically enough includes checking your current theme. Most of the themes come with an opportunity to add social media sharing buttons to the website.
Ideally, these options are available under the theme settings. The exact availability and location for these settings will be dependent on the themes you have chosen for your blog.
If your themes do not offer an option to enable the social media sharing options, you can opt for a theme that supports it or edit your theme to bring in the availability. The third option is to use a plugin that does the work on your behalf.
From a beginner's point of view, we thought the use of a plugin would be a good option. That is exactly why we have offered you a choice of using any of the three plugin options for your requirements.
As you focus on developing your expertise in WordPress, you can use options like editing the themes or even using other high-end options like editing config files.
In Conclusion
Well, that was a little update on how to add social media sharing buttons to your WordPress blog. We have focused on explaining the plugin method as it would be an easier alternative for the beginners.
However, the introduction to other options would help make the right choice as you get used to the functionality of WordPress and keep learning further.
Which options do you use for adding the WordPress social sharing buttons to your site? Share your experiences and preferences with us. Also, feel free to let us know any other options you find practically more useful.