The first thing that any business owner or advertiser who plans to use Facebook for optimizing their business thinks is Cost of Advertising on Facebook. We have also been hearing many queries regarding Facebook Advertising Cost and that is why we thought to come up with this post.
So, the very first thing that you need to understand that the cost of advertising on Facebook depends on a variety of factors. However, the good news is that you can run Facebook ads on any budget by incorporating different strategies as per your business goal.
Facebook lets you run ads on Facebook, its Audience Network and on Instagram based upon your spending plan.
Do not get surprised if your Facebook advertisement cost can be lesser than your per day coffee budget. The costing is decided via Facebook Ad Auction system.
Let us understand How much is the Cost of Advertising on Facebook?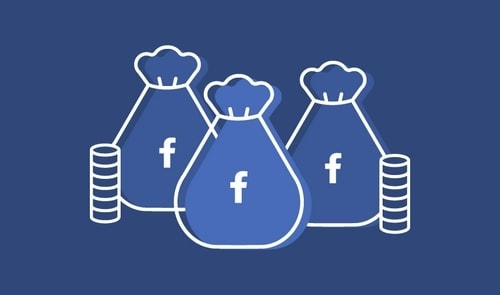 You can let Facebook know your cost of advertising on Facebook on your own. Once you give the details of your amount, Facebook will offer you the best-suited results for the amount decided by you. You can either spend $5 a week or spend $50,000 a week as per the budget you have decided on Facebook Advertising.
For defining cost, Facebook offers you two different ways- the First one is the Overall amount spent while the second one is the Cost of each result that you get.
You can control the general sum that you want to spend on Facebook advertising through spending financial plan. You are also allowed to control your expense per result through the bid strategy that you choose.
In case you do not know the right bid strategy for you, Facebook can naturally bid for you with the expectation of spending your amount uniformly all through the runtime of your advertisement. Facebook also offers different approaches to guarantee that you pay the minimum amount possible for getting your expected outcomes.
Approaches that you can use to decide your spend are-
Campaign spending limit
Account spending limit
How can you purchase your Facebook Ads?
The most widely recognized approach to buying advertisements for Facebook is through Ads Manager that is actually Ad Management Tool of Facebook. You can buy Facebook advertisement and submit it to the ad auction system of Facebook.
When you opt for Facebook ads, you will be in complete control. You set your financial plan and offer. Facebook will never spend more than your maximum limit. You can also get results on any budget. Advertisements appear to individuals who are probably going to be intrigued by your ads and this will help you get expected results.
Your cost of advertising on Facebook is directly proportional to the activities that you need.
You can easily pick your goal, related impressions, and conversions. Then accordingly, you would be required to pay.
How to submit your advertisement to Facebook Ad Auction System?
The Ad auction system of Facebook figures out which advertisements ought to be displayed to which individuals.
Utilizing data that you give while creating your advertisement, the auction system demonstrates your ad to the prospects who are well on the way to be occupied with your ad. Auction system will do this at the cost that you offer or at a lesser cost but the never higher fee would be asked from you.
The ad creation process revolves around a few parameters that the auction system of Facebook will use those to show your Ad to your prospects. So, lets us through those parameters-
1) Financial Plan
You can easily set your spending plan for Facebook ads. This amount is an aggregate sum that you need to spend day by day or through the span of the campaign. You can also tweak it as per your needs. You likewise set your bid, which is the most extreme sum that you are willing to pay when somebody sees your advertisement or makes your coveted move.
2) Target Audiences
You likewise pick your audiences for Facebook ads. They are actually the people who you need to see your advertisement. You can utilize socioeconomics or demographics details, for example, age, sex, and location to associate with individuals. You can also analyze interests, gadgets or past activities to target your audiences more effectively.
3) Creatives
Creatives help you choose how your advertisement looks. You can utilize content, pictures, and recordings to catch the attention of your audiences. Once you create your advertisement, it goes to the ad auction system of Facebook where it will begin being appeared to your existing and potential customers.
Some other factors that affect the cost of advertising on Facebook are-
Ad Objective
Bidding type and sum
Ad quality
Your industry
Let us now understand how these ad objectives will affect your Facebook advertising cost-
Types of Facebook Ad Objectives and their role in deciding Facebook Advertising Cost

Inside the Facebook advertisement platform, you can see different ad objectives. Every objective and each kind of advertisement have diverse KPIs and are appeared to different individuals in view of the result you need. Different types of ad objectives are-
1) Awareness
Ads with this objective will create an image of your brand, product, and service in the timelines of your existing and potential customers
2) Considerations
Considerations motivate individuals to begin pondering about your business, item or administration. It compels audiences to search for more data about your brand
3) Conversions
Conversion advertisements urge individuals to do a particular activity or buy your item or administration. Such ads influence audiences to do some favorable actions
How your bidding type would affect the cost of Advertising on Facebook?

There are two different ways to bid for your Facebook ad and they are Automatic and Manual.
Automatic Bidding- In this one, Facebook sets bid for you to get the most activities at the best cost.
Manual Budding- In this one, you choose what would be the right amount for the outcome that you expect from Facebook advertisement.
It is advisable to let your bidding center around ROI rather than the lower costs. You will be able to target more audiences with higher bidding amount that will ultimately help you in widening your reach and getting more customers.
How Ad Quality affects Cost of Advertising on Facebook
This is one of the most important things that will make your Ad impactful, plus will also decrease your cost of advertising on Facebook. You have to come up with ads that are of excellent quality to draw in and engage your audiences. You should use visually appealing, unique, interesting creatives for your ads. Your ad should be able to pull in the interest of your users and it should also invoke some emotion in them. All this will drive prospects to take favorable actions. Better ad quality will give your favorable results at lower costs.
Impact of Relevancy Score on Cost of Advertising on Facebook
Relevancy score is inversely proportional to ad cost. So, if your ad is having higher Relevancy Score, you will be required to pay the lesser cost for running Fb Ads. The score is calculated as per the feedback that your ad would receive. If you are going to receive positive feedback, your relevancy score would be higher and vice versa.
Ad objectives, video views, conversions etc. are some of the positive indicators. The relevance score is given on a scale of 1 to 10.  It will change as per the interactions of your audiences with your ad and their feedback. Therefore, in case you want to decrease your cost of advertising on Facebook, you should try to increase your relevance score.
How Your Industry Affects Facebook Advertising Costs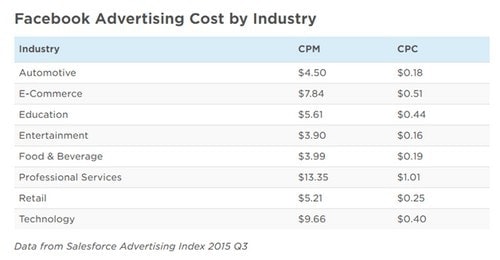 We should consider this consistently. In case you are offering Smart Apple Watches, your expense per result will most likely be higher than in case you are offering a 30-day Facebook Advertising Course. Your industry and the item you are offering have a considerable measure to do with your cost of advertising on Facebook.
Summing Up…
All the aforestated factors play a significant role in deciding the cost of advertising on Facebook.
Still, if you have any doubt about Facebook advertising and marketing then write to us. We would be more than happy to address all your queries.
Liked this post? Check out these detailed articles on
Topic of Facebook Marketing
Alternatively, check out the Marketing91 Academy, which provides you access to 10+ marketing courses and 100s of Case studies.