Thousands of different blogs are started every day by people like you and me in the hopes of earning money through blogging but not many people know how to monetize their blog and earn money from it.
Blogging is not that simple now as competition is increasing daily and it's really difficult to get quality targeted traffic (visitors) and without visitors, there is no money!
Some people take blogging as a hobby and to express their passion while some take blogging as a full-time career. But to generate enough money to do blogging full-time or even have a part-time income, you'll have to use some proper monetization strategies.
So, if you are thinking how to monetize your blog, then read this post completely as we guide you how to earn money from blogging which you can also apply to your blog.
The process of earning money from blogging
Your blog will no longer be a blog once you monetize it. It will be a small business where you are providing value to your users by solving their problems and in return, you are monetizing your readership to earn money.
If you want to have a quality blog having a loyal audience, then you have to give proper time to blogging and follow a proper strategy.
Basically, the process of making money by blogging is simple and can be divided into six steps:
Do some initial research on the topic on which you want to start a blog
Setup your blog
Start creating useful and valuable content (which can solve visitor's problems)
Get some initial traffic by using different channels of marketing
Build your audience and engage with your readers
Finally, monetize your blog.
And remember one thing, blogging is not something which can make you a millionaire overnight. It takes a lot of hard work, perseverance, and patience to earn a good amount from any blog.
But as long as you are ready to put the efforts, you will get the benefits sooner or later.
How much can you earn by blogging?
Now answer to this question is not any specific amount as a few bloggers earn millions of dollars every year, others make a decent full-time income, while some make no money at all.
Some established bloggers also share how much they earn in the form of income reports, both to motivate other that they can earn that amount also and to show how popular their blog really is.
For example, Smart Passive Income owner, Pat Flynn made over $2 Million last year only from his blog which is based on passive income and investment.
But not everyone publishes their income reports and it's difficult to estimate every blogger income without any solid numbers as some can make a good amount even with less or medium traffic while some are not able to make that much money even after having huge traffic as they don't know how to monetize their audience.
So, let's see some of the best ways of monetizing your blog.
Ways of making money by blogging
There are many ways but they can be broadly classified into five main categories:
Selling digital/physical products
Services
Other income streams
Most common ways of generating revenue through blogging are display ads, affiliate marketing links, and search ads.
1) Advertising
This is the most common and popular way of monetizing any blog. In this, companies advertise their products or services in front of their potential audience which in your case will be your blog visitors.
Display ads are used by many bloggers which can be placed in your blog's sidebar, header, footer or within your blog content.
There are many companies which connect advertisers with potential marketers such as:
Though, AdSense by Google is a very popular Ad network as it gives slightly better revenue as compared to other networks.
But remember one thing, to earn a good amount from these Ad networks, you'll need a good amount of targeted traffic as the revenue is directly based on your blog's traffic.
Due to its popularity, Google has very strict rules for AdSense and only quality blogs are given permission to show ads on their blogs. That is why sometimes to look for AdSense alternatives becomes a requirement.
Other than Display Ads, you can organize Giveaways, Sponsored posts and other sponsored partnerships with direct advertisers which is also a very good way of monetizing the blog. But this also requires a good number of monthly visitors to work.
And if you have a loyal and targeted audience, you can work directly with advertisers and then you don't have to pay anything to any third party sites like Google Adsense. Direct advertising is also more stable and provides good revenue.
2) Affiliate Marketing: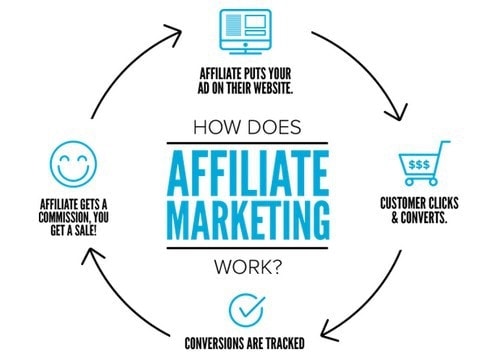 This method of monetizing is also very popular and works very well. As an affiliate marketer, you will promote someone else's products/services to your blog audience. You will get a commission whenever any user will click on your affiliate link and makes a purchase. A special link will be used to track your affiliate transactions so that you and the company can know whenever a purchase is made.
There are thousands of affiliate programs available and some of the popular ones is:
Amazon Associates
Bluehost Affiliates
CJ
ShareASale
Many companies have their affiliate programs and the best thing about affiliate marketing is that you can start earning even if you have a small amount of traffic.
But the traffic should be relevant to the products/services you are promoting as only those people who are interested in things which you are promoting will buy from your affiliate link.
You can share your affiliate links through various mediums like blog posts, in footer or sidebar, emails, eBooks/PDFs or in videos. Though some affiliate programs restrict the share of links in certain places like in social media or in emails.
Also, link the images used in the posts with the affiliate links, as usual, users click on the images intentionally or even unintentionally and just by clicking, cookies get stored in their browser and the probability of earning affiliate commission increases.
And remember one thing, always disclose before your affiliate link else your audience will not trust you and it is against the terms of conditions also.
3) Services
Selling your skills as services is also a very good option of earning for bloggers. You can use your expertise related to your blog topic and help people in their work and get paid in return for your time.
You can, for example, start consulting to new bloggers or companies, or speaking at conferences and sharing your experiences.
Some bloggers charge on the hourly basis or as a complete package as well. If you are experienced enough and established in your field then you can make good amount quickly.
But this is not scalable so look for other alternatives also while doing this so that you can have multiple sources of income.
4) Products
Selling digital or even physical products is the main source of income for most of the popular bloggers. This method is also very scalable and not requires a very huge traffic or audience to start.
Though creating a product which can be sold require a great amount of work and creativity but this method is very lucrative for bloggers. Products can be of many forms such as eBooks, PDFs, software, online courses, premium content, photos, WordPress themes or plugins, and applications.
Digital products don't require any inventory or any huge marketing budget and you can start selling your products to your existing audience via your blog posts, emails or social media groups.
You can also choose a monthly business model where your users will have to pay monthly to have the access to your digital product.
Some extra tips to make money by blogging 
Divide your income sources and don't rely only on one source, for example, use advertising and affiliate combined.
Try different monetization methods as some methods work only in particular niches while some work in other.
Don't focus only to make money from your blog. Give value first to your readers, build the relationship with them and then monetize your readership.
Don't start your blog by copying someone else's idea or by doing what others are doing already. Think something unique and have something which can differentiate you from others.
Great content is the key to long-term success so make sure you have original and high-quality content on your blog.
And finally, don't be too aggressive with your audience. Sell them your products/services but don't spam them with your endless emails or messages.
Conclusion 
Use your blog to build credibility and a relationship with your audience and that can give you many more money making opportunities in the long run.
Once you build your authority in your niche, you can monetize your blog in a number of ways and can generate a good amount of passive income monthly. So focus on providing value to your readers first.