GDP represents the value in monetary terms of all goods produced and services provided within a county's geographical borders in a given period of time i.e. monthly, quarterly or yearly. GDP accurately indicates the size of the economy with GDP per Capita closely relating to living standards of individuals
How Gross Domestic Product (GDP) works
The GDP equation is as below
Gross Domestic Product (GDP) = C + GE + I + X – M
Where;
Consumption(C): Refers to Durable goods (goods with a lifespan of more than three years) and Non-Durables e.g. foodstuffs and clothing and services
Government Expenditure (GE): Have varied variables from defense, infrastructure, education et cetera
Investment (I): Refers to Nonresidential Expenditure i.e. expenditure on Plants and equipment, Residential expenditure and business inventories
Exports (X): Goods produced locally but exported to other countries, they are added to GDP
Imports (M): Total goods and Services imported into the country are deducted from GDP
When calculating GDP, It is important to factor in current dollars and constant dollars. Current-dollar GDP takes into consideration the economic activities in current day dollars. Its however difficult to make period comparisons with current dollar due to inflation effects
On the other hand, constant dollar GDP rate factors inflation thus allowing easy comparisons through the conversion of dollar value from other periods to present day.
GDP can either be Nominal or real. Nominal GDP involves measuring of raw Data whereas Real GDP measures data and takes into consideration the inflationary effects thus allowing for economic output comparisons for different periods. The information pertaining inflation can be obtained through can be through;
Fixed weight price deflector: It measures the price change of more than 5000 goods and services
Implicit price deflector: Measures both the spending patterns and price changes.
The growth of GDP from one quarter to the next is called GDP growth rate. GDP per Capita refers to the measure of GDP per person and is the most preferred in comparing GDP Data between countries.
Role of Gross Domestic Product in the Economy
Being a representation of a country's economic health, GDP sums up the total country's production i.e. from goods purchased to those produced within the geographical boundaries of a nation. When it declines for more than two quarters, the economy will be said to be in recession. On the other hand, when it grows rapidly, inflation may arise leading to increased interest rates from the Federal Reserve. GDP, therefore, plays the following important roles in the economy;
Since GDP is calculated by taking into consideration the country's investment expenditure, consumer spending, net exports and government spending, it portrays the overall economic picture to investors. Also, when GDP levels are compared as an index, the trend of the economy can be easily highlighted.
To analysts and decision makers in most countries on matters relating to the economy, GDP is an essential tool for policy formulation and planning
When GDP is calculated it can be negative or positive. A negative GDP growth is an indication that the economy is doing badly. With analysis, GDP indicates whether the Economy is in recession or boom.
GDP stats are important in determining the type of monetary policies to be implemented. If as per statistics the country is experiencing a slow growth rate, expansionary monetary policies will need to be implemented as a boost to the economy. Monetary policies may as well be used to ward off inflation in a robust economy.
Inventory data and corporate profits in GDP reports provide resourceful information to equity investors. Corporate profits data shows profits before tax, operating cash flows and a concise breakdown of how major sectors of the economy are performing.
GDP strengths and weaknesses
GDP's ability to provide an overall picture of the economy is likened to a space satellite that surveys weather across continents. It allows central banks and policymakers to know whether the economy is expanding or contracting. It, however, has the following weaknesses;
Its data is untimely since its released quarterly
Revision of data may lead to alteration of historical figures
Underground Economy is never accounted for as it only considers official data.
In some economies, GDP is regarded as imperfect compared to Gross National Product (GNP). This is because GNP measures total output from companies and citizens regardless of location, i.e. GDP does not account for profits generated by overseas companies operating locally as their output will overstate the actual economic output.
It does not take into consideration the well being of citizens. A country may experience significant growth in GDP but on the contrary increased production may pose environmental risks if the waste is not managed properly. Its increase may also lead to income disparity.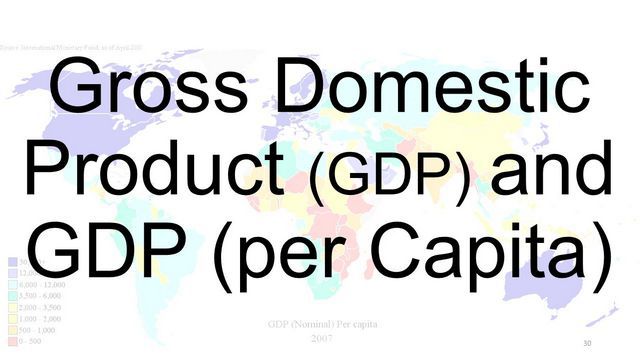 Among others, GDP also exhibits the following strengths;
It is one of the best indicators of growth and economic output
Real GDP accounts for inflation thus easy comparison with different periods
An essential tool for data analysis to investors, economists, and policymakers
A good indicator of consumer behavior; this is through the Consumption (C) component that shows consumer expenditure on goods and services produced within the country. Increased consumer expenditure is an indication of high consumer confidence on manufactured goods and services. Low Consumer expenditure is an indication of ebbing confidence and future uncertainties.
In Conclusion
Gross Domestic Product (GDP) may be considered a not very accurate measure of the economy compared to Gross National Product (GNP). It also may not include household production, nature's negative effects and the citizens' standards of living but it still remains the best method of measuring economic growth owing to its few data points.