Definition
Green Bond is a bond issued by the Government, which is also tax-free and serves the purpose of financing projects aimed at mitigating climate or environmental changes.
Green bonds are used for accomplishing objectives related to-
Energy efficiency
Curing pollution
Protection of aquatic and terrestrial species
Managing water quality and quantity
Clean transportation, etc.
If you are also curious about what is a green bond and how it works, then this post will uncover all the mysteries for you. Without any further ado, let us get started right away
What is Green Bond?
Green bonds are like any other bonds people invest in. It is a fixed income instrument whose proceeds fund environment-friendly and climate mitigation causes and projects.
They are comparatively new bonds that are becoming extremely popular with investors all across the globe. The popularity of green bonds is expected to rise in the future as there is more awareness about the environment, and the incumbent needs to protect it.
Because of the tax-free status of Green Bongs, purchasing them would account for a profitable investment in comparison to some of the other taxable bonds.
The tax-exempt status of Green Bonds acts as a financial incentive crucial for adept handling of environmental and social problems. Municipalities or federally qualified organizations preferably use such bonds for the improvement of underdeveloped localities.
The first green bond was issued in 2007. Ever since its first issuance, the popularity of the green bonds has been on a steady increase. The year 2019 saw the issuance of around 254 billion dollars worth of green bonds.
Types of Green Bonds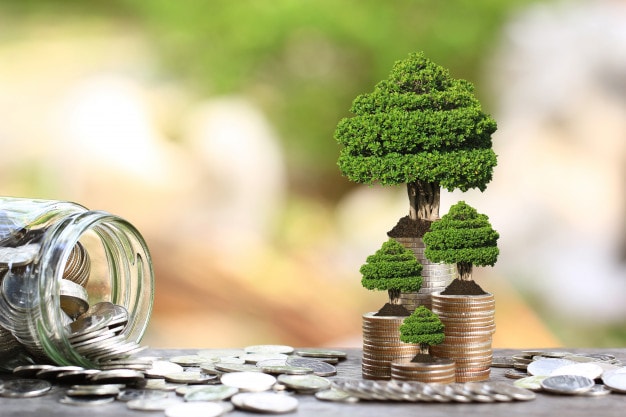 Green bonds were created with the single thought of having a positive impact on the environment.
Proceeds from the bonds are earmarked for sustainable development projects and are backed by the issuer's assets. The different types of green bonds are:
1. Use of Proceeds Bond
The proceeds from these bonds are earmarked for green projects. The green bonds and the issuer's other bonds have the same credit rating on the stock market.
2. Use of Proceeds Revenue Bond or ABS
The capital raised from these bonds is reserved for green projects or the refinancing of green projects or projects for sustainable development.
3. Project Bond
Money raised from these bonds is ring-fenced for underlying sustainable development projects. Debt recourse for the person who has purchased a bond is only to the project's assets and balance sheet.
4. Securitization (ABS) Bond
The money is raised for refinancing green project portfolios or earmarked for green projects. The debt recourse method here is to a group of projects that are grouped.
5. Covered Bond
The money pooled in is used to fund projects included in the covered pool, and if the issuer is unable to pay the debt back, the recourse is from the covered pool of projects.
6. Loan
The funds collected are used for eligible projects with full recourse to the borrower if the loan is unsecured. If the loan is a secured one, the recourse is to the collateral.
7. Other Debt Instrument
The amount raised is earmarked for sustainable development projects.
Types of Projects that Green Bonds Fund
Different environmental, as well as societal causes fulfilled by these bonds, are-
Sustainable Energy
Pollution Prevention
Sustainable Agriculture
Fishery and Forestry
Protection of Terrestrial and Aquatic Ecosystems
Clean Transportation
Clean Water
Sustainable Water Management
Benefits to Investors
Being Part of Sustainable Development
Tax Exemption
Benefits for Issuers
Emphasis on their Green Assets and Business
Positive Marketing Strategy
Diversification of Investor Base
Lower Borrowing Cost Leading to Reduced Expenditure
Final Thoughts about Green Bonds!
In a general sense, it can be believed that green bonds will deliver longer-term returns as most of the supported projects are government-sponsored.
In the short term, the lower liquidity might be a concern, but with more green bonds being issued, this will not be an issue anymore.
Green bonds are a sure-fire way to sustainable development. Sustainable development is the collective responsibility of the people living in this world.
It is our way to ensure safe and better living conditions for future generations. Green bonds are a big step forward in the right direction to achieve this end.
How important do you consider the green bonds in serving social and environmental causes?
We would also like to see your Green Bond Definition in the comment section below.