Gross Domestic Product (GDP) is the monetary value of all finished goods and services of a country in a given time. It measures a country's economic activities i.e. total consumer expenses on final goods and services, government spending, all private expenditures, investments, and exports while excluding imports
Types of GDP
There are different types of GDP as below;
Real GDP: The pricing of finished goods and services is based on the previous year; which is usually the base year. It is a more accurate method of determining economic growth since its inflation adjusted. I.e. inflation effects have already been taken out.
Potential GDP: This is a representation of economic conditions that are ideal. I.e. 100 percent employment record in all sectors of the economy, stable prices in finished products and a steady currency
Actual GDP: It shows the state of doing business in a given economy. It is real- time and measures all output at a given time.
Nominal GDP: This is the total of finished products and services at current market rates. It takes into consideration the market price changes due to deflation or inflation
3 Main GDP Calculation Methods
GDP is used to measure the monetary value of finished goods and services. I.e. goods produced in the country in a given time duration (probably a year) then purchased by consumers. GDP accounts for all goods produced within borders of the country and taken to the market. Consequently, it considers non-marketable goods and services e.g. education, defense and other government provided services.
It is important to note that some other productive activities may not be included in GDP calculation. Examples include unpaid work (volunteer jobs), prostitution and some black market activities; since most of them cannot be accurately valued. Again, GDP does not account for depreciation of capital stock e.g. buildings, machinery, production equipment et cetera.
Three different ways through which GDP calculation is done include;
1) The Income Approach of GDP Calculation
According to this approach;
GDP = TNI + ST + Dep + NFFI
Whereby
Total National Income (TNI): This represents the sum of profits, rent, interests, and wages
Sales Taxes (ST): Also referred to us consumer tax. It represents the tax imposed on goods and services by the government
Depreciation (DEP): Cost of wear and tear attached to a fixed asset
Net Foreign Factor Income (NFFI): Calculated by obtaining the difference between the total amount earned by companies and citizens abroad and the total amount that is earned by foreign companies and citizens within the country
2) The Expenditure Approach of GDP Calculation
This is the most common method of evaluating GDP in the economy. It considers the total money spent by different groups participating in the economy. According to the expenditure approach;
GDP = C + G + I + NX
Whereby:
Consumption (C): This represents consumer expenditure within the country's boundaries. Examples include durable goods that last for more than 3 years, nondurable goods (clothing and food) and services.
Government Expenditure (G): This is the country's total government expenditure. Examples include expenses on salaries of government workers, expenses on infrastructure, expenses on Medicare, internal security et cetera.
Investment (I): The total amount a country spends on inventories, capital equipment, and housing
Net exports (NX): Net exports is obtained by subtracting a country's total imports from total exports
3) The Value-Added or production Approach of GDP Calculation
During the production process, the value added to a product is determined. It is usually calculated by deducting the initial price of a product from the supplier to that of the seller. Value-added can also be explained as the total sales minus intermediate input value in the production process. E.g. subtracting the value of flour (as an intermediate input) from that of bread (the final product)
Adjusting Inflation
Due to the fact that GDP is based on a country's monetary value of finished goods, it is subject to inflationary effects. If the price of goods remains high for an extended time duration, the GDP will be affected. With unadjusted GDP therefore, it is not easy to tell whether GDP increased due to improved production or high prices of products. It is because of this reason that inflation adjustment was arrived at so as to help in obtaining Real GDP and not Nominal GDP. Adjusting outputs prices to reflect those of the base year allows for GDP comparisons with previous years so as to determine whether the economy is experiencing any real growth.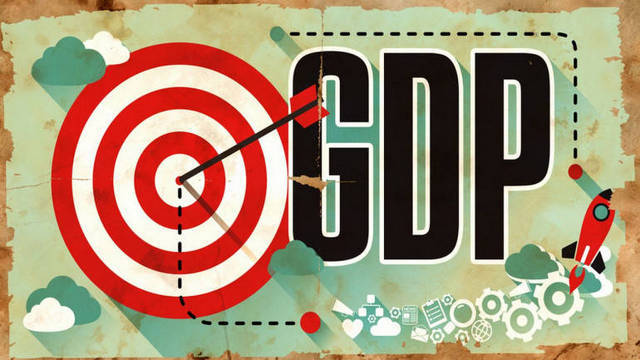 Setbacks
In as much as GDP is a good way of analyzing the economy state of a country, it is never considered a perfect approach. This is because of some weaknesses exhibited by this method i.e.
The inability to account for activities that are considered illegal e.g. dealing in drugs; such generate a lot of income that circulates in the economy yet not factored in GDP calculation.
Not only illegal activates; some well-meaning services e.g. services from nannies or maids are not considered when calculating GDP even though payments to them are factored.
Consequently, if a person cleans his or her own laundry, makes his own food and takes care of his /her children without the services of a maid, such roles do not contribute to GDP. It may, therefore, be instrumental in determining the economic performance of a country but it may not show the true picture of citizens' welfare.
Conclusion
Through GDP, the economic performance of a country can be analyzed. This analysis can be via different GDP calculation methods i.e. the income approach, the expenditure approach, and the value-added approach. With GDP information, policymakers are able to tell whether the economy is progressing or weakening so that restrictions or improvements can be imposed.
Investors also use it to make decisions on asset allocation. On the other hand, when a country experiences an economic slump, business returns are low, consumers cut on spending and lower stock market pricing experienced. All these happenings influence investors' decision to invest in a particular country.