Facebook events have become a trend now in order to gain a good number of traffic not only on your Facebook page but also to get higher conversions. The Facebook events tool or option has become one of the hot favorites of many of the individuals due to its various benefits and results.
If you wish to know about the Facebook Event & Event Response Ads, it is needed that you know about the Facebook events that are being created by so many business owners and ad makers now.
To create a Facebook Event Ad, you'll have to create an event. For this, you need to be a Page administrator or manager and a co-host of that Facebook Event.
Step by step instructions for Facebook Event Ads
Such ads can help you get more responses or increase ticket sales on Facebook. Your CTA should say Get Tickets or Interested to convert more audiences. Those who work with Facebook ticketing partner can let their ad visitors buy tickets directly from that event page.
Utilizing the Traffic or Conversions objective would enable you to sell more tickets for your event.
The Traffic objective coordinates individuals to your application or site to buy tickets while the Conversions objective helps you track on-Facebook ticket conversions.
Different steps you need to follow to create Facebook Event Ads
You need to go to your Event page and then click and choose Sell More Tickets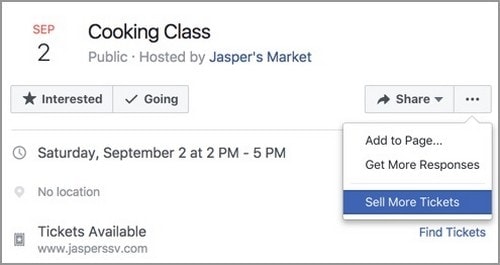 This will open Ads Manager and consequently choose the Traffic objective. In case you need to utilize the Conversions objective, you can go for that as well and then choose Continue
In case you picked Traffic, pick where you need your visitors to proceed and then give information about your audience, budget, placement, schedule, etc.
In case you picked Conversions, pick the site or application you need to advance and choose a pixel or application event.
Now, you go into the Audience, pick who you need to see your Event Ad. You can utilize an Event Custom Audience to contact individuals who reacted to your event. You can likewise bar a particular Audience from that event. Then snap Continue when you're done on this page.
Later in the Identity, you need to pick your Facebook Page or Instagram account for the Event Ad
Now, you can design how your Facebook Event Ad will look by picking the format and pictures
You need to go in the Links segment and select the link type for your Event Ad. On the off chance that you pick Website, you should enter the link for your event to guide individuals to where your tickets are being sold. In the event that you pick Facebook Event, you should select a ticketed event you need to advance with your Facebook Event Ad
Finally, you should give all the other details or subtleties of your event, see the preview of your event advertisement and snap Confirm when you're set.
Facebook Event Response Ads
In the last few steps, we chose Traffic or Conversion as Goal to sell more tickets, but if you want to get more responses for your Event, you should utilize the Engagement goal, as this will help you get more responses for your event.
When you create Event Response Ads, your event will demonstrate an Interested button to individuals who see your advertisement. Let us go through steps of these ads-
You need to go to your Event page and then click the and opt for getting More Responses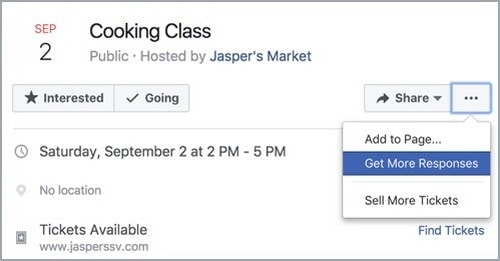 This will open the Ads Manager and naturally chooses the Engagement objective and the Event reactions alternative. Then you should snap Continue
Now you should give the subtleties for your audiences, spending plan, ad placement, and preferred schedule
Then you should choose an identity for your Event advertisement. At that point, you should structure how your Facebook Event Response Ad will look by picking the configuration and pictures
Later, you need to go in the Event segment, give a description of your event and pick the Facebook Event you need to advance
Finally, you should give out the other needed information, see the preview of your Event Response Ad and snap Confirm when you're set.
Once you create an event, you can easily and effectively promote the event from your Page to transform it into a Facebook advertisement. Boosting events would be more useful for those that don't consistently make Event Ads in the Ads Manager. Remember just Page administrators and editors can do this.
Knowing the benefits of the events can help you in getting to know more about the event and event response ads.
Benefits of Facebook Event and Event Response Ads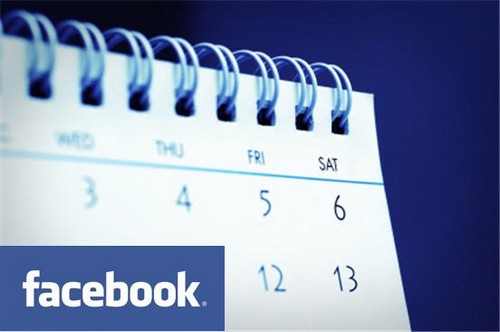 1) Invite People Easily
When you need to invite your friends for an event, you just post an event ad and soon your friends start knowing about it. It is possible because your friends are in your connection and hence they can see your event post.
What to do when you are starting event for your business and wish more people to show up. In this case, one of the best things that you can do is to make your event public. You just need to go to the privacy section of the events option and need to change the privacy from friends to the public.
In this way, your event will get more exposure and a high number of people will be able to see your event.
2) The Response Notification
Just creating an event is not enough, you need to follow up so that you can come across a huge number of audience. For this, Facebook comes up with the RSVP notification option.
Whenever you create an event, there are options such as 'Interested' that can be of great help. When a customer is interested in the concept of the event, he or she might click on the 'Interested' button. You will get an immediate update notification about who have clicked it.
These customers can be potential even if they have not turned to visit your event due to some reason. You can create custom audiences of this type and retarget them with a new advertisement so that you do not lose out of such potential customers.
3) The RSVP Reminders
Apart from notifying you about who are the customers who have got interested in the event, Facebook also helps the customers in this. It may happen that there are a number of customers who actually are interested in the event but may forget when the event is nearby.
Facebook puts up a reminder for such customers so that these potential customers do not miss out your event. People who have not come up even after the reminders can be targeted again later on because they can also turn up into potential customers because they have at least shown their interest in the event.
4) Suggested Events
This is a great help that Facebook offers to both the advertisers as well as to the customers. Facebook tracks down the various events in which customer visits or is interested.
Also, at times, the customer is tracked based on his or her interests in different products and services. Based on such interests and data, Facebook suggests about your event to various customers.
When an appropriate event is suggested to a proper customer, the chances of the customer to attend the event increases! Also, when such customers visit your event, there are higher chances that they will become your potential customers soon.
5) Event Notification For Friends
Facebook uses a number of creative ways so that the event that you are promoting can reach out to the wide number of audiences either directly or indirectly. Suppose, a customer not much interested in the event and also Facebook has not suggested the customer with the event, this does not mean that the customer is out of the zone of targeted traffic.
There can be friends in the person's list who are matching up with the event suggestion. Facebook sends a suggestion to such friends and when the friend gets interested in the event, Facebook sends a notification to the earlier customer about the event in which his or her friends are also interested.
There are a number of times when such type of promotion really helps and many indirect customers turn out to be interested in the event.
6) Increases Visibility With Locations
Here, Facebook makes use of the reach ads concept were reaching out the local traffic and customers is the main focus. So, when an event is happening, Facebook puts up the location where the event is about to take place.
This way, people who are residing at that particular location or somewhere near to the location becomes the target audiences too. So, location becomes one of the factors that can be used to invite people to the event.
7) Customer Engagement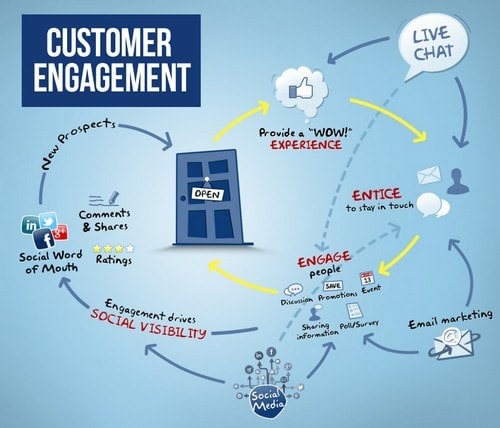 Making use of the Facebook Event & Event Response Ads is highly useful because it not only invites customers for the event but also increases customer engagement. This is done by starting a chat option where the customers can comment or ask questions and the organizers can answer the queries instantly.
When someone is interested in inquiring about the event, of proper answers are provided to such an audience, there are high chances that the audience will get converted into a potential customer soon.
8) The Tool
Facebook will help you in creating great events, inviting the right customers for it, and also tracking the activities happening. You can check out the number of people who are interested in the event, and they can target them to put up more ads so that you can increase the conversions of potential customers.
The various tools provided in the Facebook Event & Event Response Ads are helpful in targeting the customers in a different way so that you can try your best in attracting them towards your products.
Facebook ads have been in high demand now because they are known to show up quite effective and fast responses. Making use of options such as Facebook Event & Event Response Ads can help you in getting across a wide number of traffic together so that you can have conversions in a higher number.