If you have started Facebook Ads, one of the things that you always wish to have is an option through which you can narrow down the targeting of the exact customers so that you can have high traffic conveniently.
Well, there can be some of the ways such as Facebook detailed targeting that you need to know in such a situation.
1) AND Vs OR Targeting
Before you know the difference, it is would be interesting and important to know about the OR targeting.
This means if you try to present your ad in front of two types of audiences, your ad will be presented to only one type of audience. This is the thing that happens with Facebook Ads. This can be explained well with the help of an example.
For example, if an ad is created for the audiences who are interested in A or B, then the ad will still get the display in front of the audiences who are interested in A.The AND targeting is the new thing that has come up and has resolved this situation to a great extent.
Now, when the ad is created for audiences who are interested in A and B, then the ad is displayed to three types of audiences and these three types being the ones who are interested in A, the ones who are interested in B, and the ones who are interested in both A and B.
2) Create the Ad Set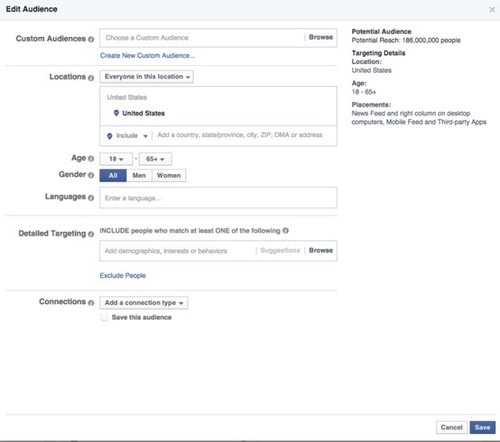 The new targeting has come up with a number of new things in it.
One of the major ones is the introduction of AND targeting and mentioned above.
Apart from this, there are many more other things that have changed such as the disappearance of a number of demographics such as relationship, work, education, life events, and many others along with the behavior.
Such demographics are now in the section of 'detailed targeting'. This actually is more worthwhile because they can be used with the AND targeting to get through higher audiences.
3) The Goal
To set up the goal for your target audience is extremely required.
The new Facebook detailed targeting method is all about getting a proper goal to reach. This targeting method can involve a number of relevant interests of the targeted audiences and at times it can also include such details that are almost diverse than you thought. It is only that you need to mix and combine different details and options so that you can reach out to the high audience.
This can be explained with the help of an example. If it is a cookery website, as per the most common notion, women will be highly focused on the site. You can focus women between the age of 18 till 44.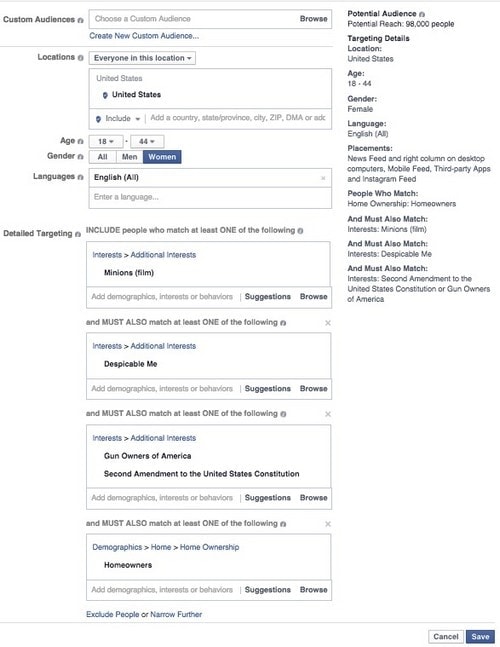 Now, to narrow down the search, you will select more detailing such as housewives. Again, to narrow down the search, you can get include other details such as creative. It may happen when you narrow down the search to creative, the audience may reduce down to quite an extent.
In such a situation, you can start adding more detailed such as men with the interested of cooking. This search can be even narrowed with kids with the interest of cooking. This way, with so many diverse and combined detailing, you will ultimately come up with an audience that is huge.
When you have come up with such a huge audience, the traffic on your site is sure to soar up when you display the Facebook ad about your website in front of them.
4) Understanding Different Traffic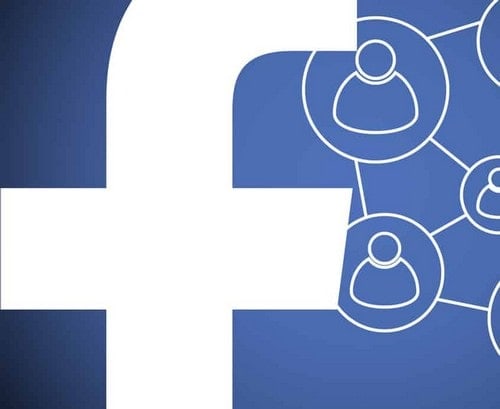 While making use of the most advanced ways of targeting such as Facebook detailed targeting, it is important to know about different traffic available.
Normally, you will come across two distinct types of traffic and these are the cold traffic and warm traffic. Wish to know what these are all about?
5) Cold Traffic and their Targeting
The cold traffic is those who are not already of your brand at all. You need to do extra effort in such category and in here the Facebook detailed targeting can actually work in a great way.
You need to target their detailed searches such as behavior, interests, and others so that you can get an audience that matches the profile of your website. For example, there is a person who does not know about your brand but often browses through the ads of clothes. You too have a website that deals in apparel.
You may also find that the person clicks on those ads only that offer a discount on clothes. So, your strategy here should be a focus on such audiences and bring up an ad that has the best of products displayed along with discounts on them.
6) Warm Traffic and their Targeting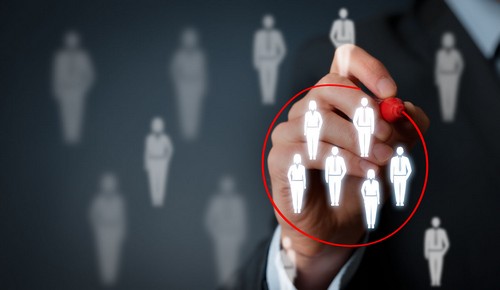 The next type is that of warm traffic. This refers to the traffic that is already aware of your brand but needs a little push so that they can visit your website. Here again, you can make use of the detailed targeting. But the difference is this that the detailed targeting will not be used to make the target know about your existence but to motivate them to visit you.
There can be interest options such as a particular type of a product, or a particular price range, or so on that can be used to target such audiences and get them to visit your website.
7) Look-Alike Audiences and their connection with Facebook Detailed Targeting
The look-alike audiences are there since quite some time now but it also works great with the new Facebook detailed targeting feature. It offers a new dimension when creating look-alike audiences. There was a time when the look-alike audiences were created only on the basis of factors such as who has visited the website and have done what kind of activities. Also, it was on the factors such as the type of videos and ads the viewer watches on Facebook or what type of ads and videos the friends of the user watches on Facebook.
Now, the dimensions have changed a bit in this term. Along with such people who are visiting the site for different activities and also with the people watching videos on Facebook, the factors now also consider different detailed targeting options such as interests, behavior, and many more.
For example, you have a restaurant business and for this, you creating ads on Facebook. There so many people on Facebook who visit different hotels and restaurants for enjoying meals and having fun with their groups. Now, the interest of visiting restaurants can be calculated, to show them up with your ads.
Similarly, there can be many other such audiences also such as the people who are the member of the foodie group or someone who has got his or her own food Facebook page, and many more.
Apart from this, there can be also a number of people who may have a habit of clicking pictures of food and posting on Facebook. You never know, these people can also be a target who can come up o your website and also to your restaurant. So, the detailed targeting can be used in a great way to search such audiences.
The next step is quite obvious that you need to create a look-alike audience group of various interests and can retarget them.
One great thing is that you can combine various interests with the help of the AND targeting and can retarget them to display your best ads in front of them.
Whenever you are retargeting the audience, make sure that you come up with an ad that is much more impressive and unique than the previous one.
You should surely include a call to action so that the audiences can instantly visit your website and can show their interests there.
8) Getting Access To Detailed Targeting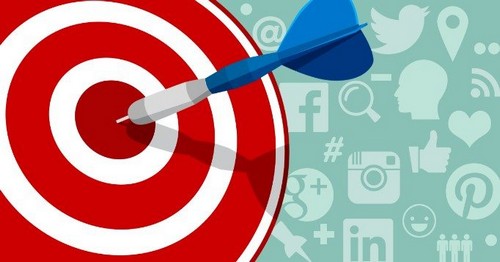 There are some Facebook users who already have got access to the feature of Detailed Targeting whole some other still do not have. But of course, it can be made available through various ways such as contacting the executives on the live chat of Facebook support. Also, you can drop in an email to the support with all the requirements.
Once, it is done, you can get a response soon and can get started with your detailed targeting feature enabled. Making use of the detailed targeting, you can actually get across the audiences that were not within your range sometimes ago.
Conclusion
Facebook Ads are a great way today to showcase your products and brands and to reach out to a wide range of audiences. In such a case, it is important to make use of different strategies so that you can get more visibility on your ad and the traffic on your site can get increased.
Along with different options and tricks, one of the best ways that you can have is to get used of the Facebook detailed targeting. It offers you a detailed search of different audiences based on a number of demographics such as interests, location, behavior and many others. All these combined together can surely provide you with a wide and more relevant audience base.