Advertising a product or a brand has become much easier today with the help of various social media options such as Facebook, Instagram, Twitter, and many others. Facebook Ads is one such option that users are going for such advertisement options for the products and brands.
In this Facebook Ads Guide, we will be diving deep into the world of different advertisements that businesses of all proportions can run effective and make profits.
But first thing first, why Facebook Ads?
Why Businesses should use Facebook Ads?
The Facebook family has been benefitting a wide number of businesses and marketers today by offering options of advertisement across a wide range of platforms such as Facebook, Messenger, Instagram, and other Audience networking.
Curious about how is it done?
Facebook ads are based on two important elements
One of the elements is the format of the advertisement that depicts the looks and the second one is the placement of the advertisement that depicts where the ad should be displayed.
How to decide upon the format of the ads and how to know which placement will be the best one?
To do so in the right way, you should adhere by the proper guidelines so that you can create a proper and impressive format of the ads. Also, the Facebook Ads guide will help you in understanding how to place the ads properly on the social platform so that you can gain high traffic on your page as well as on your official website.
When you are about to put up an ad on Facebook, the first thing that you need to think about is the format of the ad. There are a number of different formats that you can try for your ads such as Videos, Images, Collections, Carousel, Slideshow, Instant Experience, Lead Generation Ads, Offers, Post Engagements, Event Responses, and Page Likes.
This Facebook Ads Guide is basically designed to cover the key idiosyncrasies of all these ad formats, so let us start exploring the list-
Different Types of Facebook Ad Formats
1) Facebook Video Ads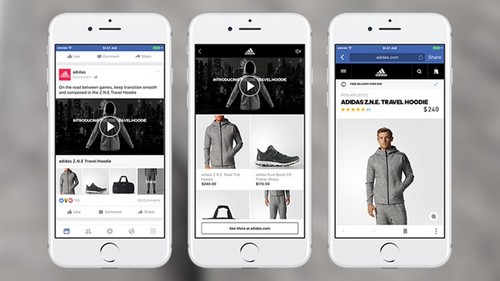 Facebook video ads are the most used adoptions today on the platform of Facebook.
People love to watch a video that can help you know about a message, without getting involved in reading a story or a paragraph. In order to get the attention of the viewers on the video ad, it is highly important to make the videos attractive and eye-catching.
What can you do to make such attractive videos for the Facebook ad?
Key Characteristics of Facebook Video Ads
There is a set of guidelines that you can follow that can surely help you in making the video ads highly attractive so that high traffic can get attracted towards your ads within a stipulated period of time.
One advantage that Facebook offers to its users is that it supports almost all types of video file formats. But if you wish to have the best video ad experience on the social network, you should make sure to have various options such as H.264 compression, fixed frame rate, stereo AAC audio compression, square pixels, progressive scan, and so on.
There are a number of video recommendations available that can help you in getting the best ad to create and post. It is always recommended to upload the best and a high-resolution video that can meet up the ratio limits as well as the file size.
The maximum size of the file should not exceed 4GB and the duration of the video should be a minimum of 1 second. The maximum video length again should not exceed more than 240 minutes. Though the video captions and video sounds are optional but this can actually enhance the experience of the advertisement. If you are having text, make sure should be of about 125 characters.
Be aware that often the thumbnail images that you are using should have texts lesser than 20% as this may reduce down the delivery experience.
When you are putting up the video with a link, make sure that the heading should have 25 characters and the link description should have 30 characters. Facebook also offers an amazing experience of 360-degree videos.
2) Facebook Image Ads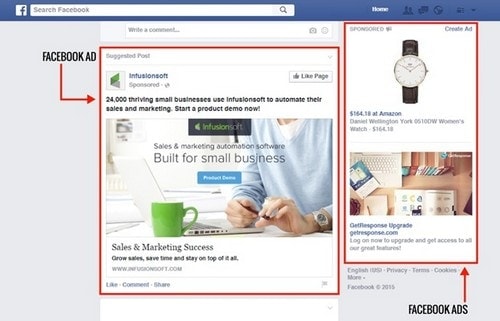 Even when you are putting up image ads, there are a few of the guidelines that you should abide by having a proper and experience.
Similar to the videos, you should try to upload the highest resolution of the images also.
Make sure that the images are in the file formats of PNG or JPG and should have an image ratio of 9:16 – 16:9. It can have a text of 125 characters. Again similar to the videos, images having 20% text can have a much lower delivery experience.
If you are putting images with a link, you should have an image ratio of about 1.91:1 – 1:1. Though normally, you should upload the highest resolution images, an ideal one will be of a minimum of 1,080*1,080px. The headline of the image should have 25 characters and the link description should have about 30 characters.
Facebook also encourages the use of the panorama or 360-degree images as such formats to enhance interactiveness.
Whenever you are putting up the image ads, you should make sure of some of the technical aspects such as a minimum image width of 600 pixels, a minimum image height of 600 pixels, and an aspect ratio tolerance of 3%.
3) Carousel Ads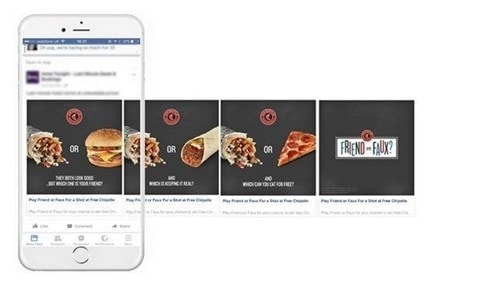 Carousel is one of the most commonly used ad formats on Facebook because it is highly capable of attracting the attention of the viewers. It comprises of many images of videos with individual links in a single ad. It can be used to tell a story or to display a number of products within a small space itself.
In order to get a carousel ad, you should have a minimum of 2 and a maximum of 10 cards. The image file format should be in JPG or PNG. The maximum size of the images can be of 30 MB while that of videos can be of 4GB. The length of the videos can be a maximum of 240 minutes. The recommended resolution of the image should be of 1080*1080px and the recommended ratio should be of 1:1.
The text in both cases should be of 125 characters. If you are putting them up with links, the headline should have 40 characters while the link description should have 20 characters. You should have an aspect ratio tolerance of 3%.
4) Collection Ads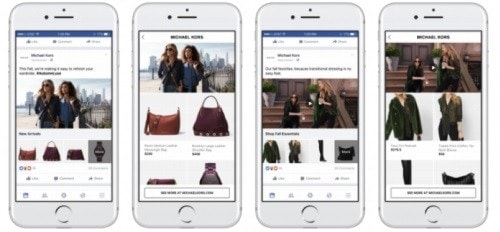 A collection ad can be said to be one of the most attractive and interactive options for ad format on Facebook. It makes it easier for the viewers to browse through the products through their mobile devices and can order them.
There is a cover and that may have an image ad or also a video ad. When this cover ad or the collection ad is clicked upon, it navigates the viewer to the page of Instant Experience. This is an instant page that consists of various products from where you can browse different items and they can order the option that you wish to have.
Apart from the image of the video that you need to make use in the collection ad, there are a few other things that you need to take note of. You should have a headline of 25 characters and text of 90 characters.
5) Other Ad Formats
Apart from the ad formats that are described above, there are many other formats too that can be used for the purpose of advertisements on Facebook. Going through these formats are also an important part of the Facebook Ads guide.
The first one is the lead generation format. This is an ad format this come up either with an image or a video and also at times with the carousel format. These formats are also supported with a form in which the viewers need to put up their details such as email id or other contact details. Such info can be highly useful as they turn into leads for the brand.
The second one is the offers ad. This again may consist of an image or any video format or even at times the carousel format. The difference is that the products displayed are along with some special offers such as discounts and so on.
There are other types of Post Engagement ads that are created and shared to get a high number of views, likes, and comment on them. This is needed to get higher engagement on a page so that these engaged leads can be used up ahead in other marketing strategies.
Event responses ads are great to promote an event that you have organized. The event ad can be created with the help of an image or a video. Such ads are created to showcase the details of your event that you have organize and also to drive responses from different traffic on them.
The Page likes ads are such ads that are again designed with the help of an image of a video. Such ads are mostly created to attract the viewers to get navigated to the Facebook page and then like the page.
Conclusion      
Facebook ads are highly trending today. But creating the Facebook ads is not that easy and you should know the right ways to do it.
Having a proper Facebook Ads guide can help in a huge way so that high traffic can be attracted to the ads and they can be converted into potential customers of the brand or the product soon.
Want to know the right ad format for your business? Share your details with us and our experts will guide you in the process.