Facebook users already know how intriguing the platform is. Not only does it allow in sharing posts, but it also helps people connect with their close mates and family. However, Facebook is just not touted as a social networking platform. In fact, it is effective for any business growth and eventually responsible for generating sales and leads.
Ensuring conversions for your advertisements can be ensured by running Facebook Ads for Conversions that can enable you to optimize lead generations, conversions, and sales.
So, if you wish to know the process of optimizing Facebook Ads for Conversions to generate leads and sales, then you are in the right place.
For the beginners, who haven't yet tried the advertisements on Facebook before, they should first learn how to run an Ad campaign. In this informative guide, you will be enlightened with the effective steps to create Facebook ads to jump up to the conversations.
How effective Facebook Ads are for Conversions
Facebook comes with an in-depth targeted feature which makes it one of the best platforms to get qualified leads.
There's no denying the effective ways of getting the profit in running FB ads. And it happens to be the best ways for growing your business at a fast rate. Nevertheless, the performance rate of Facebook ads depends on whether or not your business is equipped with a positive strategy.
Sans a right business strategy, your money can go right down the drain.
Hence, before diving into the steps to create effective Facebook Ads for conversions, here's a little information about the strategy.
What to do When Facebook Ads are not working?
Facebook is solely touted as a social networking platform and never a shopping platform. Due to this, there occur both right ways and wrong ways of approaching FB ads when it comes to converting the campaigns.
As per assumptions, Facebook ads are anticipated to work like any other form of advertisements. Here, you get a product and service which you have to post through an ad. Upon then, you get the possible sales. But much to the knowledge of customers, this is not how Facebook ads work.
When someone is on Facebook, he or she isn't looking for products to buy. Instead, he or she is looking for making personal connections with other people. And if the ad actually looks like an ad, everyone would apparently ignore it. So, how to run Facebook ads to increase conversions. To know more about Facebook Ads for conversions, scroll down.
Step-by-Step Guide to Run Facebook Ads
Instead of hard-core advertisement, your ad must be something more personal – something that doesn't approach in a sales-based manner. And rather than seeking the sale, you should give something valuable that is free.
You can also get the email address of the target customers in order to market the business to them in the near future. What becomes the best approach is, build an ad which can link to the opt-in landing page. You can also optimize the ads for the website conversation. To know the steps of creating Facebook Ads for Conversions, read more.
Step 1:
Running a Facebook campaign requires targeting ads to potential customers. After you focus on the right people, you should always put the ad right in front of millions of people.
There might be times when you see your audience increasing hugely. Unless they are the right people, you cannot initiate in growing your business. Hence, you should always create custom audiences specifically. For that, visit FB account and tap on the 'Ads Manager' option.

From there, select Tools and then choose Audience Insights.
You will see a new tab opening. You can either create the audience from scratch or start off with the ones connected on the page already. Choose the 'Everyone on Facebook' option.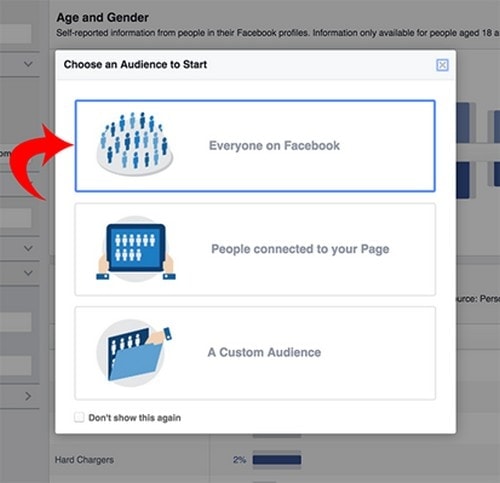 Here, you'll be prompted to include countries to the audience.
Upon then, you have to adjust the gender and age in order to match the target audience. Next visit 'Interests Field' to hone the ideal customer.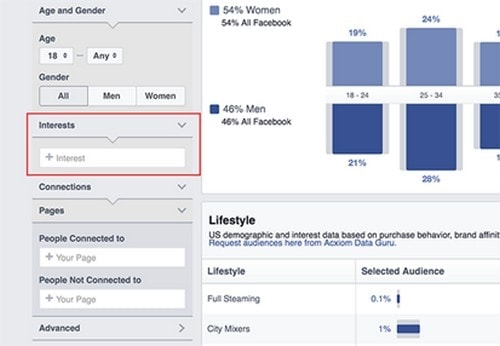 Then, in the search box, you need to type your Favorite page.
You should always remember to target just one interest group every audience. In case you wish to target another page, then you create a separate audience for everyone.
Once you finalize your audience, you should save all the settings.
Step 2:
The next thing you need to do is set up the FB campaign. You should Create Ad where you will get a dialogue box.
There, you have to choose the 'Power Editor' option.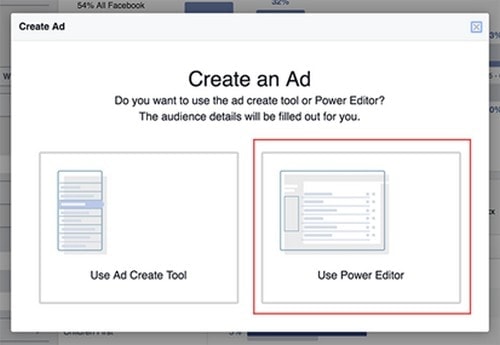 Tap on the next dialog box at the dashboard of the Power Editor.
There, you will notice three-tiered icons –Ad Sets, Ads, and Campaigns. In the ad icon, choose the 'Create Ad' option and then 'Create New'>> 'Buying Type' >>'Auction'>> 'Objective' >>'Website Conversions.'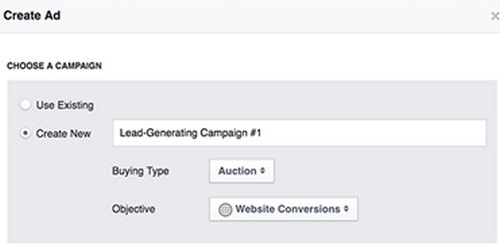 Then, you need to 'Choose' >> 'Ad Set' >>'Create New' >>'Create New Ad' >>give the ad a particular name >> 'Create'.
Step 3:
Upon then, you should set the tracking pixels up. You have to select 'Choose a conversion event' and then choose 'Lead'. Now, the time has come to set up a tracking pixel.
Tracking pixel lets Facebook know when you get a conversion on your site. So, for this, you may install Facebook Pixel by PixelYourSite plugin on your site. If you have activated your plugin, you need to go back to Power Editor then Tools and finally Pixels,

This will give your tracking pixel-

Now, you should go back to your site' dashboard, open PixelYourSite plugin and then, paste your Facebook pixel id in the 'Activate Plugin General Settings'. Finally, save the settings.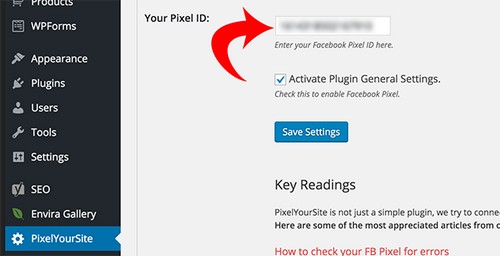 This way, the Facebook conversion pixel code will be added to the pages of your site.
Then, for tracking your leads, you will be required to add an event. For this, you should click upon On Post/Page Events tab> Entering URL of Thank You Page.
Next, Event Type> Lead> Activate Standard Event Setup> Save Standard Event Setup Settings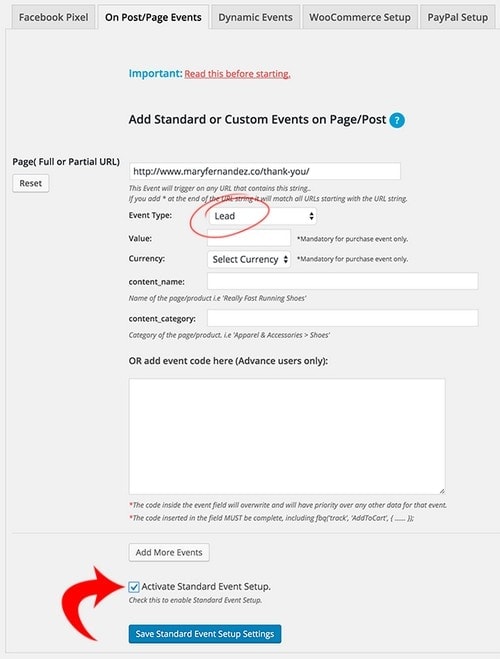 You can also text your pixel here if there are working correctly or not by using the Pixel Helper extension of Chrome.
Then, Thank You Page of your site in Chrome>Pixel Helper Icon

Click on Pixel Helper Icon>2 Pixels Found- This shows that both pixels are added accurately.
Step 4:
After that, the next thing for you is to set the budget, targeting, and schedule.
Go to the edit screen of Power Editor Ad Set. Here you can set the daily budget.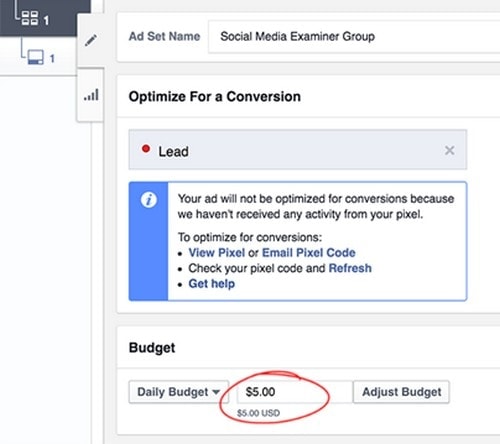 In the same way, you can set Schedule, Audience, Placement, Optimization, and Pricing of your ad.
Step 5:
Now you have to give a proper designing philosophy to your FB ad and Run it
To start off, you have to visit the 'Ad' section and edit the ad accordingly. You are supposed to create an image or video for your Ad.
Then, you should upload your image in the power editor. After this, you are supposed to add destination URL for your Opt-In landing page. In the same way, you need to fill the Text field, Headline field, News Feed Link Description field, CTA button like Sign Up or Download and then you can see the preview of your Ad-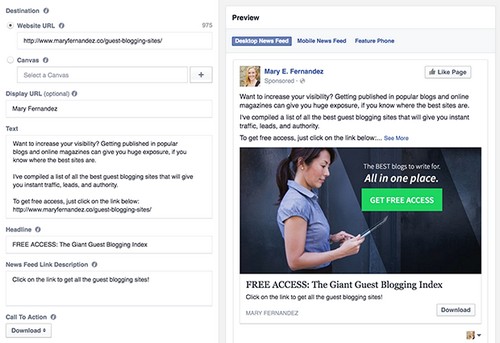 If you are satisfied with your Ad copy, you are ready to run your Ad.  For this, you need to click on Review Changes in your Power Editor-

You need to check if New Campaign, Ad Set and Ad are there. Then you should click upon Continue.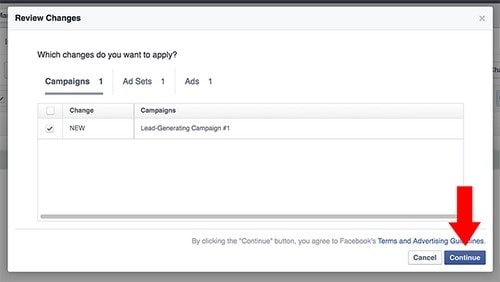 If you see all your changes are done accurately, you should click upon Done.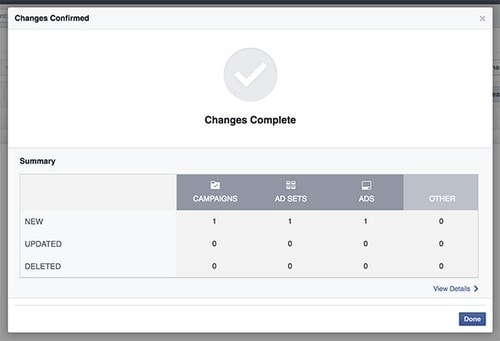 Some of the time, approval may take a little time, but once your Ad is approved, it will show Active.

Step 6:
Now, the next thing you're supposed to do is to analyze the result.
For analyzing results, you need to choose the Campaign from Power Editor and then Performance. There you can see columns like –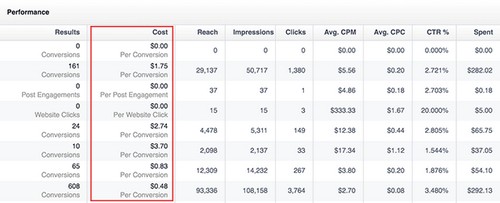 Results
Cost
Reach
Impressions
Clicks
CPM
CPC
CTR%
Money spent
In the Cost columns, you can find out the details of Cost per Conversion.
Conversion is highly dependent upon your relevance score. The higher the relevance score, the better it becomes. But if the score is less than 5, it might be possible that your ad will not convert.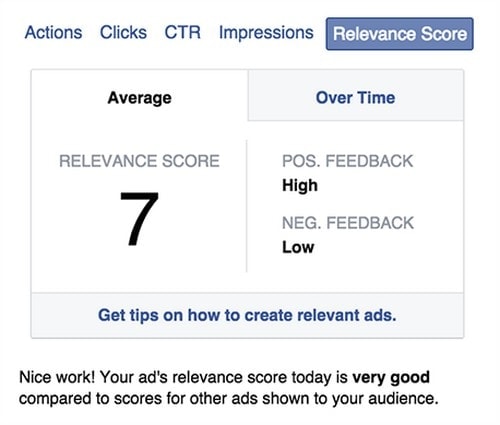 Wrap up
Facebook Ads for conversions happen to be a smart way of getting highly qualified leads for business growth at a reasonable price.
In case you seek an effective campaign, you shouldn't sell directly through the FB ads. Rather than doing this, you can direct the ad to a landing page with some free incentives for signing up for the list of the email. This will help you sell your services and products more effectively.
Still, have any doubts about the Facebook Ads and their conversions? Feel free to write us in the comments