Are you planning to use Email marketing campaigns to connect and communicate with your audiences? – Then the very first thing that you need to consider here is in-depth knowledge of different Email Marketing Services.
This will empower you to channelize well scheduled, automated, and conversion-driven Email Marketing Campaigns.
Here, it is quite pertinent to say that despite being the oldest method of online marketing, Emails are still quite impactful and relevant.
If you know the right way of using them, they are ready to offer you the best conversions at the most affordable prices. Business owners, industry experts, and technology evangelists rate emails so high compared to other internet marketing channels.
Around 90% of business professionals prefer using emails for communicating their business motives, while 60% of B2B experts rate emails as the most powerful marketing mediums to generate revenues.
Even CTR of B2B Email Campaigns is approximately 47% higher in comparison to B2C campaigns. Email marketing is affordable. You can easily manage and automate it.
Besides, you can establish a direct connection with your audiences and enjoy full control. Email Marketing Services adeptly ensure all such benefits.
They empower you to create and convey captivating messages to influence audiences productively. Using their services, you can manage your contacts, automate emails, segment users, and measure the performance of your campaigns.
Above all, they will never let your emails get spammed or blacklisted. Therefore, without any further ado, let us go through some of the best Email Marketing Services and understand how they can benefit you-
Top 10 Email Marketing Services in 2020
1) Constant Contact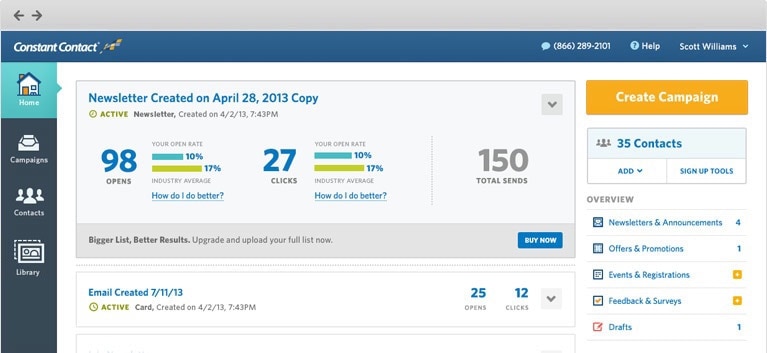 Constant Contact is one of the most popular Email Marketing Services that is top-notch in channelizing personalized and well-automated email marketing campaigns for you.
You can find out a variety of adjustable email templates that can let you send engaging emails right away.
It lets you choose your niche, your industry, and your preferences. Given your choices, Constant Contact offers you modified content and advertising strategies that will enable you to step up your email advertising to make it conversion driven.
You will find out customer support for live chats, discussion forums, emails, vast library resources, automation support, segmentation benefits, etc.
Constant Contact offers you full access to their 60 days of a free trial. After that, its membership begins at $20 every month for around 500 subscribers.
2) MailChimp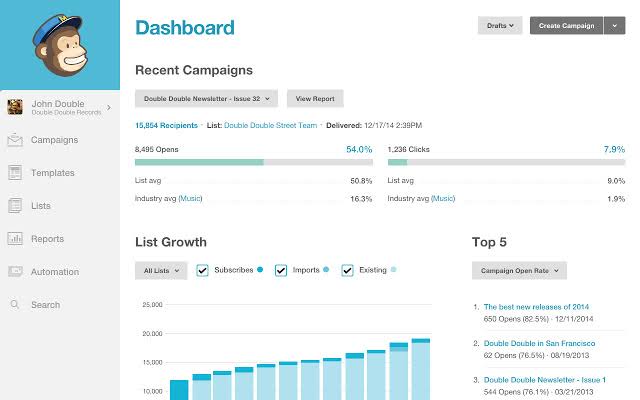 Established in 2001, MailChimp is an Atlanta, GA based Email Marketing Service owned by Rocket Science Group.
Marketers, business, and entrepreneurs utilize MailChimp all around the world. It lets its clients send more than one billion emails each day.
You can try out its free versions before going for its paid plan — no need to give Credit Card details for using a free trial version as well.
This one is considered highly useful for bloggers.
The trial version of Mail Chimp lets you send around 12,000 emails each month if your subscribers do not surpass 2,000 users.
Pricing of paid Mail Chimp Email Marketing Services begins at $10 every month, while its top highlights are accessible for $199 every month. The cost of your plan is directly proportional to your mailing list.
3) Drip
In case you're an eCommerce merchant and want to change over your site visitors into loyal customers by using personalized automation, then this one would be the most fruitful Email Marketing Service for you.
You can use this one to have interactive discussions with your clients and send messages at the perfect time. You can schedule your emails based upon their inclinations and intent to buy your product and service.
By using Drip, you can tweak your emails as per the behaviors of your prospects and customers.
It lets you customize mail campaigns as per different activities like Cart Abandonment, Returning Users, First Time Visitors, etc. You can also use it to send instant messages, show Facebook advertisements, and substantially more because of your client's behavioral preferences.
Drip will let you send emails to 100 subscribers free, and after that, you will be paying $49 every month up to 2500 subscribers. It is the best for eCommerce portals and pro marketers.
4) AWeber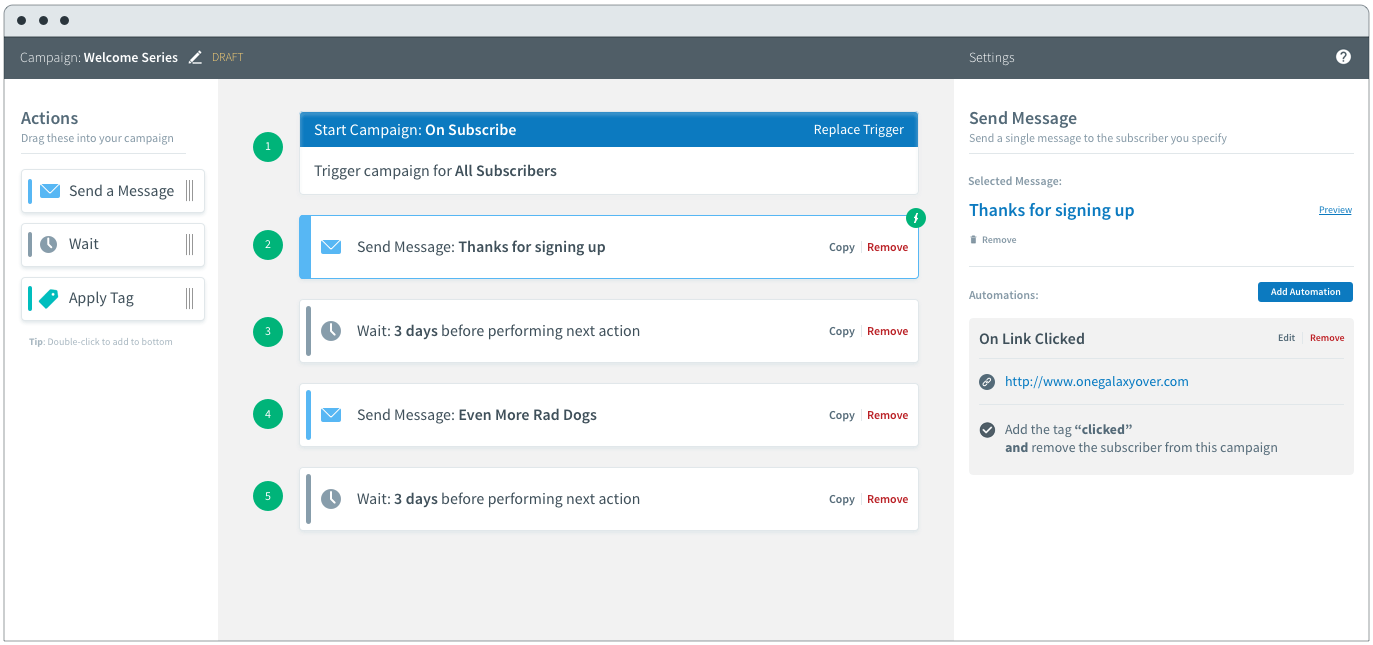 Established in 1998, AWeber is one of the most reputed Email Marketing Services that is used by 100,000 business owners around the world. It helps them widen their reach, send emails, and grow the audience base.
Its services are easy to utilize, and you can conveniently use its drag and drop editor to customize your template or create the one from scratch.
It is available with 30 days free trial. After that, you will be required to pay $19 every month for around 500 subscribers. Price is directly proportional to the number of subscribers.
It offers you pre-designed templates along with A/B testing, integration features, message builders, and so on. It also allows you to add tags to trigger automated emails.
You can also set up auto-responder follow-up Emails alongside tracking of some metrics like open rate, bounce rate, or deliverability rates.
5) Convert Kit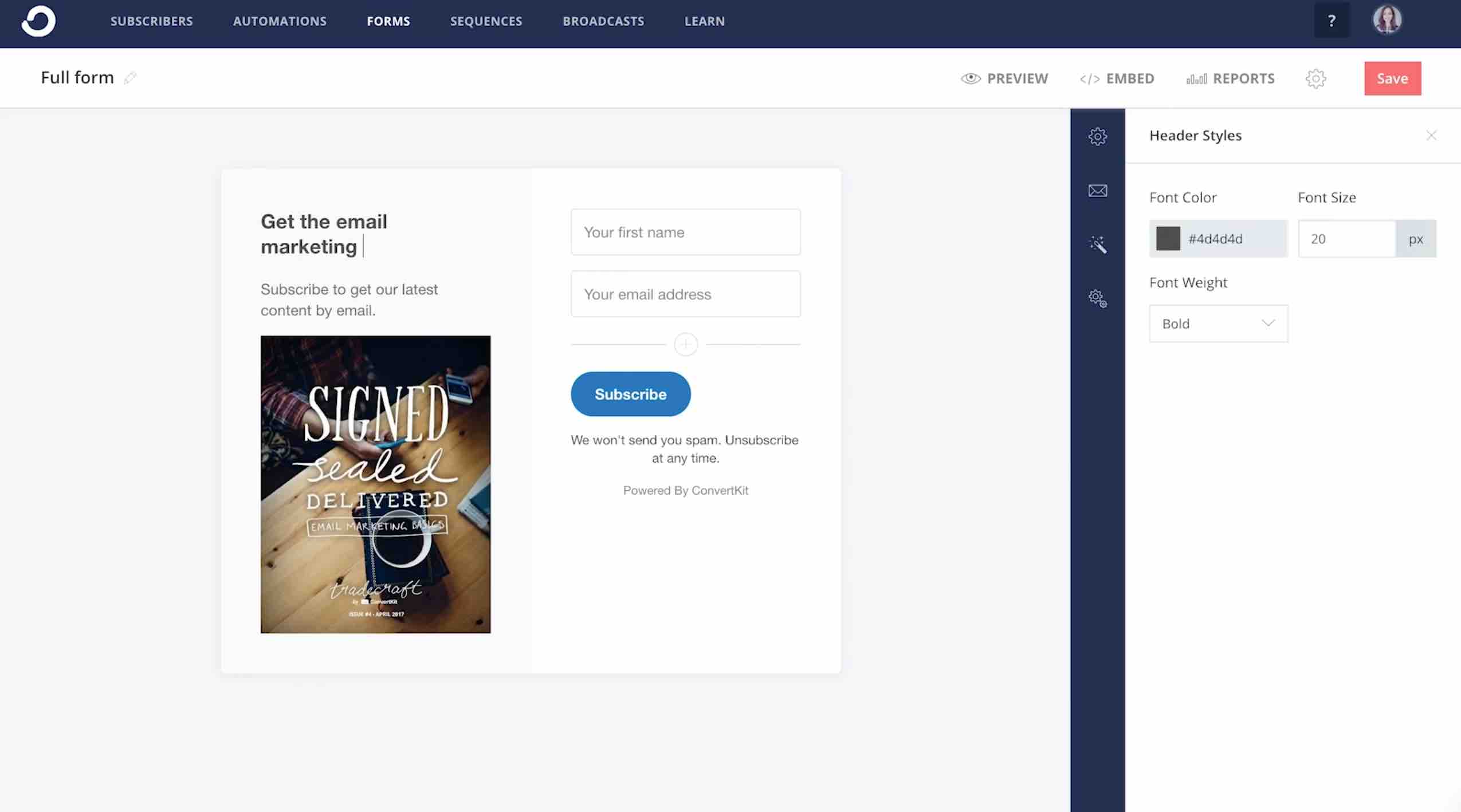 Designed especially for Bloggers, Podcasters, Publisher, and YouTubers, ConvertKit is one of the most result-driven Email Services for you.
It will let you design appealing forms and channelize customized mail campaigns to every subscriber. It is also considered quite good with its convenient Email Automation benefits.
Convert Kit allows you to use its visual automation builder for composing intense computerized email channels that can convince your prospects to be your loyal customers. Convert Kit offers a 14-day free trial. Its pricing begins at $29 every month for up to 1000 subscribers.
6) GetResponse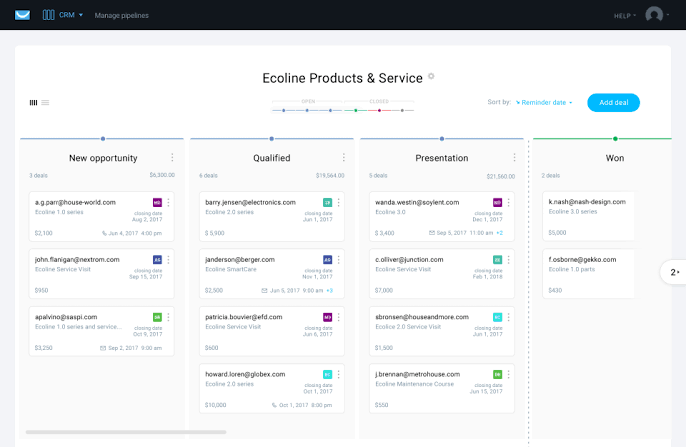 Established in 1999, GetResponse is a global Email Marketing Service headquartered at Gda?SK, Poland.
They also have offices all around the world such as Warsaw (Poland), Halifax (Canada), Bengaluru (India), Moscow (Russia), Wilmington (USA), Kuala Lumpur (Malaysia), Boston (USA) and so forth.
You can find it in 21 different languages, and 35,000+ clients in more than 182 nations are utilizing this as their most preferred Email Marketing tool.
GetResponse offers free Trial of 30 days. Plus, its pricing begins at $15 every month for up to 1,000 subscribers.
You will be required to pay $49 for 5,000 subscribers and 10,000 subscribers; you will be paying $165 every month. If you have around 100,000 subscribers, then you will be required to pay $1,199 every month.
For the one-year advance payment, you get an 18% markdown, while for the advance payment of 2 years, you may get a 30% discount.
7) Active Campaign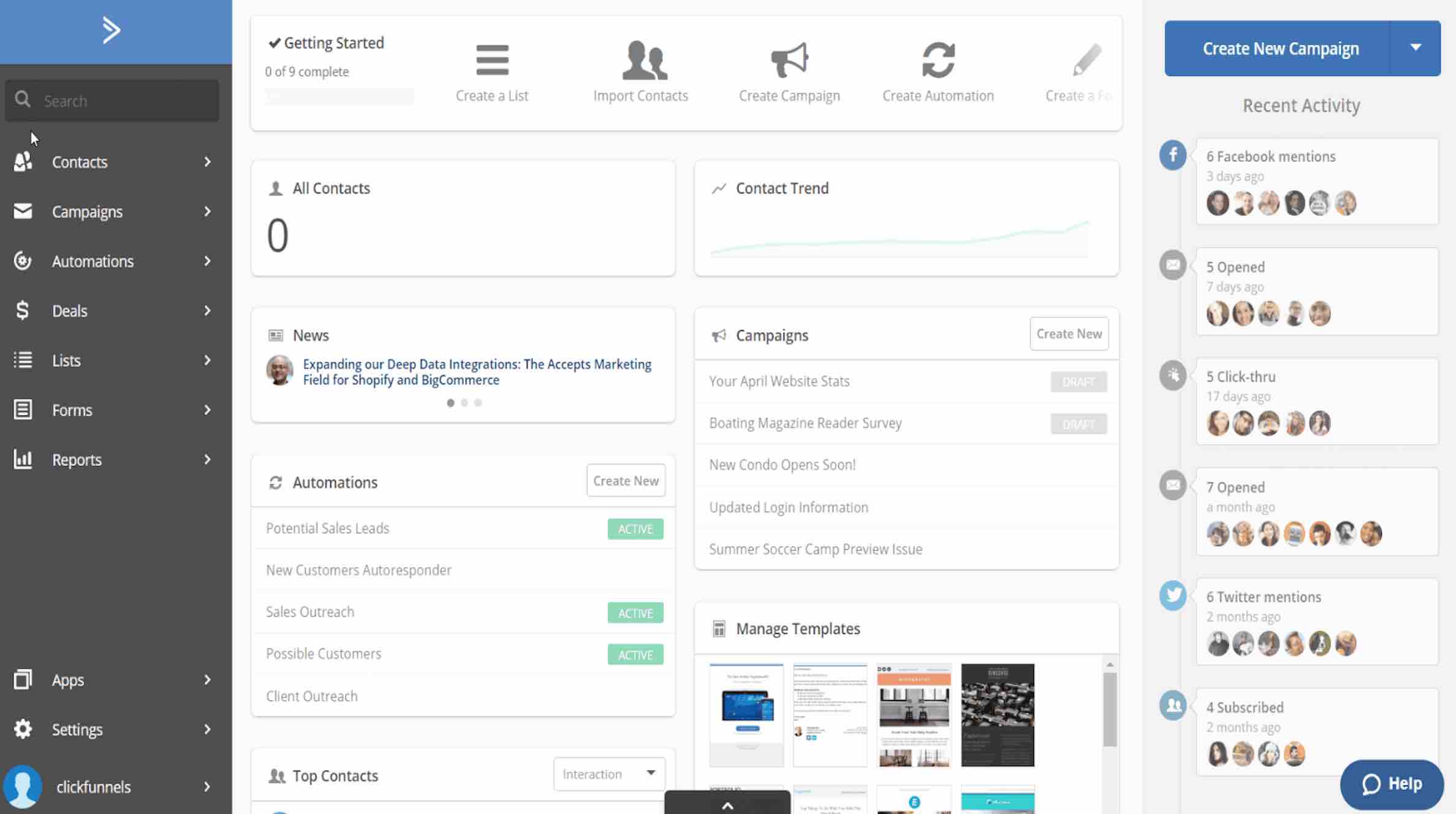 Active Campaign is one of the most efficient Email Marketing Services for interactive email advertising, CRM, sales, and automation. It comprises all the features that empower your email campaigns to be more intelligent, intuitive, and result-driven.
It has an appealing Email Template Editor along with Sign Up forms that are mobile compatible.
Choosing ActiveCampaign will enable you to do segmentation of contacts in light of their activities, conduct, location, and social information.
The ability to fetch additional information about your contacts utilizing their email address makes it highly efficient. You can also coordinate it with 3rd party tools like WordPress.
If needed, ActiveCampaign enables you to send SMS messages to your contacts for follow up campaigns.
Its free trial comes up with limited features while is basic plans begin from $9/month.
This is going to be the best Email Marketing Service for you in case you are in search of some amazing email automation features.
8) MailGet Bolt
A self-hosted Email Marketing Service, MailGet Bolt lets you send well-scheduled emails in an automated and personalized fashion.
Opt for this one if you want to send emails in a split second. With MailGet Bolt, you are not required to ensure SMTP integration. Simply purchase it and begin sending emails right away in a hassle-free manner.
It is also quite useful in offering a wide variety of tools like Email Builder that lets you create emails with the utmost ease. You can use it to send a series of messages to your clients by using drip email features. It also resolves all issues related to bounces and spamming by using its cleaning services.
Email Scheduling of MailGet Bolt enables you to reach out to the client on particular occasions when they are most accessible.
Its free plan provides a 30-days free trial in which you can target 300 subscribers with 9000 messages to 300 emails. The basic paid plan of MailGet Bolt starts with $42 that will permit you to target 10,000 subscribers with unlimited messages.
9) iContact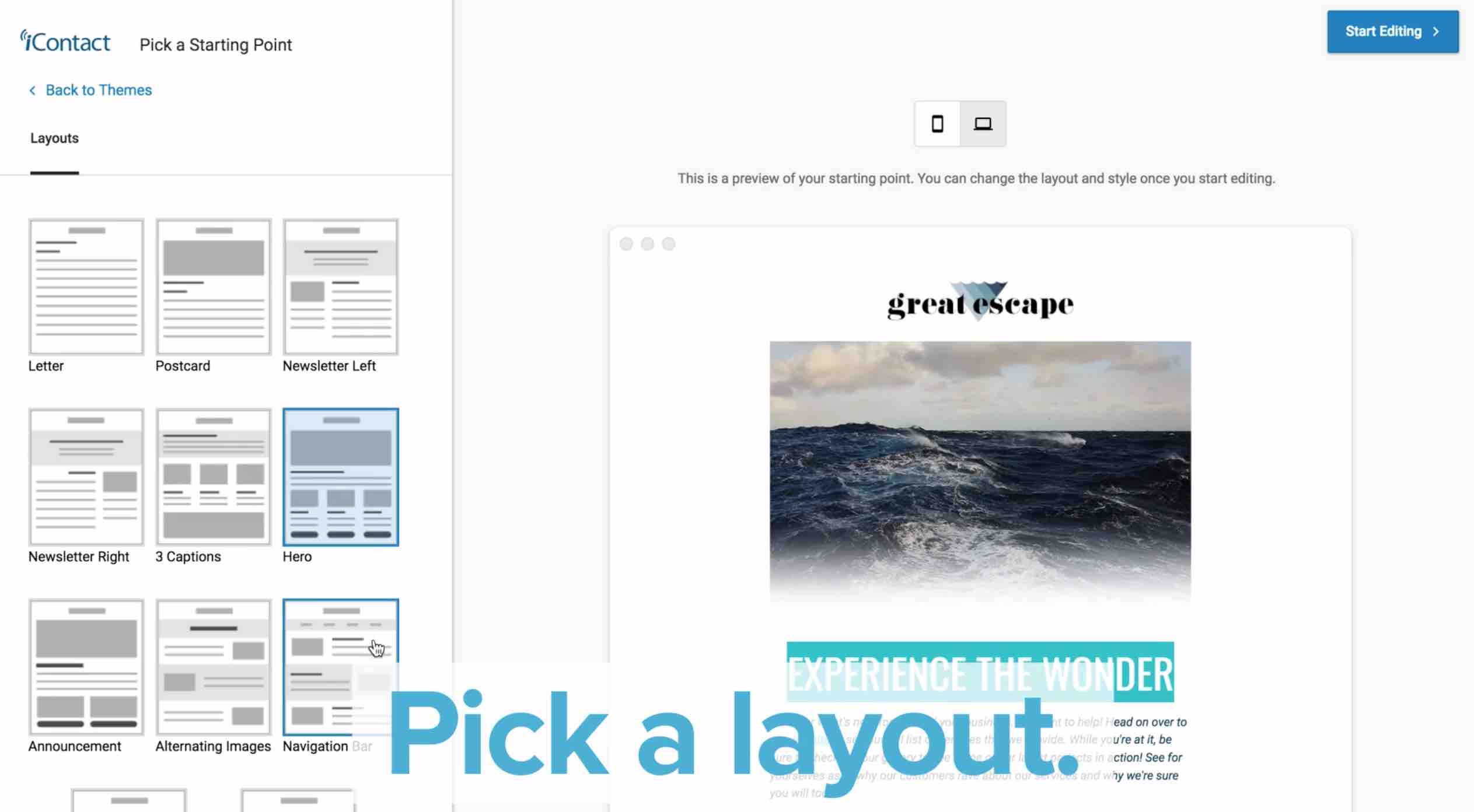 Rated as one of the best user-friendly email marketing tools, iContact lets you send responsive and attractive emails on all kinds of devices.
It is available in English and Spanish language, and you can integrate any third-party app with iContact.
Choosing its services will not only let you channelize email marketing campaigns but also empower you to send messages on social networks such as Facebook, LinkedIn, Twitter, and so on.
Besides, you can use it to track your email campaign by reviewing the relevant metrics. iContact has a Spamcheck feature that makes sure your emails reach the inbox of your recipients.
You can also get the most personalized support from the iContact team as they offer telephonic help, Video Tutorials, Webinars, and other types of customer assistance as well.
Pricing starts from $14 per Month for 500 subscribers. The professional plan of iContact comes at $99 per month. If you prepay for 12 months, you will get a 15% discount on annual pricing as well.
10) Benchmark Email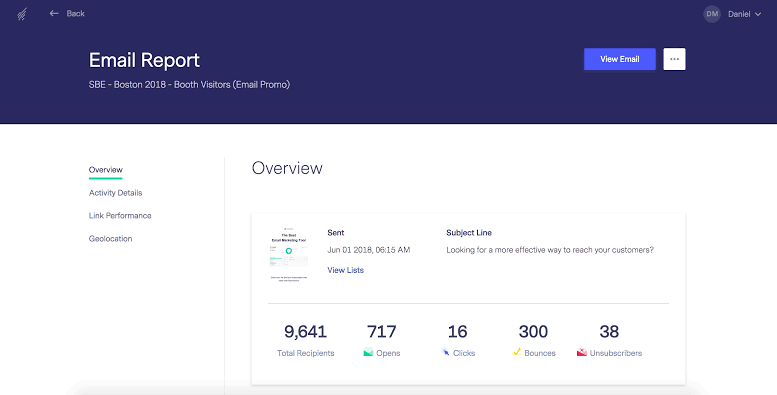 This one provides you real-time reports of email campaigns, so you can measure the performance.
It is also highly efficient in enabling you to create and send responsive and personalized emails that are device compatible. You can use it to target audiences with attractive, compelling, and well-scheduled mails.
Benchmark Email incorporates a mail editor that is quite simple to use. You will only be required to do some drag and drop activities to create an appealing and convincing mail instantly.
You can easily find the most accurate report on opened, bounced, clicked, subscription, un-subscription related activities.
Its editor also enables you to include different effects and do image editing with great convenience.
Its trial version is applicable for 30 days for around 250 subscribers. Also, it comes up with different paid plans that are based upon the number of subscribers, number of emails, and high volume.
The basic plan costs $11.95 per month, and you can use it for 0 to 600 subscribers, while the next one costs $73.95/month to let you target 10,000 subscribers.
Final Words
I hope this article would have guided you to grasp key features of best Email Marketing Services in 2018. You can choose the one as per your campaign needs and spending plan.
Want me to suggest you the Best Email Marketing Service for your business? Share your business details in the comments below.