Climate change definition is referred to as the shift in weather patterns and temperature either over a specific region or in the global arena. The earth's surface is regularly warming and climate change is the alterations that are happening as a result of changes in the atmosphere within the earth.
It is a global phenomenon that is caused to a great extent by human activities.
Understanding Climate Change
The general weather of a place over a long period is known as climate. A change in climate cannot happen because of one or two instances. It should be regular and recurring to consider it as climate change. Global climate change is referred to as the changes that are occurring over the entire earth.
Climate change is a reality that every one of us will have to face head-on. The devastation is real as mountain glaciers and polar ice caps are melting at an alarming rate, the oceans are becoming warmer, animals are changing their activities as well as migration patterns, sea levels are rising, and human beings are unable to breathe in the polluted air.
Global warming and climate change are having a direct impact on human, animal, and plant lives. Thus it is essential to create and implement policies that will fight this fundamental threat to the earth's ecosystem effectually.
Causes of Climate Change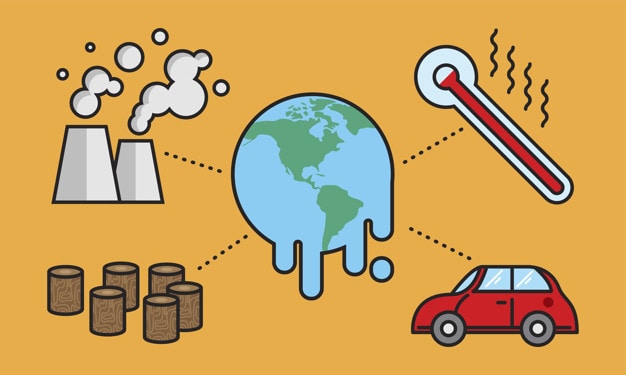 The word climate is the general condition of a specific place for several years. The change occurs because of variation in the average conditions of the weather. Sometimes the weather is snowy for an extended period, but the conditions become warmer or drier over the decades. It will be referred to as climate change because the process has been gradual and has undoubtedly changed.
Measuring climate change is a tedious process that needs lots of evaluation to come at specific results. Ocean Buoys, meteorological stations, and earth-orbiting satellites are used as monitoring devices to know about the climate.
Scientists rely to a greater degree on Paleoclimatology data from numerous natural sources like lake sediments, corals, tree rings, and ice cores to gain necessary knowledge about earlier times.
These records provide comprehensive knowledge about the long-term changes that have taken place over the years in the cryosphere, land surface, oceans as well as atmosphere.
Climate change can be caused by both human interferences as well as a natural occurrence. These are as follows-
1. Natural causes of climate change 
Several forces contribute to climate change. It includes volcanic eruptions, the sun's intense rays, storms, deadly heat, a record number of floods, and greenhouse gas concentrations.
2. Human interference that caused climate change 
The greenhouse gas emissions or GHG is caused by none other than humans. It keeps the earth warm and is one of the primary causes of climate change. It is human activities that have contributed to a rise in concentrations of nitrous oxides, methane, and carbon dioxide in the atmosphere.
The burning of fossil fuels like oil, coal, etc. for various purposes has caused emissions. Another reason is deforestation that releases carbon in the air. It is a fact that fires, logging, and other forest-degradation activities contribute to more than 20% of carbon emissions on a global scale.
Effects of Climate Change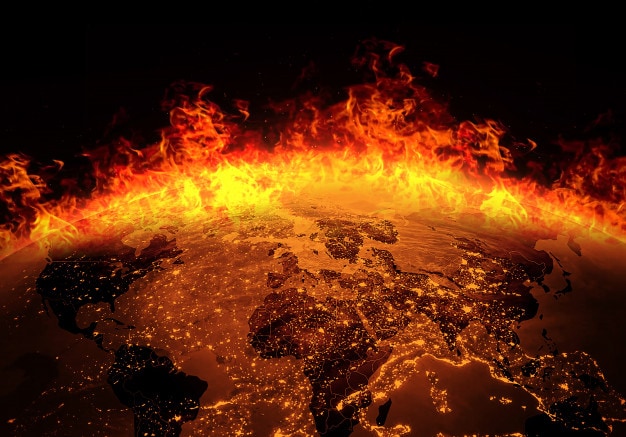 Some of the major effects of climate change are described below-
1. Extreme weather 
The first effect of climate change is mostly seen in the weather patterns of a place. During summers, the heat is becoming unbearable, and during winters, people are experiencing extreme cold.
The tropical ocean is generally warm, and the upper atmosphere is cold. Climate change boosts the temperature difference, and it is a proven fact that hurricanes happen because of the temperature difference.
Thus the global warming will also have a direct impact on hurricanes as they will become frequent and intense and create havoc on earth. Other weather events that are frequently occurring because of climate change are extreme heat waves, rainstorms, lightning, blizzards, droughts, a shift in wind patterns, and variations in seasonal temperatures.
2. Air pollution 
If you are looking for the effects of climate change, then look no further than air pollution. Both are interlinked as a rise in temperature will result in making the air polluted because of high levels of dust and smoke.
3. Ice is melting 
One of the major impacts of climate change is the melting of ice in the snowy regions. As per the reports published by the scientists and experts, the permafrost is thawing at an alarming rate. T
his has resulted in frequent bouts of land collapses and landslides. Other effects of climate change are glacial retreat and dipping in the levels of ice in the Arctic sea.
4. Rise in sea level 
When the ice melts, the water will flow down, and the level of the sea will automatically rise. Reports published by leading scientists' claim that the sea levels have increased by a considerable margin.
Glaciers, ice sheets, and polar ice are melting, and the real culprit for this scenario is no other than climate change, which is harming everything. The rise in sea levels will also result in coastal flooding that will bring destruction in those areas.
The IPCC report has predicted that global sea levels can see a rise of 3 feet by the year 2100 because of the effects of climate change.
5. Increase in acidity in seawater 
Global warming has lead to an increase in CO2 levels. It is the oceans and seas that are absorbing this harmful gas to some extent, and this has increased the level of acidity in the sea and ocean water.
If this continues, the impact of climate change will prove disastrous as several sea creatures will start facing extinction
6. Change in temperature 
If you are looking for the effects of climate change, then the most important one has been on the temperatures. The average temperature of most places on the earth has shown an increase, and as per the available data, it has risen by 0.8 degrees Celsius in the last one hundred years. Since the year 2001, every year has been warmer than the last.
There is no indication of any respite, and it is a fact that if it persists, then it spells doom for the future of mankind.
7. The greenhouse effect 
Air pollutants like CO2 absorb solar radiation and sunlight in the atmosphere and cause the greenhouse effect. This is an important reason for climate change and is proving disastrous for mankind.
Scientists are on a mission to create solutions that will encourage the use of cleaner fuels.
8. Risk of wildfire 
Climate change will have a direct impact on the wildfires, which will rise because of prolonged periods of dry underbrush and high temperatures. The dry and hot conditions will increase the chance of long and intense wildfires.
9. Effects of climate change on animals and birds
The temperature is no doubt tilting towards becoming warmer day-by-day, and this is why several species of animals and birds are moving to higher altitudes in their quest for a cooler and comfortable climate.
10. Destroy fisheries 
Heat waves, an increase in flooding, and heavy downpours will destroy fisheries.
11. Outbreaks 
If you are looking for effects of climate change, then a major one is an outbreak of infectious diseases. Air pollution is the real culprit in increasing the rate of allergies as well as other outbreaks in the world, and it increases because of climate change.
12. Vector-borne diseases 
summer months are increasing year after year. Temperatures are soaring, and the pattern of rainfall is also becoming irregular because of climate change.
As per the reports published by WHO or the World Health Organization mosquito carrying vector-borne diseases like malaria and dengue will see a rise on a global scale because of change in climate
13. Increased volcanism 
The ice covers, which were exerting pressure on the earth, were the reason why the frequency of volcano eruptions was less earlier on. Due to climate change, the ice caps and glaciers are on a melting spree, and this is why the chance of volcano eruptions has also increased.
14. Increase in earthquakes-
Global warming is one of the main reasons for an increase in the number of earthquakes in recent years.
15. Flooding 
It is a fact that warm air will have more water vapor than cooler air. In recent years the effects of climate change can be felt through a rise in warm air, which leads to more rain and, ultimately, floods.
16. Millions of people will be displaced 
Climate change results in natural disasters, and a time will come when millions of people will be displaced because of the effects of climate change.
If this happens then, migration will also lead to the displacement or loss of identities and cultures.
17. Water scarcity 
The most prominent effects of climate change will be on the freshwater. Currently, billions of people are facing the problem of water scarcity in several regions, and this has resulted in great hardship for the masses.
The experts have forecasted extreme water scarcity by the year 2100 that will have dire consequences on most of the population of the world
18. Agriculture 
Water scarcity will a direct impact on agriculture, and this will deplete the food source of mankind, leading to more massive and, ultimately, destruction. As per the recent reports published, there has been a slowing in the crop yields due to the effects of climate change on agriculture. High temperatures and low rainfall have resulted in low production of several crops like wheat, maize, and barley.
If this continues, the food scarcity will lead to political unrest on a global scale.
19. The threat to coral reefs 
If you are looking for the effects of climate change, then consider it as a high threat to coral reefs. This will also have an impact on the tourism industry as it provides income to an estimated ninety-four countries in the world.
Coral reefs are biodiversity hotspots that also protect areas from soil erosion and storms.
Conclusion
Burning fossil fuels, as well as other human activities, has brought about long-lasting devastation and resulted in far-reaching consequences.
If we continue to ignore the signs of global warming and climate change, then a day will come when human beings will not even have the necessities like fresh water and pure air to survive on this planet.
The time is ripe to look inwards and make a pledge to save the mother earth from the disastrous effects of climate change.