If you are starting a blog or a website, one of the essential elements you need to take care of would be to register a domain name. If you are new to blogging or website creation, you may find the word quite alien. What exactly is a domain name and why you need to register a domain name?
Here are a few inputs on the concept of the domain name and its whereabouts. Do note that the information we would be sharing here is directed towards the beginners and should necessarily be taken from that angle itself.
Table of Contents:
What is a Domain Name?
What Can You use as a Domain Name?
What is Domain Registration?
How to Register a Domain Name?
A little Info on Private Registration of Domains
Why Should You Register Your Domain name?
What is a Domain Name?

Put simply, a domain name is the name of your website in its URL form. For instance, www.example.com is a domain name. The last part of the domain name, in our case .com is referred to the extension. No two websites can have the same domain name with the same extension.
In the technical jargon, a domain name is an addressing construct that helps you identify the individual computers on a worldwide network also referred to as web or internet. Computers are identified using IP addresses which is nothing but a series of numbers.
However, since these may not be intelligible, we use the alphabetical description in the form of a domain name.
When a visitor types the name of a website the DNS, or the Domain Name System translates the domain name into the corresponding IP address. These IP addresses are then used to connect you to the corresponding website.
What Can You use as a Domain Name?
You can use any word or phrase as a domain name. It should entirely be your choice. However, make sure that the domain name has not been taken by anyone else. However, it would be advisable to go with a phrase that contains popular and attractive words, or expressions that may tend to bring more traffic to your site.
Moreover, it is also essential to go with a domain name that goes well with your chosen niche.
For instance, if you have a blog that publishes content on smartphones, having a domain name that has something related to fashion design can send the wrong set of visitors to your site and would be completely irrelevant.
Your domain name should be as short as possible. However, ensure that it isn't too short that it would sound weird and incomprehensible. Experts suggest a domain name length of around 20 characters as an ideal practice.
What is Domain Registration?
Now that you are aware of what a domain name is and how important it is for your online presence, you may as well be wondering what exactly is Domain Registration and why you need to register a domain.
Domain Registration is necessarily an act of reserving a particular domain name for a specific period. Please note that you never own a domain under any circumstances. You register it and get the right to use for the period that the registration holds valid.
The domain registration is ideally done on a per-year basis. After the completion of the registration period, you would need to renew your domain registration if you want to continue using the domain.
The most critical aspect of domain name registration is the fact that it provides you with an identity on the world wide web. When you register a domain name with a domain registrar, the identity of the domain owner will be available worldwide.
There are several domain registrars, a few examples being GoDaddy, NameCheap, and Hover. Most of the hosting service providers whom you launch your websites with also offer domain registration.
The pricing or the subscription charges of a domain would vary depending upon the extension that the domain carries. If your domain name is country-specific like .us or .in, you may find them more expensive.
How to Register a Domain Name?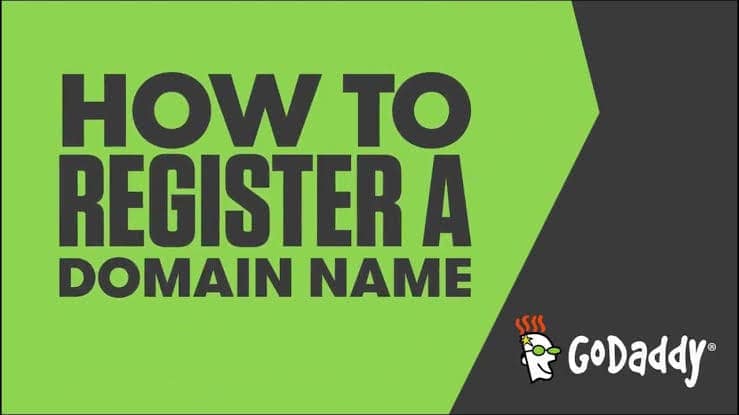 So now you have understood what exactly is a domain name and why it is used. The next step would be to find how you can register your domain name. Well, it should be one of the easiest options you can go with.
Just visit the website of any of the domain registrars like GoDaddy, Namecheap, Bluehost. GoDaddy is ideally one of the prime options and a popular one at that. Of course, you can choose any of your favorite domain registrar depending upon your preferences. Enter your choice of the domain name in the search field to check availability.
The availability of the domain name should be an important factor as the domain name you have chosen may already be taken by someone else.
Most of the domain registrars suggest you alternatives based on the domain name you have fed in. These may have slightly different spellings and few alterations to the domain name you have entered.
Each of the domain names available will have a price tag attached. Opting for long-term registration can offer you discounts, while the minimum period of registration would be one year.
Do note that choosing a domain should not bring copyright infringement issues. Never go with the brand names like Microsoft, Audi, or similar other options in your domain names.
A little Info on Private Registration of Domains
It may be a good idea to opt for Private registration of your domain name. When your domain registration is not private, your information including the name, contact details, and email address is stored on a WHOIS record.
The record in this journal will be public if you have not opted for private registration. This may make you receive unsolicited emails, calls, or other issues.
Nobody wants those spam calls and emails. It is, therefore, advised to opt for private domain registration to stay safe from these pesky communications.
Why Should You Register Your Domain name?
Your domain name is your online identity, and once you lose it, it is gone forever. Ideally, domain names are registered for one year. So, it would be essential for you to keep renewing your registration regularly.
A domain that is not renewed will be termed as expired domain and will be transferred to a pool called expired domains.
You can repurchase the domain once it enters the expired domain pool but may need to spend a little more than the normal. If there are no buyers for the expired domains, the domain name will be transferred to the shared pool once again.
The most important factor you need to remember that the domain name is what identifies you over the internet, and that is exactly why it is crucial to have a personalized domain. Something akin to your business card, it represents your business, your online existence, and more importantly, you – on the internet.
If you do not have a domain name that is registered for your business, you are probably missing the much needed online presence.
The Parting Thoughts
So, we assume this tutorial addresses all the doubts you may have concerning the domain name and the domain name registration. The domain name is the unique identity you have in the online world, and if you want to have a good internet presence for your business, it should be an important option to invest in a profitable domain name.
If you still have any doubts you want to clear concerning the domain name and its registration, share your thoughts with us. We would be more than happy to assist you further.